I wasn't sure I had it in me.  I wasn't sure I would have the time to do it.  But my blog turned 5 years old this year!  I published my first real post (Hungarian sponge cake with fruit) on October 14, 2013.

You may recall that I got the blog as a birthday present from my son, Dávid.  My birthday is in May.  He made the blog public a few days earlier, on the 16th of May.  Why did it take me five months to write the first real post?  Simply, because it seemed strange to me that I would be writing a blog that would be available for viewing and reading to anyone on the internet.  I heard blogging was fun, but I also knew it was going to be lots of work too.
So, with great pride I now announce that I've been persistent and worked hard to create my 270 posts.  I had lots of fun coming up with ideas that could be fun not only for myself, but hopefully for a wider audience as well.  I had fun cooking and baking and photographing and writing in both English and Hungarian.  And from five years of blogging I learned again that it's important to show up for anything you commit yourself to.  However, blogging on a hobby level shouldn't be taken too seriously.  After all, this is a creative outlet for me and if I can reach some people who might like what I do, I've already accomplished something.
To celebrate this milestone, here are a few statistics.  The titles listed here in each category of floorcookies.com are the most visited posts – I hope you visit them again.
Eat: Pozsony crescent – Pozsonyi kifli
Make: Easter postcards – Húsvéti képeslapok
Organize: Unplanned Christmas tree – A nem tervezett karácsonyfa
Plant: May flowers if I may – Májusi virágok
Read: I did it – Megcsináltam
Teach: My students' mathematics portfolios – Diákjaim matematika portfóliói
Travel: Public art in Sacramento – Köztéri művészet Sacramentóban
And, not surprisingly, the top 5 all-time posts are all food posts, all of them Hungarian recipes.  After all, this is my heritage.
#1. Pozsony crescent – Pozsonyi kifli
#2. Walnut squares – Diós kocka
#3. Gerbeaud pastry – Gerbeaud avagy "zserbó" szelet
#4. Hungarian layered potatoes – Magyaros rakott krumpli
#5. Hungarian apple tart – Almás pite
Thank you, my readers, for your support and encouragement throughout the last five years; I truly appreciate your continued interest in my blog.  Thank you Dávid for the blog itself.  Thank you Steve for your editorial help and daily encouragement.  I hope to continue with this fun for many years to come.  Thank you for reading floorcookies.com!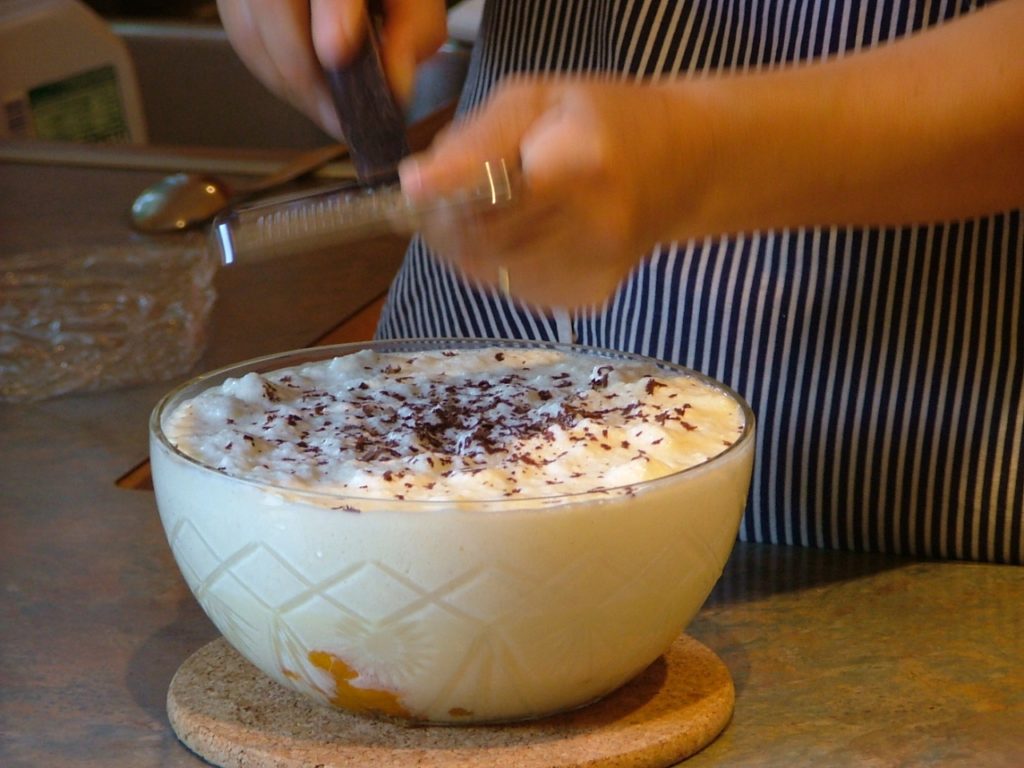 Egyáltalán nem voltam biztos benne, hogy lesz képzelőerőm, tehetségem és elég időm, hogy blogot írjak.  Tény azonban, hogy idén öt éves lett a blogom!  Az első igazi bejegyzést, a gyümölcsös vajas piskóta receptjét, 2013. október 14-én tettem közzé.
Talán emlékeztek arra, hogy a blogot születésnapi ajándékként kaptam a fiamtól, Dávidtól.  A születésnapom májusban van.  Dávid pár nappal előtte, május 16-án hozta nyilvánosságra a blogot.  Vajon miért kellett öt hónap az első blogbejegyzés megírásához?  Egyszerű a válasz:  Furcsának tűnt számomra, hogy blogot írnék, ami bárki számára elérhető az interneten.  Hallottam ugyan, hogy a blogolás szórakoztató, de azt is tudtam, hogy sok munka van vele.
Most büszkén jelenthetem, hogy kitartóan és keményen dolgoztam, hogy létrehozzak 270 blogbejegyzést.  Közben persze egész jól szórakoztam.  Olyan ötletekkel próbálkoztam előállni, amikről reméltem, hogy a szélesebb közönség számára is szórakoztatók lehetnek.  Élveztem a sütést, a főzést, a fotózást, a magyarul és angolul való írást.  Az elmúlt öt év blogolása újra megtanított arra, hogy bármibe is fogok, képes vagyok véghezvinni.  A hobbiból való blogolást azonban nem kell túl komolyan venni.  Ez végül is egy kreatív időtöltés a számomra, s ha másnak is tetszik amit csinálok, máris megérte működtetni a blogot.
E mérföldkő megünneplésére álljon itt egy kis satisztika.  A floorcookies.com egyes kategóriáinak leglátogatottabb bejegyzéseit közlöm – remélem, újra rákattintotok az egyes címekre.
Enni (Eat): Pozsonyi kifli
Csinálni (Make): Húsvéti képeslapok
Rendezni (Organize): A nem tervezett karácsonyfa
Ültetni (Plant): Májusi virágok
Olvasni (Read): Megcsináltam
Tanítani (Teach): Diákjaim matematika portfóliói
Utazni (Travel): Köztéri művészet Sacramentóban
Nem meglepő, hogy az öt év öt leglátogatottabb bejegyzése magyar ételrecept.  Végül is ez az örökségem.
#1. Pozsonyi kifli
#2. Diós kocka
#3. Gerbeaud avagy "zserbó" szelet
#4. Magyaros rakott krumpli
#5. Almás pite
Kedves olvasóim, köszönöm nektek az elmúlt öt év során nyújtott támogatást és bátorítást.  Nagyra értékelem folyamatos érdeklődéseteket és javaslataitokat.  Dávid, köszönöm a blogot.  Steve, köszönöm a naponkénti ösztönzést és a szerkesztői tanácsokat.  Szeretném még sokáig írni ezt a blogot!  Mindnyájatoknak nagyon köszönöm, hogy olvassátok a floorcookies-t.