May is an amazing month.  Not just because both my birthday and anniversary are in May, but because lots of my favorite flowers are in full bloom this time of the year.  Do you have stories of why certain flowers are your favorites?  Here are some of mine.

One year, when I was still living in my country of Czechoslovakia, a student of mine gave me a big bouquet of fragrant white flowers he had handpicked in a forest close to his home.  It was so beautiful, so magical.  It was lily of the valley.  Since that time it is one of my favorites and I always wanted to have lots of them.  For many years it was just a dream, but when we moved to our house nine years ago, I bought some bulbs at a farmers' market, planted them in our garden, and waited with anticipation.  But our resident squirrel got them all.  Then while visiting the organic garden of one of my colleagues in Duvall, WA, I saw a field of lily of the valley underneath the trees by his house.  He happily gave me enough bulbs to fight the hunger of the squirrel and to get some established.
Now we enjoy these nodding little bells and are slowly getting to the point where we need to pay attention to their wild-spreading nature.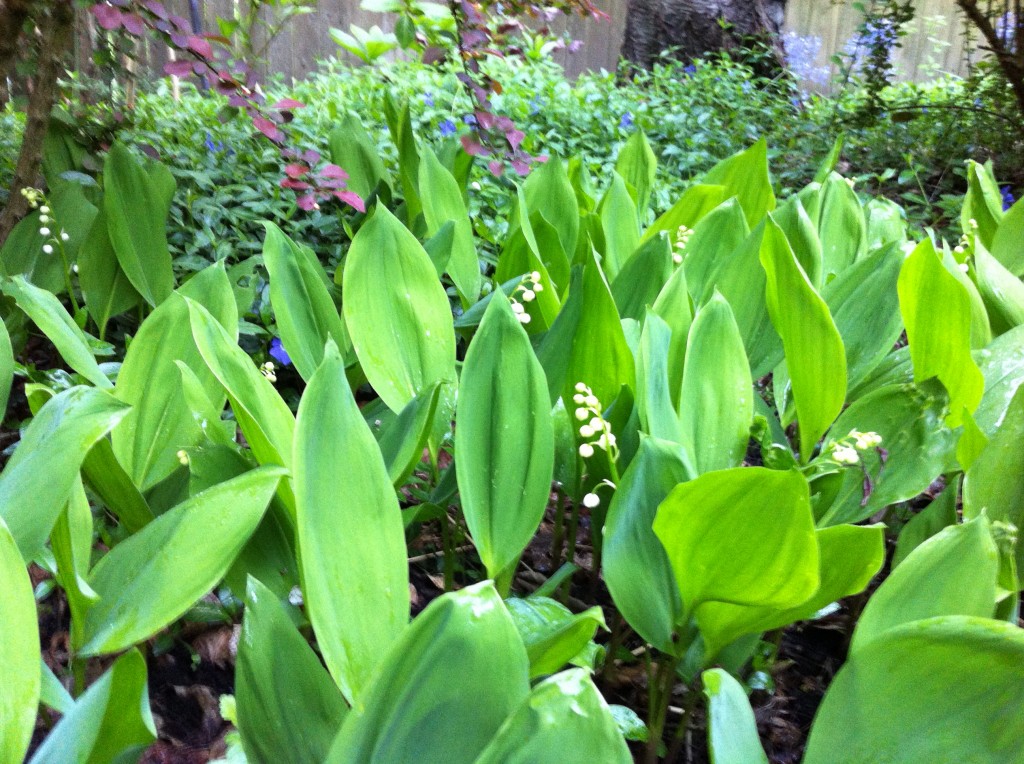 Lilacs bring back the memories of students decorating classrooms for high school graduation during my European teaching career, people decorating the church of my small village in Slovakia for confirmation, and the presence of big purple and white lilac bushes in many of the gardens of the places I've lived.
Both of our two lilac bushes were volunteers in our median, possibly started with the help of birds.  The bigger one now serves as a natural curtain in front of a window.  I love the fragrance and the color of lilacs!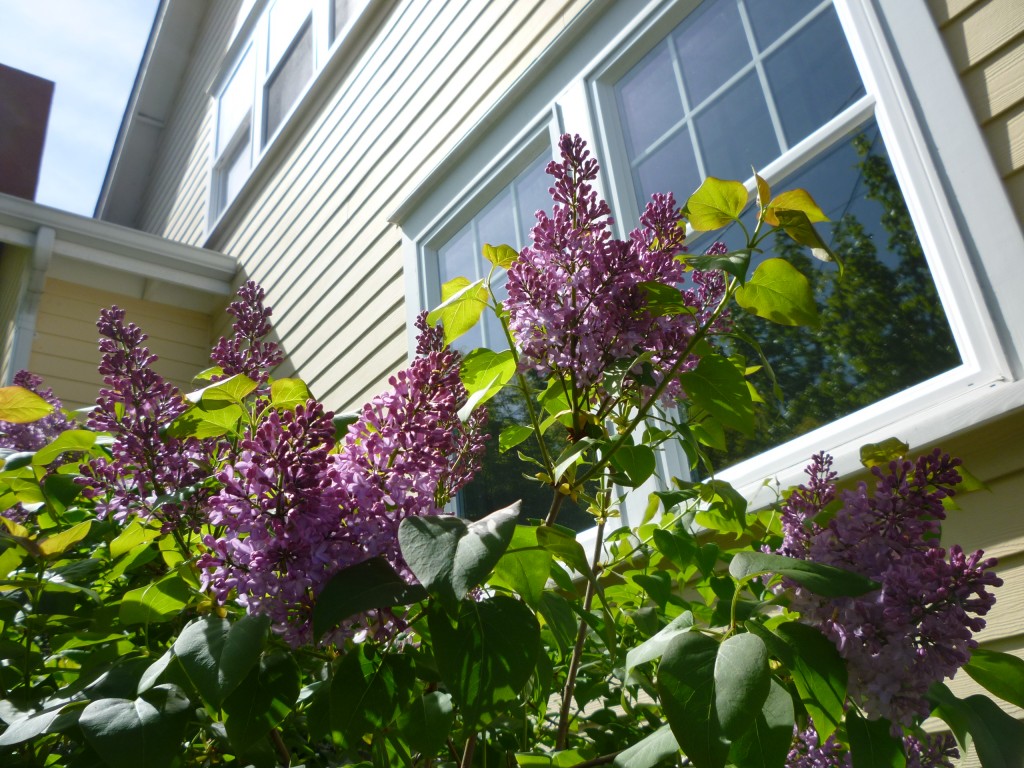 The first May in this house surprised us with a magnificent blue coverage on one of the big shrubs: wild lilac.
These flowers are well loved by great numbers of busy and sometimes belligerent bees, which means that for weeks we cannot relax in our Adirondack chairs placed close to this shrub.  The first buds this year however didn't promise the usual big coverage of flowers – the bush had started dying back.  A quick and hopeful pruning was needed.  We are hoping it will give a chance for some new growth and save the bush.  Surprisingly, we got some flowers.  And the bees.  Coming home from work, the spectacular beauty and mild fragrance of wisteria greets me as I enter our courtyard.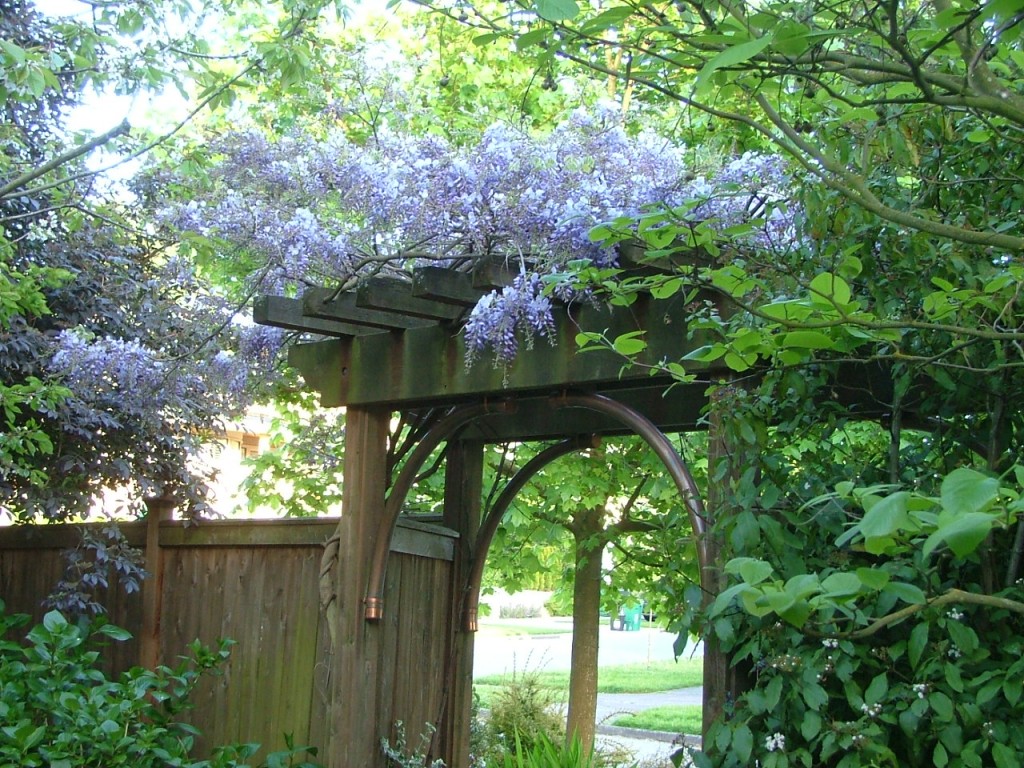 For a long time, I knew about purple colored wisteria only from an old Hungarian film comedy Lila akác and the song from it by the same title.  I was more familiar with the white wisteria tree.  Now this astonishing woody climbing vine amazes us with its ability to grow high even into our cherry tree, with its vigorously blooming flower clusters, and with the purple carpet it produces on the ground.
Right now, close to the end of the month, it is the Japanese snowbell tree that is the most spectacular view in the courtyard.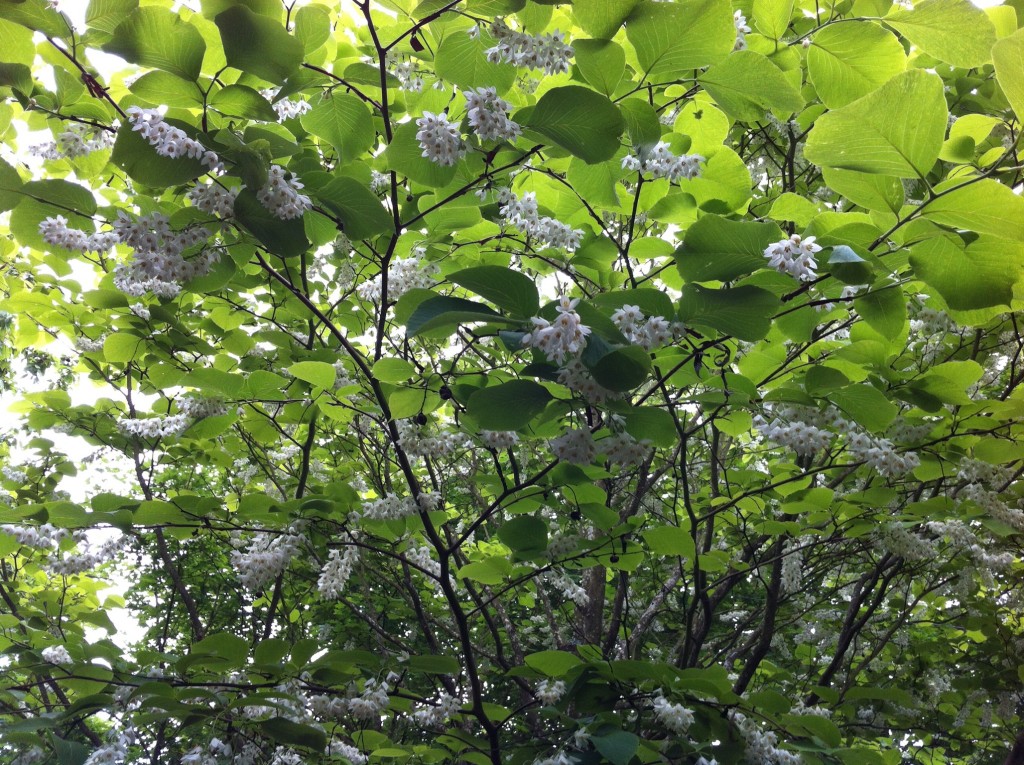 The abundance of white flowers pulls down the branches and perfumes the close neighborhood.  Underneath this elegant ornamental tree is a soft carpet of fallen petals.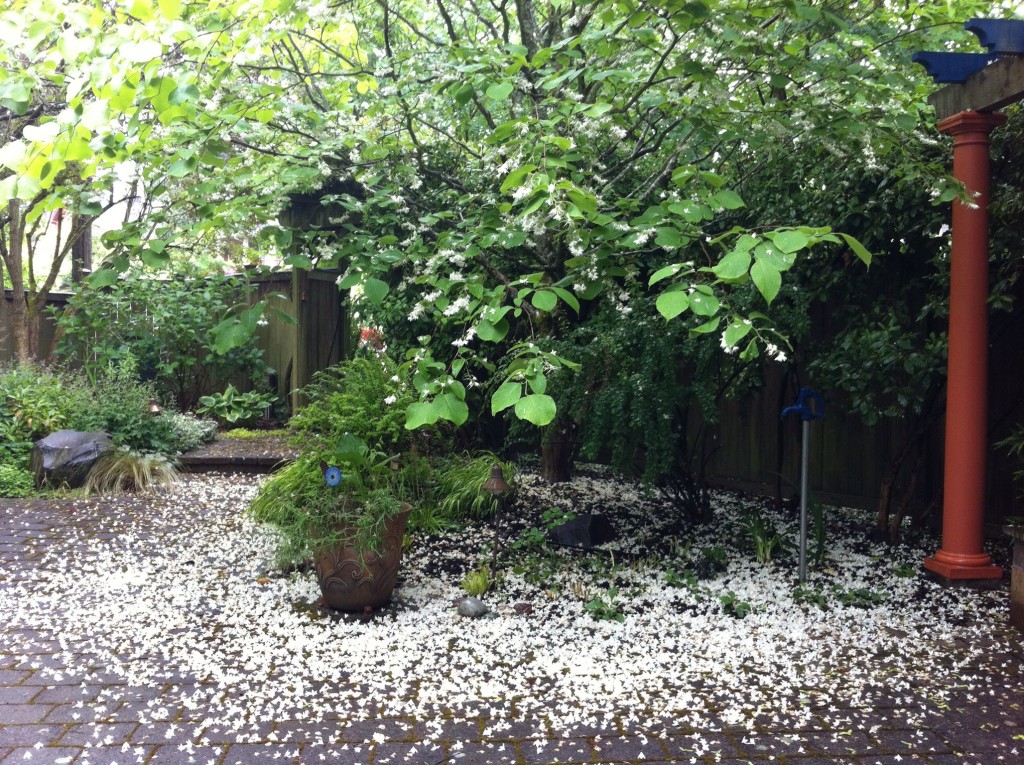 I wasn't familiar with the snowbell tree before moving into this place, but its graceful, bell-shaped flower quickly became one of my favorites.
Stay tuned for June flowers from our garden.