These wonderful walnut cookies – a tray bake, so it's incredibly easy to make – were in the box of goodies for two family parties during this past holiday season.  They were well loved.  The combination of chocolate and walnuts, together with the tanginess of the apricot jam, makes them irresistible. Try to bake them, you might agree with me.

The cinnamon and clove give them their special festive aroma, but with or without the spices, these delights are suitable for any occasion.  They could even be more unique by varying the type of jam, and for a more exotic taste you can add a tiny amount of ground ginger to the batter.  This recipe also, like my walnut coins recipe – click here to see it – comes from the frequently consulted cookbook, 66 karácsonyi édesség by Mari Lajos and Károly Hemző.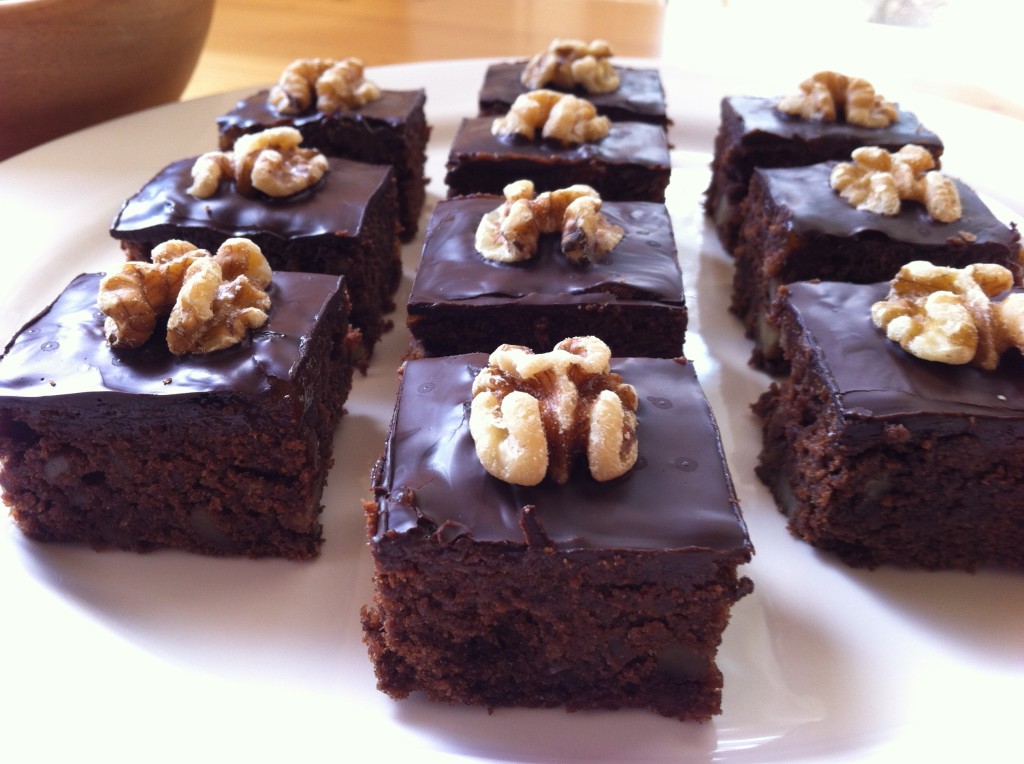 dark chocolate, chopped – 200 g
walnuts – 200 g
all-purpose flour – 100 g
ground cinnamon – ½ teaspoon
ground clove – ½ teaspoon
butter – 250 g
eggs, separated – 6
salt – pinch
granulated sugar – 200 g
for the glaze and decoration
apricot jam – 200 g
dark chocolate, chopped – 100 g
vegetable oil – 1 tablespoon
walnut halves (or quarters) – 35
Melt the chocolate in a small dish by placing it over hot water, then cool slightly.  Grind half of the walnuts and coarsely chop the other half.  In a big bowl, combine the walnut, flour, cinnamon, and clove.
Preheat the oven to 180 °C (350 °F).  Line a middle sized rimmed baking sheet with parchment paper in such a way that the paper overhangs it lengthwise.
In the bowl of an electric mixer, beat together the butter and sugar, add the egg yolks one at a time, then stir in the lukewarm chocolate.  Beat the egg whites with a pinch of salt until stiff.  Add it in thirds to the butter-sugar-egg yolk mixture, alternating with the flour-walnut mixture.  Combine gently but well.  Pour into the baking sheet and level it toward the edges.  Bake for about 25-30 minutes or until set.
In a small saucepan, warm up the apricot jam.  When the pastry is baked, brush the top with the jam immediately.  Cool in the baking dish, then holding the two opposite sides of the parchment paper, lift it out, and place on the work surface.
To make the glaze, melt the 100 g chocolate and mix in the oil.  Pour over the jam, level, and before it's completely set, with a tip of a knife mark 5 X 5 cm squares into the surface.  Lightly press a piece of walnut in the center of each square.  After the chocolate glaze has set completely, slice with a sharp knife.  To ensure nice edges, lower the knife into hot water before each cut.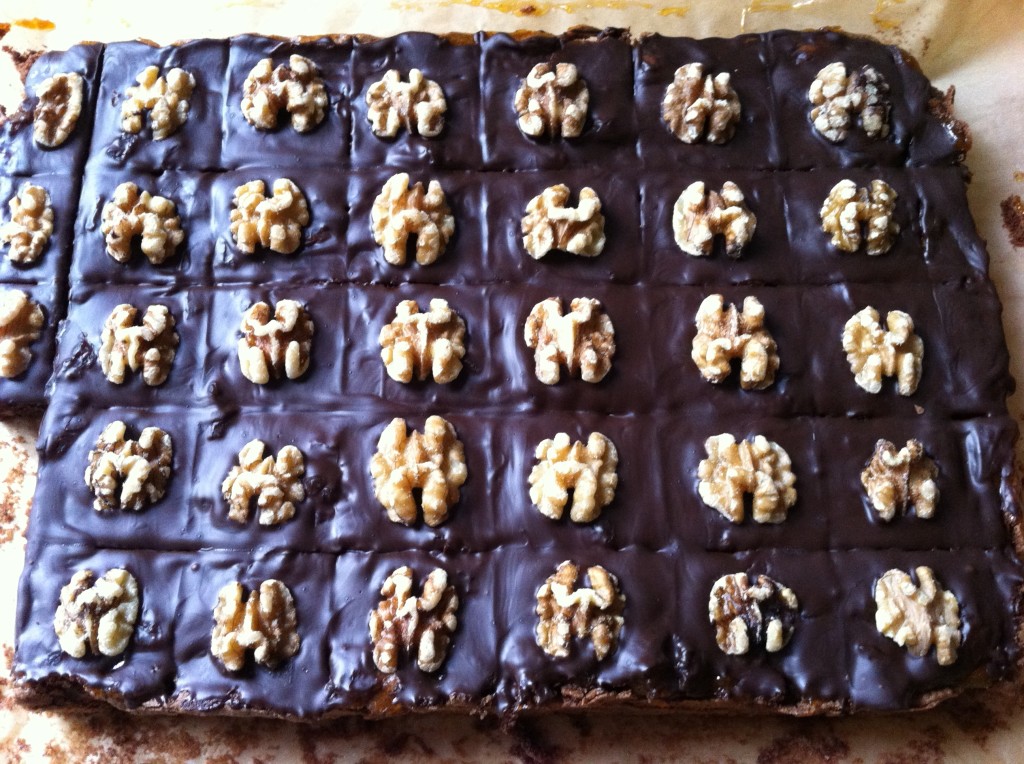 Ebből a remek diós süteményből – aminek a tésztáját csak beleöntjük a tepsibe és megsütjük, tehát nagyon könnyű az elkészítése – két összejövetelre is vittem az ünnepek alatt.  Mindkét helyen nagy tetszéssel fogadták.  A csokoládé, dió és sárgabaracklekvár együttese teszi ellenállhatatlanná.  Próbáld megsütni, minden bizonnyal egyetértesz majd velem.  A fahéj és a szegfűszeg adja meg különleges ünnepi arómáját, de akár a fűszerekkel együtt, akár nélkülük, ez a finomság bármilyen alkalomra kitűnő.  Sőt, méginkább egyedivé teheted másféle savanykás lekvárral, s ha szereted az igazán egzotikus ízeket, egy kis kávéskanál gyömbért is adhatsz a tésztához.  A korábban közzéadott diós tallér recepthez hasonlóan (kattints ide), ez a recept is a 66 karácsonyi édesség című könyvből való.  Lajos Mari és Hemző Károly süteményeskönyvét, amint észrevehetted, nagyon gyakran veszem le a polcról.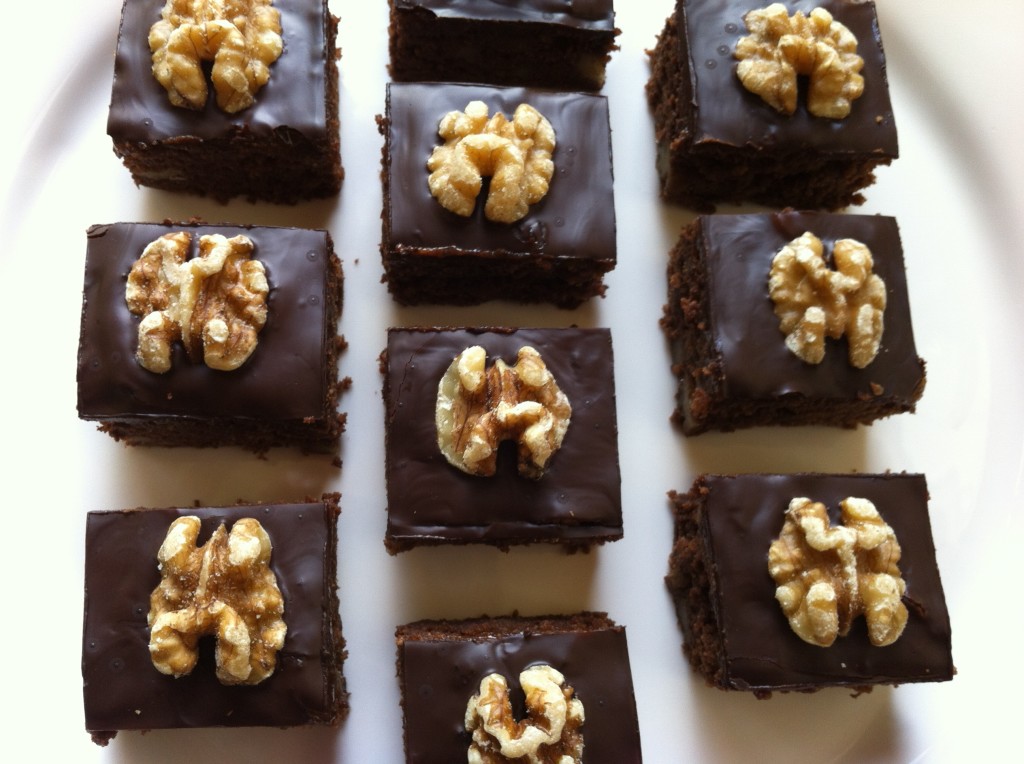 étcsokoládé – 200 g
dió – 200 g
finomliszt – 100 g
őrölt fahéj – ½ teáskanál
őrölt szegfűszeg – ½ teáskanál
vaj – 250 g
tojás – 6
só – egy csipet
cukor – 200 g
a mázhoz és a diszitéshez
sárgabaracklekvár – 200 g
tortabevonó étcsokoládé – 100 g
olaj – 1 evőkanál
felezett dió (vagy negyedelt) – 35
Egy kis edénybe tördeljük a csokoládét, meleg vízfürdőbe állítva felolvasztjuk, majd hagyjuk langyosra hűlni.  A dió egyik felét megdaráljuk, másik felét durvára vágjuk.  Egy nagy tálban összekeverjük a liszttel, fahéjjal és szegfűszeggel.
A sütőt előmelegítjük 180 °C.  Egy közepes méretű tepsit kibélelünk sütőpapírral úgy, hogy az hosszanti irányban mindkét oldalon lelógjon.
A tojásokat kettéválasztjuk.  A vajat habosra keverjük a cukorral, egyenként hozzákeverjük a tojások sárgáját és a langyos csokoládét.  A tojásfehérjéket egy csipet sóval kemény habbá verjük.  A hab egyharmadát a kikevert tojásokhoz adjuk, majd a lisztes-diós keverékkel felvátva, a keveréket mindig a habra szórva, több részletben kíméletesen, de jól összekeverjük.  A masszát a tepsibe öntjük, tetejét az oldalak felé kicsit felmagasítva elsimítjuk.  25-30 percig sütjük.
Egy kis lábasban felforrósítjuk a sárgabaracklekvárt.  A sütőből kivett forró sütemény tetejére kenjük.  Hagyjuk kihűlni, aztan a sütőpapírral együtt kiemeljük a tepsiből a munkafelületre.
Felolvasztjuk a 100 g tortabevonó csokit, belekeverjük az olajat.  A mázat a sütemeny tetejére simítjuk, s még mielőtt a csokoládé teljesen megszilárdulna, késheggyel 5 X 5 cm-es négyzeteket jelölünk be rajta.  Minden négyzet közepére enyhén rányomunk egy darabka diót. Miután a csokimáz teljesen megdermedt, éles, forró vízbe mártogatott késsel felszeleteljük a süteményt.