Picture yourself in your kitchen wanting to treat your family (or just yourself) to a delicious breakfast, but not wanting to spend too much time there.  Yes, the idea for what to make, is in the title: make scones, make these scones.  The ingredients are basic, you probably have them at home; the technique is basic, so it's suitable even for a beginner baker.  Serve them with butter and your favorite jam, and add a little whipped cream if they will be treats for an afternoon tea with your friends.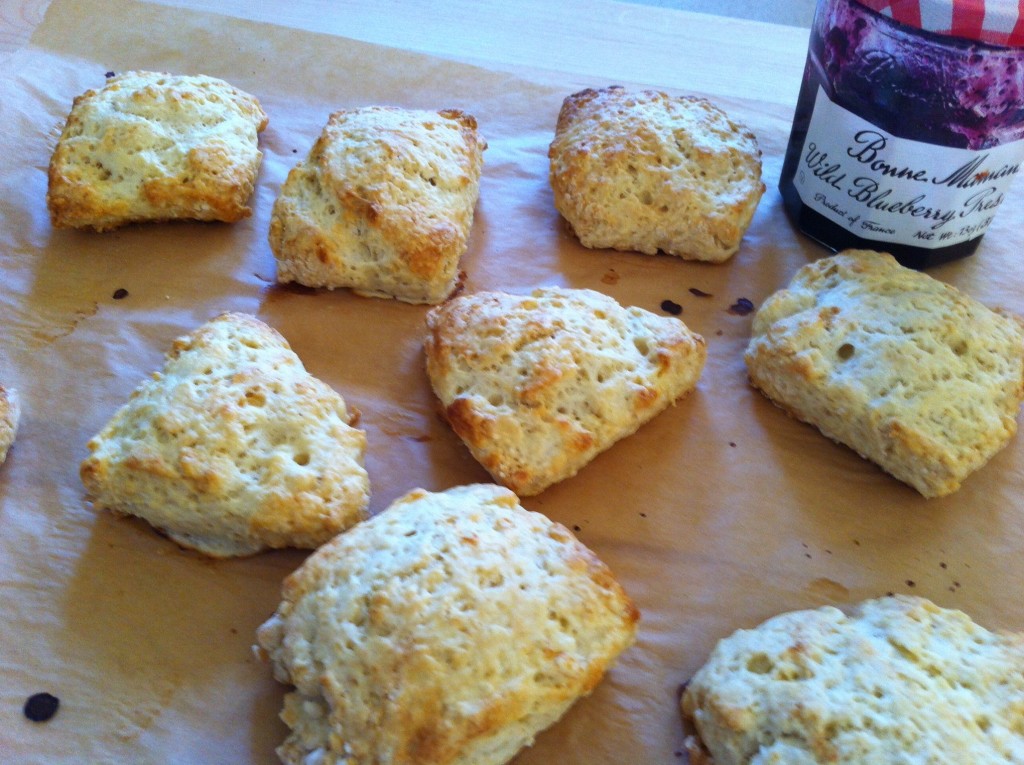 I adapted the recipe from Dan Lepard's book Short & Sweet, where he promises "… blueprints for great baking at home" and "…base recipes that can turn seasonal ingredients and market finds into baking to be proud of."  I discovered his wonderful food writing in his Guardian column, and have kept borrowing this cookbook from our local library again and again.  On Christmas Eve, I realized that this borrowing game is now over.  I found the original British edition (ingredients written in metric!) under the tree.  Thank you for the surprise, David and Jolene.  Stay tuned for many achievable recipes from Short & Sweet.  Today, let's get started with these scones.
all-purpose flour – 250 g (2 cups) + extra for dusting
baking powder – 2½ teaspoons
granulated sugar – 3 tablespoons
unsalted butter, softened – 40 g (3 tablespoons)
raisins ­– 100 g (⅔ cup)
egg – 1
buttermilk or plain yogurt – 75 g (⅓ cup) + extra for the tops
Preheat the oven to 220°C (425°F).  Line a baking sheet with parchment paper.  Combine the flour, baking powder, sugar, and butter in a big bowl, and rub it together with your fingertips to make a coarse crumble.  Add the raisins (if using).  In a small bowl, mix the egg with the buttermilk, then stir it into the flour.  Press the dough together to form a ball.  If it seems dry, add a little more buttermilk to it. On a floured work surface, roll out the dough into a 2.5 cm (1 inch) thick rectangular shape.  Cut into 4 cm squares and place them on the cookie sheet.  Brush the tops with a little buttermilk.  Bake for approximately 15-20 minutes or until lightly golden.  Cool slightly on a wire rack.  To keep them moist, cover with a tea towel.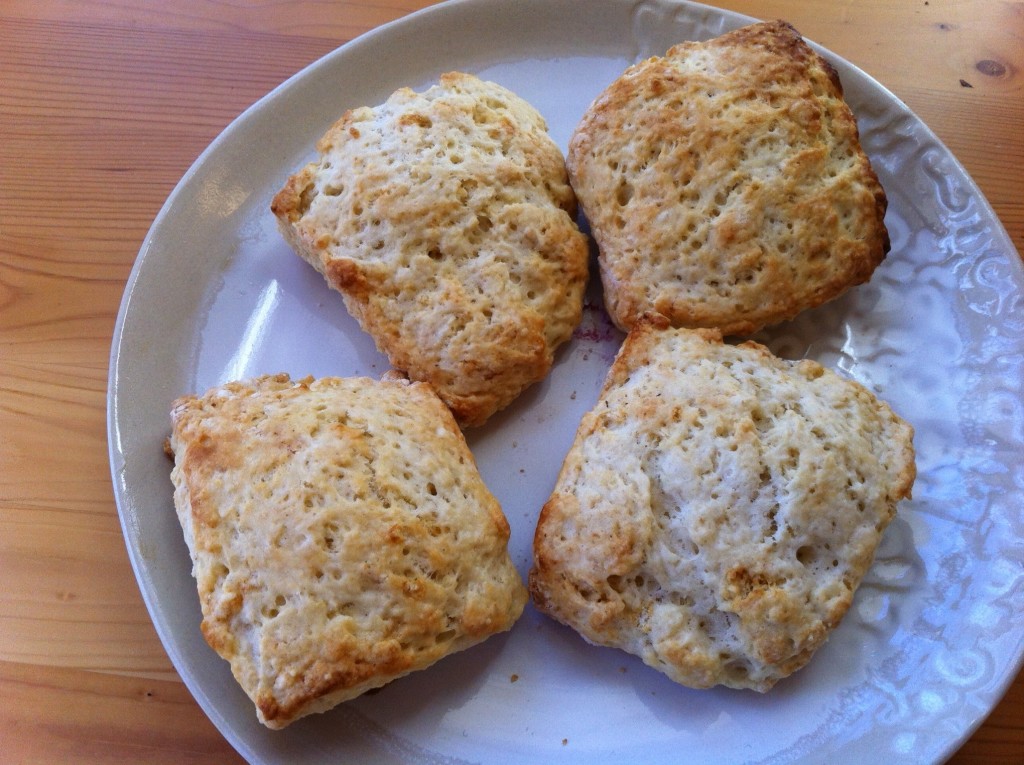 Képzeld el, hogy finom reggelivel szeretnéd meglepni a családodat (vagy csak magadat), de nem akarsz túl sok időt eltölteni a konyhádban.  Igen, az ötlet, hogy mit készíts, a címben látható: süss édes pogácsát, használd ezt a receptet.  A hozzávalók alapvetőek, valószínűleg van is otthon minden, ami kell, és az elkészítése sem nagy dolog, még kezdők számára sem.  Kínáld a pogácsákat vajjal ás kedvenc lekvároddal, és adj még mellé tejszínhabot, ha barátaiddal jössz össze egy délutáni teára.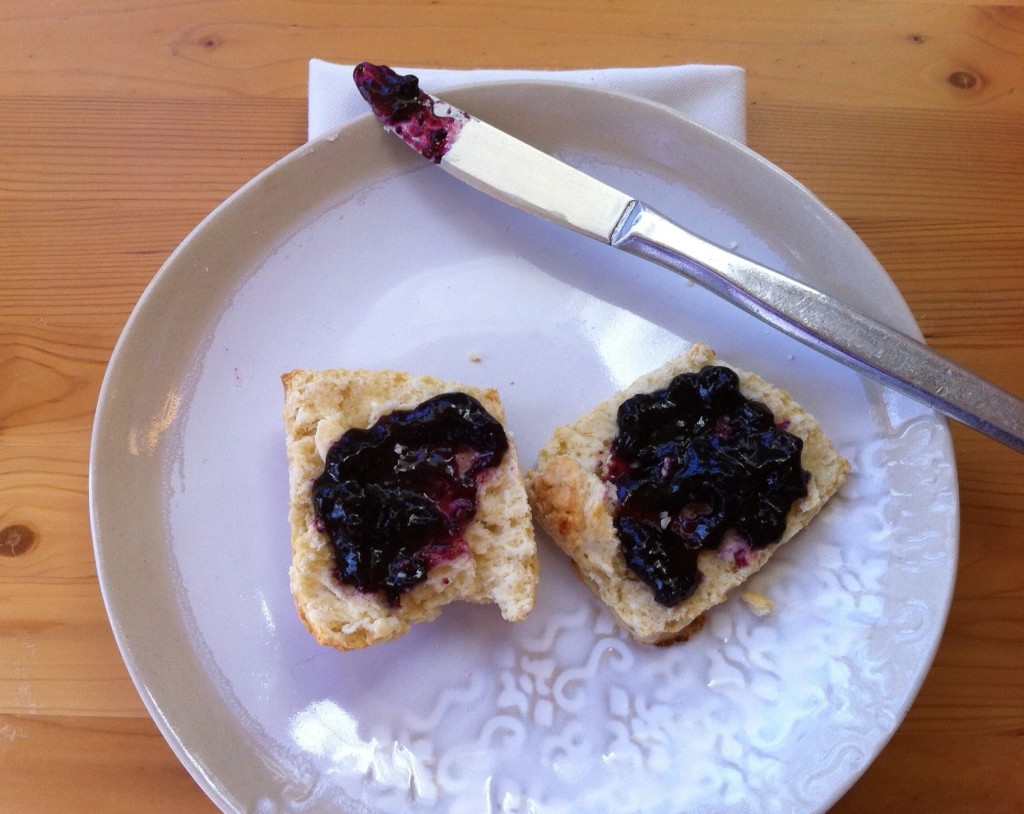 A recept Dan Lepard "Short & Sweet" című szakácskönyvéből származik.  A könyv a sikeres házi sütéshez kínál ötleteket, sablonokat, alapvető recepteket, s azt ígéri, hogy az évszakot tükröző és piacon vásárolt alapanyagokból olyan süteményeket süthetünk, amikre aztán joggal lehetünk büszkék.  Eredelileg a brit Guardian  napilap hasábjairól ismertem a szerzőt, aztán újra és újra kikölcsönöztem a fenti könyvet a közkönyvtárból.  Kb. másfél hete, karácsony előestéjén tudatosítottam, hogy ennek a kölcsönzési játéknak most már vége.  A könyv brit kiadását (amiben a hozzávalók metrikus rendszerben íródtak) a fa alatt leltem az ajándékok között.  Dávid és Jolene, köszönöm az igazi meglepetést.
Akkor hát légy felkészülve sok-sok sikert ígérő receptre ebből a remek szakácskönyvből.  Kezdjük ma el a sort ezzel az édes pogácsával.
simaliszt – 250 g + egy kicsi a deszka szórásához
sütőpor – 2½ teáskanál
kristálycukor – 3 evőkanál
puha vaj – 40 g
mazsola ­– 100 g
tojás – 1
író vagy sima joghurt – 75 g + egy kicsi a kenéshez
A sütőt előmelegítjük 220°C–ra.  Egy tepsit kibélelünk sütőpapírral.  A lisztet, sütőport, cukrot és vajat egy tálban összekeverjük és ujjbegyeinkkel összemorzsoljuk.  Hozzáadjuk a mazsolát (ha szeretjük).  Az íróban elkeverjük a tojást, majd a liszthez adjuk.  Lazán összegyúrjuk, cipót formálunk belőle.  Ha a tésztát száraznak találnánk, még egy kis írót adunk hozzá.  Lisztezett deszkán 2,5 cm vastagra, négyszögletesre nyújtjuk, és késsel 4 cm–es négyzetekre vágjuk.  Tepsire rakjuk és tetejüket lekenjük íróval.  15-20 perc alatt készre sütjük (világos aranyszínűre).  Konyharuhával letakarva a sütőrácson hagyjuk kihűlni.