The second crop of our arugula from our garden produced very well this year.  A few days ago, I harvested it and went on a search for a recipe – I wanted something different than my caramelized pear and arugula salad.

The simplest but perfect recipe awaited me in Amy Pennington's lovely cookbook Salad Days (by the way, for which I was one of her recipe testers!).  Not even a recipe, just a way of eating fresh figs together with arugula and good salami or hard sausage.  All ingredients are not even measured, mainly eyeballed, with honey-mustard vinaigrette.  Give it a try, it's wonderful.  Thank you, Amy, for this great idea.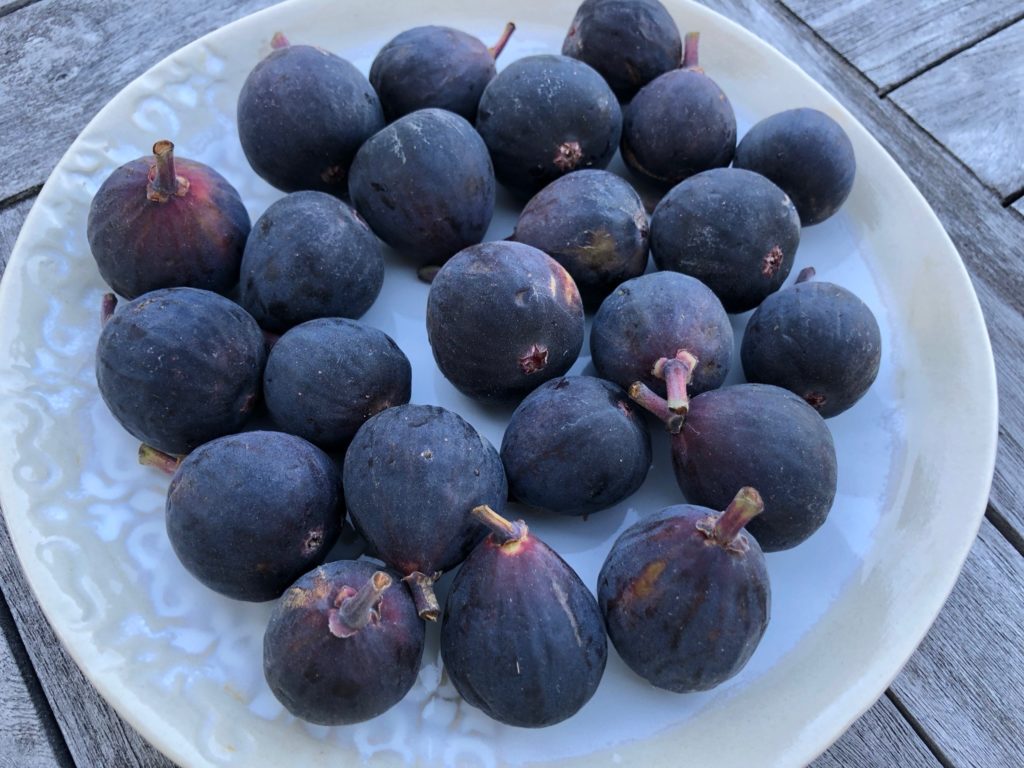 extra-virgin olive oil – 3 tablespoons
apple cider vinegar – 2 tablespoons
Dijon mustard – 1 teaspoon
honey – 1 teaspoon
arugula – 4 cups (or generous handful)
hard sausage, chopped – 4 ounces
ripe figs, quartered – 8
salt and pepper – to taste
In a large bowl, whisk together the olive oil, vinegar, mustard, honey, salt and pepper until combined.  Add the arugula, sausage (or salami), and figs, and fold gently to combine.  Serve and enjoy.  Makes 4 servings.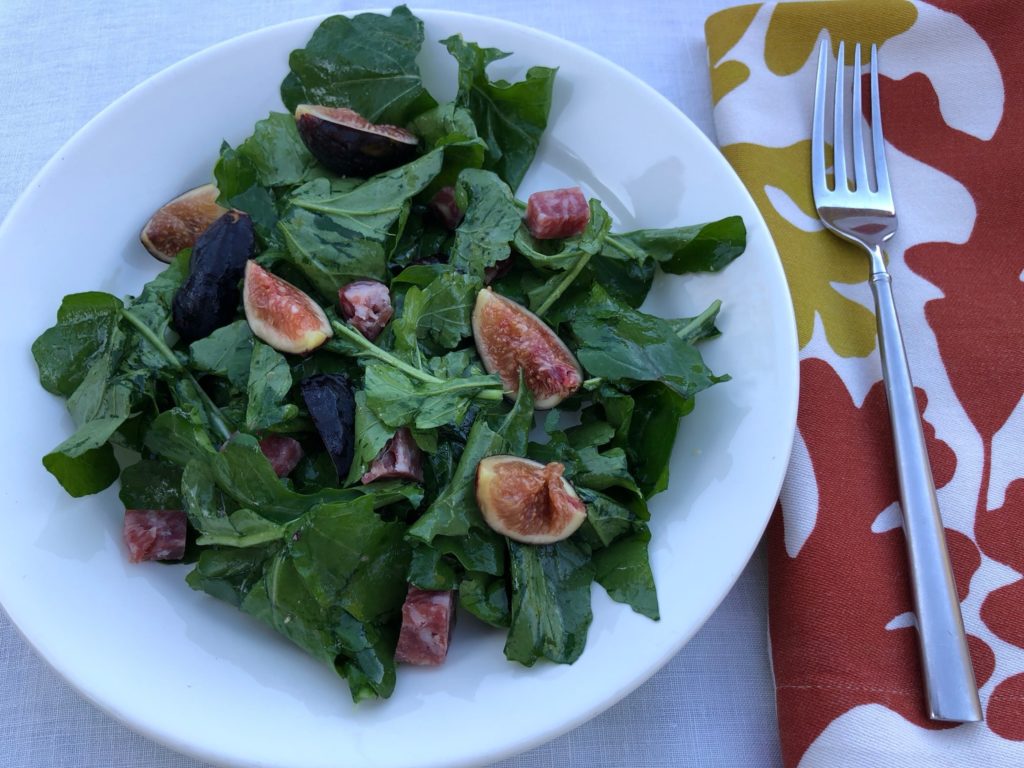 Idén kétszer is vetettünk rukkolát a kertben, s másodjára nagyon szépen termett.  Pár napja betakarítottam az összeset, s rögtön kerestem is egy új receptet – valami másra vágytam, mint a karamellizált körtés rukkolasalátámra.  Egy nagyon egyszerű, de tökéletes receptet találtam Amy Pennington remek szakácskönyvében, aminek Salad Days a címe  (mellesleg a  köny egyik recept tesztelője voltam!).  Igazándiból nem is recept, csak rövid leírása annak, hogyan társítsuk a rukkolát friss fügével, szalámival vagy kolbásszal, és mézes-mustáros öntettel.  Mérni sem kell, elég a szemmértékre hagyatkozni, s mindenképp érdemes kipróbálni.  Köszönöm Amy ezt a remek ötletet.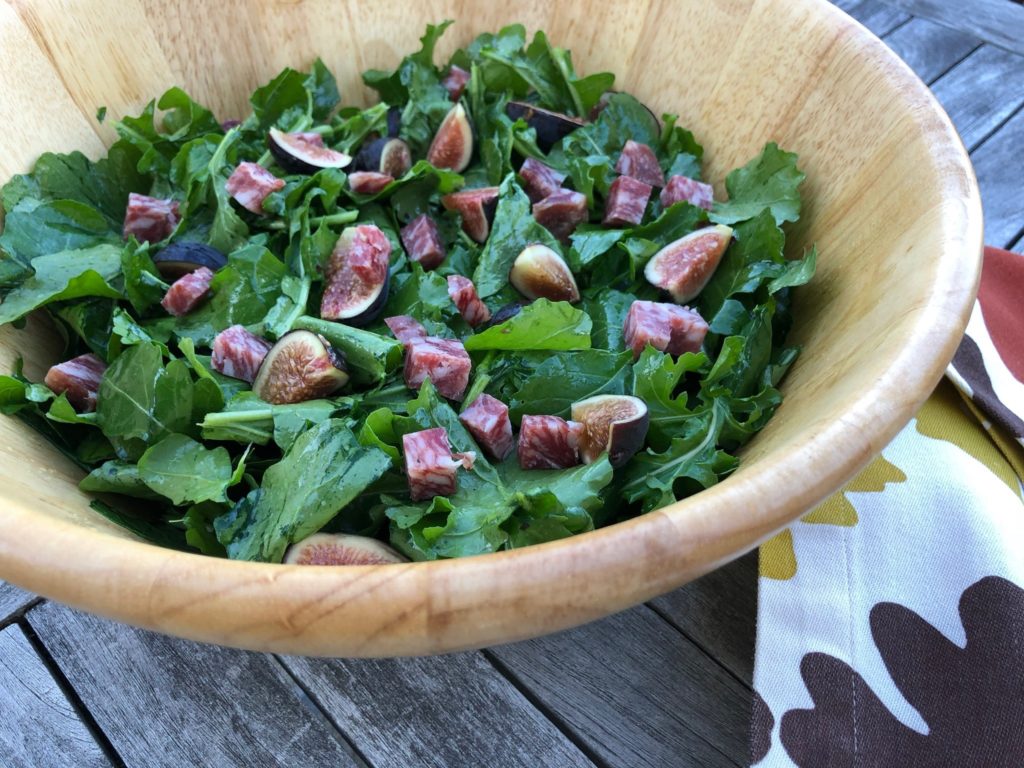 olívaolaj – 3 evőkanál
almaecet – 2 evőkanál
dijoni mustár – 1 teáskanál
méz – 1 teáskanál
rukkola – 4 maréknyi
kemény kolbász, apróra vágva – 113 gramm
érett füge, negyedekbe vágva – 8
só, frissen őrölt bors – ízlés szerint
Az olívaolajat, az ecetet, a mustárt, a mézet, a sót és az őrölt borsot egy nagy tálban jól összekeverjük.  Hozzáadjuk a rukkolát, a kolbászt (vagy szalámit) és a fügét, lazán összevegyítjük, s máris tálalhatjuk.  A recept 4 személyre szól.