In one of our raised beds the arugula looked really wonderful the other day, ready to be used.  I harvested it all – some for a tasty salad, some for some sandwiches.

We had some firm pears at home – perfect when caramelized and paired with the arugula.  The salad was simple, quick, and very delicious.  I got this recipe from one of Donna Hay's cookbooks, The Instant Cook.
butter – 2 oz (60 g)
white wine vinegar – 3 tablespoons
brown sugar – 1 tablespoon
firm brown pears –  2
walnut pieces – ½ cup
arugula leaves – 3 oz (100 g)
soft blue cheese – 5 oz (150 g)
Place the butter, vinegar, and brown sugar in a frying pan over medium heat.  Quarter and core the pears and add together with the walnuts to the pan.  Cook until the pears are just soft, about 4 minutes.  In the meantime, place the washed and dried arugula on salad plates.  Top with the pears and walnuts.  Spoon over the juice from the pan, crumble the cheese on it, and serve immediately.  Serves 4.
Note:
I used red wine vinegar and goat cheese – these changes don't alter the final result.  The pears could also be cut into smaller wedges.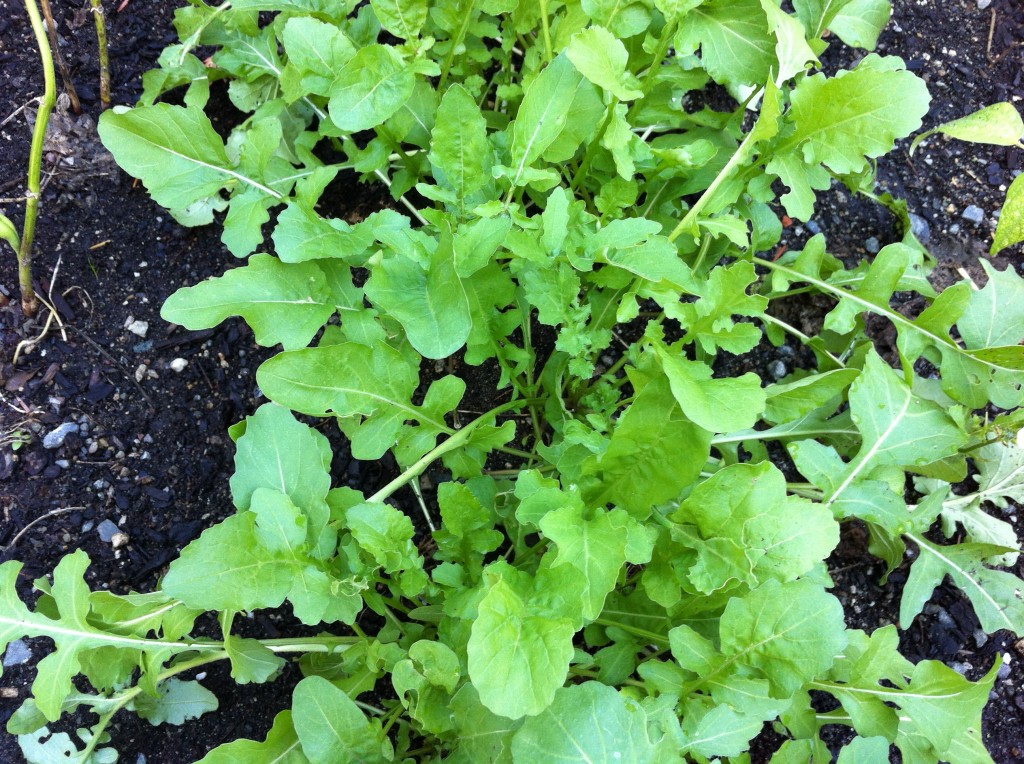 A napokban észrevettem, hogy az egyik kerti magaságyunkban a rukkola igazán remekül nézett ki, azonnali fogyasztásra készen.  Le is szedtem mindet – egyik felét salátának, másik felét szendvicsekhez.  Volt itthon néhány kicsit kemény körte.  Gondoltam, kitűnő lesz a rukkolával párosítva, főleg karamellizálva.  Ez a saláta nagyon egyszerű, gyorsan összállítható, s persze nagyon ízletes.  A recept Donna Hay egyik szakácskönyvéből való, címe The Instant Cook.
vaj – 60 g
fehérborecet – 3 evőkanál
barna cukor – 1 evőkanál
kemény körte –  2
diódarabok – 60 g
rukkola – 100 g
puha kéksajt – 150 g
A vajat egy serpenyőben mérsékelt tűzön felolvasztjuk.  Hozzáadjuk az ectet és a barna cukrot.  A két körtét negyedekbe vágjuk, magházukat eltávolítjuk.  A dióval együtt a cukros, ectes vajhoz adjuk és addig karamellizáljuk, amíg a körtészeletek enyhén meg nem puhulnak (kb. 4 perc).  Közben a megmosott, lecsepegtetett rukkolát a salátás tányérokra halmozzuk.  A saláta tetejére rendezzük a körtedarabokat és a diót.  Meglocsoljuk a serpenyőben visszamaradt mártással, rámorzsoljuk a sajtot, és máris tálaljuk.  A recept 4 személyre szól.
Megjegyzés:
Én vörösborectet és kecskesajtot használtam a recepthez – a saláta igy is remek lett.  A körte kisebb cikkekre is vágható.