On some of the islands of Puget Sound around Seattle, WA, there are many lavender farms and annual lavender festivals – a favorite destination for many in the summer.  It was already a few years ago during one of these festivals where I tasted my first lavender scone and bought my first little bag of dried culinary lavender.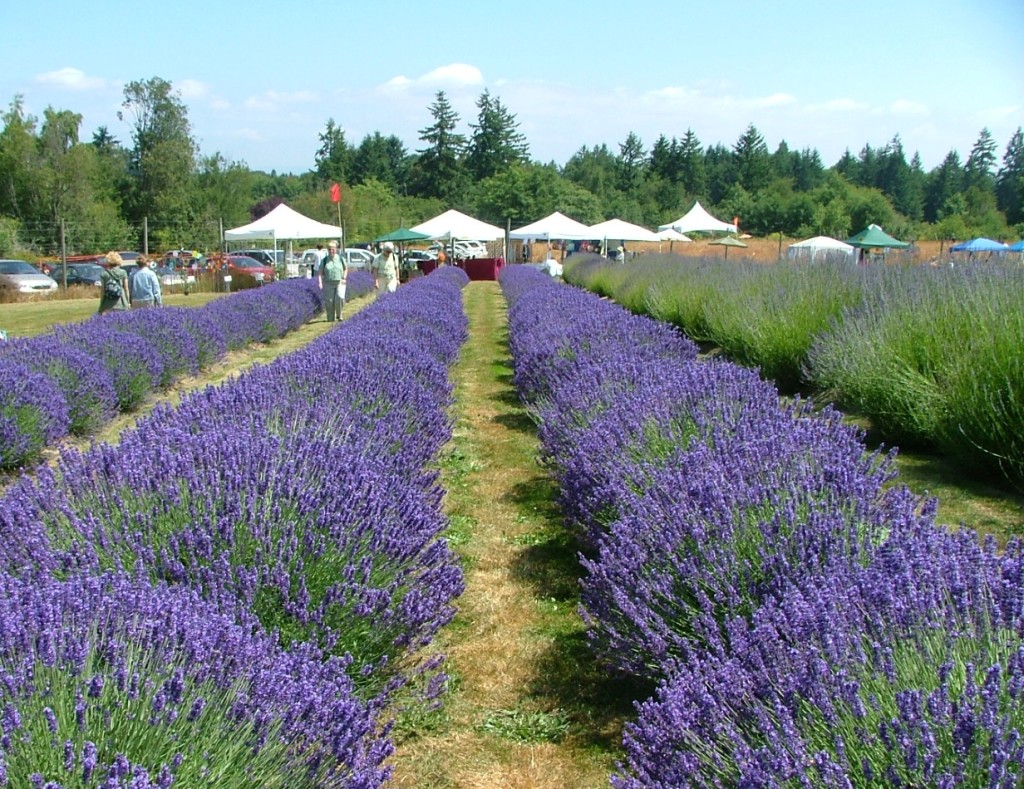 I also picked up a recipe card with basic ingredients and short directions for making lavender scones.  This is that recipe.  I always make it with the lavender – which is easy to find here – but in case you don't have dried lavender flowers in your area, I assume the scones would be equally delicious without it.  However, you would lose the special fragrance of the scones, which makes them uniquely delicious.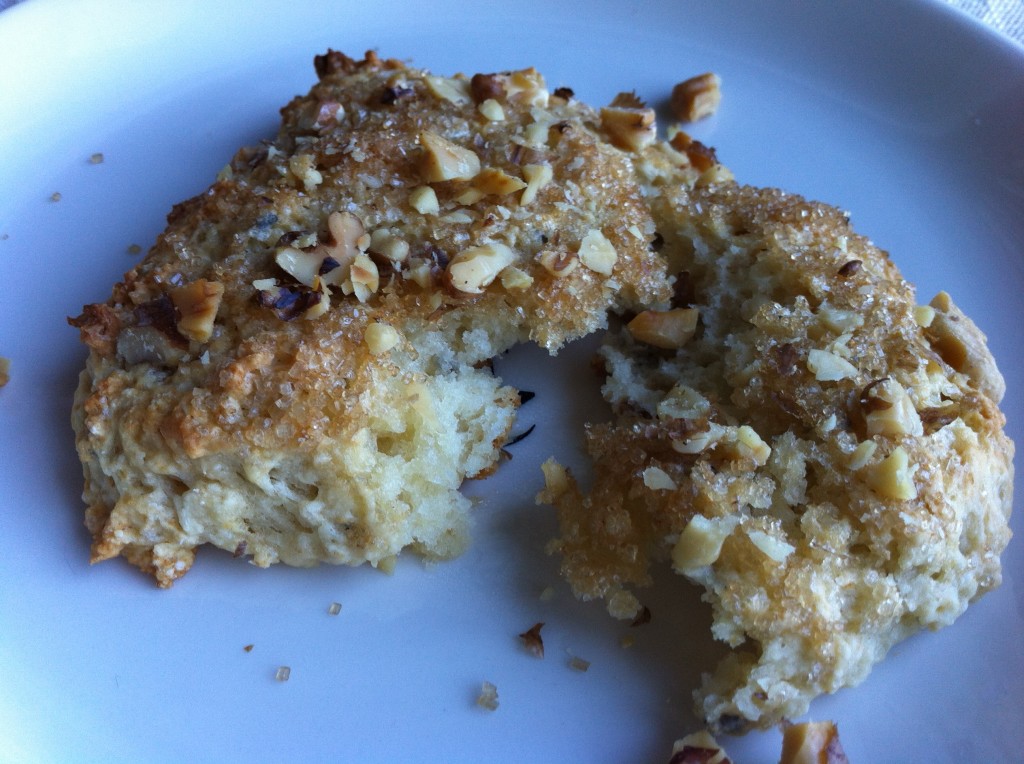 all-purpose flour – 2 cups (250 g)
granulated sugar – ⅓ cup (75 g)
baking powder – 1 tablespoon
baking soda – ½ teaspoon
culinary lavender – 2 tablespoons
unsalted butter, cold – 2 tablespoons
buttermilk – 1 cup (250 ml)
vanilla extract  – 1 tablespoon

for the topping
demerara sugar ­–  2 tablespoons
chopped walnuts – 3 tablespoons
Preheat the oven to 400°F (200°C).  Line a baking sheet with parchment paper.
Combine the flour, sugar, baking powder, baking soda, and lavender in a big bowl.  Cut the butter into it and with a pastry blender or with your fingertips make a coarse crumble.  Stir in the buttermilk and vanilla extract.  Don't overmix.
For each scone, drop 2 tablespoons of the moist dough onto the baking sheet (2 inches apart).  Flatten the scones a little and sprinkle with demerara sugar and walnuts.  Bake for 20-25 minutes until golden.  Makes 9 scones.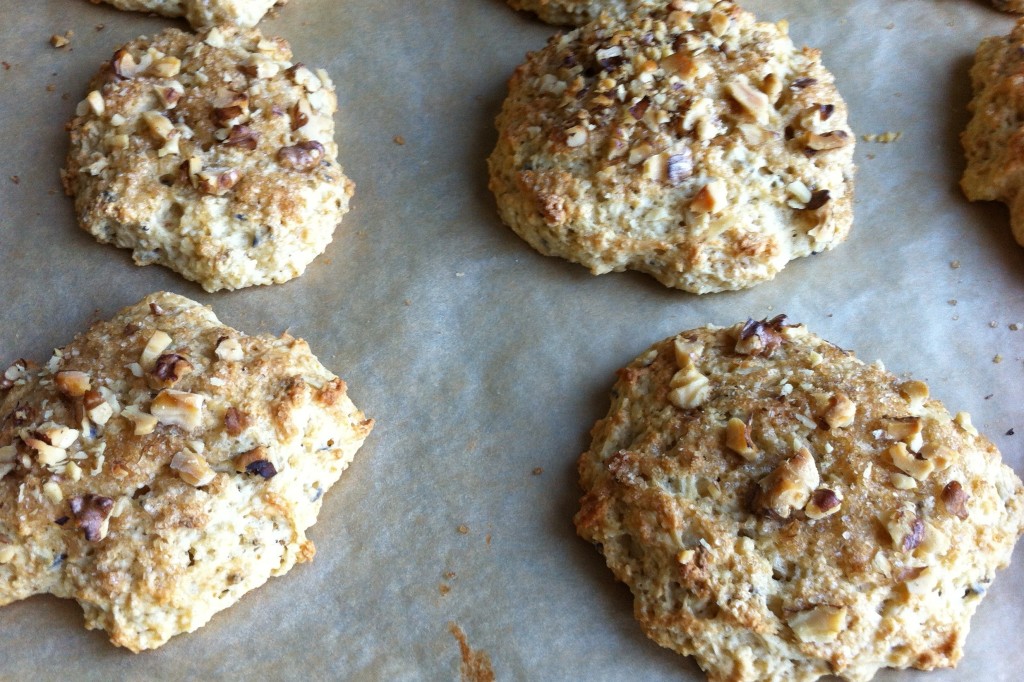 A Washington állambeli Seattle közelében, a Csendes-óceán néhány szigetén több olyan levendula farm is található, ahol nyaranként levendula fesztiválokat rendeznek.  Ezek meglátogatása sokak kedvenc időtöltése.  Már néhány éve annak, hogy egy ilyen fesztiválon ettem életemben először levendulás édes pogácsát, s mivel nagyon ízlett, ott helyben rögtön vettem egy kis zacskó, sütésre-főzésre használható szárított levendulavirágot.  Onnan hoztam ezt a receptet is.  Én mindig levendulával készítem, ami erre mifelénk könnyen beszerezhető, de ha esetleg tifelétek nehezebb étkezési levendulát venni, a pogácsák szerintem e nélkül is kitűnőek lesznek.  Elveszik viszont a különleges illatuk, ízük, ami annyira egyedivé teszi őket.
liszt – 250 g
kristálycukor – 75 g
sütőpor – 1 evőkanál
szódabikarbóna – ½ teáskanál
szárított étkezési levendula – 2 evőkanál
fagyos vaj – 2 evőkanál
író – 250 ml
vanília kivonat – 1 evőkanál

a pogácsa tetejére
nagyszemű kristálycukor – 2 evőkanál
apróra vagdalt dió ­– 3 evőkanál
A sütőt előmelegítjük 200°C-ra, s egy tepsit kibélelünk sütőpapírral.
A lisztet, cukrot, sütőport, szódabikarbónát és levendulát egy nagy tálban összekeverjük.  Hozzáadjuk a vajat és ujjbegyeinkkel összemorzsoljuk.  Belekeöntjük az írót és a vanília kivonatot.  Fakanállal lazán összekeverjük.
A tésztából egyszerre 1-2 evőkanálnyit – egymástól kb. 4 cm távolságban – a tepsire halmozunk. A pogácsákat a kanállal egy kicsit meglapogatjuk, majd megszórjuk cukorral és vagdalt dióval.  Kb. 20-25 perc alatt aranyszínűre sütjük.  A tésztából 9 édes pogácsát kapunk.