It felt like we arrived into another world.  A giant baobab tree greeted us by the entrance into the national park, and the promise of elephants, many species of birds, and many more iconic baobabs made us quite excited for our two-day visit ahead.

Day 20 and 21: Tarangire National Park
Located in Northern Tanzania close to Lake Manyara National Park, this magnificent, quiet, and spacious park – the sixth largest in Tanzania – is often overshadowed by Serengeti and Ngorongoro.  It's hilly landscape and diverse vegetation makes it completely different from its well-known neighbors.  It's one of the best places to see large numbers of African elephants and beautiful birds.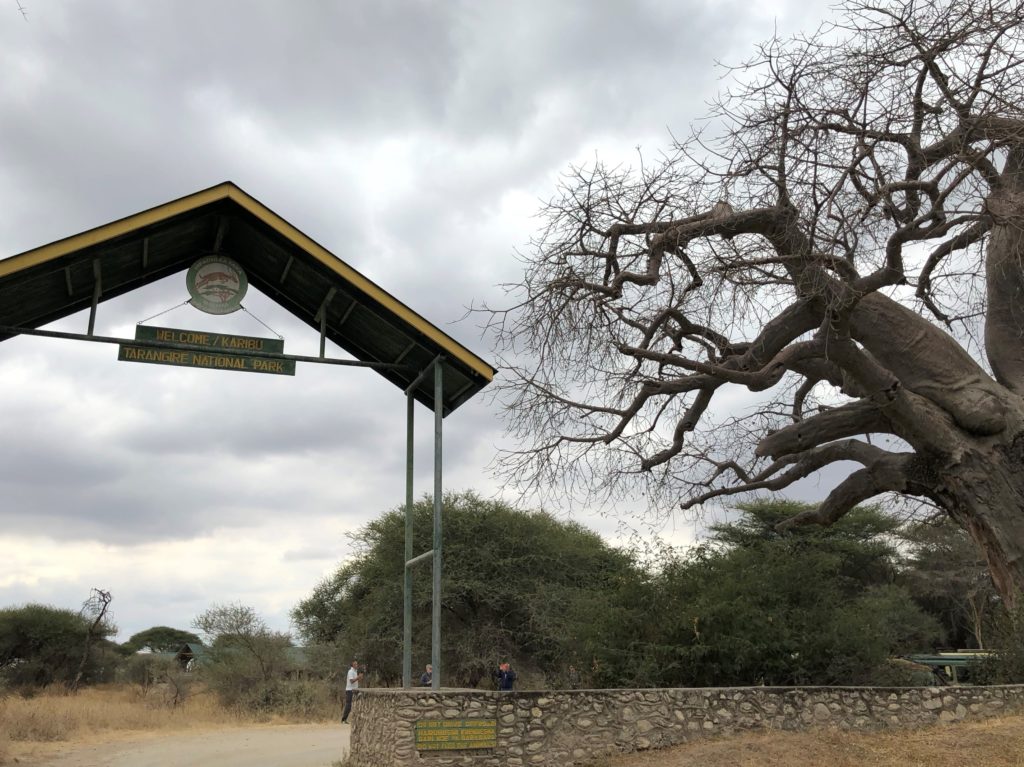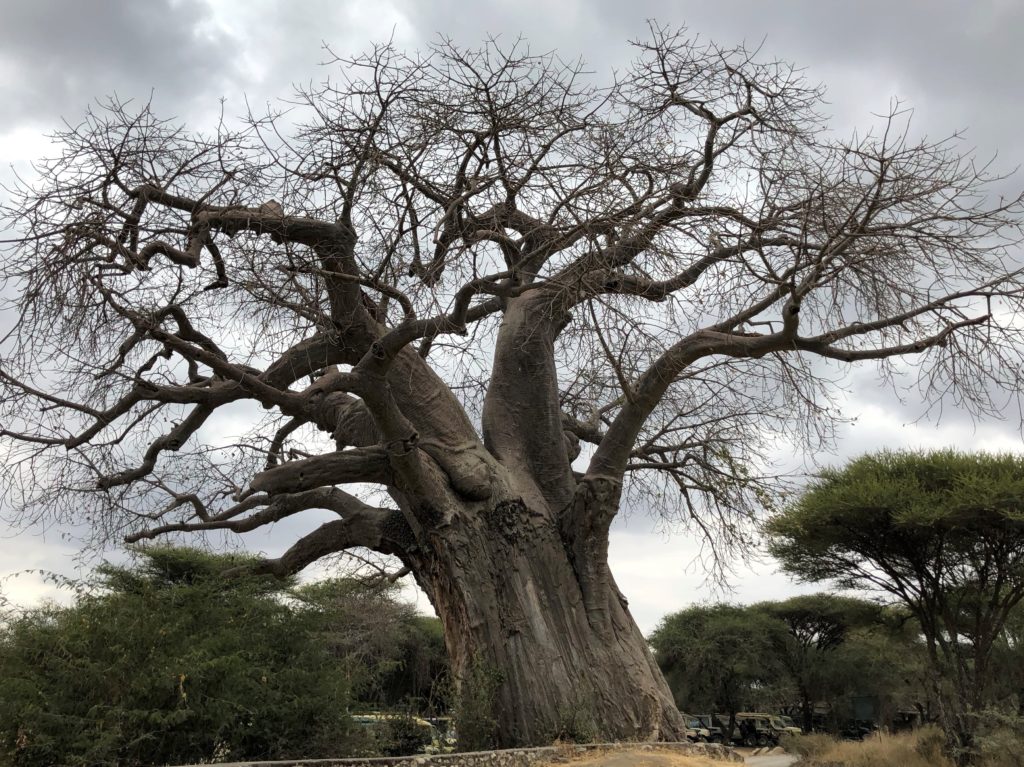 The park got its name from the Tarangire River, which crosses through it, and which was almost totally dried out while we were visiting (this is the case during the dry season).  Our guide, Humphrey, told us that the name Tarangire means "river of warthogs."
While our guide, Humphrey, did the usual paperwork for entering to the park, we explored the grounds close to the entrance.  We climbed stairs almost to the top of a baobab tree to examine it from up close.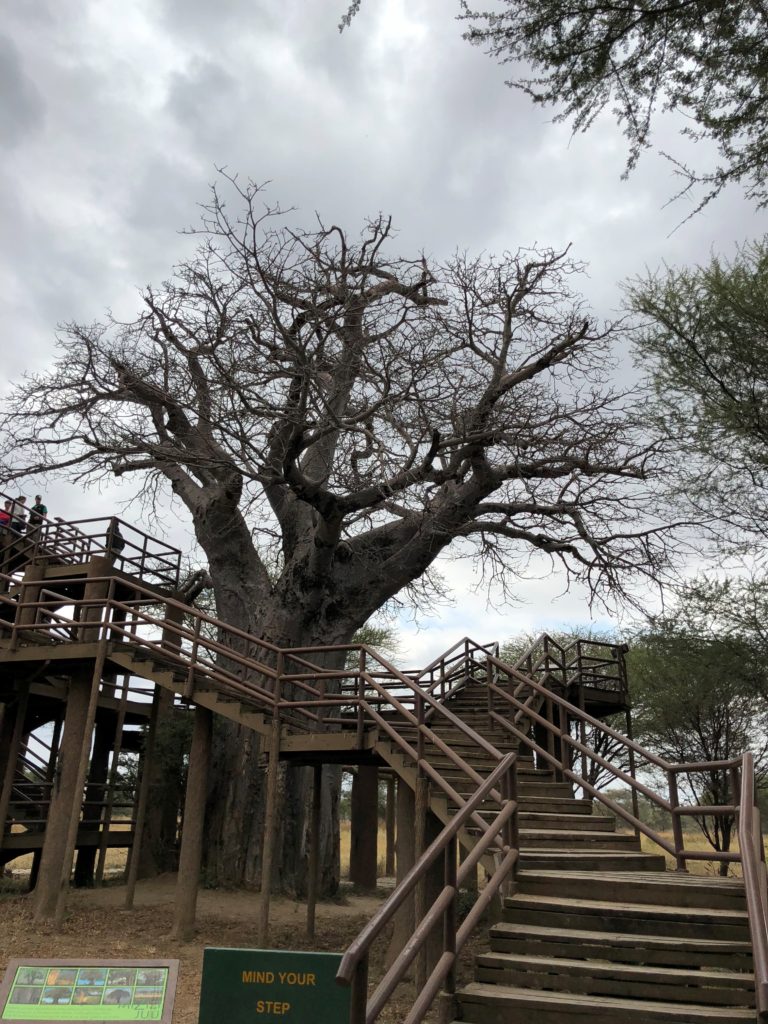 No wonder they say, Tarangire is a great destination for bird enthusiasts with its 500-bird species.  Soon, we spotted some colorful lovebirds, go away bird, gray-headed kingfisher, green-winged pytillia, just to name a few.  The pattern of seeing many unique birds – many of them endemic – continued both days.  It turned out that Humphrey, just like Steve, was a bird enthusiast and was quick to share his vast knowledge of local birds with Steve.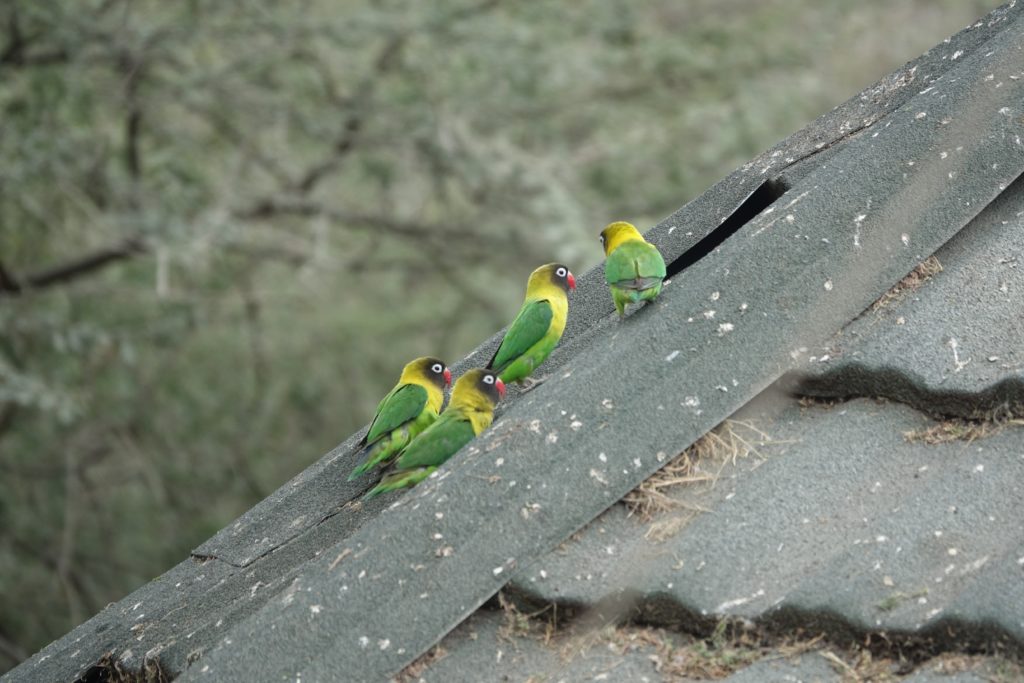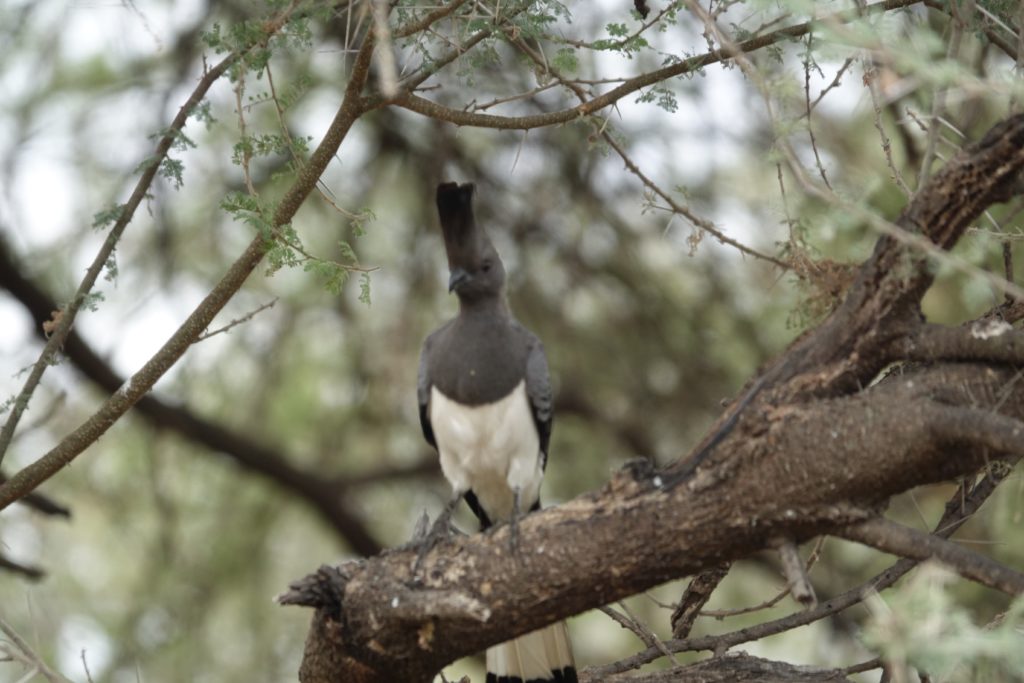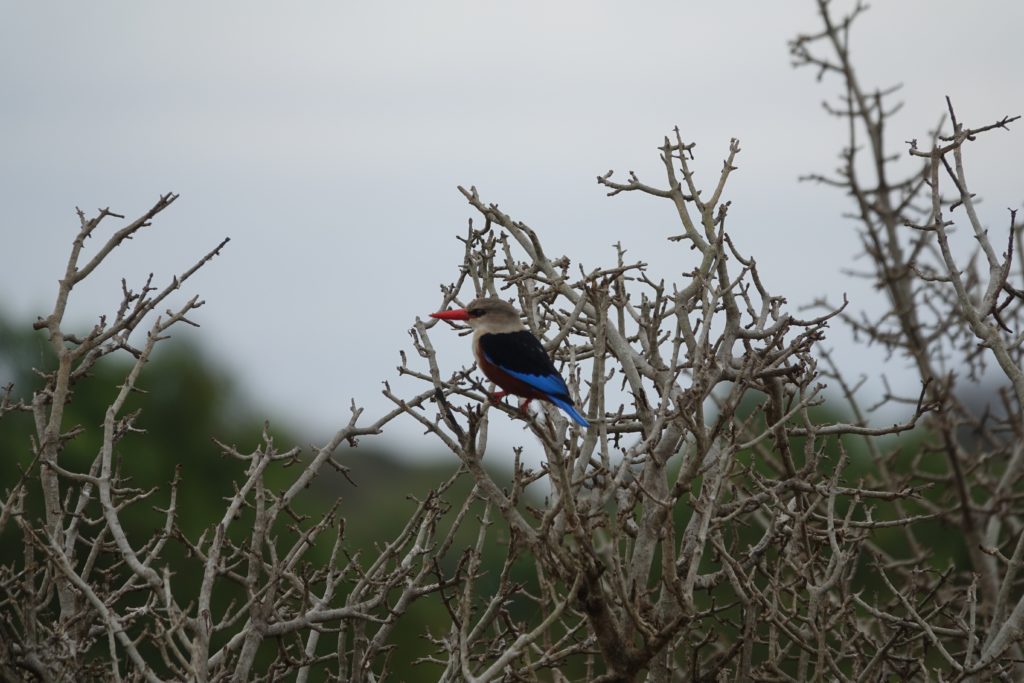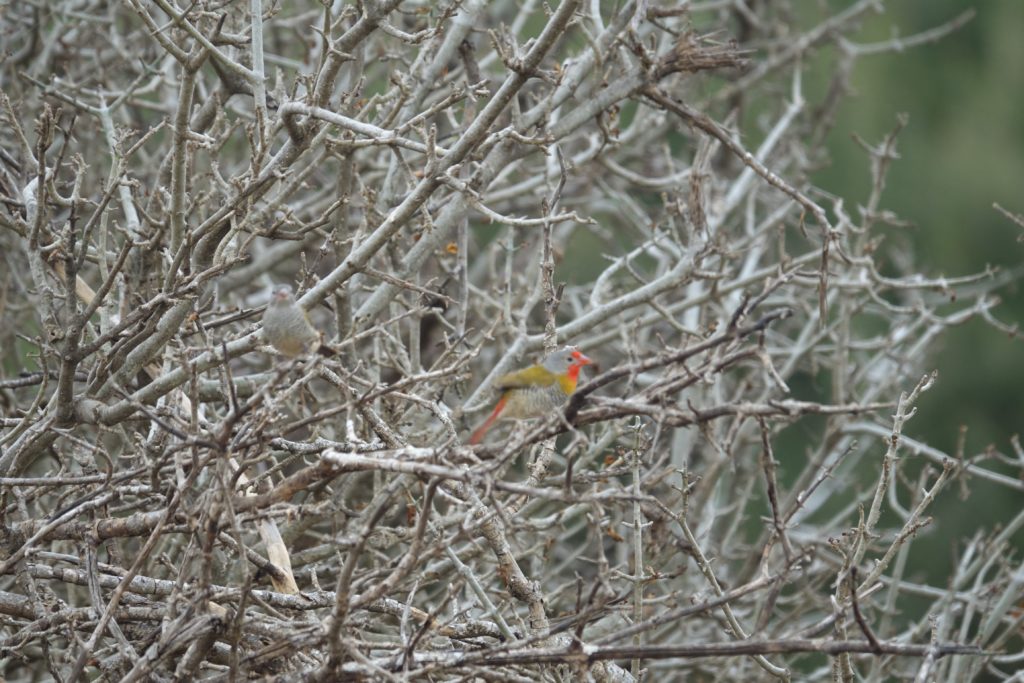 We learned that Tarangire National Park has the largest concentration of wildlife among Tanzania's national parks, including animals that cannot be found in the others, like gerenuk or Lesser kudu.  (Unfortunately, we didn't see these.  How many animals one can see on a safari depends on many things, including the timing of the visit and the weather.)  But we did see other diverse wildlife and observed some interesting animal behaviors.
The zebras showed themselves from many angles and were posing like movie stars.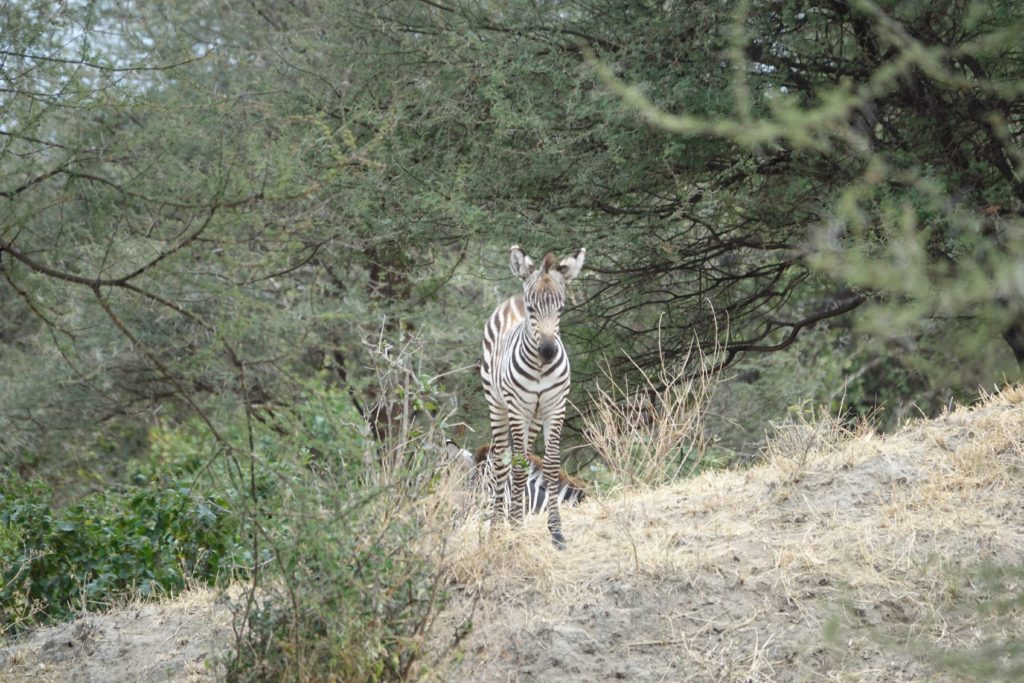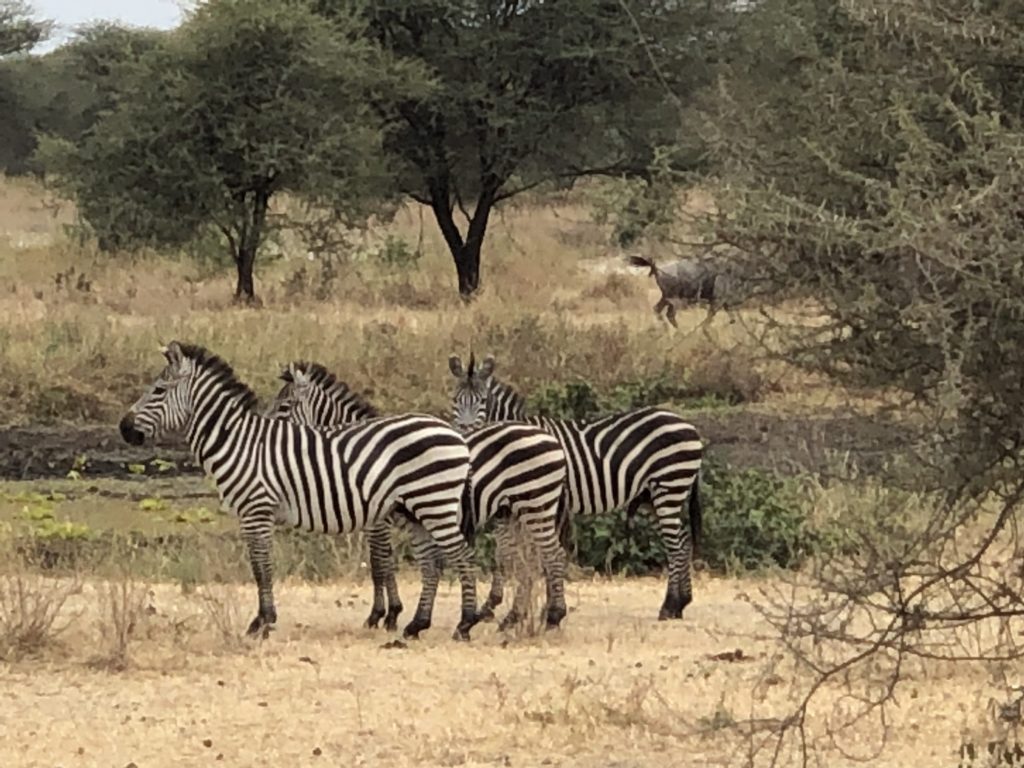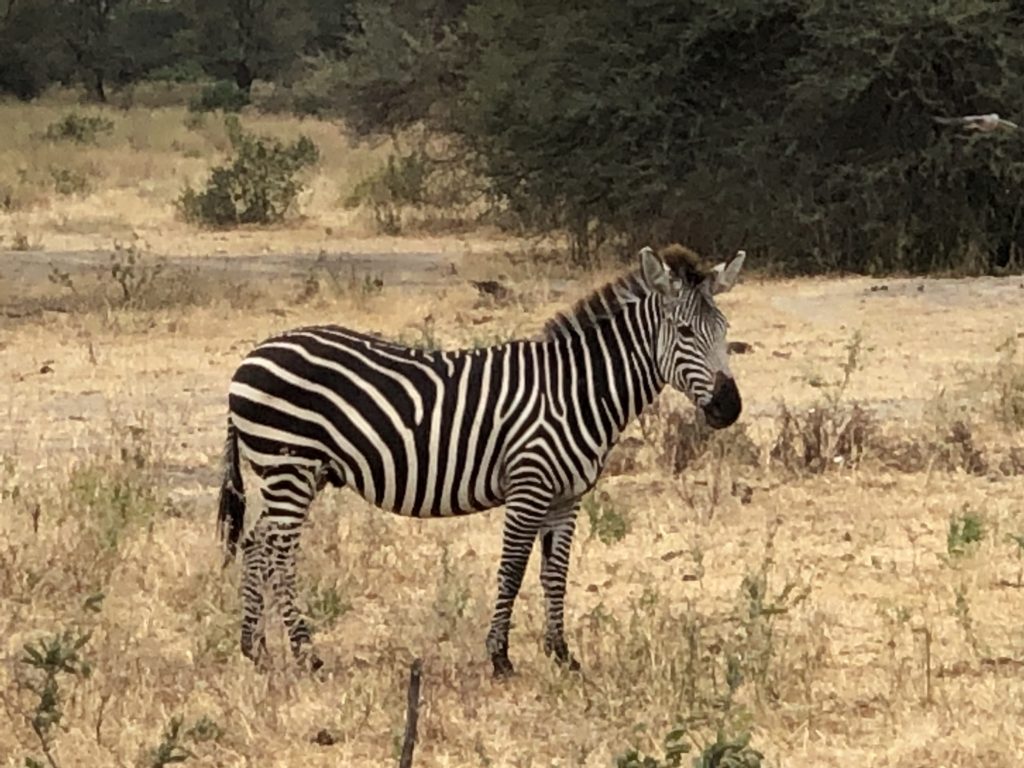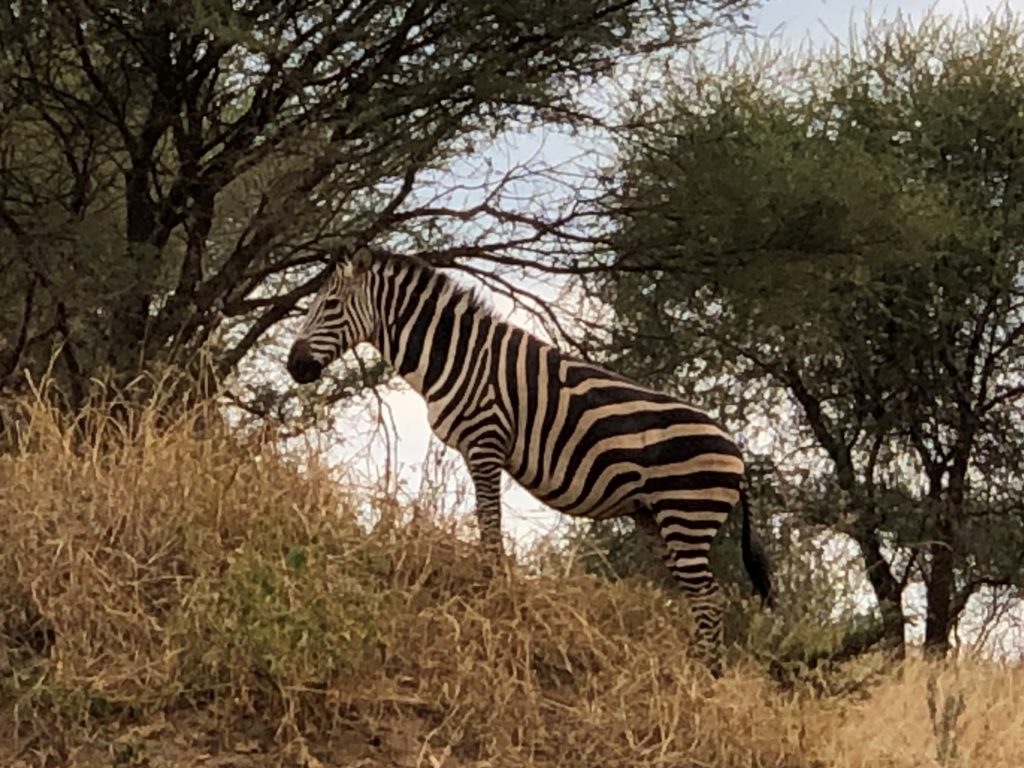 We observed a Maasai giraffe family: the tender relationship between a mother and her 2-3-year-old baby, the father, and later we saw a giraffe relaxing while sitting in the grass.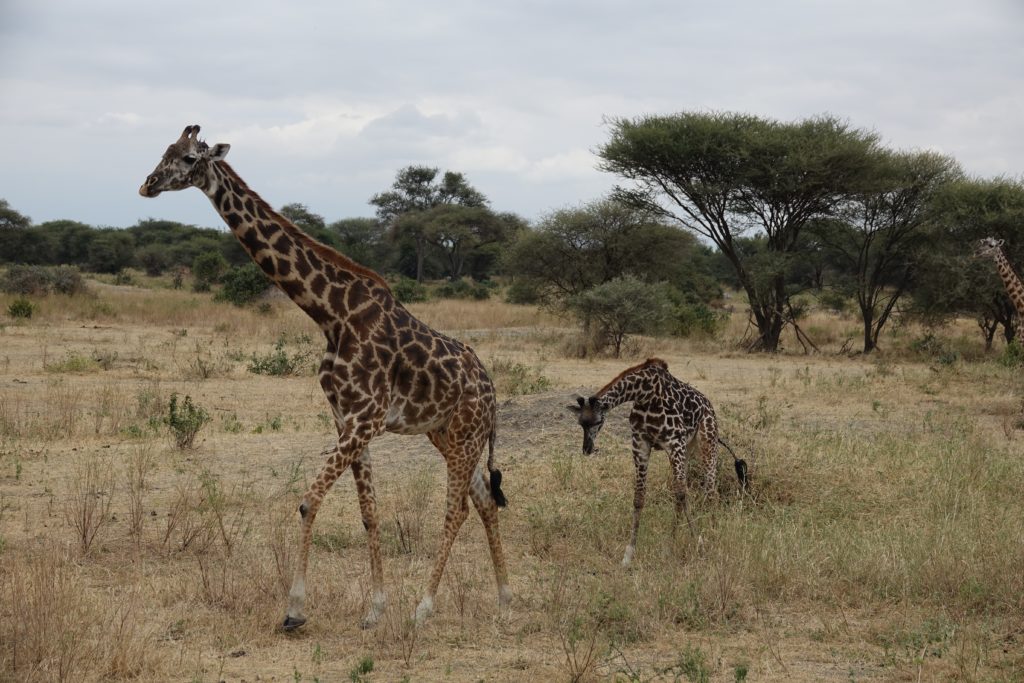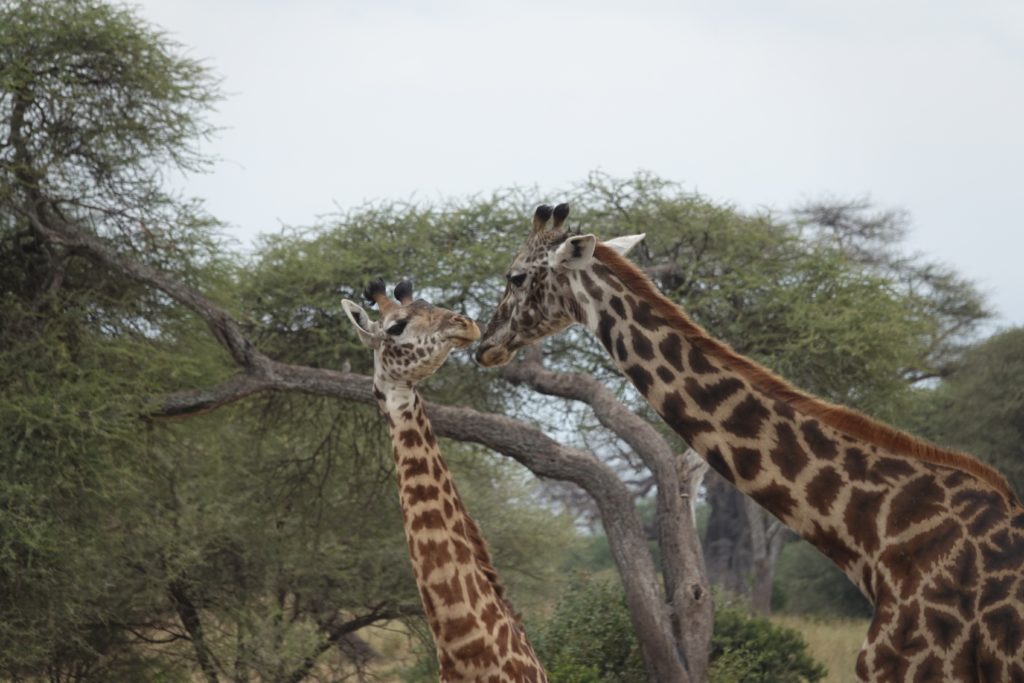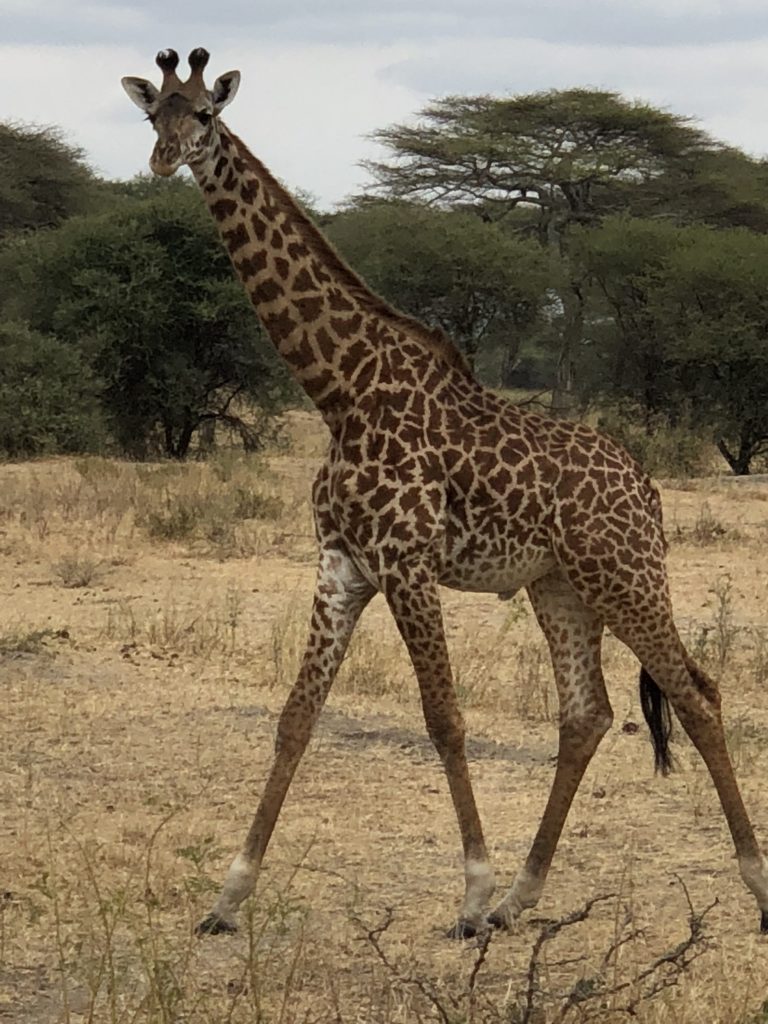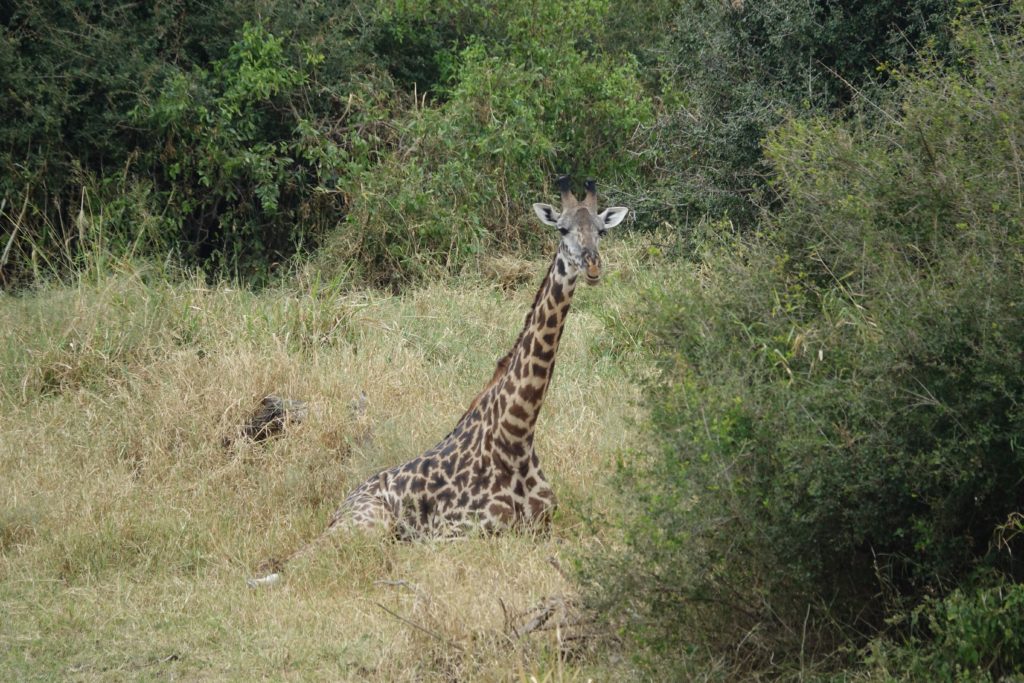 The wildebeest were drinking from a waterhole and were running in a funny way.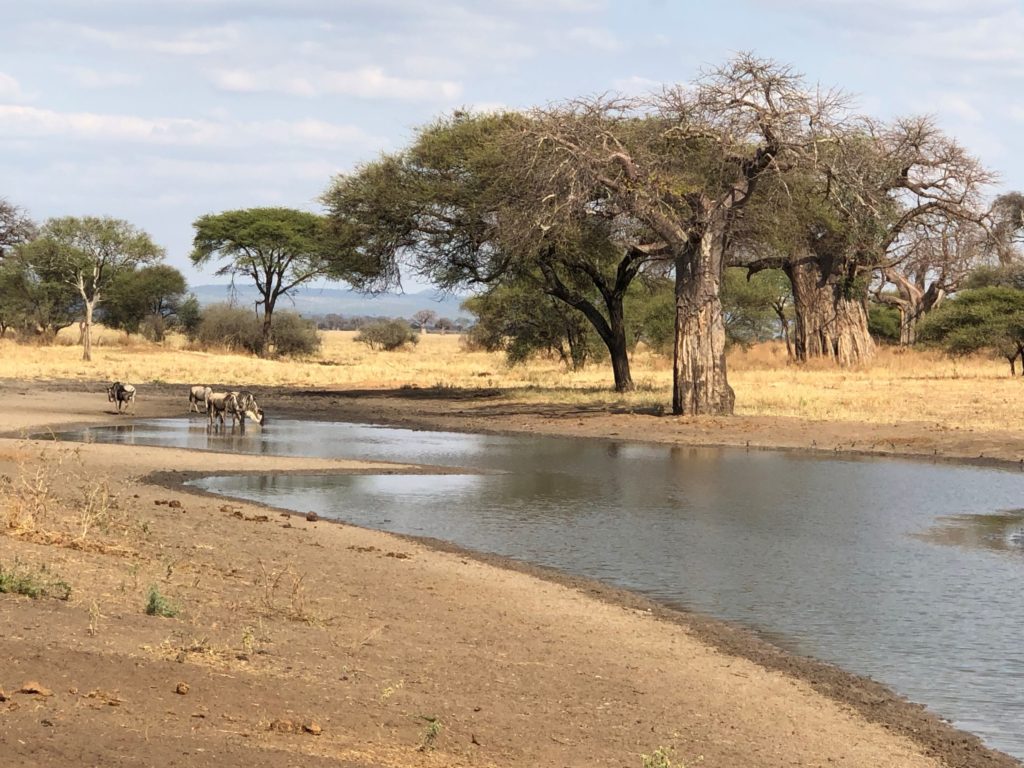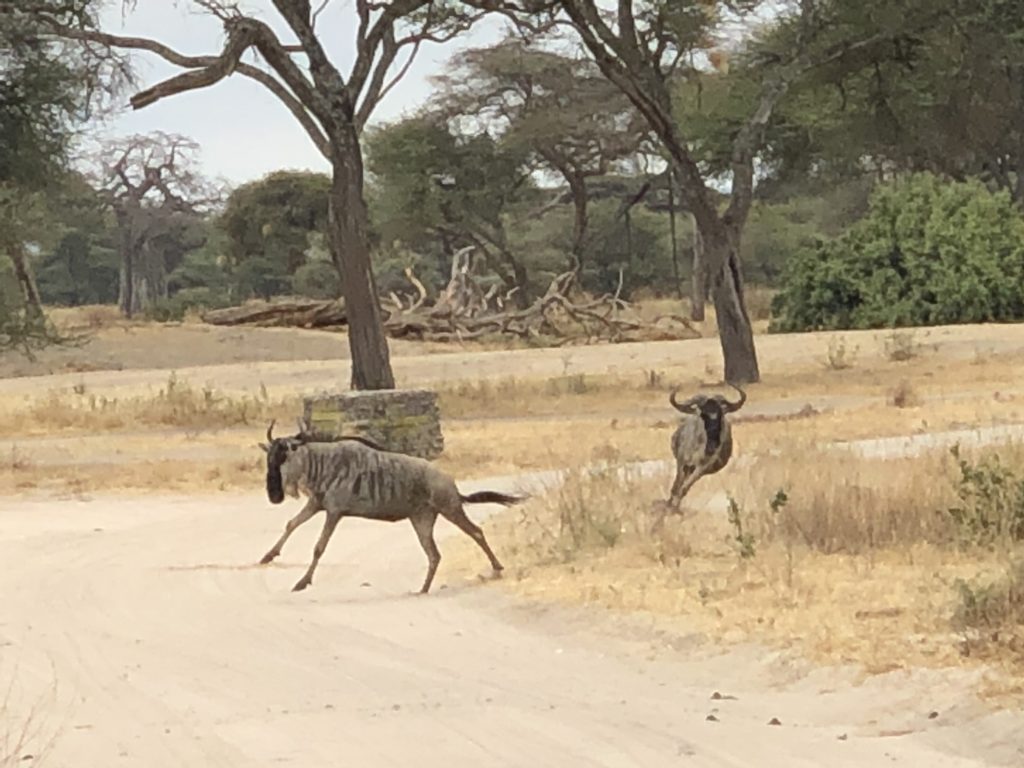 The baboon family moved across the road, the mother carrying her baby on her back.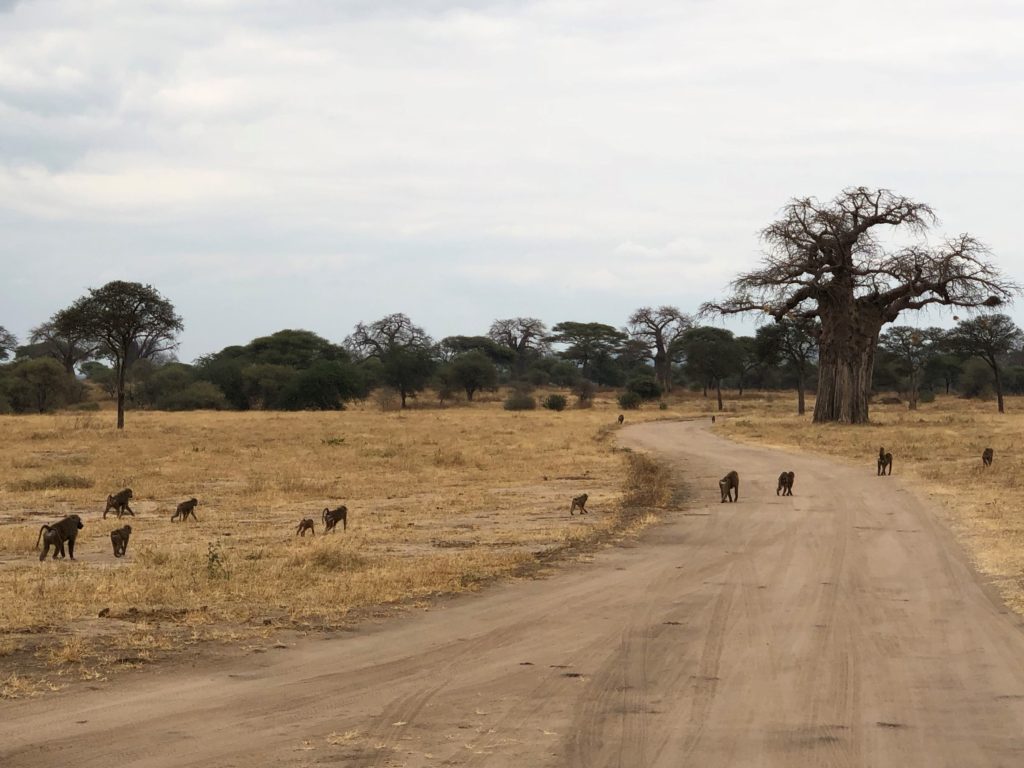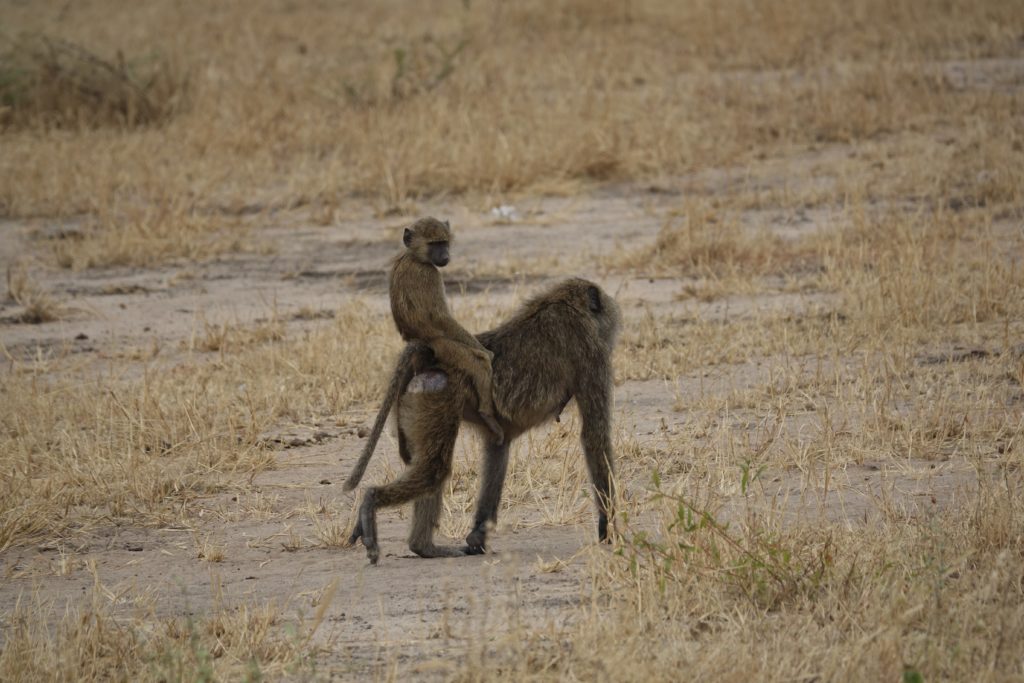 Among the other animals we saw were a dik dik, impala, warthogs, waterbuck, dwarf mongoose, and tree hyrax.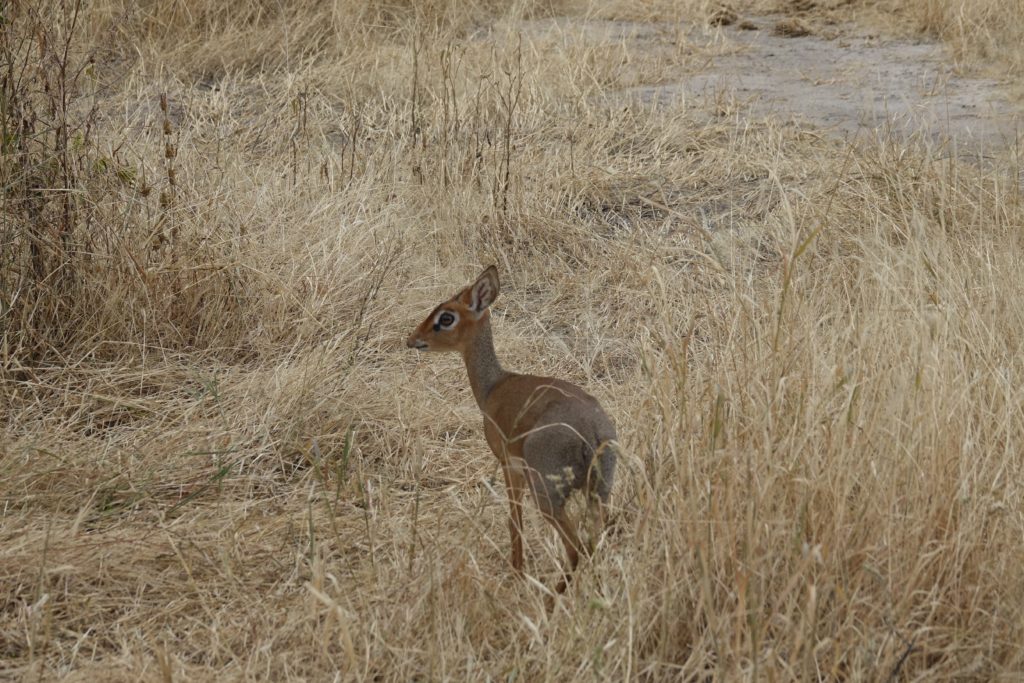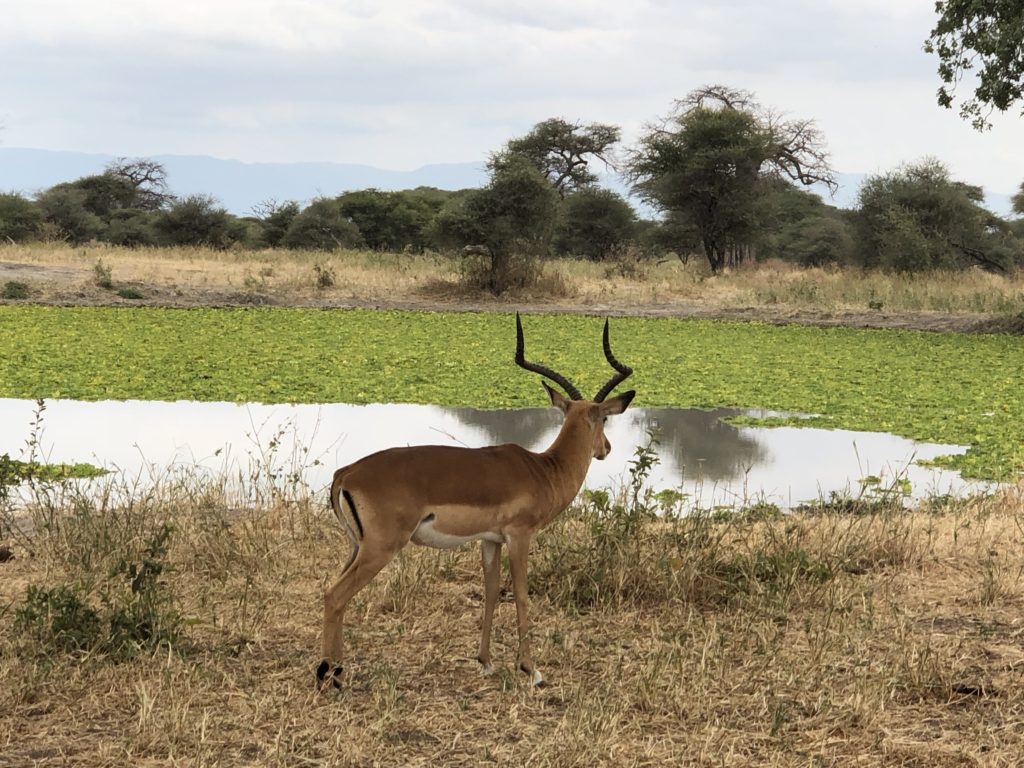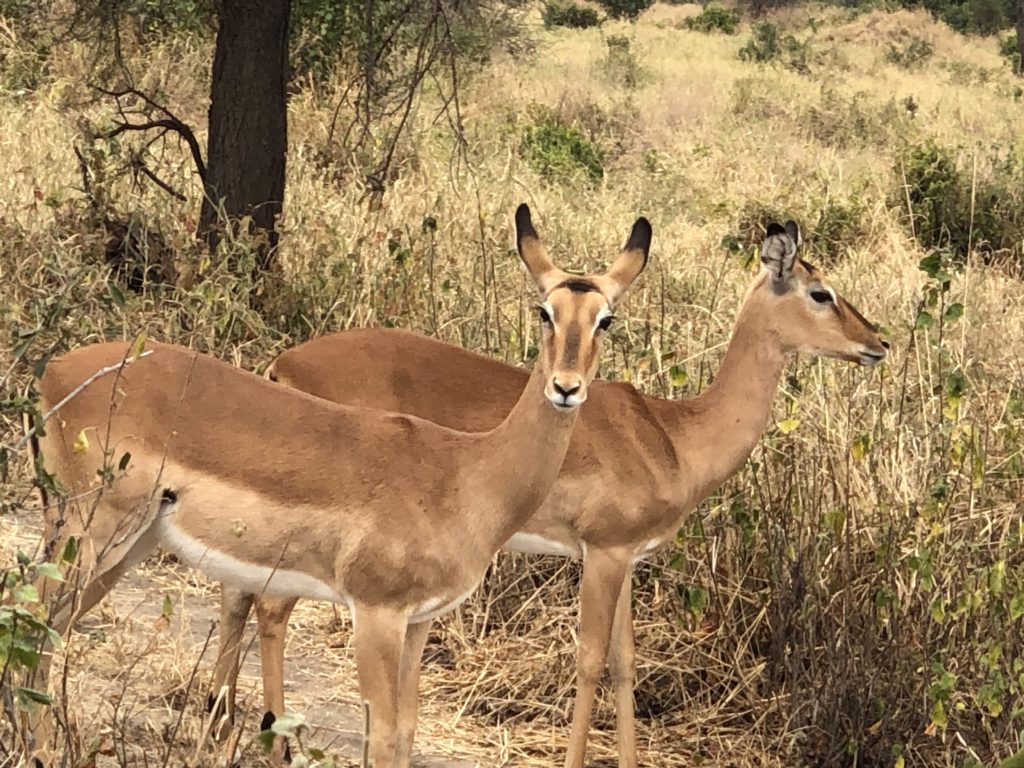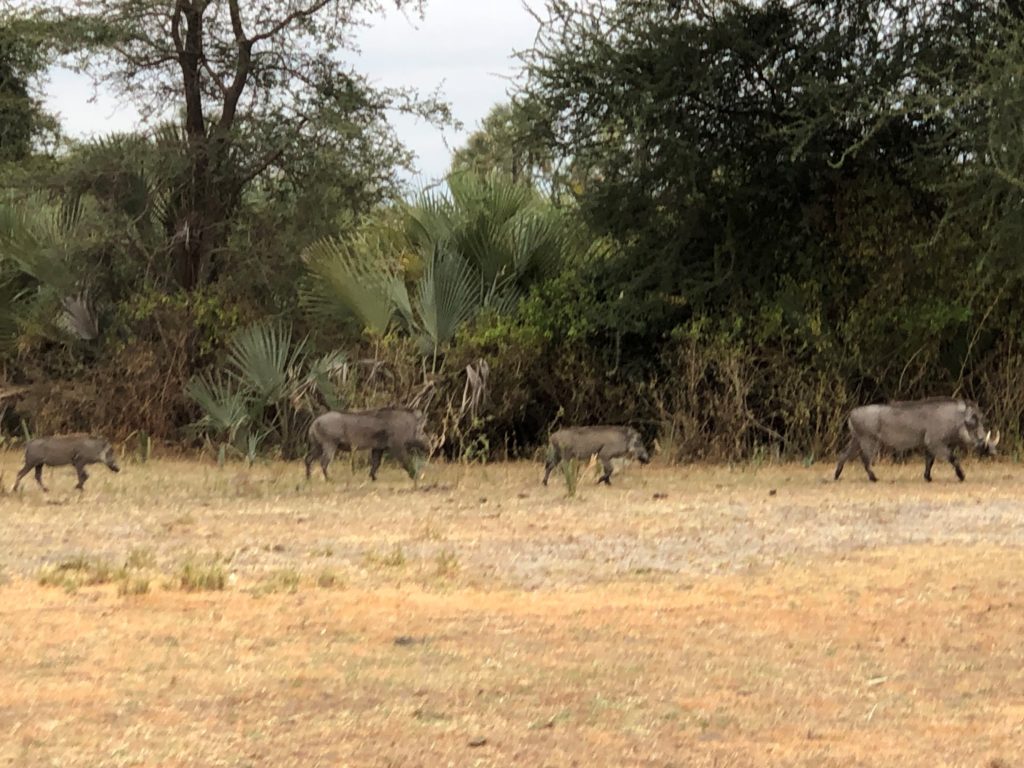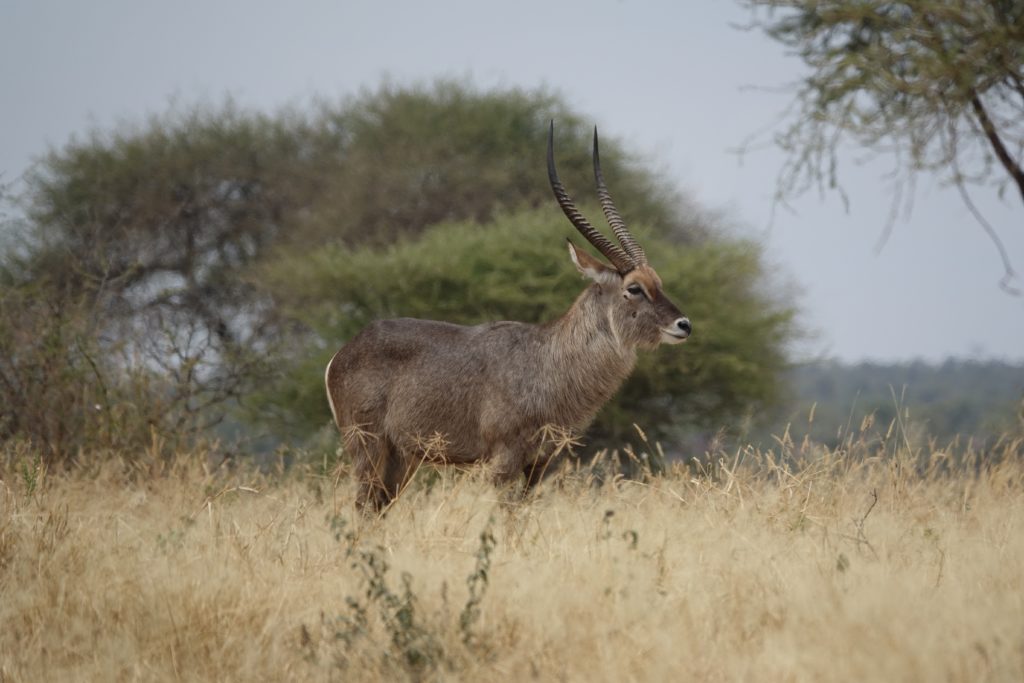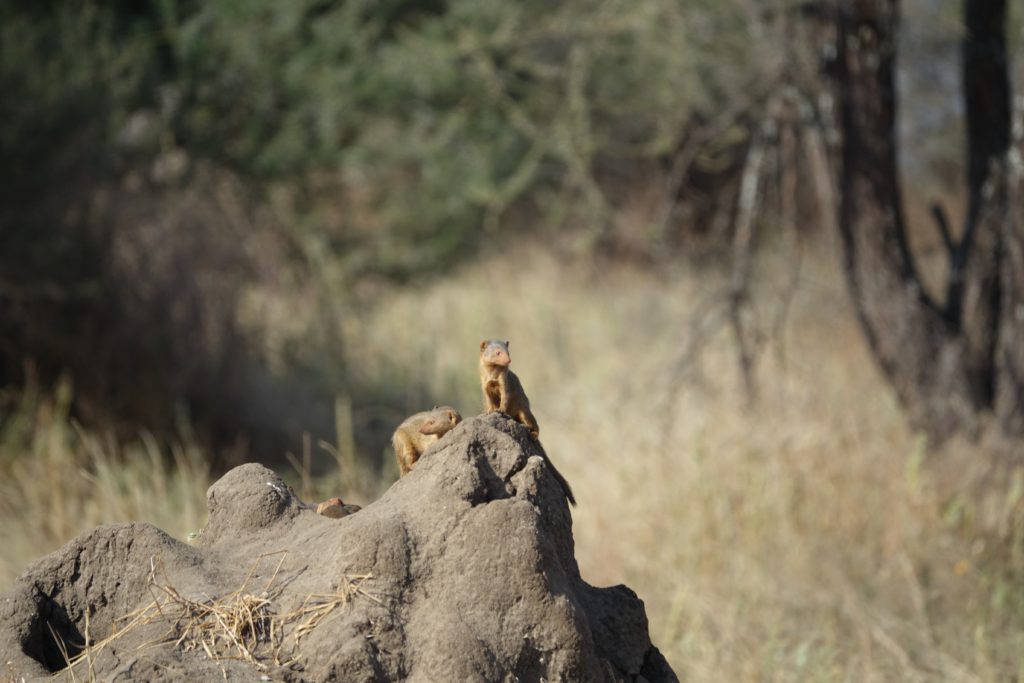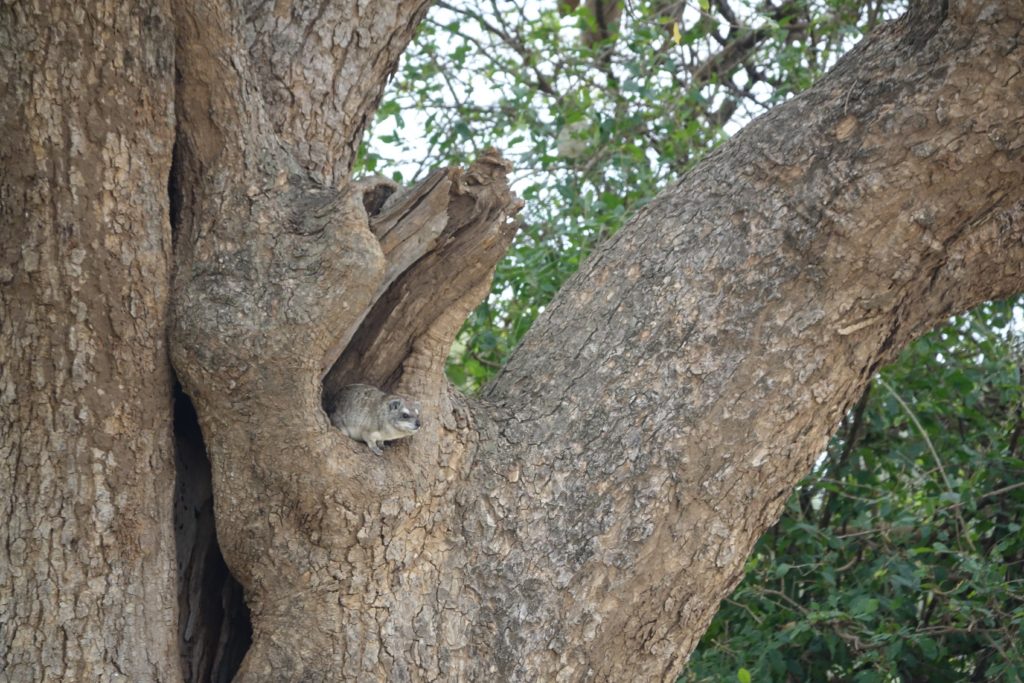 We saw many iconic African elephants on full display.  Did you know that the adult male can weigh up to 15,000 pounds?  They are, unfortunately, under serious threat from poaching for ivory (their tusks).  We saw intimidating lonely bulls close to our safari vehicle and a group of elephants under a baobab tree with an adorable baby.  At a different location we spotted a big elephant lying on the ground.  Was he or she sick?  Old?  Ready to die?  We also noticed a family from a distance walking through the almost dry river bed.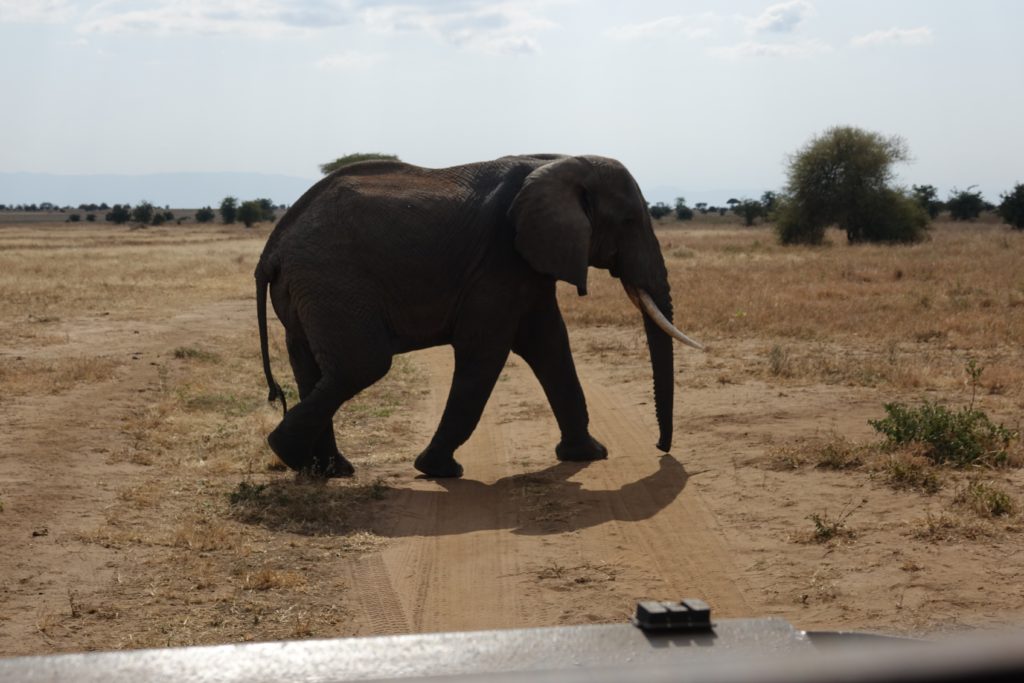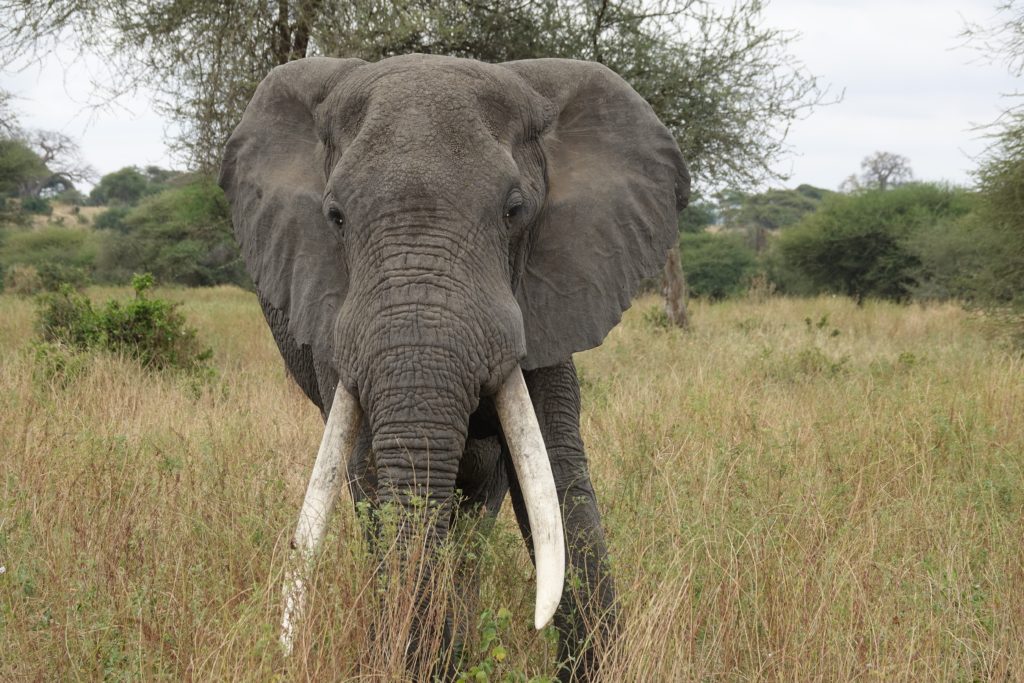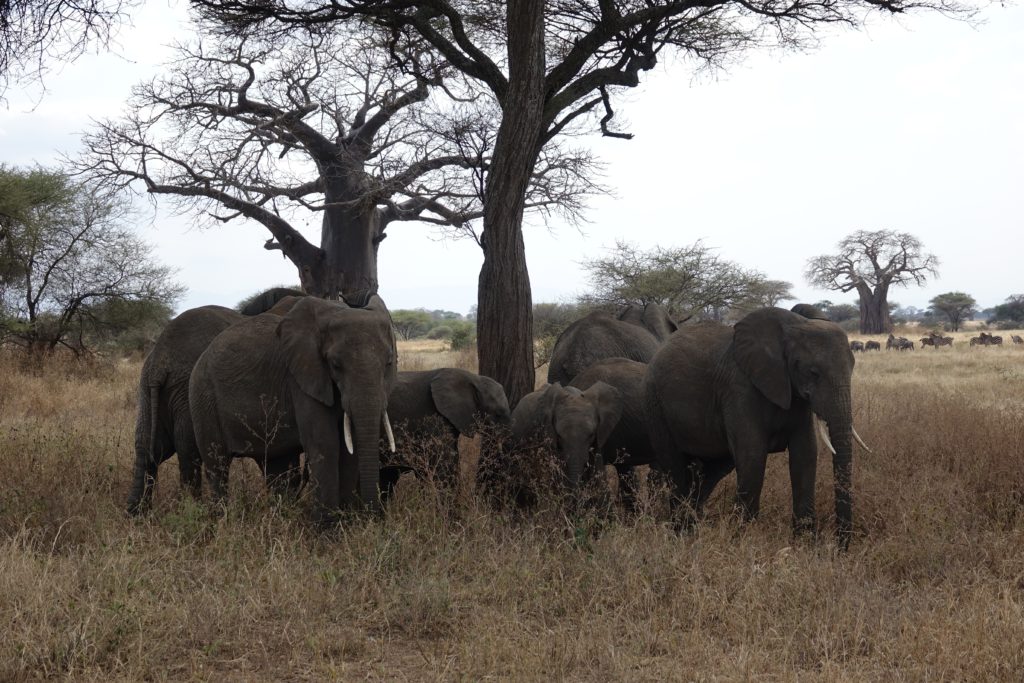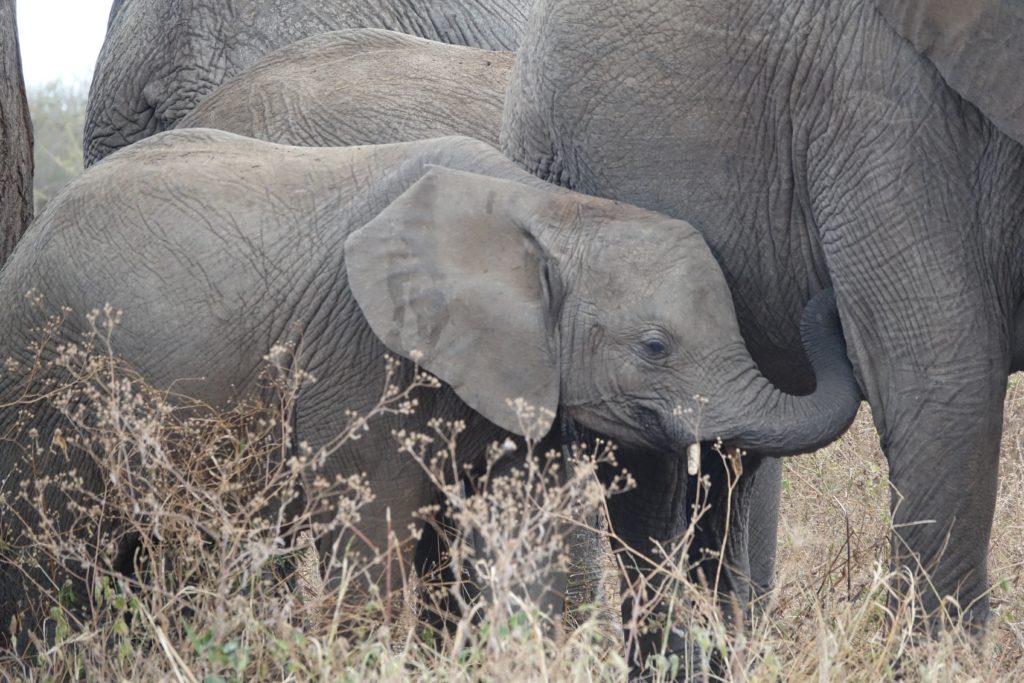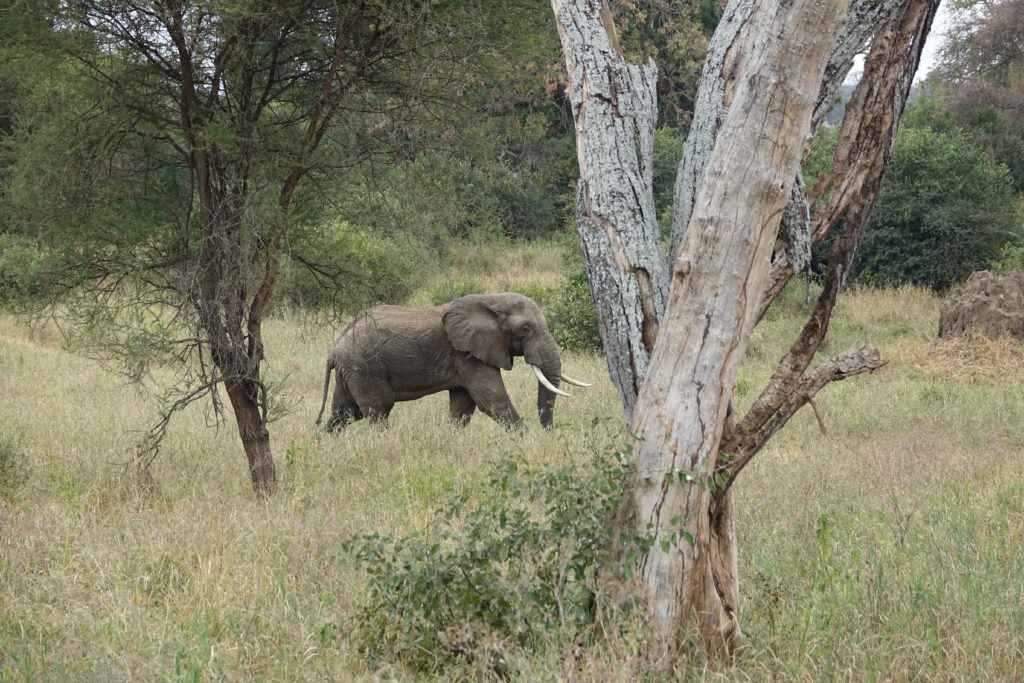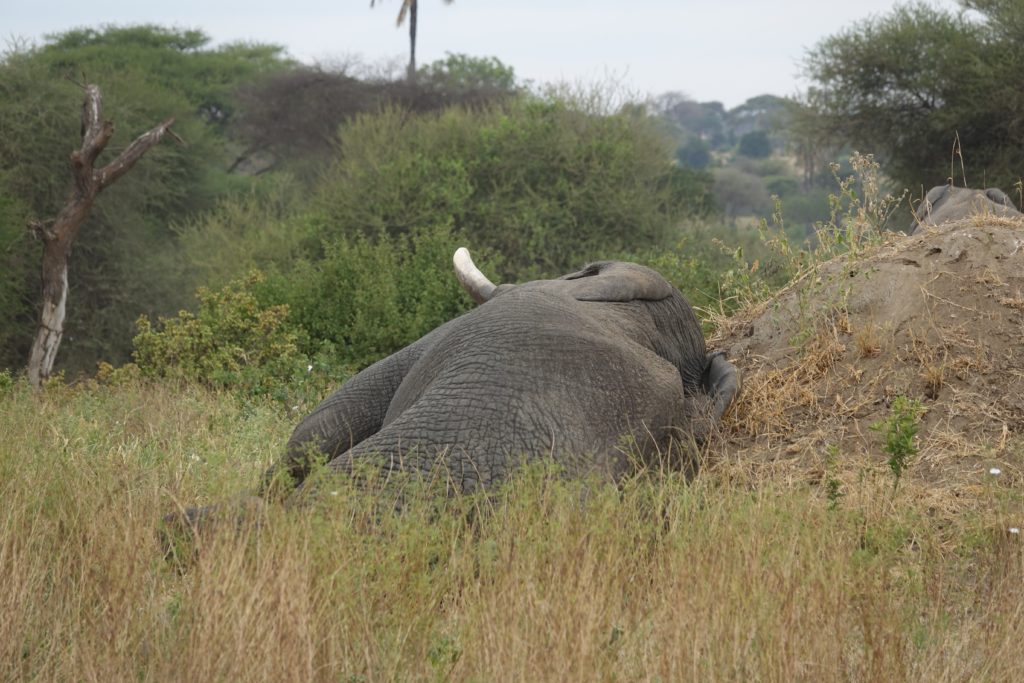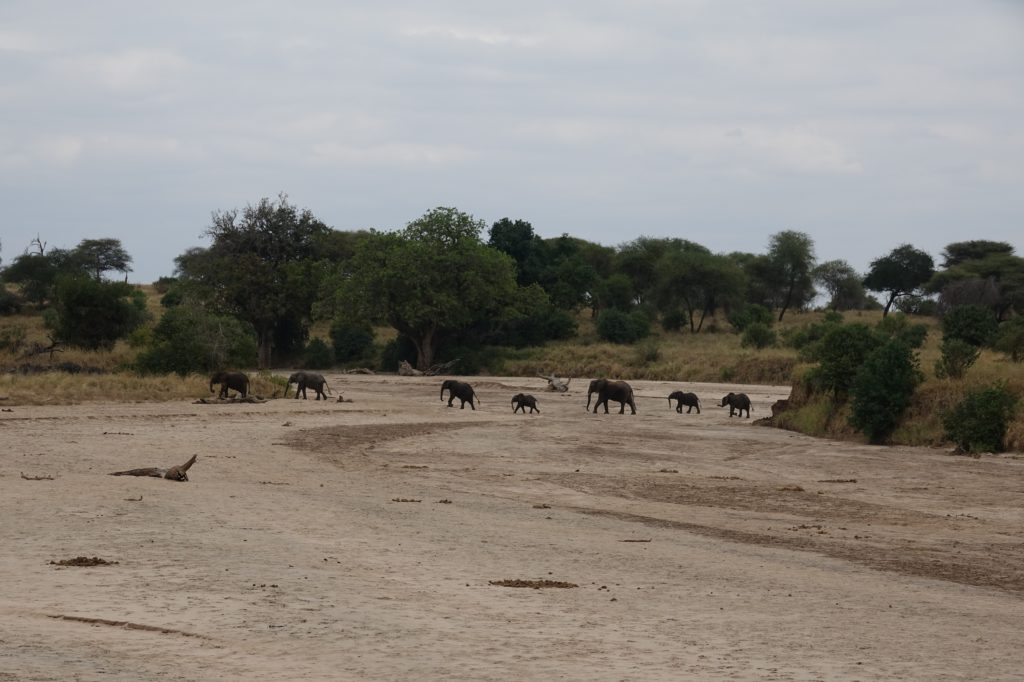 During our picnic lunch by the river, local monkeys were quite a threat.  They were quick to steal a banana or a cookie either from the picnic table or even from the hand of a little boy.  We did protect our food well!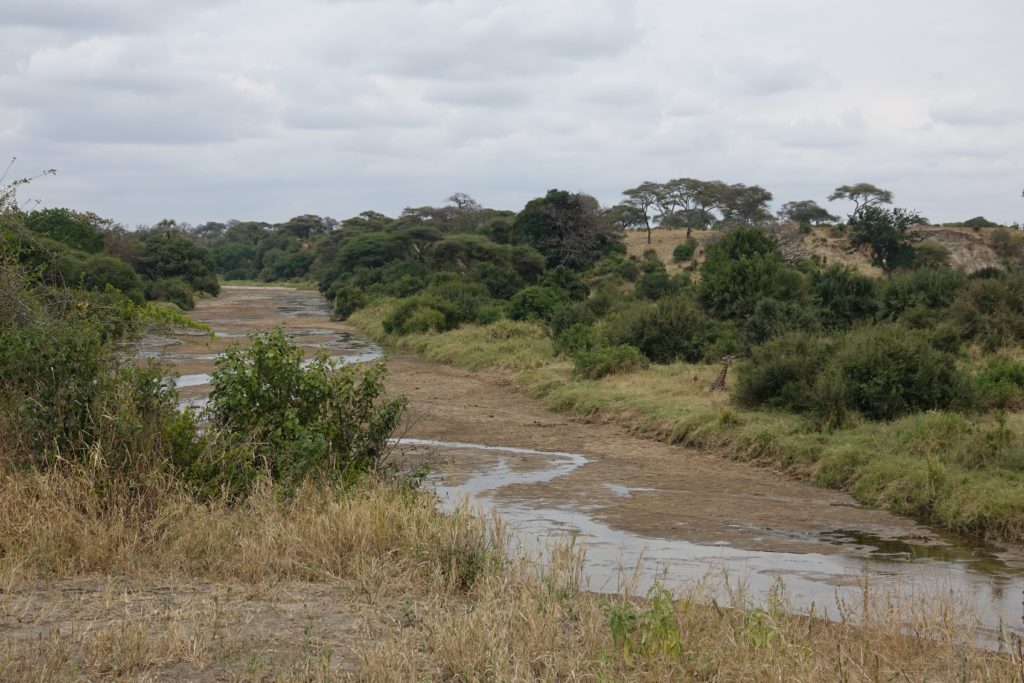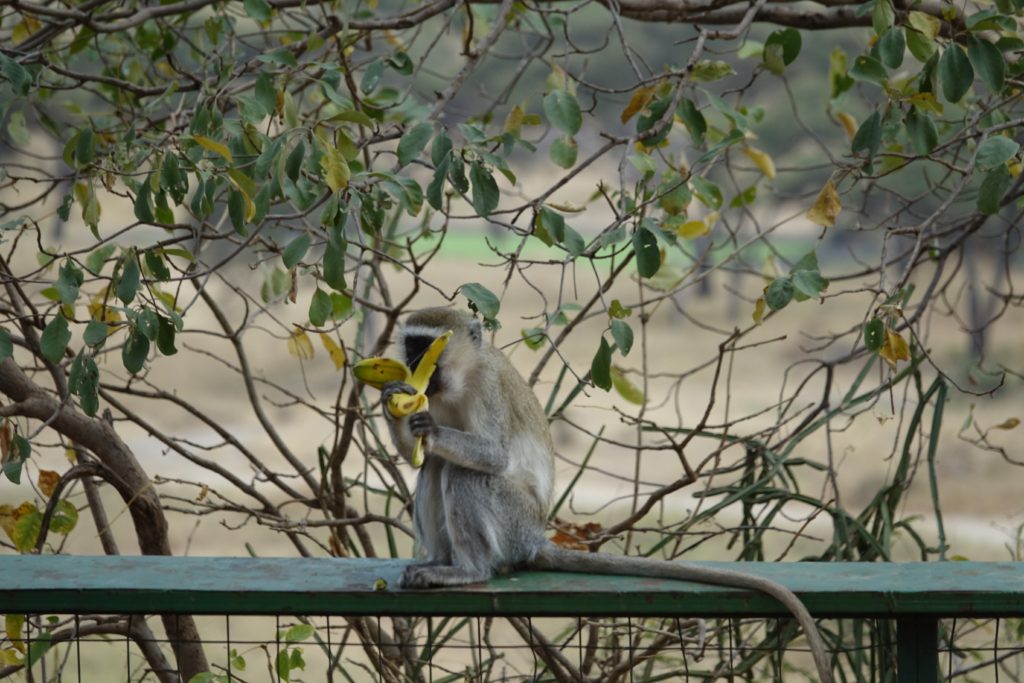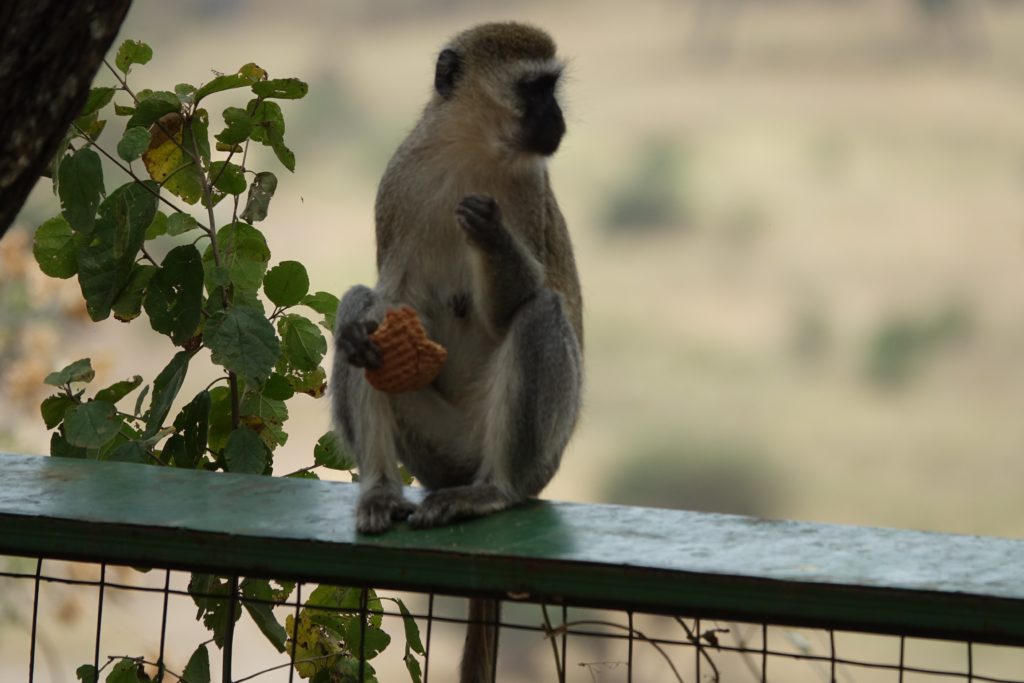 In various locations, especially around the entrance and the picnic area, we noticed royal blue and black flags.  They were on display to attract the tsetse flies common to the park.  To our great relief, during this time of the year there were not too many.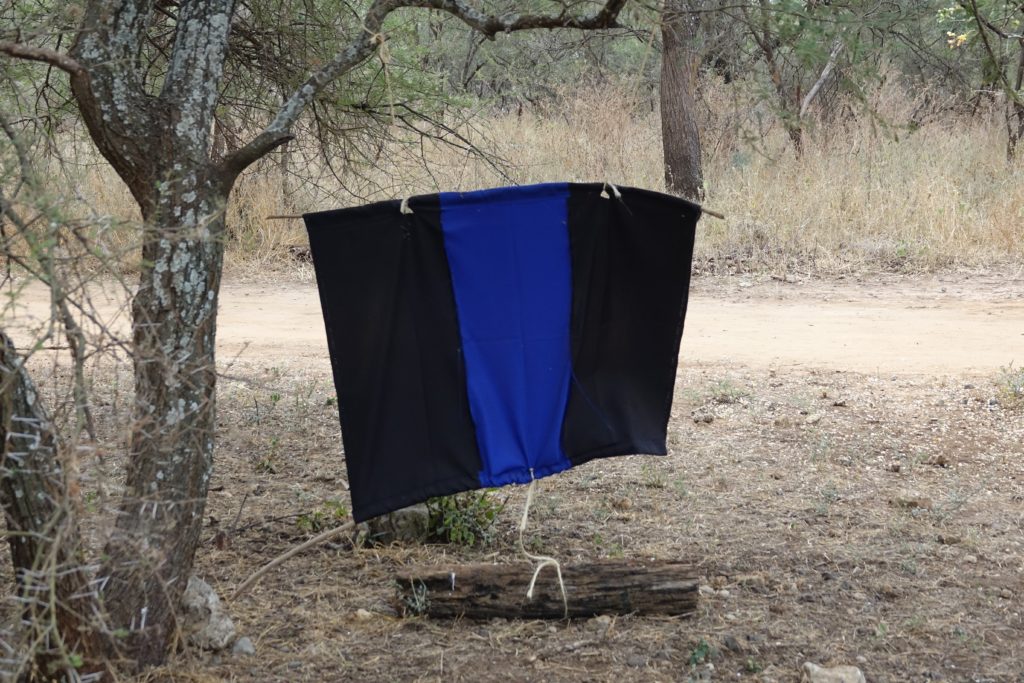 I was totally overwhelmed by the natural beauty of this park.  The savannah, the grassland, the acacia woodlands, but above all, the baobabs (or upside-down trees) that live for hundreds of years, totally enchanted me.  To my great delight, they were there at every corner.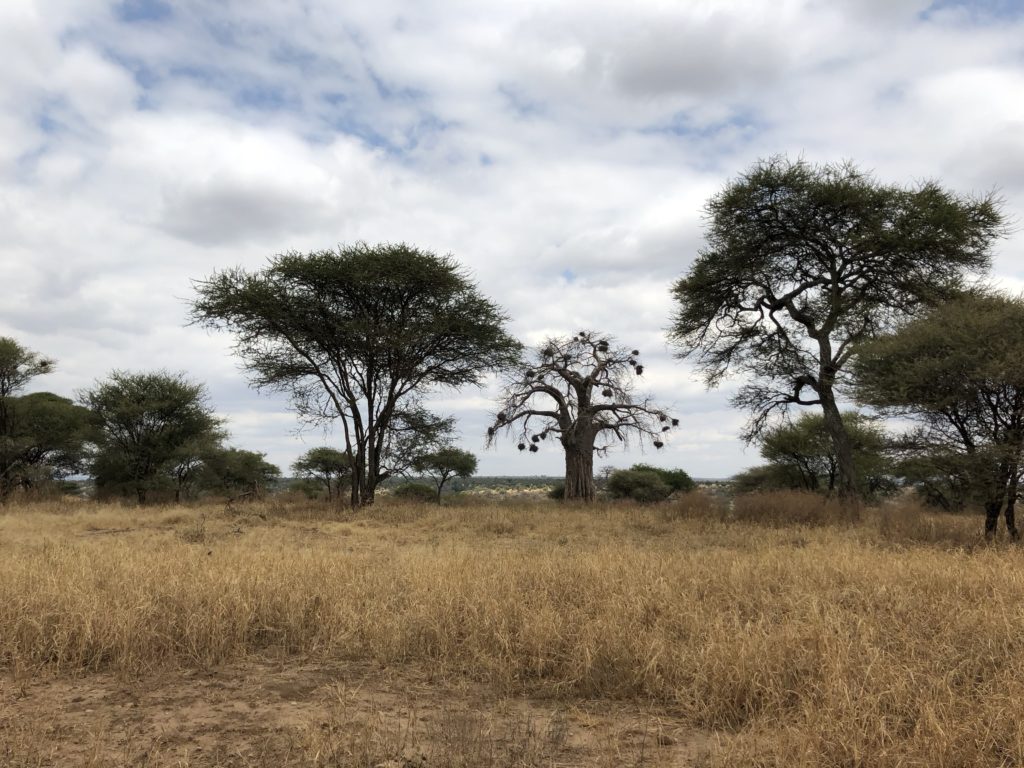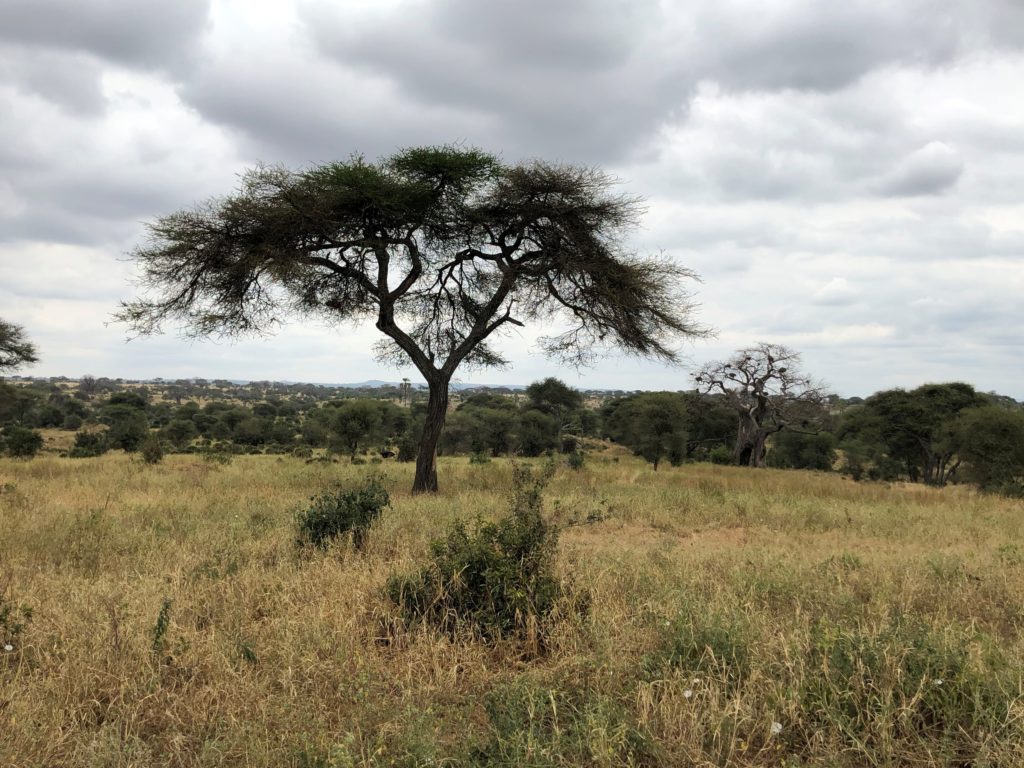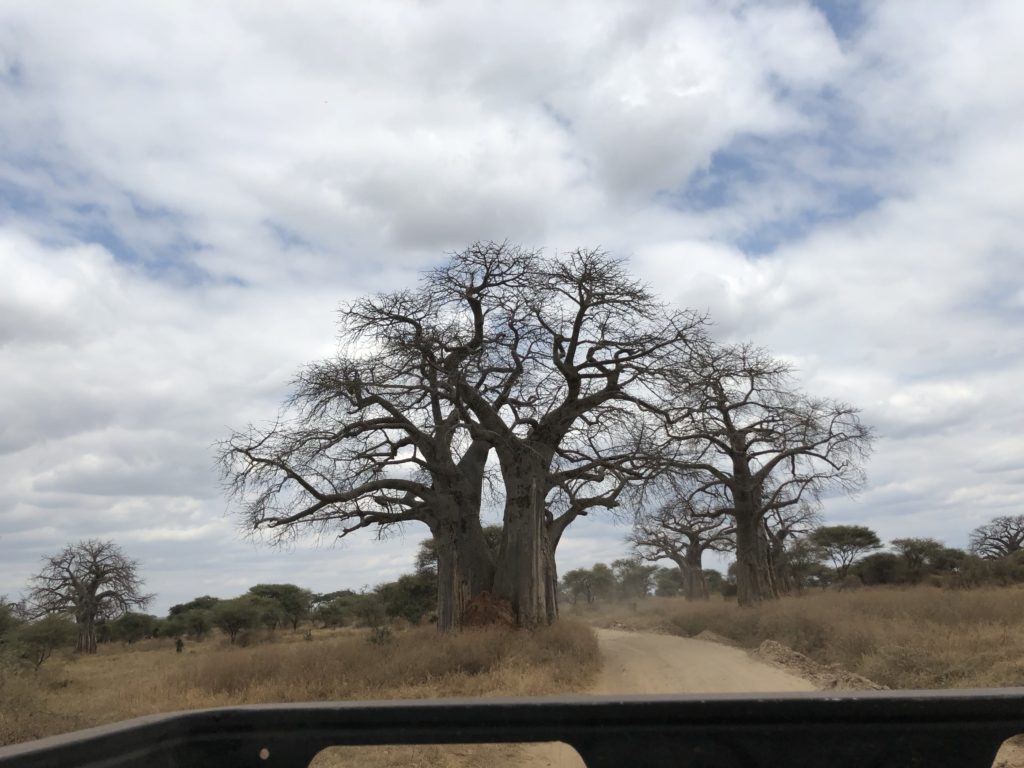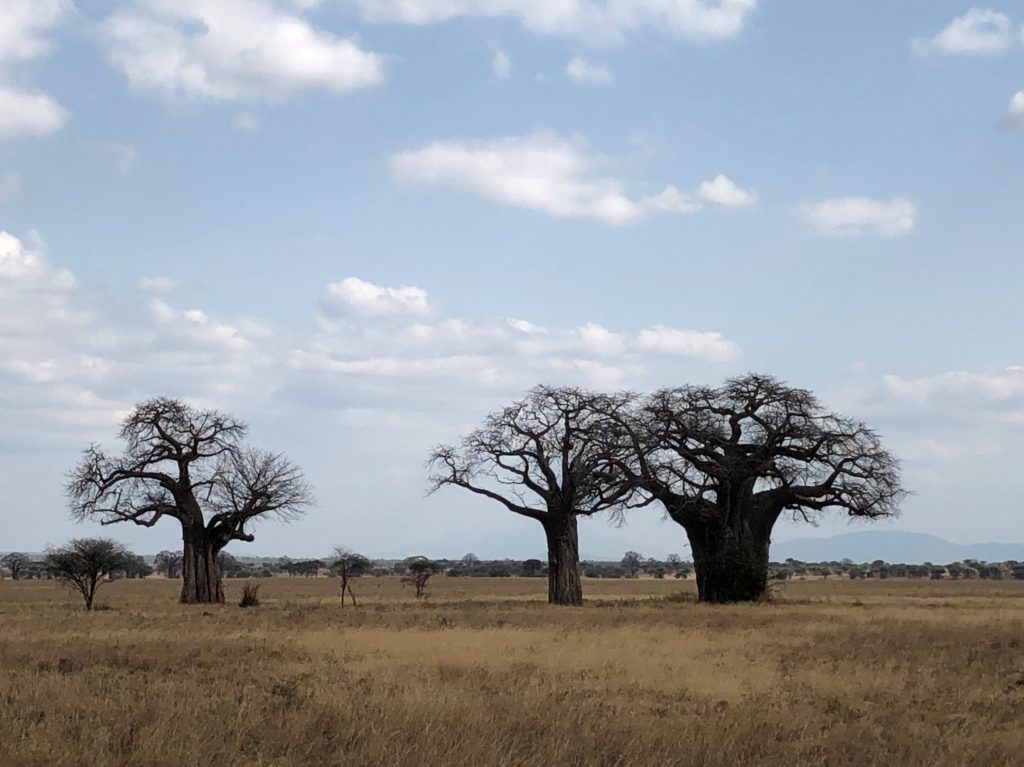 We also saw the unique sausage tree, from which its fruit was hanging like sausages in a butcher shop.  Humphrey picked up one for us from the road to feel how heavy they were.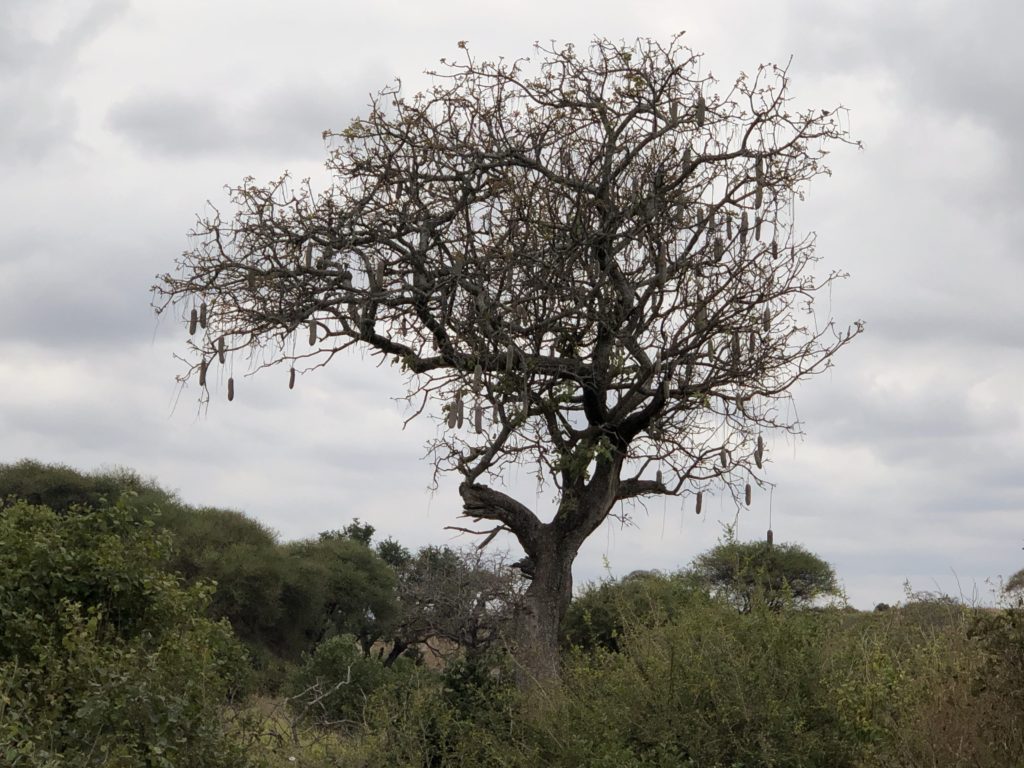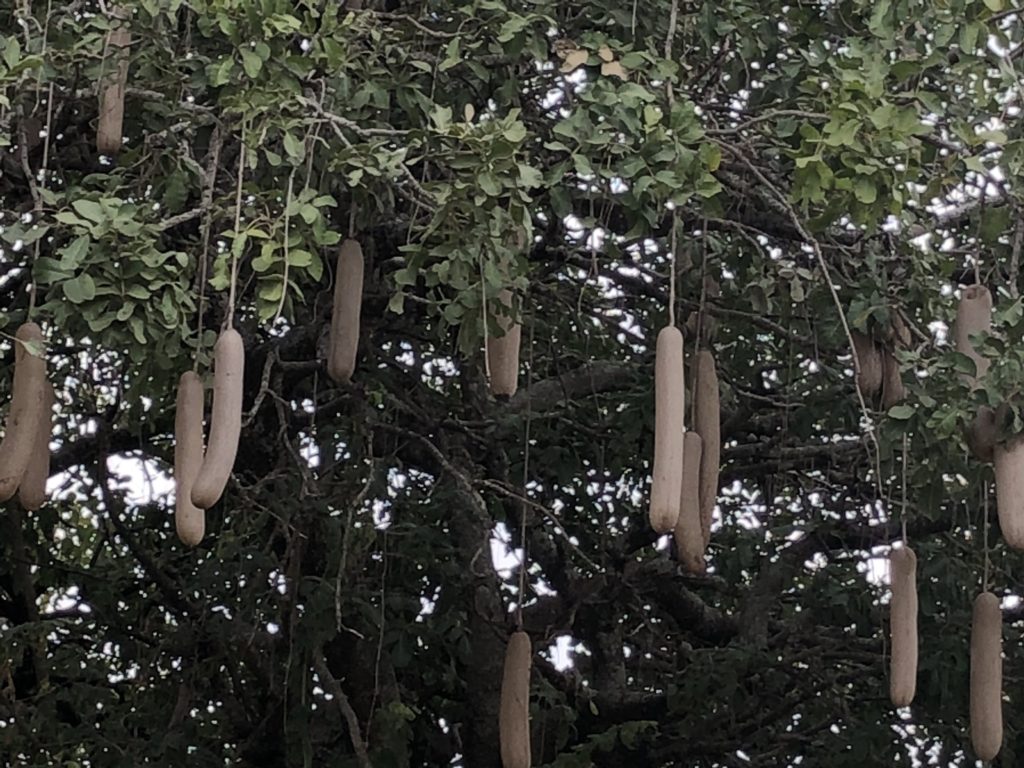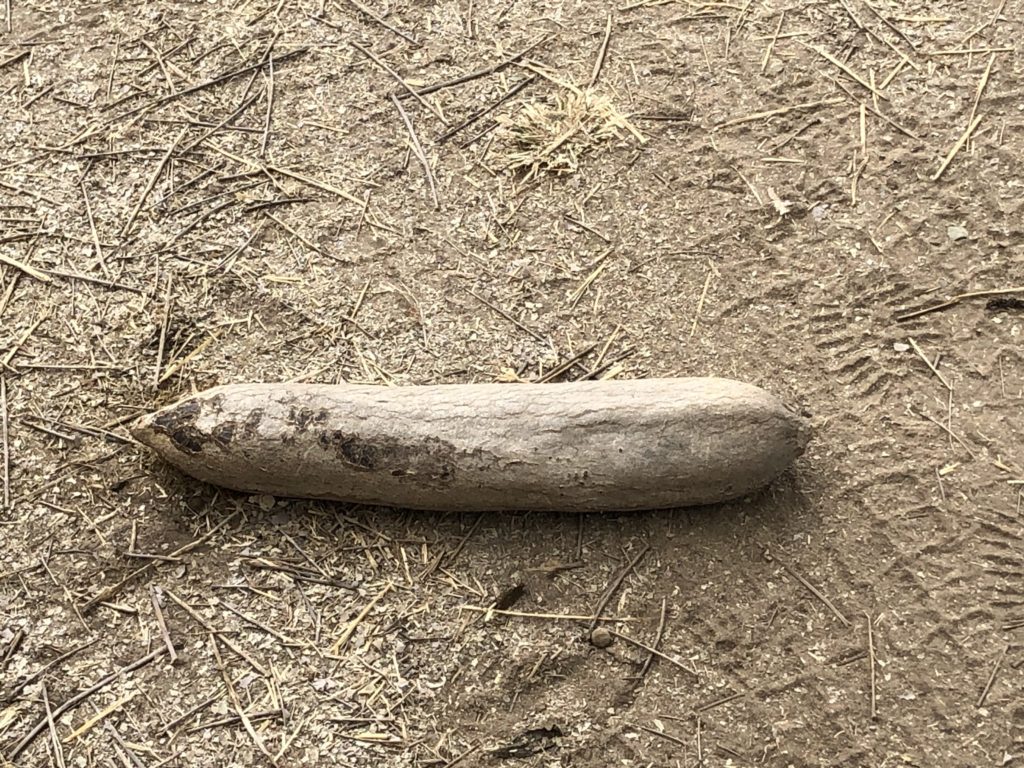 We were so happy to visit this beautiful park!  But it was time to say good bye to our adventures in East Africa.  Our trip wasn't over yet.  Madagascar was still waiting for us!
For some fun with giraffes and an elephant, check out the videos below.