Would you like to bring a little spring into your kitchen and life in the winter?  Here is a healthy, green, vegetarian, vegan, and gluten free soup that fits the bill and uses only a few ingredients.

Make sure you wash the leeks well (leave out the dark green part), and if the broccoli stems are too tough, peel their outer layer before slicing them.  In this recipe, it's the potato that contributes to the smoothness and creaminess of the soup.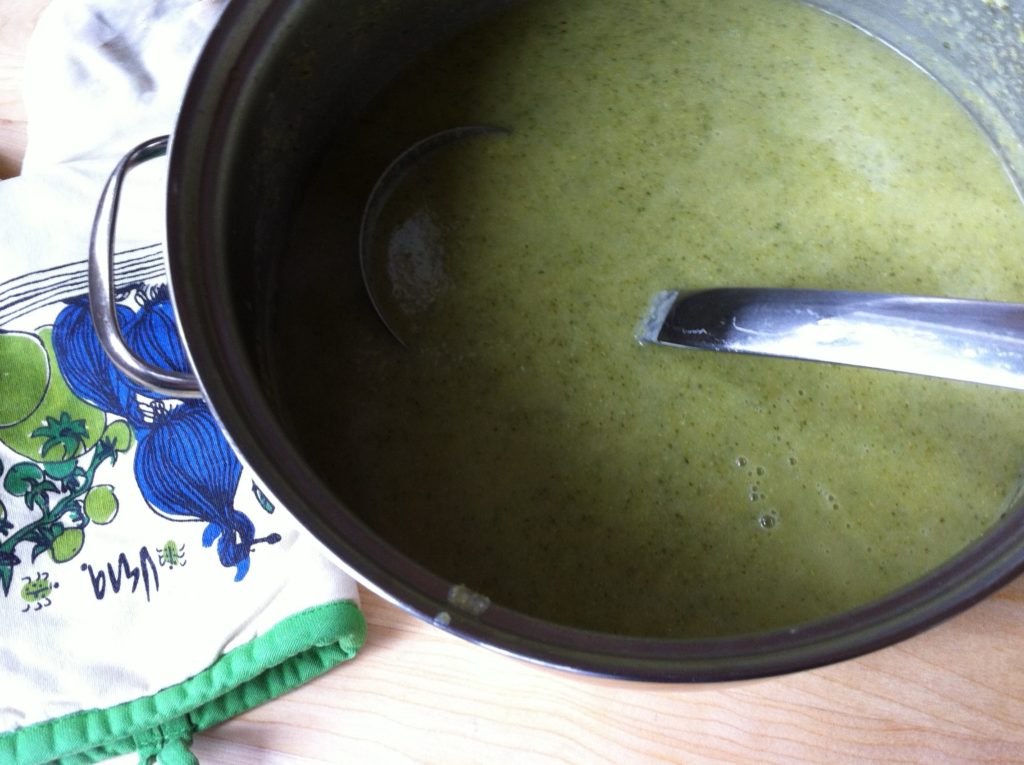 olive oil – 2 tablespoons
broccoli – 1 large head (1½ pounds)
leeks – 2 mediums
garlic cloves – 1–2
potatoes – 2 medium
chicken or vegetable stock – 3 cups
sea salt and freshly ground black pepper – to taste
Separate the broccoli flowers from the stems and cut into small pieces.  Slice the stems into thin coins.  Thinly slice only the white and light green parts of the leeks and slice the garlic cloves.  Peel and cut the potatoes into 1-inch pieces.
Heat the olive oil in a large stockpot over medium heat.  Add the leeks and sauté until softened, then add the broccoli stems, garlic, and potatoes, and cook for 3-4 minutes.  Pour the broth and 3 cups of water into the pot, season with salt and freshly ground pepper, and bring to a boil.  Reduce heat, cover partially, and simmer until the veggies are soft, about 12-15 minutes.  Add the broccoli flowers, bring to a boil again, and simmer for 5 more minutes.  Use an immersion blender to carefully puree the soup.  Serves 4-6.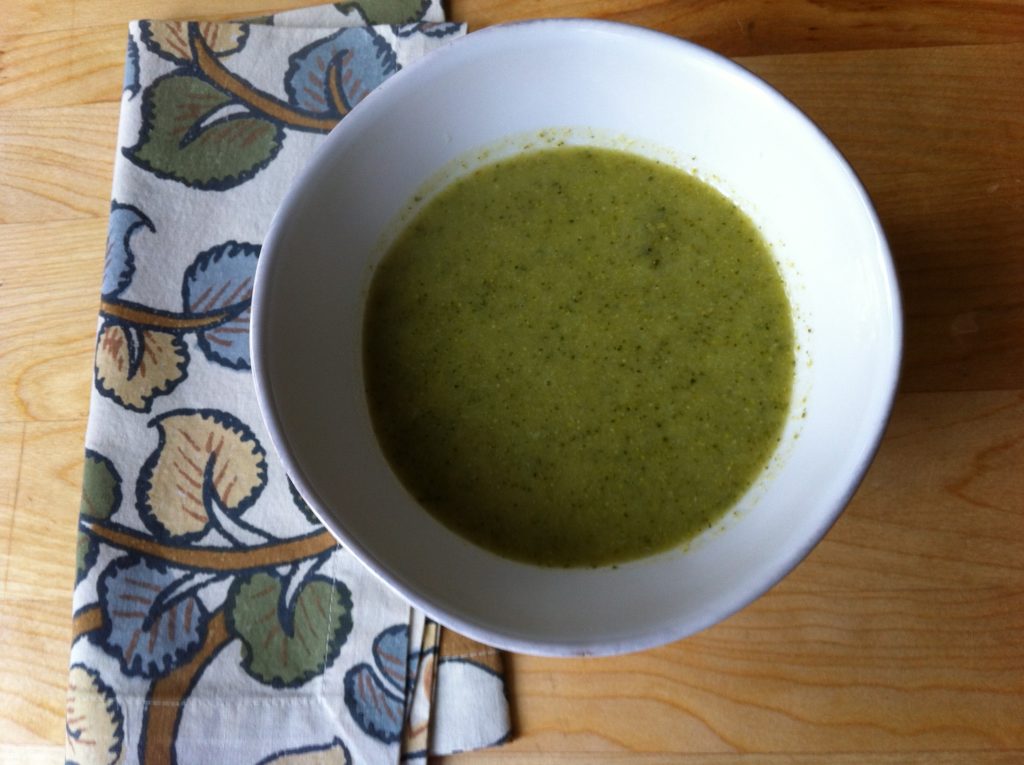 Szeretnél télen is egy kis tavaszt varázsolni az életedbe és a konyhádba?  Íme egy egészséges, tavasziasan élénkzöld, vegetariánus, vegán és gluténmentes leves, amitől jól érzed majd magad, s amihez csak néhány hozzávaló szükséges.  A póréhagymát jó alaposan mosd meg (hagyd el sötétzöld részt), és ha a brokkoliszárak kemények lennének, még mielőtt felszeletelnéd. hámozd le a külső réteget.  Ennél a receptnél a burgonya adja a leves simaságát, krémességét.
olíva olaj – 2 evőkanál
póréhagyma – 2 közepes
brokkoli – 1 nagy fej (kb. 680 g)
fokhagyma – 1–2 gerezd
burgonya – 2 közepes
csirke vagy zöldség alaplé – 750 ml
tengeri só és frissen őrölt feketebors – ízlés szerint
A brokkolit rózsáira szedjük és kis darabokra vágjuk, szárait kb. fél centiméteres korongokra szeleteljük.  A póréhagyma fehér és világoszöld részét vékonyan felkarikázzuk, a fokhagymát vékonyra vágjuk.  A burgonyát meghámozzuk és feldaraboljuk.
Egy nagy fazékban felforrósítjuk az olajat, rádobjuk a póréhagymát, puhára fonnyasztjuk, majd hozzáadjuk a brokkoliszárat, fokhagymát, burgonyát, és 3-4 percig főzzük.  Felöntjük az alaplével és ugyanannyi vízzel.  Ízlés szerint sózzuk, borsozzuk.  A levest felforraljuk, majd mérsékeljük a tüzet, és fedő alatt 12-15 percig addig főzzük, amíg a zöldségfélék megpuhulnak.  Ezután a leveshez adjuk a brokkolirózsákat, újra felforraljuk, s további 5 percig főzzük.  Botmixerrel óvatosan simára turmixoljuk.  A recept 4-6 személyre szól.