Do you think mini quick breads are fun?  I think so.  They are perfect as gifts!  The batter for this recipe is baked in three small loaf pans.  You can have three gifts with one baking!

I found this trustworthy recipe on the blog AverieCooks.  Averie knows pumpkins; she even has a book all about pumpkins by the title Cooking with Pumpkin: Recipes That Go Beyond the Pie.  I substituted the almond milk with coconut milk, and used pomegranate molasses, otherwise I followed her recipe with a great result.  My mini loaves were soft, tender, and moist.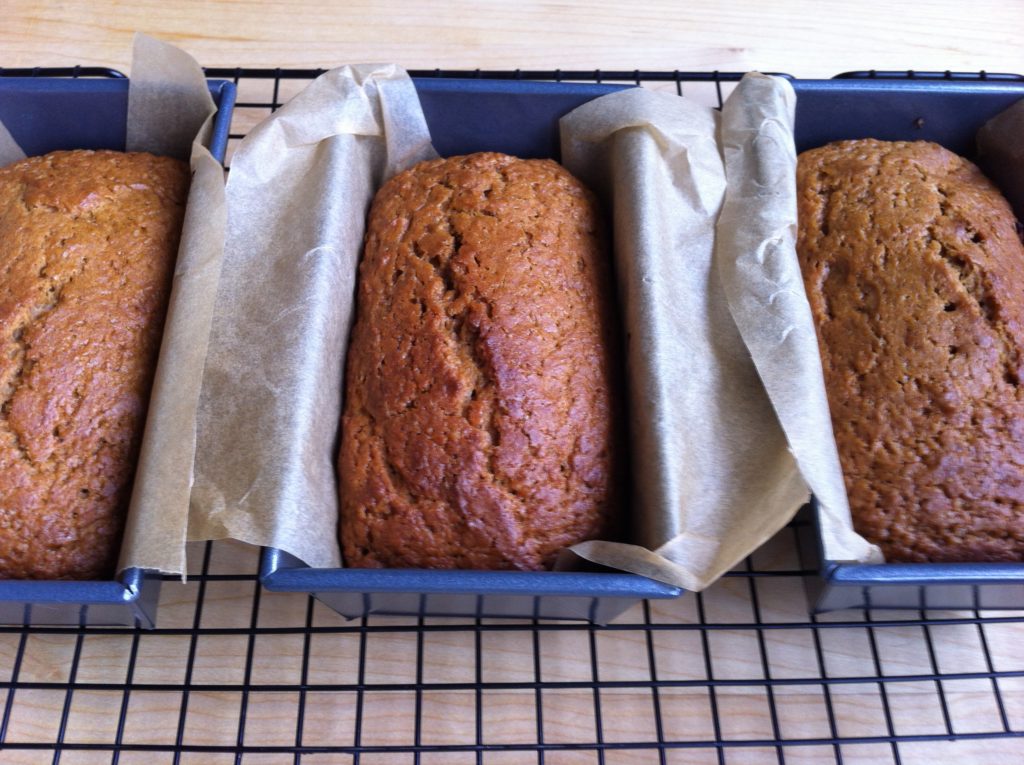 all-purpose flour – 1¼ cups
baking powder – 2 teaspoons
pumpkin pie spice – 1tablespoon
salt – ¼ teaspoon
granulated sugar – ¾ cup
brown sugar – ¼ cup
pumpkin puree – ¾ cup
vegetable oil – ⅓ cup
almond milk – ¼ cup
molasses – 2 tablespoons
vanilla extract – 2 tablespoons
for the topping:
powdered sugar – 3 tablespoons
ground cinnamon – 1½ teaspoons
Preheat the oven to 400°F.  Grease and flour 3 mini loaf pans.  Stir together the flour, baking powder, pumpkin pie spice, salt, and the sugars in a large bowl.  In another bowl, whisk together the pumpkin puree, vegetable oil, almond milk, molasses, and vanilla extract.  Stir in the flour mixture until just blended.  Spoon the batter into the prepared pans.  Bake for about 40-45 minutes, until a toothpick inserted into the center comes out clean.  Cool in the pans for 10 minutes, then turn the loaves out onto a wire rack and cool completely.  Sprinkle with the topping mix.
Én azt gondolom, hogy az úgynevezett gyors kenyérkék sütése egészen jópofa dolog.  A kenyérkék ajándéknak is tökéletesek!  E recept tésztáját három kis sütőformában sütöttem.  Egy sütés, három ajándék!  A receptet az AverieCooks blogon találtam.  Averie mindent tud a sütőtökről.  Még könyvet is írt e témában Cooking with Pumpkin: Recipes That Go Beyond the Pie címmel.  Hűségesen követtem a receptjét azzal a pici változtatással, hogy a feltüntetett mandulatej helyett kókusztejet használtam, s a melasz gránátalma melasz volt.  S mi lett a végeredmény?  Remek puha, porhanyós, nedvdús minikenyerek.
liszt – 1¼ csésze
sütőpor – 2 teáskanál
sütőtök fűszerkeverék – 1evőkanál
só – ¼ teáskanál
kristálycukor – ¾ csésze
barnacukor – ¼ csésze
sutőtök püré – ¾ csésze
vegetable olaj – ⅓ csésze
mandalatej – ¼ csésze
melasz – 2 evőkanál
vanília kivonat – 2 evőkanál
a tetejére:
porcukor – 3 evőkanál
őrölt fahéj – 1½ teáskanál
A sütőt előmelegítjük 200°C-ra.  Kivajazunk, kilisztezünk három hasáb formájú, mini sütőformát.  A lisztet, a sütőport, a sütőtök fűszerkeveréket, a sót és a cukrokat egy nagy tálban összekeverjük.  Egy másik tálban simára keverjük a sütőtök pürét, az olajat, a mandulatejet, a melaszt és a vanília kivonatot, majd az egészet a lisztkeverékhez adjuk, és lazán elkeverjük.  A tésztát a formákba kanalazzuk és elsimítjuk.  Kb. 40-45 percig sütjük, s tűpróbával ellenőrizzük, átsültek-e a kenyerek.  Sütés után 10 percig a formákban pihentetjük, majd egy rácsra borítjuk, hogy teljesen kihűljenek.  Meghintjük a fahéjas cukorral.