After the big Thanksgiving feast on Thursday evening, Friday morning looked to be the perfect time for a long walk.  Steve and I chose the unique Golden Gardens Park, located in the Ballard neighborhood of Seattle.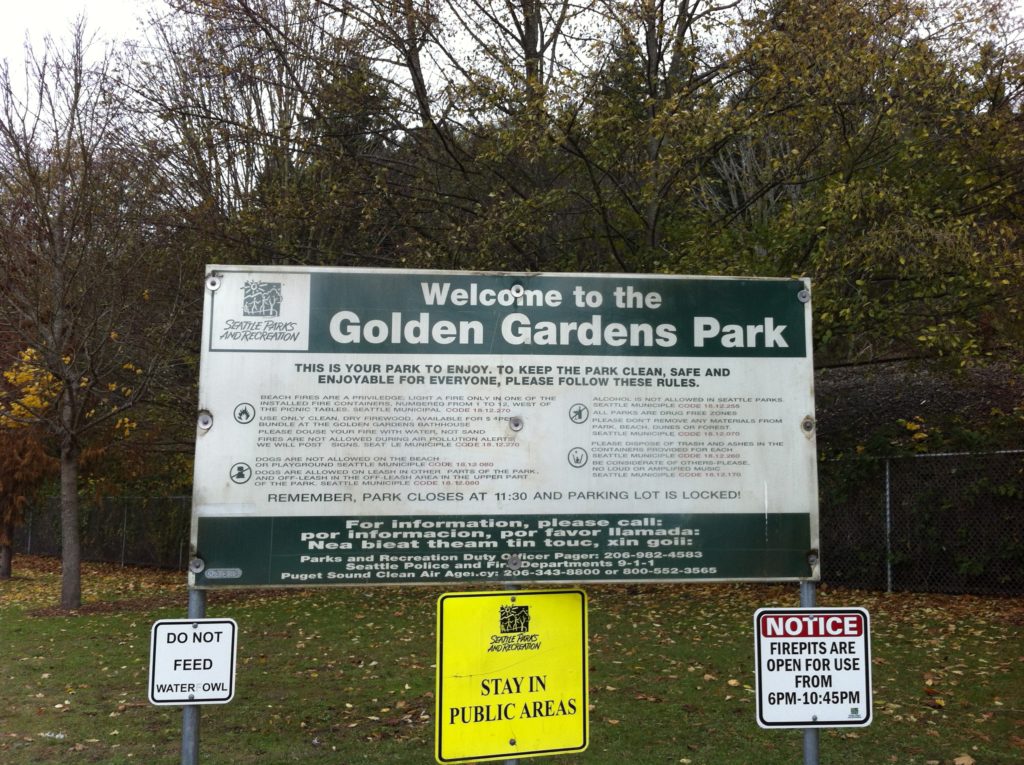 The park is very popular, especially in the summer, offering a long, narrow, sandy beach – one of the most beautiful beaches in the Northwest – two wetlands, picnic areas, a beach house (designated as a historic landmark), a volleyball court, benches, fire pits, a playground, and hiking trails.
On a clear day, one can see the Olympic Mountains on the horizon.  But not when we went.  It was cloudy – no rain though – and we fought the wind as we walked on the beach.  In a small pond, a few ducks were sheltering from the elements.  A little yellow flower came as a surprise.  We watched a passenger train and two long freight trains passing by on the railroad tracks, which go parallel with the beach all the way to Canada.  On the other side of the railroad tracks, the trails and the stairs on the steep slopes offered a great workout.  We hiked in the forest enjoying the colors of the fallen leaves.
To reach the trails, first we had to go through a pedestrian tunnel under the railroad.  Close by we noticed a special stone with the inscription "WPA-1936" commemorating the building of the trails and staircases as part of the Works Progress Administration in the 30's.  We walked up some stairs reaching the off-leash dog park.  Nearby was a large yellow metal sculpture that looked like a dog.  Then more stairs came – this time we counted them, first 55, then 78 – leading up to the edge of Ballard where, after catching our breath, we turned around and headed back.
A good and healthy walk on the beach and on trails heavily covered with leaves.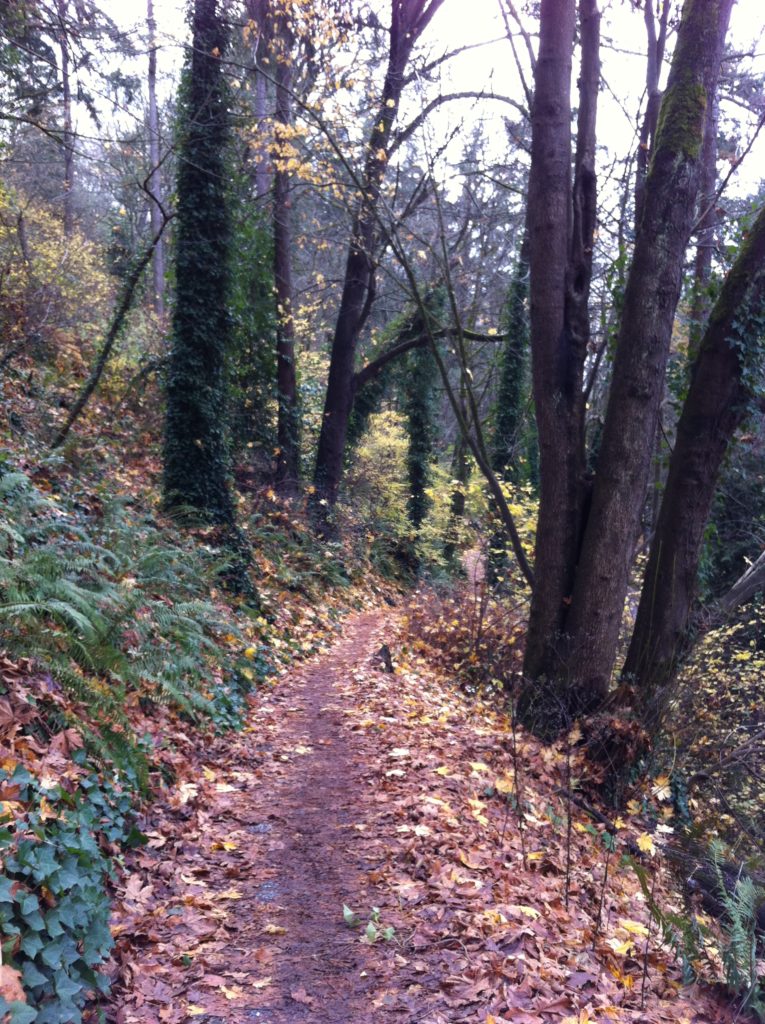 A péntek reggel, a csütörtök esti nagy hálaadásnapi vacsora után, tökéletesnek tűnt egy hosszú sétára.  A különleges Golden Gardens (aranyló kertek) parkot választottuk Steve-vel.  Ez a park Seattle Ballard nevű városrészében található, s nagyon közkedvelt, különösen nyáron.  Hosszú, keskeny, homokos strandot kínál, az egyik legszebbet az Egyesült Államok északnyugati régiójában.  Van itt strandház (ami történelmi értékű épület), röplabdapálya, játszótér, piknikezésre alkalmas részek, még két mocsaras rész is, továbbá túraútvonalak.
Tiszta időben a partról kitűnően látni az Olympic Mountains hegyeit.  Amikor mi voltunk ott, sajnos borús volt az idő.  Bár nem esett az eső, de miközben sétáltunk a tengerparton, szinte harcoltunk a széllel.  Egy kis tóban néhány kacsa védekezett az időjárás ellen.  Szinte meglepett, hogy még virágot is láttunk a tó környékén.  A tengerparttal párhuzamos, egészen Kanadáig vivő vasúti síneken egy személy- és két hosszú tehervonat is végigrobogott.  A síneken túl, a meredek lejtőn, lépcsők és túraösvények kínáltak remek alkalmat a testedzésre.  Túráztunk az erdőben, s közben a lehullott falevelekben gyönyörködtünk.
A lejtőn levő ösvényeket úgy lehett megközelíteni, hogy először átmentünk a vasút alatti alagúton.  Az alagút közelében egy speciális kőre lettünk figyelmesek, amin a "WPA-1936" jelzés olvasható.  Ez arra emlékeztet, hogy a lépcsőket és a túrautakat még a 30-as években építették.  Jónéhány lépcsőn felgyalogolva jutottunk el egy kutyaparkhoz.  Itt póráz nélkül szaladgálhatnak a kutyusok.  Egy nagy, sárga, kutyához hasonlító fémszobor volt a közelben.  Aztán újabb lépcsőzés következett – ezúttal számoltuk is őket, előbb 55-öt, aztán 78-at számoltunk meg.  Ballard szélén kötöttünk ki.  Jól kifújtuk magunkat, aztán vissza, lefelé a lépcsőkön.
Jó és egészséges séta volt a mai a tengerparton és a levelekkel borított ösvényeken.