In many countries throughout the world, November 1st is observed as All Saint's Day.  I grew up with this tradition in what was then Czechoslovakia.  After I moved to America, I learned that here and in some other parts of the world, it is October 31st, Halloween that is celebrated with its interesting activities like kids trick-or-treating or adults attending costume parties.  And there is pumpkin carving, and contests in pumpkin carving, and decorating with pumpkins around houses.

However, as I think hard about this particular time of a year from my childhood, I do recall that in my small village some people made lanterns from pumpkins, placed candles in them, and displayed them in the windows of their houses.  But this wasn't a tradition in my family.  Today, probably as a result of my upbringing, I don't celebrate Halloween, but I do display a few pumpkins around our garden and I cook and bake with pumpkins.  I love their color, love their taste, and love their roasted seeds.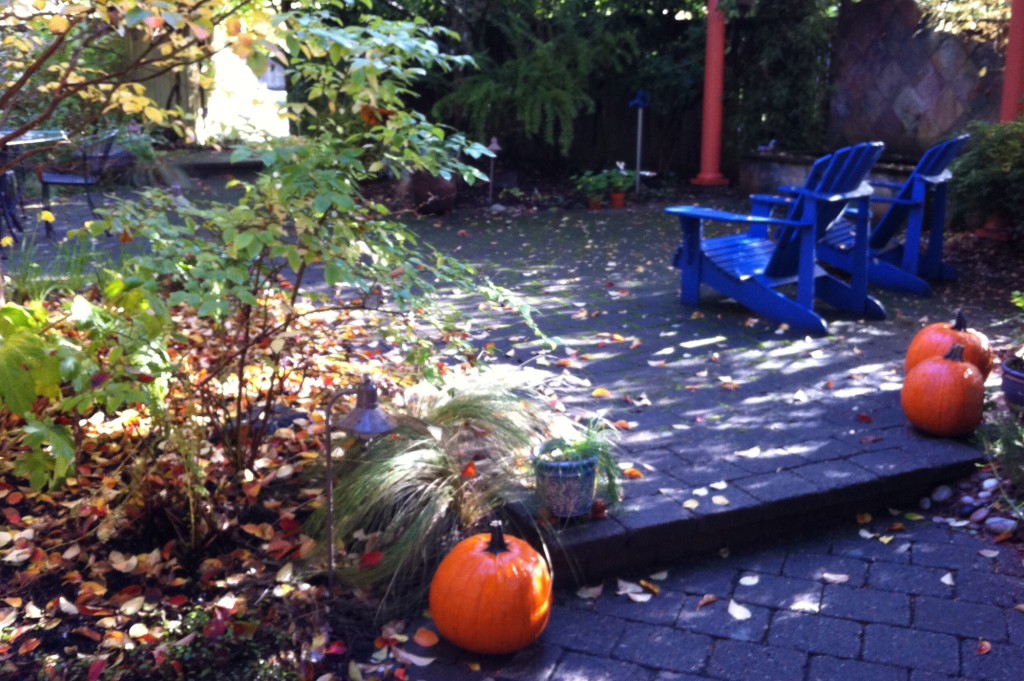 For the last two years I've been making home-made puree from the flesh of the pumpkins we use for decoration.  I cut up the cleaned pumpkins into small pieces, roasted them, pureed, cooled, and then portioned into freezer bags.  It served me well in my baking.  I also froze some pieces for cooking, mainly for soups.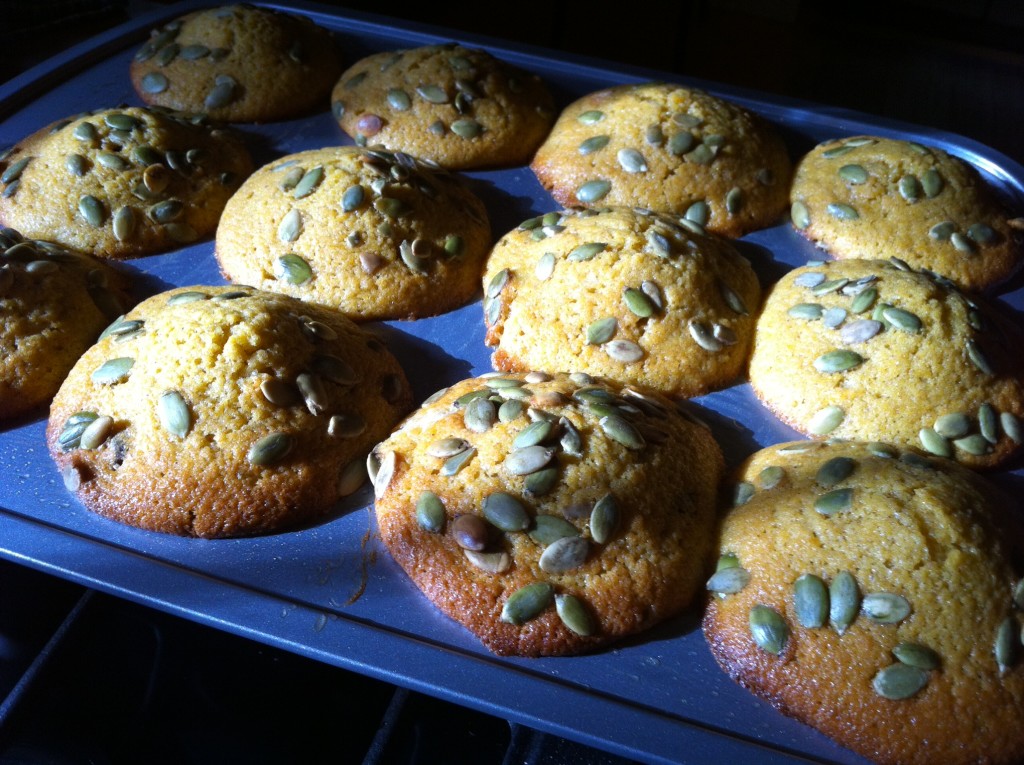 Muffins are one of my favorite, easy to make baked goods.  This particular pumpkin muffin recipe, adapted from Sarabeth Levine's book Sarabeth's Bakery: From My Hands to Yours, won't disappoint you.  On the contrary, you will want to bake them again and again.
They are attractive when sprinkled with sunflower seeds, they are light-textured and moist, and if you don't use paper liners for the muffin pan, they will develop a nice crust during baking.  Let's get started!
all-purpose flour – 450 g (3 ⅔ cups)
baking powder – 1 tablespoon + 1 teaspoon
ground cinnamon – 1 teaspoon
ground ginger – ¼ teaspoon
ground nutmeg – ¼ teaspoon
sea salt – ¼ teaspoon
unsalted butter – 8 tablespoons + more for the pan
superfine granulated sugar – 260 g (1 ⅓ cups)
eggs – 4
pumpkin puree – 425 g (15-oz = 1 can)
raisins – 150 g (1cup)
unsalted sunflower seeds, hulled – ¼ cup
Heat the oven to 200 °C (400 °F).  Soften some butter and brush the inside cups and top of the muffin pan with it.  Sift the flour into a medium bowl.  Mix in the baking powder, cinnamon, ginger, nutmeg, and salt.
Cut the eight tablespoons of chilled butter into cubes and beat in the bowl of a stand mixer until creamy.  Alternatively, you can use an electric hand-held mixer or a wooden spoon (naturally, it will take longer to prepare the batter).  Gradually beat in the sugar until you get a light colored mixture.  Add the eggs, one at a time.  Beat in the pumpkin puree (on low speed if using a mixer).  The texture might be curdled but that's all right.  Beat in the flour blended with spices, and add the raisins.
Portion the batter into the prepared muffin pan.  Use a spoon or a 6 cm (2½–inch) diameter ice–cream scoop to have the same amount in the cups. Sprinkle the pumpkin seeds over the top.  Bake for 10 minutes, then reduce the heat to 190 °C (375 °F), and bake for about 15 more minutes.  The tops of the muffins should be golden brown.  After 10 minutes of cooling, carefully remove the 12 muffins from the pan.