I've been baking a lot in my life, even with yeast, but savory breads and their like were not very often a part of my repertoire.  In my quest to replace the commercial, store bought, you can squeeze it into a flat paper-like substance by the time you are done with eating your burger type of bun, I searched and found a doable recipe for homemade hamburger buns.  I adapted the recipe from Making Fresh Bread, a cookbook of the brand "Love Food" of the British publisher Parragon which promises to "create bread in your home with perfect results".

I picked up this book at a used book sale, and it has been waiting on my shelf to be used for some time.  Well, as you can see from the photo I took of the baked buns, I have some place for improvement.  But the buns tasted great and they never turned into the paper-like substance.  I guess my baking was a success.  And while it was easy to make these buns, it's exciting to note that I still can grow in my skills.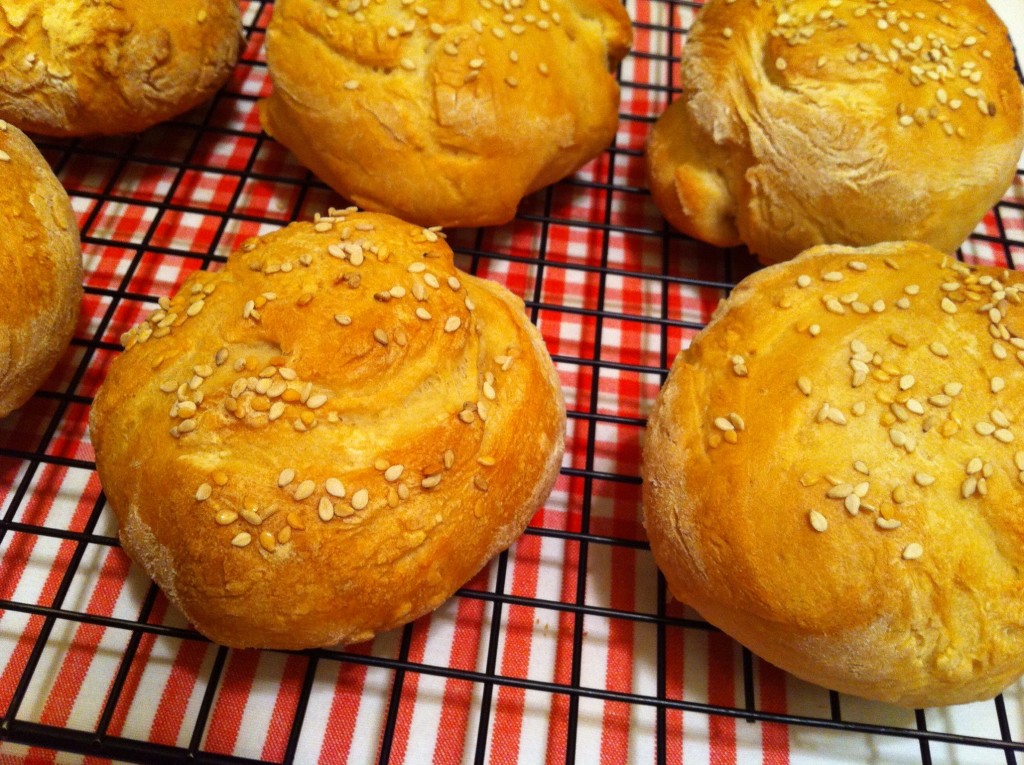 white bread flour – 4 cups + extra for dusting
salt – 1½ teaspoons
superfine sugar – 2 teaspoons
active dry yeast – 1 teaspoon
lukewarm water – ⅔ cup
lukewarm milk – ⅔ cup + extra for brushing
vegetable oil – for brushing
sesame seeds – 2-3 tablespoons
Start with adding salt to the flour and sift together into a large bowl.  Add the sugar and yeast.  Make a well in the center and pour in the water and milk.  Use a wooden spoon to stir well to bring the dough together.  Then knead it by hand or use a stand mixer with the dough hook attachment until it's smooth and elastic (maybe 10 minutes by hand).
Place the dough into a lightly oiled bowl.  Cover with a damp dish towel and let it rise in a warm place for about 1 hour (my kitchen wasn't warm enough so I placed a blanket over the bowl).  The dough should double in volume.
Prepare the baking sheet by brushing it with oil or covering it with parchment paper.  Place the dough on a lightly floured work surface, punch it down, divide into 8 (possibly) equal pieces, and form individual balls.  Arrange on the baking sheet and flatten each bun a little bit.  Leave it covered with the dish towel to rise for 30 minutes.
Heat the oven to 400 °F (200 °C).  Uncover the buns, press them down a little bit, brush with milk and sprinkle with sesame seeds.  Bake for about 20 minutes.  They should be light brown.  Cool on the baking sheet or on a wire rack.