How often it happens that you want to do something and it gets delayed and delayed?  No, it's not procrastination, it just happens.  Like my exploration of the many different varieties of whole grains.  The other day this trend finally got broken.

One of our local grocery stores had a good sale on bulk items, and the timing seemed perfect to buy the desired new types of grains and flours I needed for the recipes I identified prior to the visit to the store.  Now there are millet, farro, bulgur, wheat bran, buckwheat flour, spelt flour, and barley flour, all nicely stored in glass jars in the pantry and in the refrigerator.  I even bought a few varieties of lentils, beans, different spices, rolled- and steel-cut oats, pasta, and coconut oil.
I felt I was ready for my exploration to begin.  I decided to start with cookies using Megan Gordon's recipe from her book Whole-Grain Mornings: New Breakfast Recipes to Span the Seasons.  It was the first time that I baked using millet, wheat bran, barley flour, and coconut oil – all in one recipe.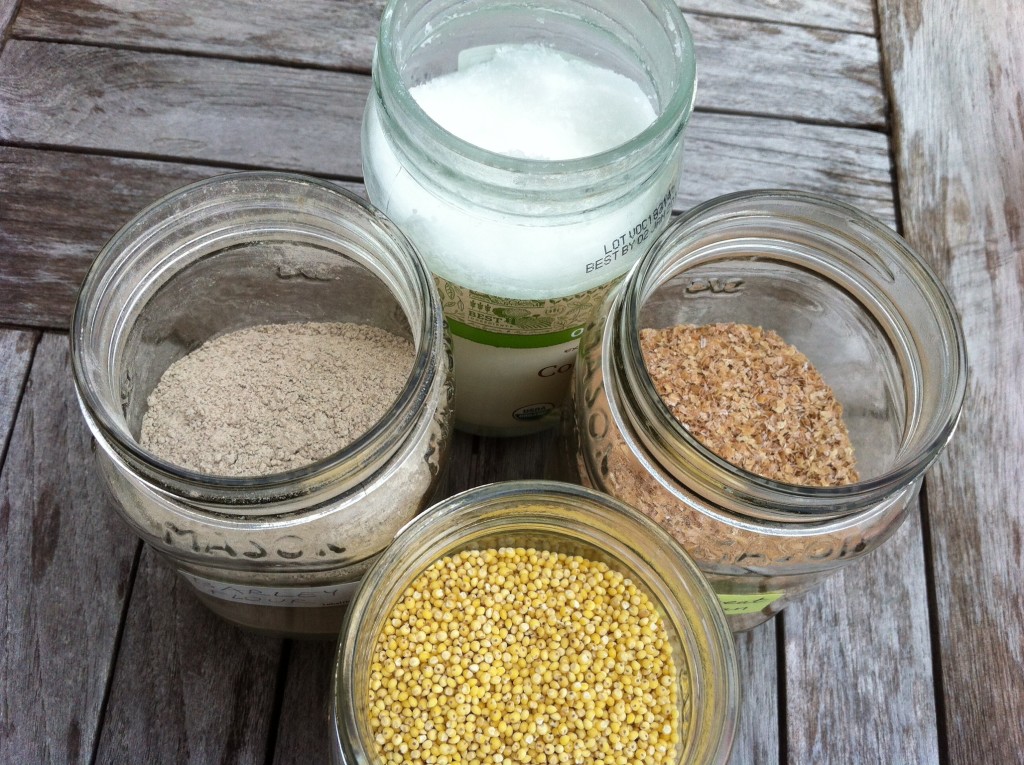 Millet, looking like small yellow beads, is full of fiber, is gluten-free, and low fat.  Wheat bran is the hard outer layer of the grain full of nutrients.  Barley flour and coconut oil add sweetness to baked goods.  Instead of the two different kinds of nuts Megan uses in her recipe, pecans and walnuts, I used only walnuts (replacing the amount of pecans with the same amount of walnuts).  I didn't even toast them to intensify their flavor, I just added them chopped to the dough.
Megan advises to "bake until golden brown around the edges and firm yet still slightly soft in the center".  This is not an easy concept for me.  My Hungarian baking heritage taught me that baking is done when I test for doneness and the baked goods look firm.  When American baking recipes call for taking the cookies out from the oven when they still look unbaked, I am somewhat hesitant even though they will "continue to firm up as they cool".  I tend to over bake a little because I cannot believe the firming up will happen.  Maybe it's time to start trusting this method, or continue feeling happy with crunchier cookies.
When I bake these types of cookies, the other small "disaster" I often encounter is that they have a tendency to run into each other during the baking process.  I know I could place them farther apart on the baking sheet, but maybe the size of the cookies also plays a role here.  Oh well.  They don't need to be perfect in home baking…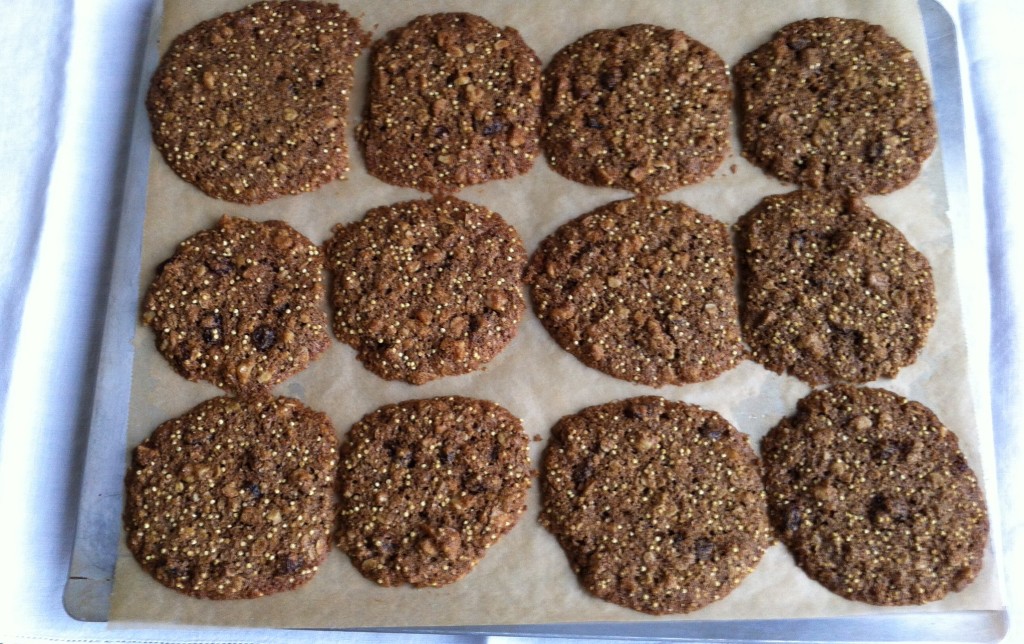 The weather is rainy and windy and cool in Seattle now.  Are you ready to sit by the fire eating delicious, not very sweet but soft (and a little bit crunchy) millet cookies while sipping hot chocolate or tea?  Here I offer you some through this recipe.  They are suitable for more than just breakfast.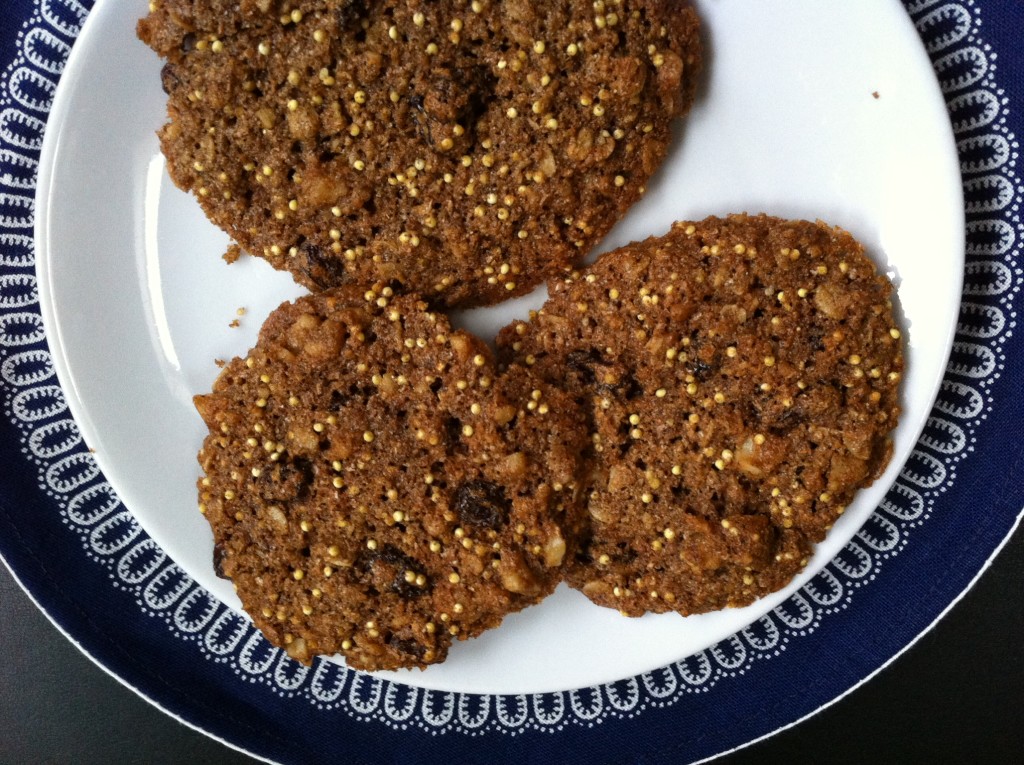 white whole wheat flour – 120 g (1 cup)
barley flour – 30 g (¼ cup)
rolled oats – 75 g (¾  cup)
millet  –  45 g (¼ cup)
wheat bran – 15 g (¼ cup)
baking soda – ½ teaspoon
baking powder – ½ teaspoon
ground cinnamon – 1 teaspoon
ground nutmeg – ¼ teaspoon
ground ginger – ¼ teaspoon
kosher salt – ½ teaspoon
egg – 1 large
coconut oil, melted – 120 ml (½ cup)
maple syrup – 120 ml (½ cup)
pure vanilla extract – 1 teaspoon
raisins – 45 g (⅓ cup)
walnuts, coarsely chopped – 25 g (¼ cup)
pecans, coarsely chopped – 35 g (⅓ cup)
Preheat the oven to 180 °C (350 °F).  Line a large cookie sheet with parchment paper.  Coarsely chop the walnuts (and pecans if using).
Combine the flours, whole grains, and spices in a large bowl.  Beat the egg in a medium bowl, whisk in the melted coconut oil, maple syrup, and vanilla extract.  Fold the wet ingredients into the flour mixture.  Stir in the raisins and nuts, and combine well to make a little bit sticky dough.  Rest the dough for 10 minutes, then take 2-3 tablespoons of it at once, and quickly form a ball from it with your hands.  Place the balls on a baking sheet 1½ inches apart flattening them a tiny bit.
Bake for 12-15 minutes, until the edges are golden brown but the center is still slightly soft.  Cool them on the baking sheet.  Makes 12-14 cookies.
Note
Instead of the barley flour you can use the same amount of white whole-grain flour if you like.  As for the nuts and raisins: use your imagination and replace them with your favorite nuts and dried fruit.