It's time again for another simple salad! It's nutritious and delicious, and it can be put together in a very short time.

The recipe is very flexible. The amount of all ingredients can be changed to your liking. You can add more scallions or replace them with yellow or red onions, you can add more or less celery. I love the crunch of the celery in the salad, so I tend to use more of it. You can even add a handful of arugula or spinach to the mix if you like. Serve the salad with sourdough toast or flatbread, or salty crackers.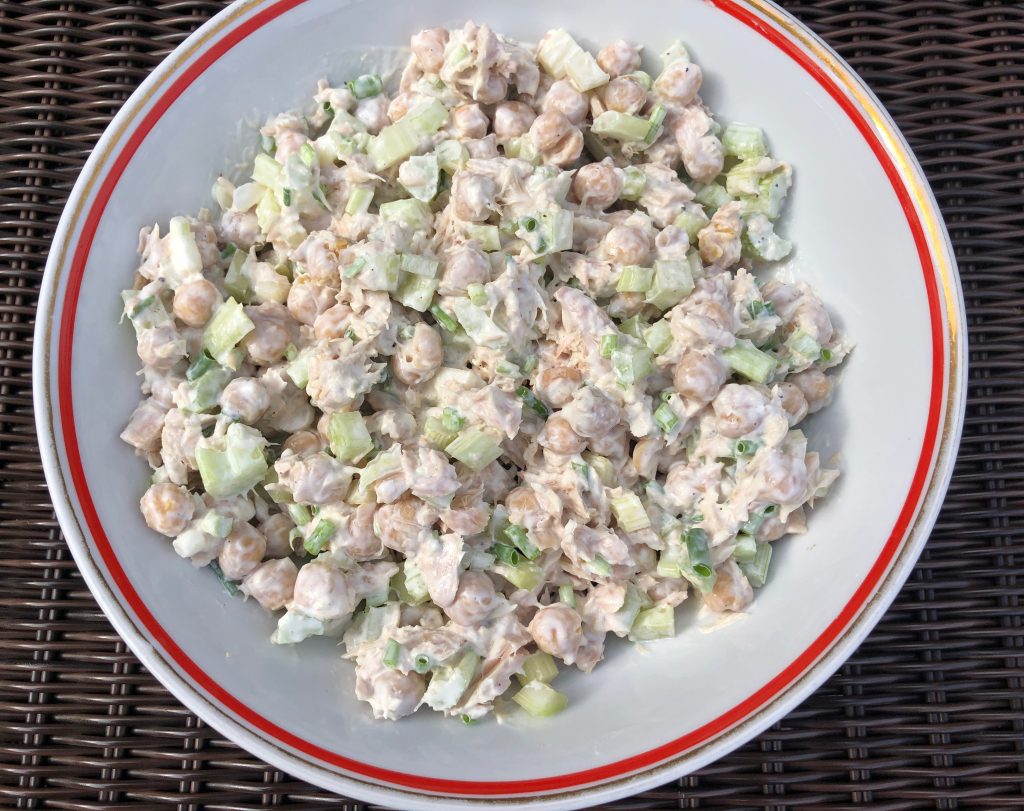 mayonnaise – 4 tablespoons
sour cream – 2 tablespoons
sea salt and freshly ground black pepper – to taste
tuna in oil or water – 6 oz (1 can, 170 grams)
garbanzo beans – 15 oz (1 can, 439 grams)
green onions (scallions) – 2-3
celery – 2-3 stalks
In a bowl, combine the mayonnaise, sour cream, salt, and pepper. Drain the tuna, drain and rinse the chickpeas, chop the green onions and celery, and add all to the bowl. Toss to combine.  Serves 2.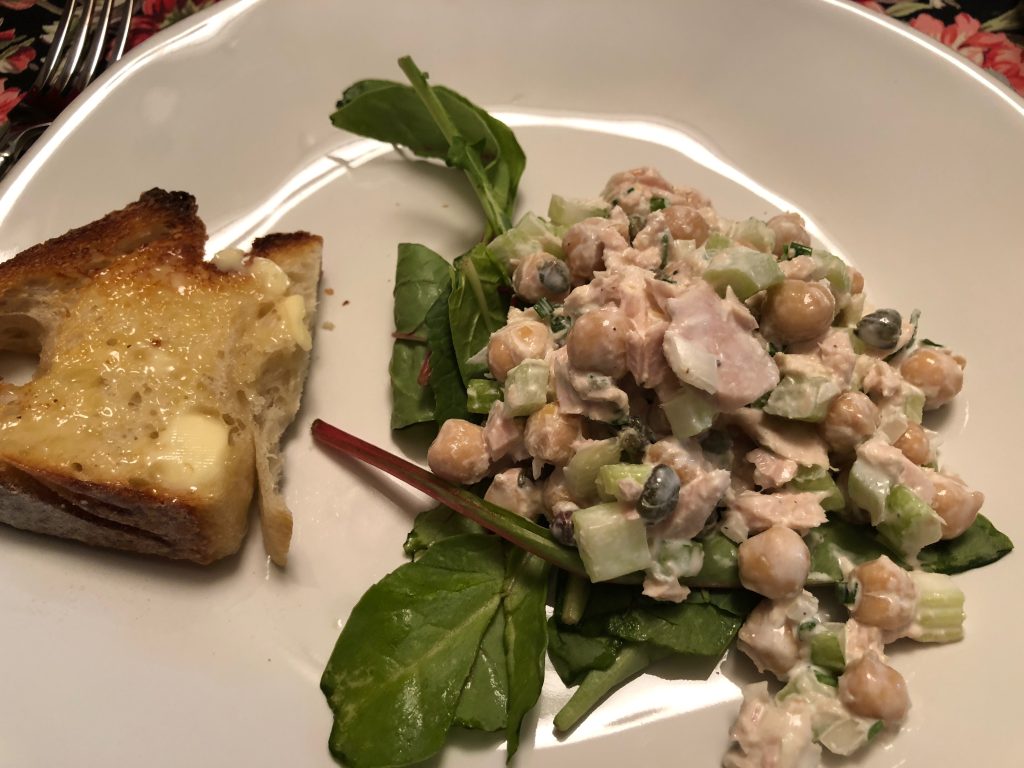 Íme újra egy egyszerű saláta. Tápláló és nagyon finom, ráadásul szinte pillanatok alatt összeállítható. Maga a recept rugalmas; a hozzávalók mennyisége tetszés szerint változtatható. Adhatunk a salátához több újhagymát, újhagyma helyett használhatunk vöröshagymát vagy lilahagymát. A szárzellerből is mehet több vagy kevesebb a salátába. Ha van otthon rukkola vagy friss spenótlevél, abból is tehetünk bele egy maroknyit. Pirítóssal, lepénykenyérrel, sőt sós keksszel is finom.
majonéz – 4 evőkanál
tejföl – 2 evőkanál
tengeri só és törött bors – ízlés szerint
tonhalkonzerv – 1 (170 gramm)
csicseriborsó konzerv – 1 (439 gramm)
újhagyma – 2-3
szárzeller – 2-3
Az öntethez elkeverem a majonézt a tejföllel, a sóval és a borssal. A leszűrt tonhalat villával széttépkedem, a csicseriborsót leszűröm és leöblítem vízzel, felkarikázom az újhagymát, apróra vágom a szárzellert, majd mindezt jól összeforgatom az öntettel. A recept 2 személyre szól.