Full of flavors and rich in protein. Quick and easy to make. Needs only five ingredients. Give it a try!

olive oil – 3 tablespoons
big onion – 1
chicken livers – 1 pound
salt – to taste
pepper – to taste
Peel the onion, cut in four, and slice the pieces. Heat the oil in a large skillet over medium-high heat. Add the onion and sauté until translucent, about 5 minutes. In the meantime, wash the chicken livers and trim off connective tissue and fat. Cut them in half and add to the onion. Sprinkle with ground black pepper and sauté for a few minutes, until lightly browned. Stir the onion-liver mixture and sauté for a little longer. Cover and cook for 15 minutes. Remove from heat and salt to taste. Let stand for a few minutes and serve with rice or cooked potatoes or on a crusty bread.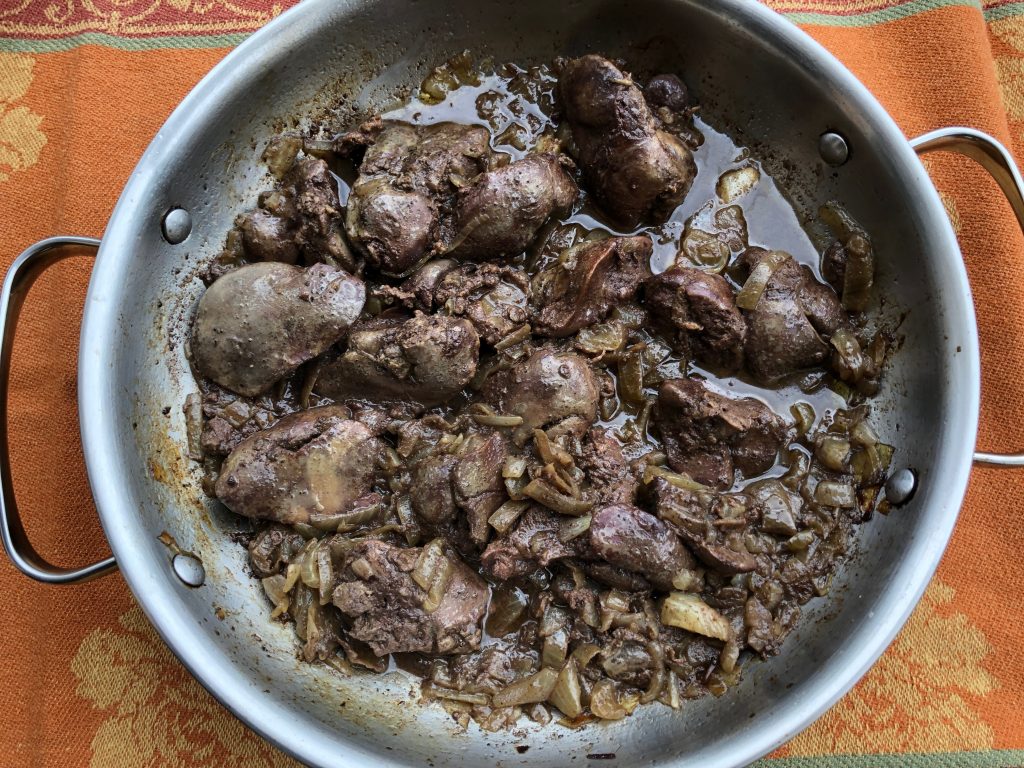 Ízletes és fehérjében gazdag. Gyorsan és egyszerűen elkészíthető. Mindössze öt hozzávalót igényel. Megéri kipróbálni ezt a receptet!
­­­olíva olaj – 3 evőkanál
vöröshagyma – 1 nagy fej
csirkemáj – 500 g
só – ízlés szerint
őrölt feketebors – ízlés szerint
A megtisztított hagymát négybe vágjuk és felszeleteljük. Egy nagyobb serpenyőben mérsékelt tűzön felhevítjük az olajat és üvegesre dinszteljük rajta a hagymát. A csirkemájakat megtisztítjuk az erektől és a felesleges hártyától, megmossuk, lecsepegtetjük, kettévágjuk, és a hagymához adjuk. Erős tűzön pár percig fehéredésig pirítjuk, megszórjuk őrölt feketeborssal, megkeverjük, egy kicsit tovább pirítjuk, majd fedő alatt kb. 15 perc alatt készre főzzük. A végén ízlés szerint sózzuk, néhány percig állni hagyjuk, majd tálaljuk. Párolt rizs vagy főtt burgonya illik hozzá, de friss kenyérrel is finom.