Who can resist a rich chocolate brownie?  Yes, it's high in calories but eating brownies in moderation can be part of a healthy lifestyle.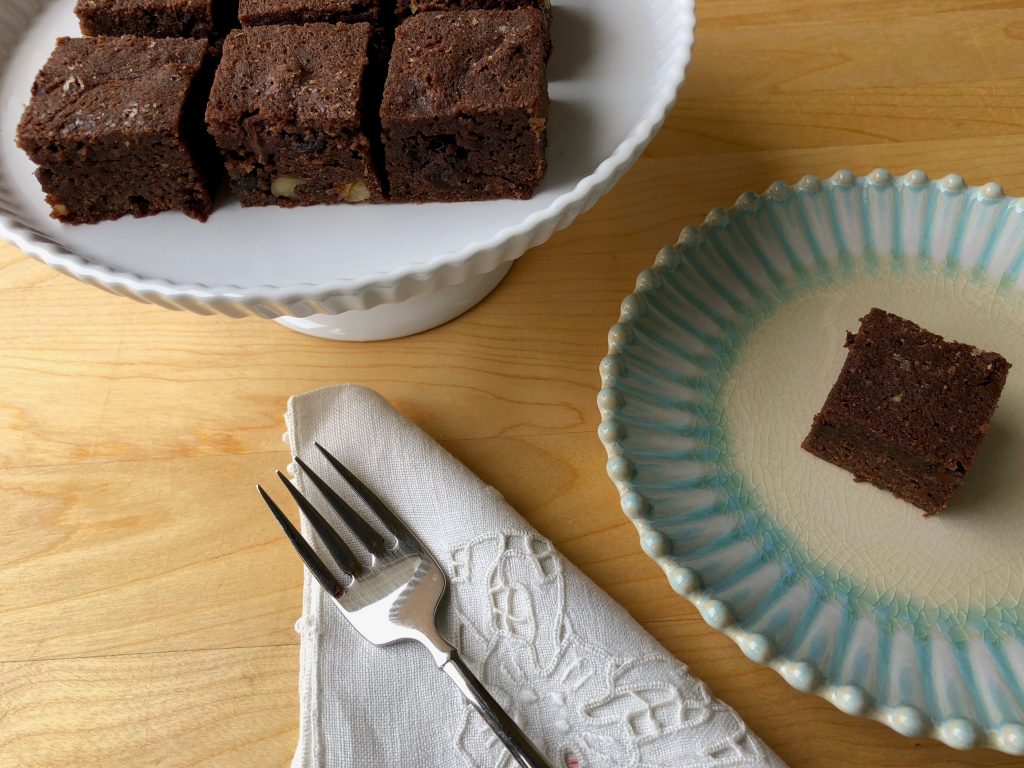 Culinary history says that this all-American treat was created and first baked at the turn of the 20th century in the U.S.  It remains very popular because it's quick and easy to make and is suitable for many occasions.  Naturally, there are many variations to it, varying the type of flour, sugar, and chocolate, the number of eggs, adding alcohol and different types of nuts to it, making it more chocolaty by adding cocoa powder or extra chocolate, serving it with fudge sauce, whipped cream, or ice cream.
This recipe is a variation of my chocolate chunk brownies previously published on this blog here.  This time, the raisins, which can be substituted with dried cranberries, add an extra level of flavor to these goodies.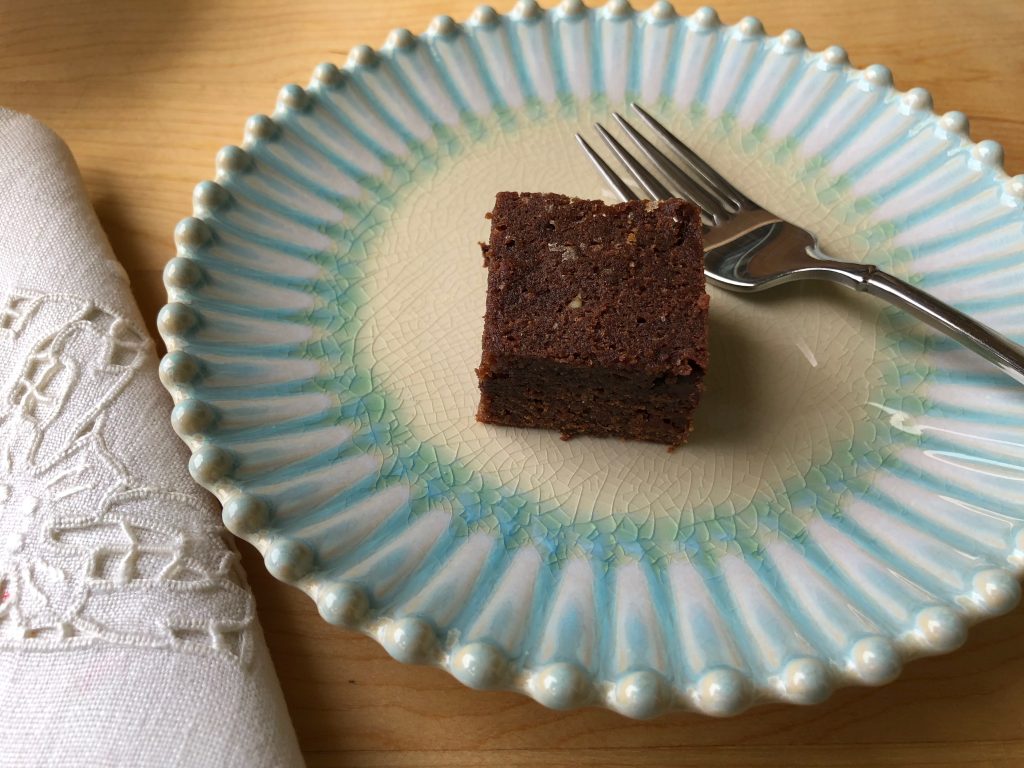 unsalted butter, cut into pieces – 8 oz
extra butter for greasing the pan
dark chocolate, roughly chopped – 5½ oz
all-purpose flour – 1½ cups
dark muscovado sugar or brown sugar – 1 cup
eggs, beaten – 4
walnuts, chopped – ½ cup
raisins – ½ cup
dark chocolate chips – ½ cup
Heat the oven to 350 °F (180 °C).  Butter a 7 by 11-inch baking pan and line with parchment paper.
Melt the butter with the chocolate in a heatproof bowl over a pan of simmering water.  Allow to cool slightly.  Meanwhile, sift the flour into a large bowl and stir in the sugar.  Stir the eggs into the chocolate mixture, and then pour this into the sugary flour and mix until combined.  Finally, add the walnuts, raisins, and chocolate chips, and mix well.  Spoon the batter into the prepared pan spreading evenly.  Bake for about 30-40 min or until set.  Cool slightly in pan, then remove from the pan to a wire rack to cool completely.  Cut into squares or slices.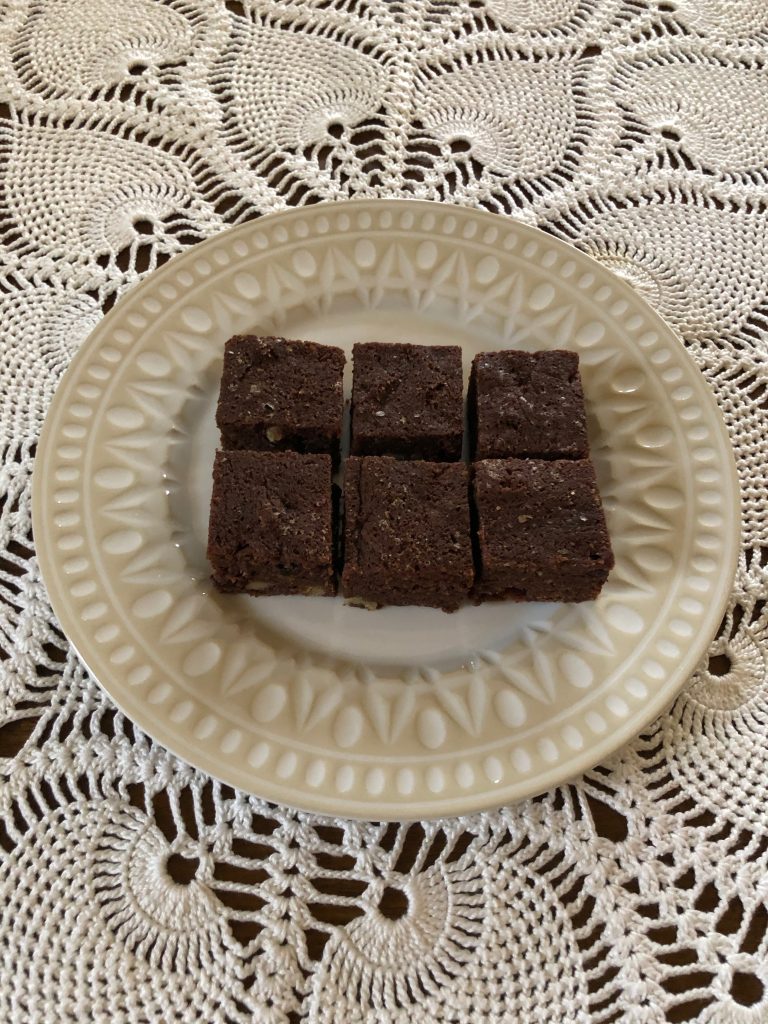 Ki tud ellenállni a gazdag csokoládé brownie-nak?  Igaz, hogy magas kalóriatartalmú, de ha csak mértékkel fogyasztjuk, része lehet az egészséges étrendnek.
A kulináris történelem szerint ezt a közkedvelt sütit a 20. század fordulóján, az Egyesült Államokban sütötték meg először.  Népszerűsége a mai napig töretlen, mert gyorsan és rendkivül egyszerűen elkészíthető és bármikorra alkalmas.  Természetesen sokféle változata van.  Variálható a liszt, a cukor és a csokoládé fajtája.  Különbözhet abban is, hogy hány tojást használunk, adunk-e alkoholt és különféle dióféléket a sütimasszához, csokisabbá tesszük-e még több csokoládé vagy kakaópor hozzáadásával.  Mennyeibb lesz a brownie élvezete, ha fudge szósszal, tejszínhabbal vagy fagylalttal kínáljuk.
Ez a recept a korábban itt közzétett brownie változata.  Ezúttal a mazsola (ami szárított tőzegáfonyával is helyettesíthető) ad extra ízt ennek a finomságnak.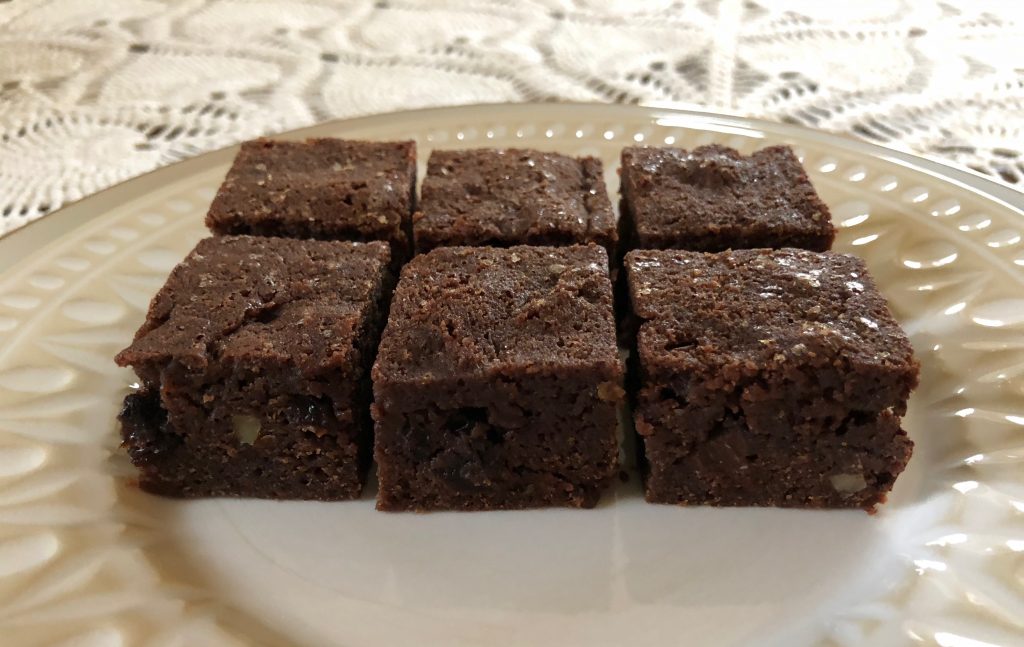 vaj – 226 g + egy kevés a tepsihez
étcsokoládé – 150 g
liszt – 192 g
sötét muscovado cukor vagy barnacukor – 200 g
tojás – 4
dió – 65 g
mazsola – 75 g
étcsokoládé cseppek – 90 g
A sütőt előmelegítjük 180 °C-ra.  Kivajazunk egy 28 × 18 cm-es tepsit, majd kibéleljük sütőpapírral.
A feldarabolt csokoládét a vajjal együtt – egy hőálló tálban – pára felett felolvasztjuk.  Hagyjuk enyhén kihűlni.  Közben a lisztet egy nagy tálba szitáljuk, majd hozzáadjuk a cukrot.  A felvert tojást belekeverjük a csokis vajba, majd ezt a masszát hozzákeverjük a cukros liszthez.  Végül hozzáadjuk a vagdalt diót, a mazsolát és a csokicseppeket.  Az egészet jól összekeverjük, az előkészített tepsibe öntjük és egyenletesen elsimítjuk.  Kb. 30-40 percig sütjük.  Kicsit hűlni hagyjuk, majd kivesszük a tepsiből, tortarácsra tesszük és teljesen kihűtjük.  Csak azután szeleteljük.