This easy and healthy soup is one of my comfort foods.  It's a quick one because the red lentils cook very fast.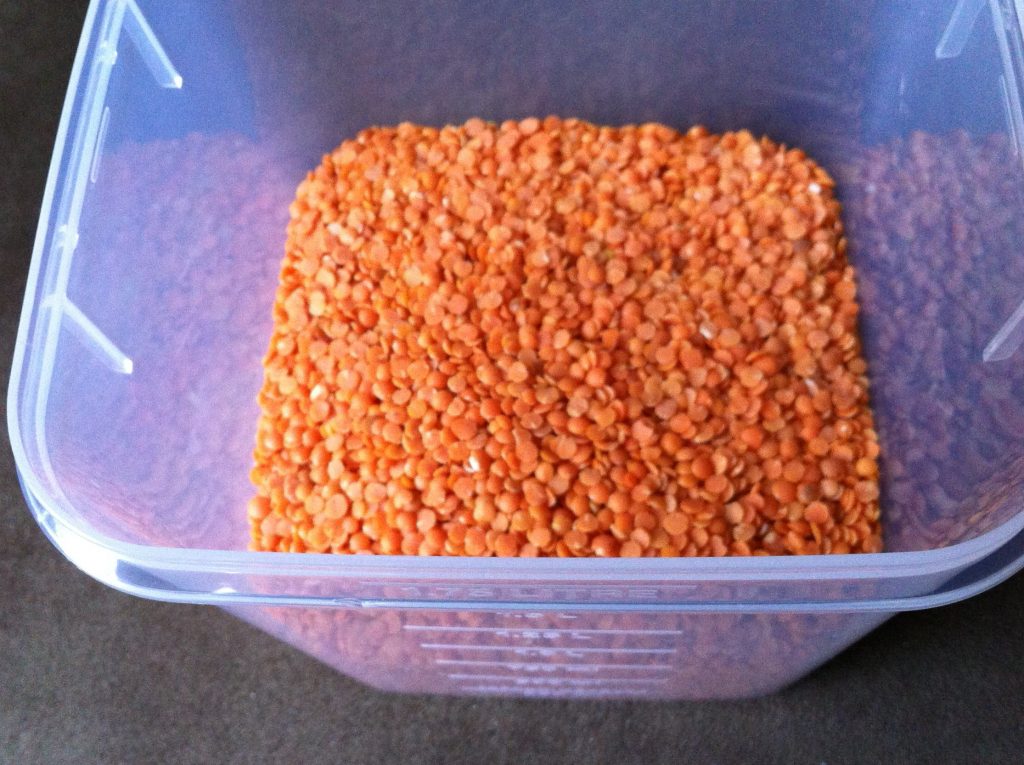 It's made with the type of ingredients that I always have at home.  The original recipe comes from Australia's leading cookbook author and food stylist, Donna Hay.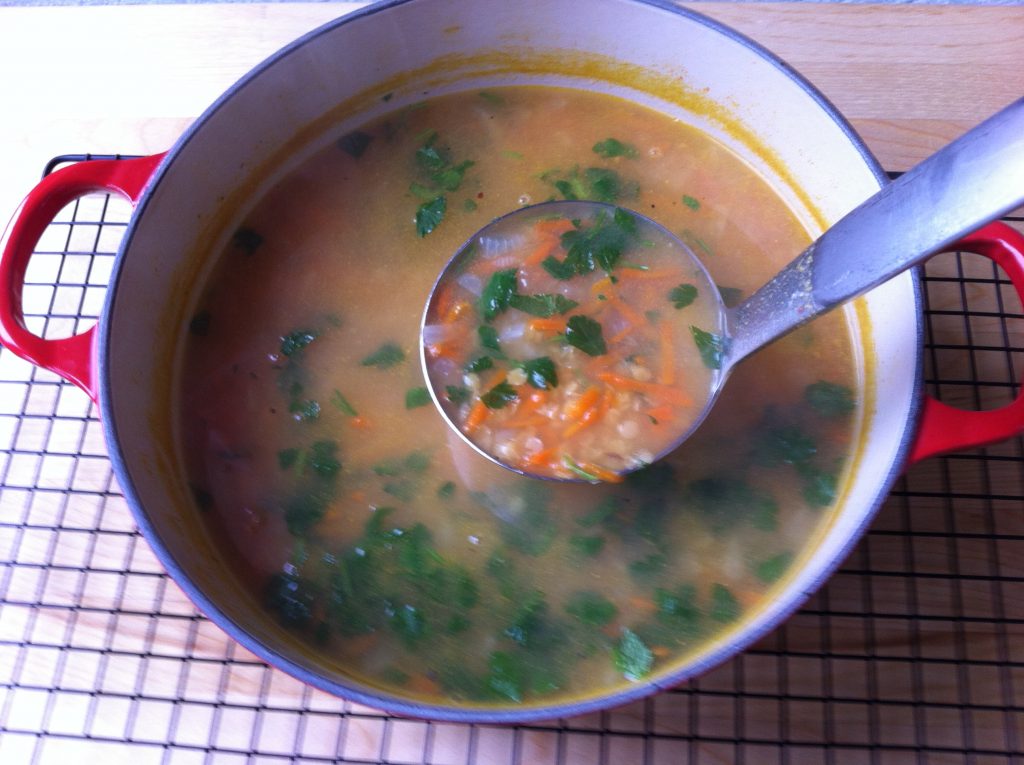 olive oil – 1-2 tablespoons
onion –  1 medium
ground cumin – 2 teaspoons
red lentils – 1 cup
chicken or vegetable stock – 4 cups
boiling water – 3 cups
carrots – 3
lemon juice – 1 tablespoon
flat-leaf parsley, chopped – 2 tablespoons
sea salt and freshly ground black pepper – to taste
thick yogurt to serve (optional)
Wash the lentils, chop the onion, grate the carrots, and roughly chop the parsley.  Heat the oil in a stockpot over medium heat.  Add the onions with the cumin and sauté for 2 minutes.  Add the lentils, stock and water, cover and cook for about 5 minutes.  Add the carrots and cook, covered, for 4-5 more minutes or until the carrots are soft.  Stir through the lemon juice and parsley, and season with salt and pepper.  Use an immersion blender to carefully puree the soup if you like.  Serve with a dollop of yogurt.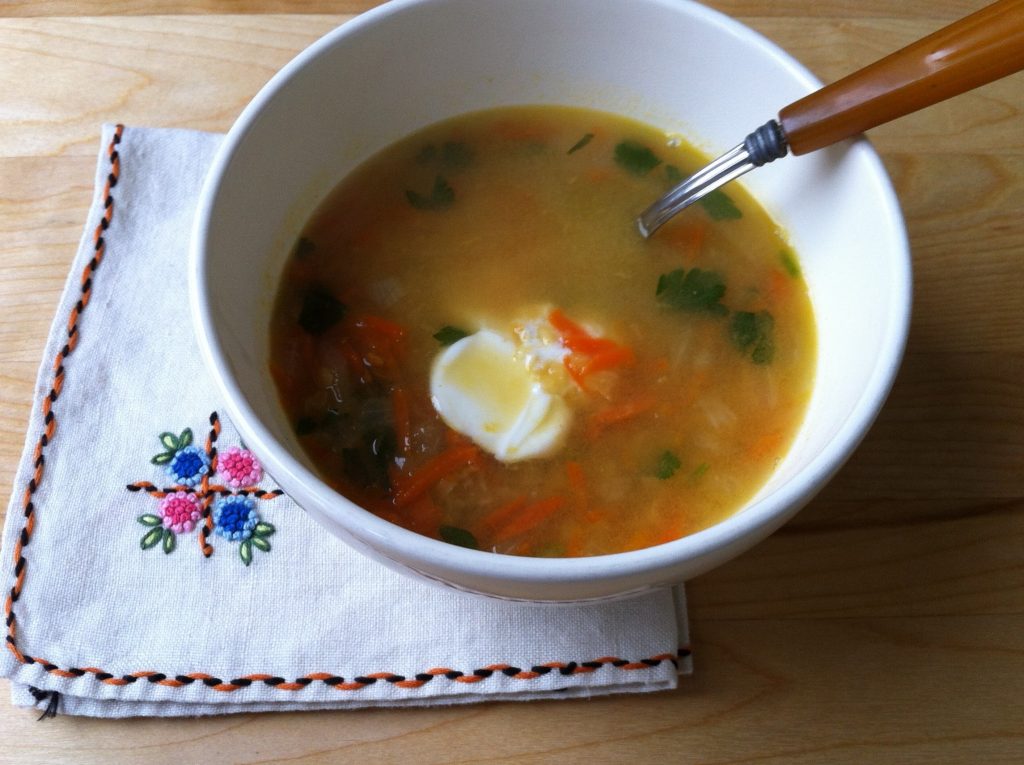 Ez az egyszerű és egészséges leves az egyik kedvencem.  Hamar elkészül, mert a vöröslencse nagyon gyorsan megfő.  Olyan alapanyagokból készül, ami nálam mindig van itthon.  Az eredeti recept szerzője az ausztrál ételstylist és szakácsköny író, Donna Hay.
olíva olaj – 1-2 evőkanál
hagyma – 1 közepes fej
őrölt kömény – 2 teáskanál
vöröslencse – 200 g
csirke vagy zöldség alaplé – 4 csésze
forró víz – 3 csésze
sárgarépa – 3
citromlé – 1 evőkanál
aprított zöldpetrezselyem – 2 evőkanál
tengeri só és frissen őrölt feketebors – ízlés szerint
joghurt a tálaláshoz (elhagyható)
A lencsét megmossuk, a hagymát apróra vágjuk, a sárgarépát lereszeljük, a petrezselymet durvára vágjuk.  Egy nagy fazékban felforrósítjuk az olajat, rádobjuk a hagymát, megszórjuk római köménnyel és 2 percig fonnyasztjuk.  Hozzáadjuk a lencsét, felöntjük az alaplével és a forró vízzel, és fedő alatt kb. 5 percig főzzük.  Ezután a leveshez adjuk a reszelt sárgarépát, újra letakarjuk, és addig főzzük, amíg a sárgarépa megpuhul (4-5 perc is elég).  Hozzákeverjük a citromlevet és a petrezselymet, majd ízlés szerint sózzuk, borsozzuk.  Botmixerrel simára is turmixolhatjuk.  Tálaláskor egy evőkanál sűrű joghurtot tehetünk a tetejére.