Simple, quick, easy, colorful, healthy, delicious, comforting.  Equally great from fresh or canned tomatoes.  This time, I cooked it using freshly picked tomatoes from our garden.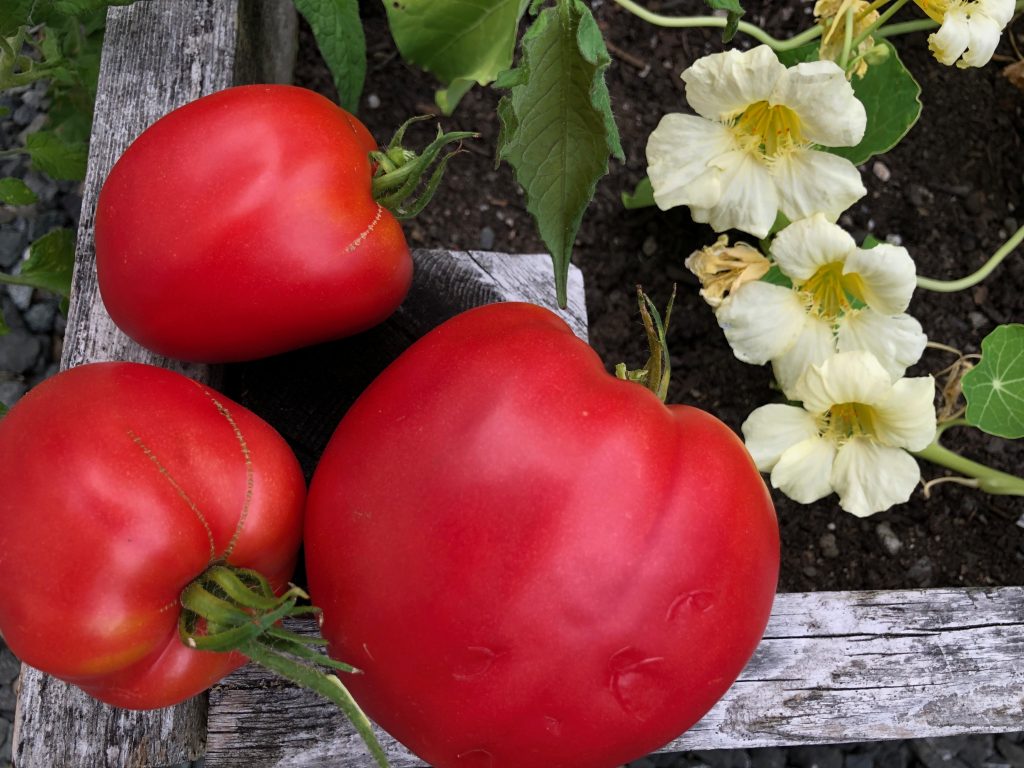 olive oil – 1 tablespoon
onion – 1 medium
celery – 2 stalks
carrot – 1
dried oregano – ¾ teaspoon
dried basil – 1½ teaspoons
tomatoes, chopped – 4 cups
chicken or vegetable stock – 3 cups
salt and pepper – to taste
Chop the onion, celery, carrot, and tomatoes.  Sauté the onion in oil in a large stockpot, and when it's partly cooked, add the celery and carrot.  Continue cooking until the onion is soft and then add the oregano, basil, and tomatoes.  Simmer until the tomatoes are very soft.  Pour in the stock, bring to a boil, and simmer on low heat.  If you are using hot stock, you will need to simmer only for 5 minutes, otherwise you will need about 20 minutes.  Season with salt and pepper.  If you want a smooth and creamy texture, carefully puree the soup with immersion blender.  Sprinkle with grated cheese, if desired.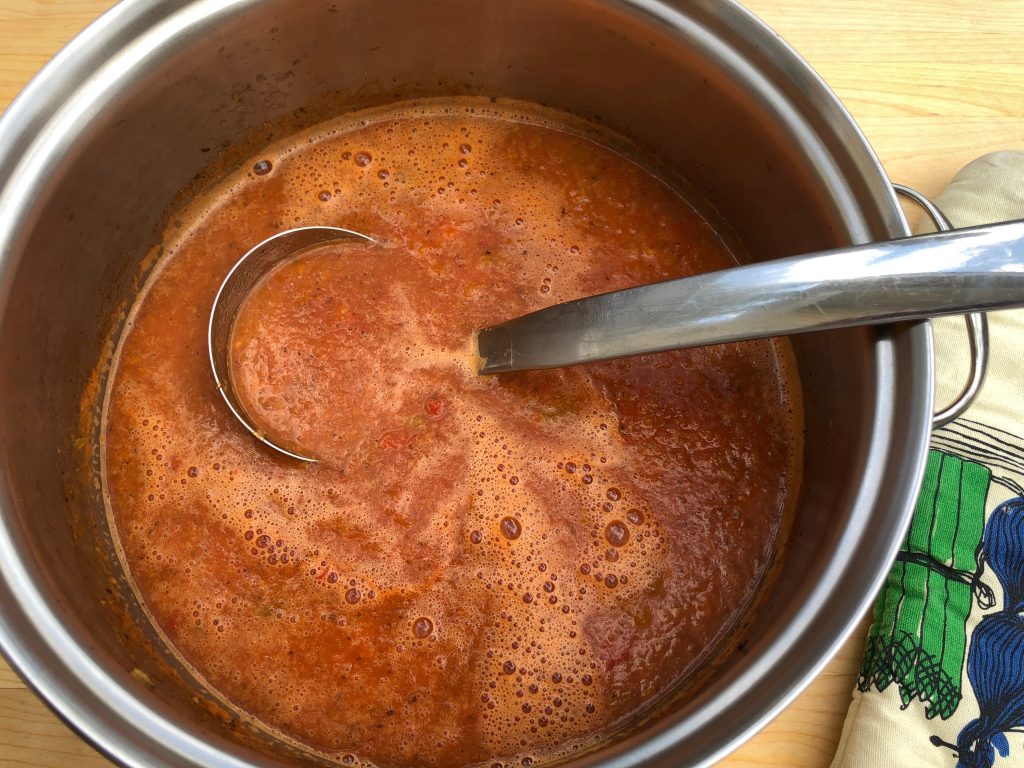 Egyszerű, gyors, könnyen elkészíthető, színes, egészséges, melengető.  Friss vagy konzerv paradicsommal egyaránt kitűnő.  Én most frissen szedett paradicsomunkból főztem.
olíva olaj – 1 evőkanál
hagyma – 1 közepes
zeller szár – 2
sárgarépa – 1
oregano (szurokfű) – ¾ teáskanál
szárított bazsalikom – 1½ teáskanál
paradicsom – kb. 800 g
csirke vagy zöldség alaplé – kb. 600 ml
só és őrölt feketebors – ízlés szerint
A hagymát, a zellerszárat, a sárgarépát és a paradicsomot feldaraboljuk.  Egy nagy fazékban felforrósítjuk az olajat, rádobjuk a hagymát, félpuhára fonnyasztjuk, majd hozzáadjuk a zellert és a sárgarépát, s addig főzzük, míg a hagyma teljesen megpuhul.  Ezután megszórjuk oregánóval és bazsalikommal, beletesszük a paradicsomot és az egészet puhára főzzük.  Felöntjük az alaplével, felforraljuk, majd mérsékeljük a tüzet és készre főzzük a levest.  Ha forró alaplét használunk, a forrástól számítva kb. 5 perc alatt készen is vagyunk, különben kb. 20 percig kell főznünk a levest.  Ha sima, krémes levesre vágyunk, botmixerrel óvatosan simára is turmixolhatjuk.  Tálaláskor megszórhatjuk reszelt sajttal.