Three countries, five weeks, and 33 pounds.  How and what to pack?
Part of the planning stages for our African trip were getting packing ideas, shopping in our closets, buying some special clothing, then ruthless editing.

We will be at various locations with vast differences in temperatures, we will be on safari, we will be in a rainforest and on the beach – I needed to keep all this in mind.  I had to pack less than I initially thought!
I am organized, and I am a very good packer, so packing in general is not an issue for me.  But for this trip I did something that I previously did only once in my life (when my son and I moved to America): I weighed everything on a kitchen scale!  It might sound extreme to you, but I had fun, and now I can be sure that we will make the weight limit.
We bought two soft duffle bags without wheels, since they will be carry-ons.  We also got a few special safari clothes.  Everything else we already owned.  I selected comfortable, practical, lightweight, breathable, hand-washable clothing, mostly from synthetic fabrics.  At some camps, we might take advantage of the laundry services, so basically, I packed for only 10 days.  Hotels and camps will provide basic toiletries – I packed only a few personal items.
Our safari clothing is in natural colors (khakis, beige, light brown, gray, some earth tones) – it's safer, even though in a safari vehicle we can wear almost any color.  No blacks (attracts mosquitoes), no royal blue color (attracts tse-tse flies, which have nasty bites), and no whites (gets dirty easily and you stand out too much from the surroundings).
Some of our clothing is the BugsAway apparel.  These shirts, socks, pants, and mesh jackets have been treated with InsectShield, giving us invisible, odorless protection against bugs, such as ants, flies, chiggers, ticks, and mosquitoes (which can transmit insect-borne diseases).  They are seriously lightweight, easy-care, quick-drying, and UV-protective clothes.  We bought them at a Seattle based store called ExOfficio.  Some other clothing, we sprayed with insect repellent.
We are not taking valuables, no jewelry either.  I might buy some nice Maasai jewelry in Kenya.
Ready for the list of packed items now?  See them in a separate post called "Africa packing list."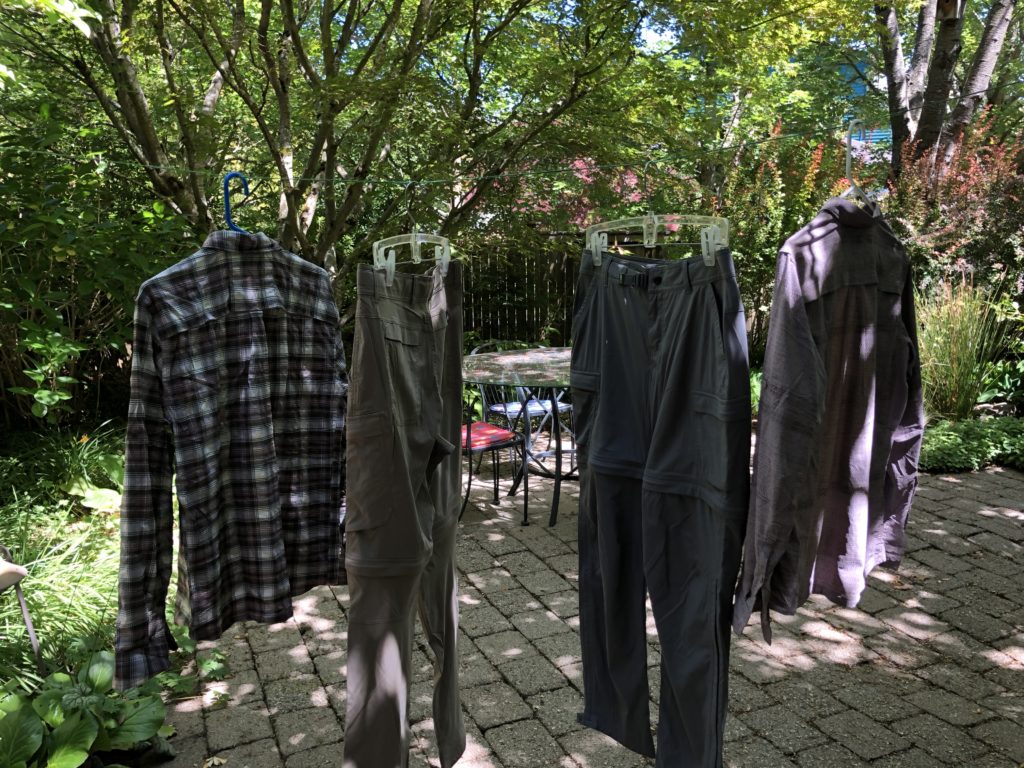 Három ország, öt hét és 15 kilogramm.  Hogyan és mit csomagoljak?
Afrikai utazásunk tervezési szakaszának részeként próbáltam ötleteket szerezni és természetesen átnéztem a meglevő ruhatárunkat.  Vásároltunk néhány speciális ruhaneműt, aztán az összegyűlt mennyiséget kezdtem kegyetlenül lecsökkenteni.  Utazásunk során különböző helyeken leszünk, ahol hatalmas hőmérsékleti különbségek vannak.  Szafarin, esőerdőben és tengerparton is leszünk – mindezt szem előtt kellett tartanom.  Kevesebbet kellett csomagolnom, mint amit eredtileg gondoltam!
Én nagyon rendszerető és rendezett vagyok és csomagolni is remekül tudok, ezért az utazások előtti csomagolás nem okoz gondot.  Ez alkalommal viszont olyasmit tettem, amit korábban csak egyszer (amikor a fiam és én Amerikába költöztünk): mindent lemértem a konyhai mérlegen!  Tudom, ez különösnek tűnhet sokak számára, de én közben egész jól szórakoztam, és most már biztos lehetek abban, hogy nem fogjuk átlépni a megengedett súlyhatárt.
Vettünk két könnyű utazótáskát (kerekek nélkülit), mivel nem fogjuk becsekkolni a csomagjainkat, meg persze hordoznunk is kell a táskákat öt héten át.  Vettünk néhány szafarira alkalmas speciális ruhaneműt is.  Minden más már megvolt.  Kényelmes, praktikus és könnyű ruhákat választottam az útra, amelyek kézben könnyen moshatók és elsősorban szintetikus anyagból készültek, így könnyen is száradnak.  Egyes táborokban lehet majd mosodai szolgáltatást igényelni, így mindössze 10 napra valót csomagoltam. A szállodák és táborok alapvető piperecikkeket biztosítanak, ezért csak néhány személyes dolgot viszünk magunkkal.
Szafari ruházatunk természetes színű (khaki, bézs, világosbarna, szürke, földszínű) – így biztonságosabb, bár a szafari járműben szinte bármilyen színt viselhetünk. Nem viszünk magunkkal semmi feketék (a fekete vonzza a szúnyogokat), semmi királykéket (ez vonzza a cecelegyeket, amelyek csúnyán megharaphatnak) és nincs semmi fehér a csomagunkban (a fehér könnyen piszkolódik és túlságosan kitűnik a környezetből).
Néhány ruházatunk úgynevezett BugsAway ruházat.  Ezeket az ingeket, zoknikat, nadrágokat, dzsekiket InsectShield-vel kezelték, ami láthatatlan, szagtalan és védelmet nyújt a különféle bogarak ellen (hangyák, legyek, csigák, kullancsok és szúnyogok ellen, amelyek betegségeket hordozhatnak).  Nagyon könnyű, könnyen kezelhető, gyorsan száradó és erős napfény ellen védő ruhákról van szó.  Az ExOfficio nevű Seattle-i boltban vettük őket.  Néhány meglevő ruhánkat meg bepermeteztük rovarrirtóval.
Az útra nem veszünk sem értéktárgyat, sem ékszert.  Talán majd veszek ott magamank valami szép kenyai ékszert.
Jöhet most már a csomagolási lista?  Vajon mit viszünk magunkkal?  Lásd a a következő bejegyzésben, amelynek címe "Csomagolási lista afrikai utazáshoz."