The planning for the trip of a lifetime is over.  Yes, we are ready for a new adventure.  Africa, here we come!

Visiting Africa has been on Steve's bucket list for a long time.  And I happily agreed to go with him, especially because we will be on a safari and he – as a wildlife biologist – knows a lot about animals.  I first learned about Africa in sixth grade when my father taught me and my classmates world geography.  He would be happy to know that soon I will have first-hand experiences of this exotic land.
Steve worked with our travel agency Yampu for a few years designing a custom trip, so we can see as many different wildlife species as possible.  I refreshed my general knowledge of Africa learned in sixth grade, and researched Kenya, Tanzania, and Madagascar, our destinations.  I read the facts of these countries and the statistical data online and in books; read about living conditions, weather, behavior on safaris, description of animals, etc.  I researched and designed our packing lists.  Steve read a lot more than me about the animals we hope to see.  He arranged for all the documents and medical stuff/vaccinations needed for visiting Africa and he also handled the financial aspects.
Here is a glimpse into what places we will be visiting and what we expect to see.  In Kenya: Nairobi, Mount Kenya, Samburu, Lake Nakuru, Masai Mara National Reserve; in Tanzania: Serengeti, Ngorongoro Crater, Tarangire National Park; in Madagascar: Antananarivo, Maroantsetra, Ft. Dauphin, Andasibe, Mantadia National Park.  Between the countries we will be flying, between the national parks we will be transferred via car or small airplane.  We will be watching wildlife from a safari vehicle and a hot air balloon, go on a bush walk, walk in a rainforest, on the beach, and in a city.  We will be sleeping in hotels and tented camps, having our meals there as well as eating packed lunches in a car and enjoying a bush breakfast on the savannah.  We hope to see animals such as: giraffe, elephant, rhino, hippo, lion, leopard, buffalo, antelope, hyena, zebra, cheetah, gazelle, jackal, flamingo, ostrich, baboon, lemur, aye-aye, sifaka, chameleon, crocodile, a wide variety of birds, and also baobab trees, orchids, and many more exotic animals and plants.  Oh, I almost forgot: we will also experience the wildebeest migration.
Hope you can join us on this adventure by following along on this blog.  Asante sana. (Thank you very much, in Swahili.)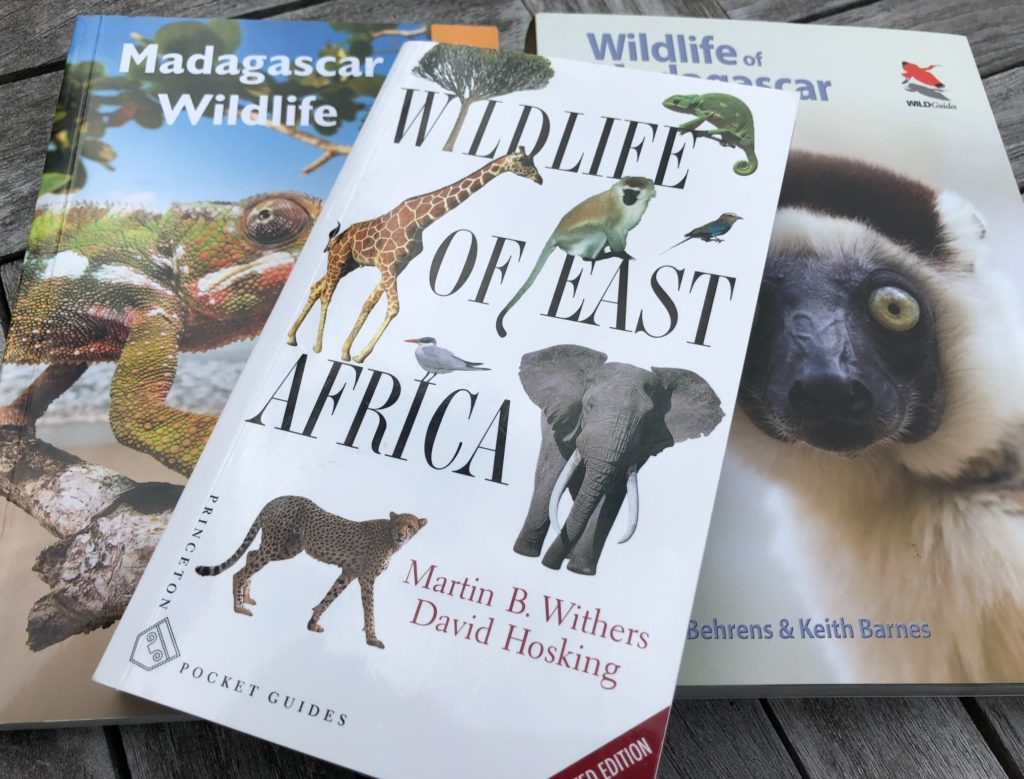 Sikerült megterveznünk egy életre szóló utazást.  Igen, készen állunk egy új kalandra.  Afrika, jövünk!
Steve bakancslistáján régóta ott szerepelt Afrika.  Amikor felvetette, hogy végre valósítsuk meg ezt az utazást, boldogan beleegyeztem.  Szafarira készülünk és ő – vadállatokra specializálódott biológusként – sokat tud az állatokról.  Én először hatodikosként, édesapám földrajzóráin tanultam Afrikáról.  Most biztos örülne, hogy hamarosan első kézből szerzett ismereteim lesznek erről az egzotikus földrészről.
Steve néhány éve kezdte tervezni ezt az egyedi utazást, aztán a Yampu nevű utazási irodához fordult, hogy a rendelkezésünkre álló idő alatt a lehető legtöbb vadon élő állatfajt láthassuk.  Én felfrissítettem általános ismereteimet Afrikáról, s úti céljainkat, Kenyát, Tanzániát és Madagaszkárt részletesebben tanulmányoztam az interneten és könyvekből.  Olvastam a statisztikai adatokat, olvastam az életmódról, az időjárásról, az állatokról, és arról is, miként kell viselkedni egy szafarin, s milyen ruhaneműt vigyünk magunkkal.  Végül összeállítottam a csomagolási listánkat.  Steve is rengeteget olvasott, főleg azokról az állatokról, amiket remélhetőleg látni fogunk.  Ő intézte az összes utazási dokumentumot (pl. a vízumokat), az egészségügyi papírokat, a védőoltások időpontját és a pénzügyeket.
Íme egy pillantás az útitervünkre: hová megyünk, mit látunk majd.  Kenyában: Nairobi, Kenya-hegy, Samburu, Nakuru-tó, Masai Mara Nemzeti Rezervátum; Tanzániában: Serengeti, Ngorongoro-kráter, Tarangire Nemzeti Park; Madagaszkáron: Antananarivo, Maroantsetra, Ft. Dauphin, Andasibe, Mantadia Nemzeti Park.  Az egyes országokat repülőgépen érjük el, a nemzeti parkokba autón jutunk el, de néha országon belül kisméretű repülőgép szállít majd egyik helyről a másikra.  A szafari alatt terepjáróból fogjuk figyelni a vadállatokat, de lesz ballon szafari is.  Részt veszünk bozóttúrán, megyünk esőerdőbe, leszünk tengerparton, és városokban is sétálunk majd.  Szállásaink teljes ellátással hotelekben és szafari sátrakban lesznek, néha azonban csomagolt ebédet kapunk vagy éppen bozótreggelit a füves szavannán.  Reméljük, hogy látunk zsiráfot, elefántot, orrszarvút, vízilovat, oroszlánt, leopárdot, bivalyt, antilopot, hiénát, zebrát, gepárdot, gazellát, sakált, flamingót, struccot, páviánt, lemúrt, áje-áje-t, szifakát, kaméleont, krokodilt, sokféle madarat, majomkenyérfákat, orchideákat, és még sok más egzotikus állatot és növényfélét.  Ó, szinte elfelejtettem: a nagy állatvándorlásnak, a gnúk vándorlásának is tanúi leszünk.
Remélem, hogy csatlakozol hozzánk, legalábbis virtuálisan, követve ezt a blogot.  Asante sana. (Nagyon köszönöm, szuahéli nyelven.)