"Have fun!" said my husband, as I headed to the precheck security line at SeaTac airport on a Thursday evening.  I usually don't fly alone, we like to have trips together, but this time I was going to have the weekend adventure on my own.  It started immediately: I was pulled aside for a random check of my carry-ons, mainly my electronics.  The tools of the trade.  Everything was all right.

"Put this hat on.  You know, the wind," said my son, handing me his favorite orange hat as I got into his convertible in front of the Sacramento International Airport building less than two hours after take-off in Seattle.  The warm California evening air and wind surrounded me as we drove to his house in the suburbs.  I was staying with him and my daughter-in-law for three nights.  During the next two days, September 29th and 30th, I was going to attend the International Food Blogger Conference (IFBC).
Friday morning, on his way to work, David dropped me in Sacramento in front of the Convention Center.  "Will I ever get into this building?" I wondered as I endlessly walked around trying to find an open door.  I noticed others hesitating about how to get in, when a door suddenly opened.  Someone just came out.  We rushed toward the door and held it for each other.  "Is this the right place?"  "Are they really having a conference here?"  I wasn't so sure it was a good idea to register for this event.
But now I was inside the building.  The conference logo was projected on the wall.  I found a table with many nametags (about 250) and picked up my own.  I went to a big ballroom, sat down around a circular table, and watched the people arriving.  Mostly young, as I expected.  Friends or to be friends, chit-chatting while waiting for the conference opening.  I was quite excited and open to all of the experiences that awaited me.
This year, it was the 9th food blogger conference.  Check out here what this is all about.  Why to attend?  What is the agenda for a conference like this?  Read about the speakers and the sponsors.  Read the attendees' experiences from their blog posts.
I had a good time during the conference, learned a lot, and enjoyed the food.  Naturally, there was food.
I listened to the keynote speaker, Nick Papadopoulos, the CEO and Co-Founder of CropMobster talking about "the toll food waste and other issues take on farmers, small food businesses and communities."  "Use your skills to drive impact to transfer food waste into potential," he suggested.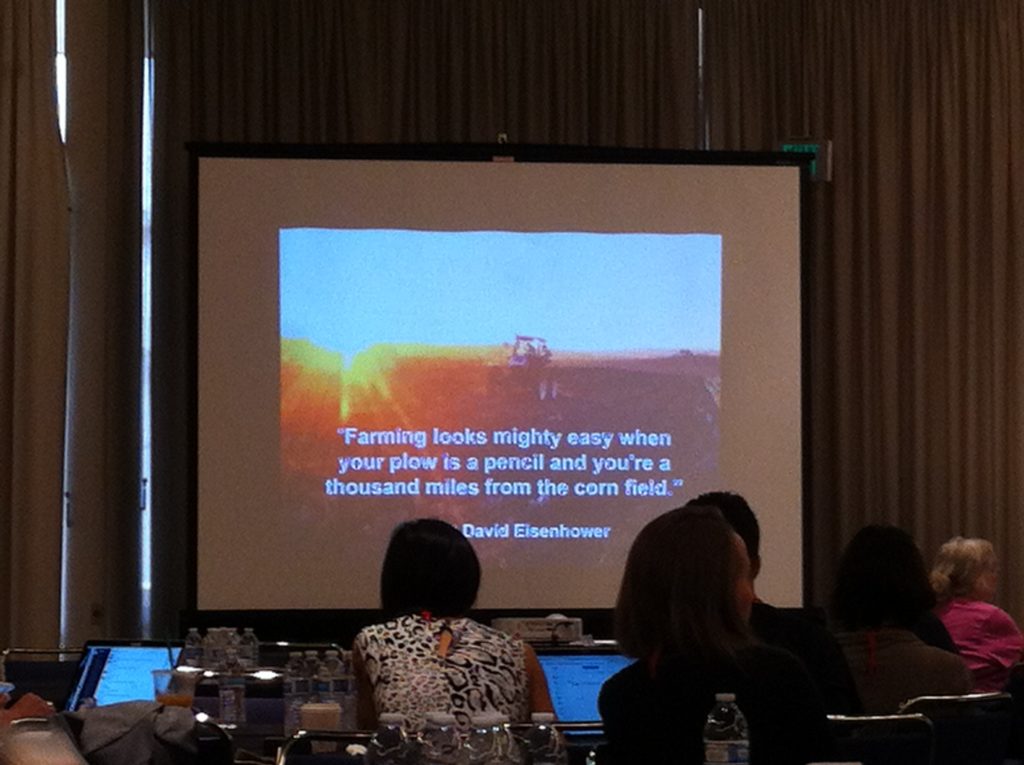 Two women talked about how they make money from their blogs, saying we all could possibly do the same if we chose.  I also listened to a panel discussion on the hot topics in food blogging (such as the use of videos).
On Friday, attendees could choose one of two discovery sessions to learn about the original balsamic vinegar of Modena or the sustainable practices of Superior Farms raising lamb (their lean, tender, and nutrient-rich burgers were fantastic).
On Saturday, avocados imported from Chile and styling them for food photography or how cows can save the world were the two topics.  Breakout sessions provided information about how to get paid for blog posts, how to achieve massive Instagram growth, how to create videos for under $100, how to write better blog posts, and what technical issues bloggers should know about and why.  At the end of the conference I could have participated in a live food & drink blogging, but by this time I was full of information, I was tired, so I opted for spending more time with my family.
Did I mention already that there was also food?  Yes, there was a lot of food on day 1, but we were on our own on day 2.  Farm apples in the back of the ballrooms and coffee in the lobby from the San Francisco Bay Coffee Company were available both days.  I inquired about some tea since I am not a coffee drinker, but they had none.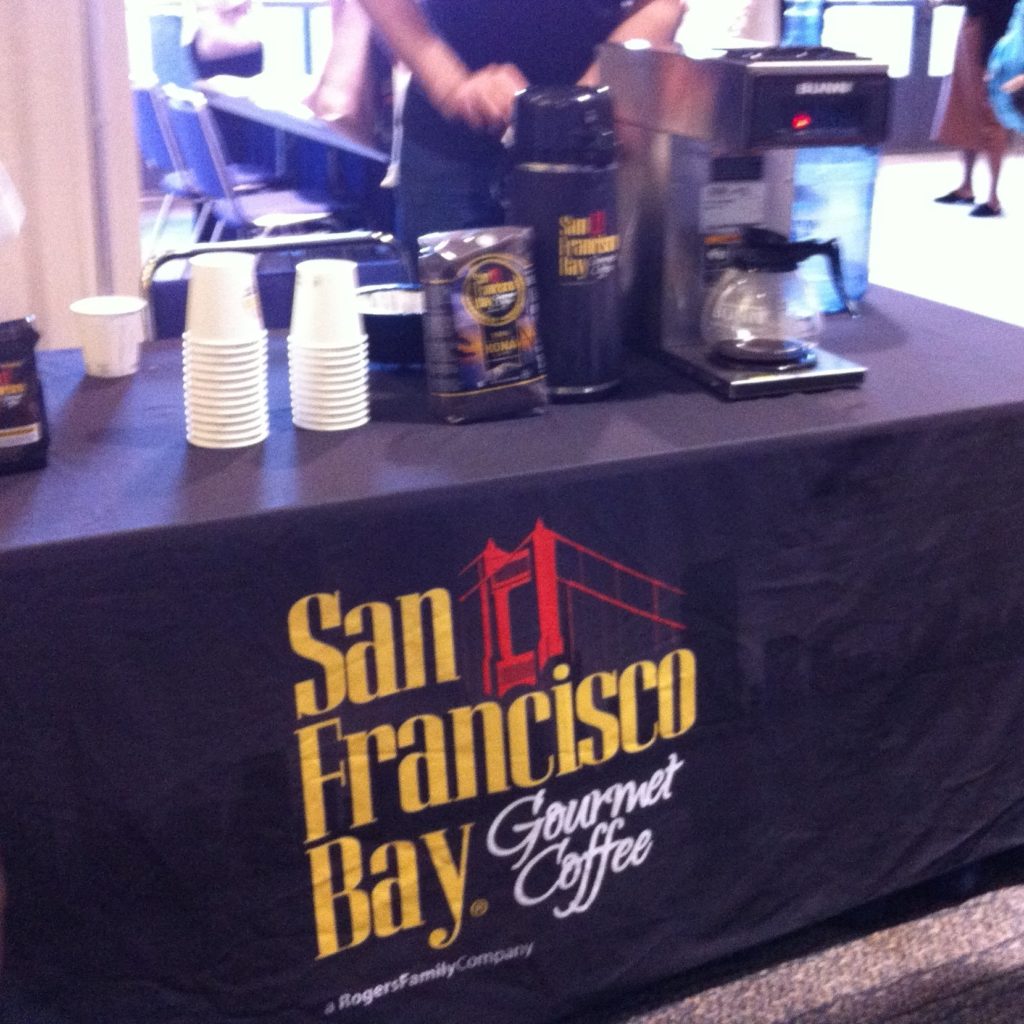 Lunch on Friday was a great picnic in the California State Capitol Park with Nugget Markets about whom my daughter-in-law mentioned to me earlier that they were really good.  They didn't disappoint.  I loved their sandwiches and salads (pasta and fruit), the mood they created with the colorful picnic blankets, and their table decorations.  It was fun to sit on a blanket with two other ladies and chat as we enjoyed our meal and the sun.
During the Taste of Sacramento & Gift Suite in the end of the first day, we could talk with the sponsors, taste some great food, enjoy a glass of wine, and take home lots of goodies in a blue Sacramento Airport tote bag.  Dark chocolate with coffee, cardamom and coconut milk from Endorfin Foods (I love chocolate but not coffee, so I gifted this to my family and friends), small cutting boards from Avocados from Chile, fruit-infuser water bottle from Fruits from Chile, dried blueberries from Sunset Valley Organics in Oregon, a cute toy Spuddy Buddy from Idaho Potatoes, and fashionable sunglasses from WordPress.com, just to name a few.  I tasted turmeric chicken salad with pineapple, beet buns with pastrami cured trout, vegan chilled heirloom tomato soup, little avocado sandwiches, bite-sized bundt cake samples from Nothing Bundt Cakes bakery, and heavenly little raspberry orange peel, cinnamon bourbon, pistachio lime, pineapple caramel, and coconut caramel chocolates (my absolute favorites) from Puur Chocolat.
And what did I like the most during my first food blogger conference?
I got inspiration for successful blogging, learned that words have power, met other like-minded food bloggers, explored Sacramento, ate some incredible food, and was able to spend time with my son and daughter-in-law.  The most important insight I took away was this: blogging is a creative outlet and everything we blog about is valid.
This is the first of three posts I agreed to write to receive the reduced conference rate for the IFBC 2017.