By now, you might have noticed that I quite often cook and bake from Hungarian cookbooks.  Many recipes from these books I've used multiple times, since some of these books I've had for a long time.  However, today I am presenting a recipe from Sütemény és torta by Mari Lajos that's new for me. This is the first time I baked these little sandwich cookies.  Half of the cookies have light color, half of them are dark from added cocoa powder.
I sandwiched them together with a small amount of thick jam.  I used apricot, raspberry, and fig jam – even Nutella – to provide a variety of tastes.  Of course, you might decide not to sandwich them together at all, they are great eaten plain too.  These cookies are the best when they are a little bit soft, maybe a day or two after baking, but I don't mind them even when they are a little bit crunchy.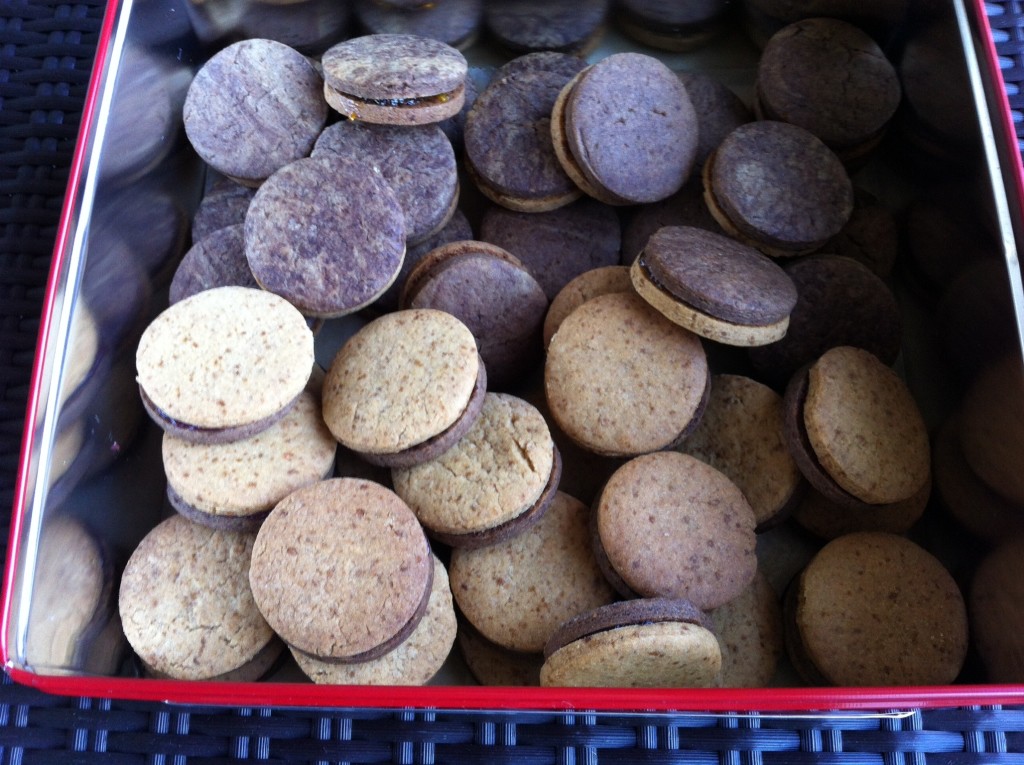 unsalted butter, at room temperature – 200 g
sugar – 250 g
all-purpose flour – 500 g
eggs – 2
baking powder – 20 g
vanilla sugar – 20 g
cocoa powder – 3 tablespoons
jam of your choice
In a large bowl, cream the butter and sugar together until light and fluffy.  Add the flour, eggs, baking powder, and vanilla sugar, and mix to form a dough of medium hardness (if the dough is very hard, add a little milk).  Divide the dough into two equal parts.  Add the cocoa powder to one, then gather each part into a ball.
Preheat the oven to 180 °C (350 °F).  Line two cookie sheets with parchment paper.  On a lightly floured work surface, roll out each ball separately to a thickness of about 5 mm.  With a small circular cookie cutter, stamp out rounds.  Gather the leftover dough, roll out again, and stamp out more rounds until all of the dough is used.  Place them on the cookie sheets leaving a little space between them.  Bake for about 15-20 minutes until lightly browned.  Cool on the cookie sheets, then transfer them to a clean work surface.  To assemble the cookies, put a little amount of the jam in the middle of one of the rounds and sandwich together with a different color round.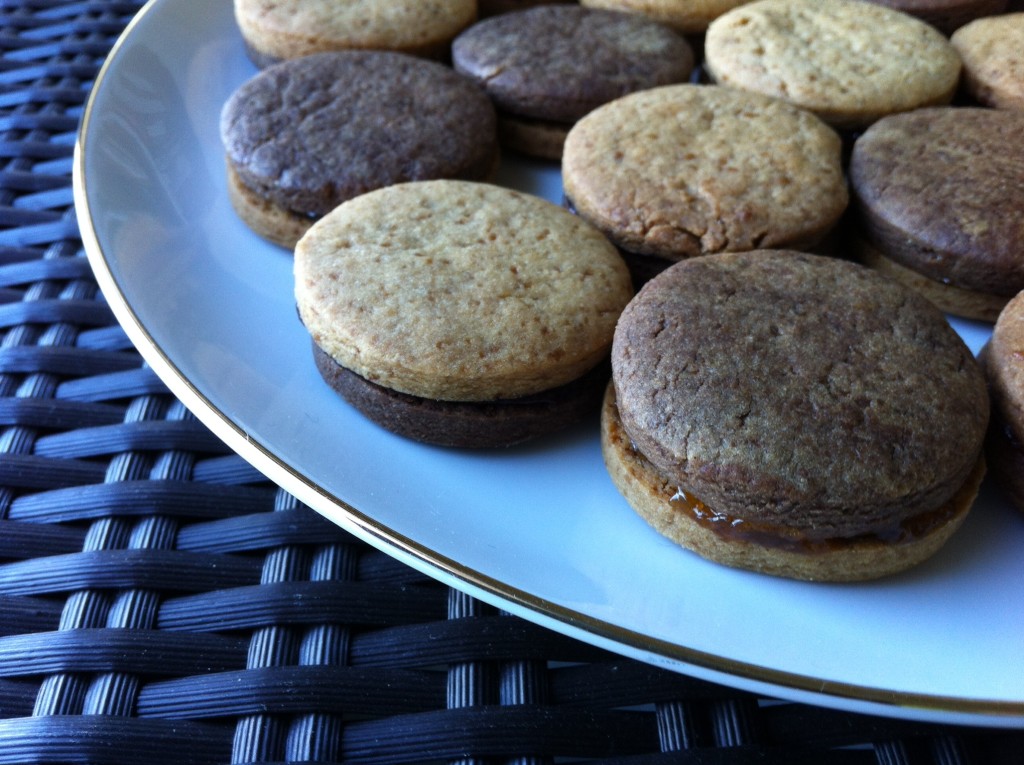 Talán észrevetted, hogy gyakran főzök és sütök magyar szakácskönyvekből.  Egyes könyvek már hosszabb ideje a birtokomban vannak, így ezekbol sok receptet többször is kipróbáltam.  Ma azonban egy olyan receptet mutatok be Lajos Mari Sütemény és torta című szakácskönyvéből, ami számomra is új.  Most sütöttem meg először ezt az aprósütit.  A korongok fele világos színű, fele sötét a hozzáadott kakaóportól.  A megsült korongokat sűrű lekvárral párosával összeragasztottam.  A többféle íz kedvéért sárgabarack-, málna- és fügelekvárt, valamint Nutellát is használtam.  Ez a teasütemény egy-két nappal a sütés után a legfinomabb, mert addigra enyhén megpuhul, de én azt sem bánom, ha egy kicsit ropogós marad.
lágy vaj – 200 g
cukor – 250 g
finomliszt – 500 g
tojás – 2
sütőpor – 20 g
vaníliás cukor – 20 g
kakaópor – 3 evőkanál
savanykás gyümölcslekvár
A vajat és a cukrot simára kidolgozzuk.  Hozzáadjuk a lisztet, a tojásokat, a sütőport és a vaníliás cukrot.  Közepes keménységű tésztát gyúrunk (ha szükséges, egy kevéske tejet adunk hozzá), majd két részre osztjuk.  Az egyik részhez hozzágyúrjuk a kakaóport, a másikat alapszínen hagyjuk.
A sütőt előmelegítjük 180 °C-ra.  Két tepsit kibélelünk sütőpapírral.  A kétféle tésztát külön-külön, enyhén lisztezett gyúródeszkán, kb. 5 mm vastagságúra kinyújtjuk.  Kis pogácsaszaggatóval korongokat szúrunk ki belőle.  A maradék tésztadarabokat újra összegyúrjuk, kinyújtjuk, kiszaggatjuk, és így tovább, amíg a tészta el nem fogy.  A korongokat a tepsikre helyezzük – kis helyet hagyva közöttük – és kb. 15-20 perc alatt világos aranyszínűre sütjük.  A tepsiken hagyjuk langyosra hűlni, majd a munkalapra rendezzük őket.  Ezután egy-egy világos korong közepére lekvárt pöttyintünk és tetejükre helyezzük a sötét párjukat.