As you probably know, making your own granola is one of the easiest things you can do in the kitchen.  You actually don't need a recipe if you keep the 6:1 ratio of dry and wet ingredients in mind.  You might recall reading about this in one of my earlier posts of crunchy maple nut granola.  However, today I do recommend that you check out this new recipe.

It comes from one of my favorite cookbooks A Modern Way to Eat by Anna Jones.  You will love this granola; it's not full of sugar like store-bought granolas, and uses a mixture of oats and quinoa flakes.  Of course, you can substitute the quinoa flakes for more oats, but you will get a little bit heavier granola.  Use whatever dried fruit you have on hand.  The maple syrup also could be substituted for runny honey.  Serve for breakfast with yogurt and seasonal fruit.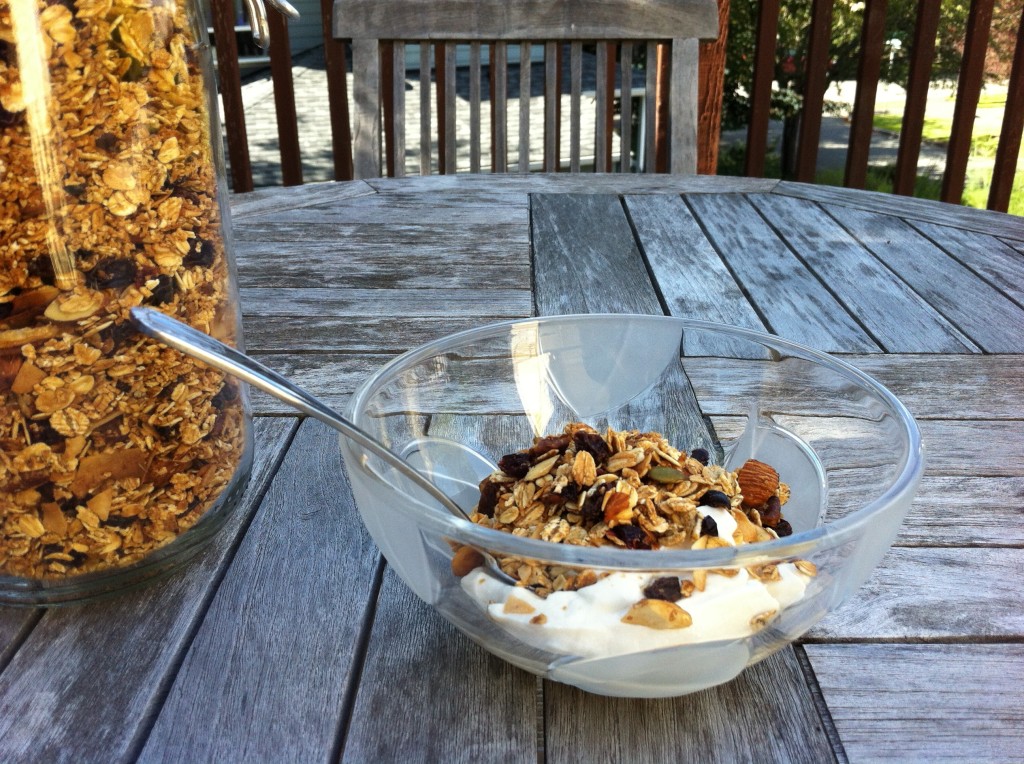 rolled oats – 1½ cups (150 g)
quinoa flakes – 1½ cups (150 g)
sunflower or pumpkin seeds – ½ cup (80 g)
almonds or pecans, chopped – 1 cup (150 g)
unsweetened dried coconut – ¼ cup (30 g)
grated zest of 2 lemons
maple syrup – ½ cup (170 g)
raisins – ¾ cup (100 g)
other dried fruit (chopped dates or apricots) – ¾ cup (100 g)
Preheat the oven to 375 °F (190 °C).  Mix together the oats, quinoa flakes, seeds, chopped nuts, coconut, and lemon zest in a large bowl.  Scatter over a large, lightly oiled, rimmed baking sheet.  Pour over the maple syrup and coat everything well with your hands.  Bake for 20 minutes, giving it a stir every 5 minutes.  Remove from the oven, add the dried fruit, and return to the oven for 10 more minutes.  Cool it fully, then store in a covered airtight container for up to 1 month.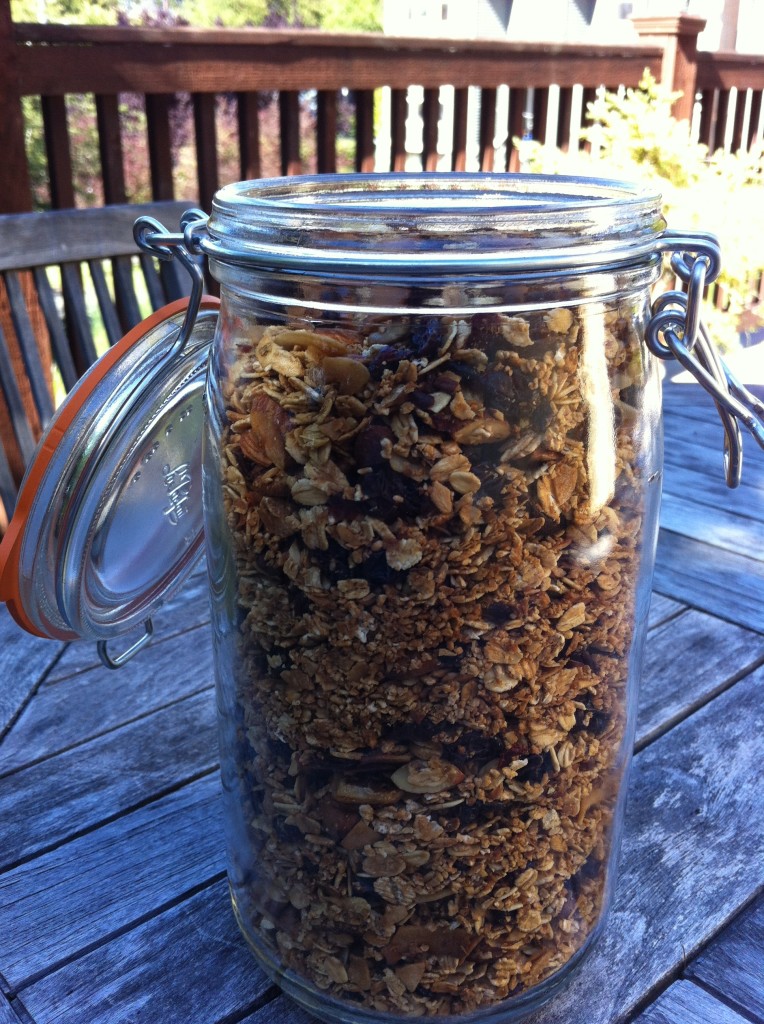 Bizonyára tudod, hogy házilag is nagyon egyszerű granolát készíteni.  Egyik korábbi bejegyzésemből – ropogós juharszirupos diós granola – emlékezhetsz rá, hogy gyakorlatilag nincs is szükség receptre, ha a száraz és nedves hozzávalók 6:1 arányával dolgozunk.  Néha azonban jól jöhet egy kipróbált recept, mint pl. ez a mai, amit Anna Jones A Modern Way to Eat című remek szakácskönyvében találtam.  Imádni fogod ezt a granolát, mert nincs tele cukorral, mint boltban vásárolt társai.  A recepthez quinoa pehelyre is szükség van, de ha ehhez netán nem tudsz hozzájutni, nyugodtan helyettesítsd zabpehellyel.  Így egy picivel nehezebb granolát kapsz, de ettől még ugyanúgy finom lesz.  Bármilyen szárított gyümölcs megteszi, s a juharszirup helyett folyékony mézet is használhatsz.  Joghurttal és idénygyümölccsel fantasztikus reggeli.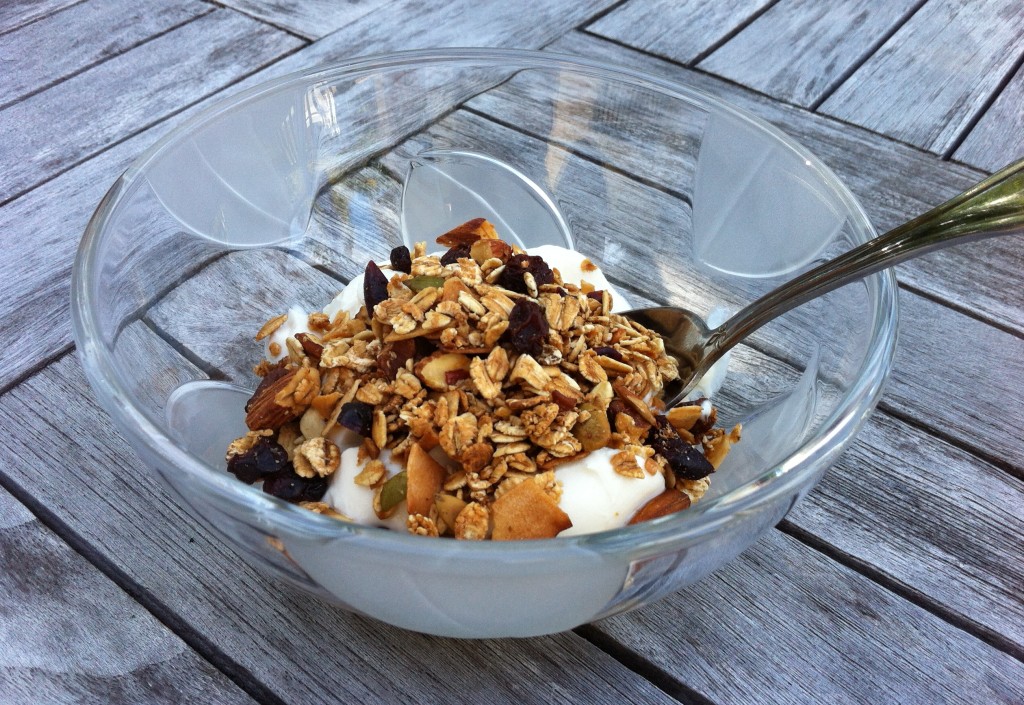 zabpehely – 150 g
quinoa pehely – 150 g
napraforgómag vagy tökmag – 80 g
mandula vagy pekándió, durvára vágva – 150 g
édesítetlen kókuszreszelék – 30 g
2 citrom reszelt héja
juharszirup – 170 g (½ bögre)
mazsola – 100 g
másféle aszalt gyümölcs (sárgabarack vagy datolya), durvára vágva – 100 g
A sütőt előmelegítjük 190 °C–ra.  A zabpelyhet, quinoa pelyhet, napraforgómagot (vagy tökmagot), durvára vágott diót (vagy mandulát), kókuszreszeléket és a reszelt citromhéjat egy nagy tálban összekeverjük, majd egy nagy, enyhén olajozott tepsibe tesszük.  Ráöntjük a juharszirupot, kezünkkel jól elkeverjük és egy kicsit elsimítjuk.  20 percig sütjük, közben 5 percenként átforgatjuk.  Aztán kivesszük a sütőből, hozzáadjuk az aszalt gyümölcsöt, majd a sütőbe visszatéve további 10 percig sütjük.  Ha kész, hagyjuk teljesen kihűlni.  Légmentesen záródó edényben 1 hónapig is eláll.