"This Middle-Eastern style snack is both tasty and filled with microbiota accessible carbohydrates," write Justin and Erica Sonnenburg in their book The Good Gut: Taking Control of Your Weight, Your Mood, and Your Long Term Health.  They named the snack "Cashews for Your Commensals" but for the sake of simplicity I call it "Turmeric Cashews" after Heidi Swanson, who published a recipe by this name last May on her blog 101 Cookbooks. 

Besides cashews, you need only turmeric – the yellow culinary spice that has anti-inflammatory effects ­– salt, and oil.  The turmeric plant is an approximately three foot (one meter) high tropical plant, native to India, and closely related to ginger.  This recipe is so simple, that there is really no need for one.  The snack is done on the stovetop in just a few minutes.  Just a note, in the original recipe all of the amounts are doubled.  Caution: When you eat these cashews, your fingers might be yellowed a little bit from the spice.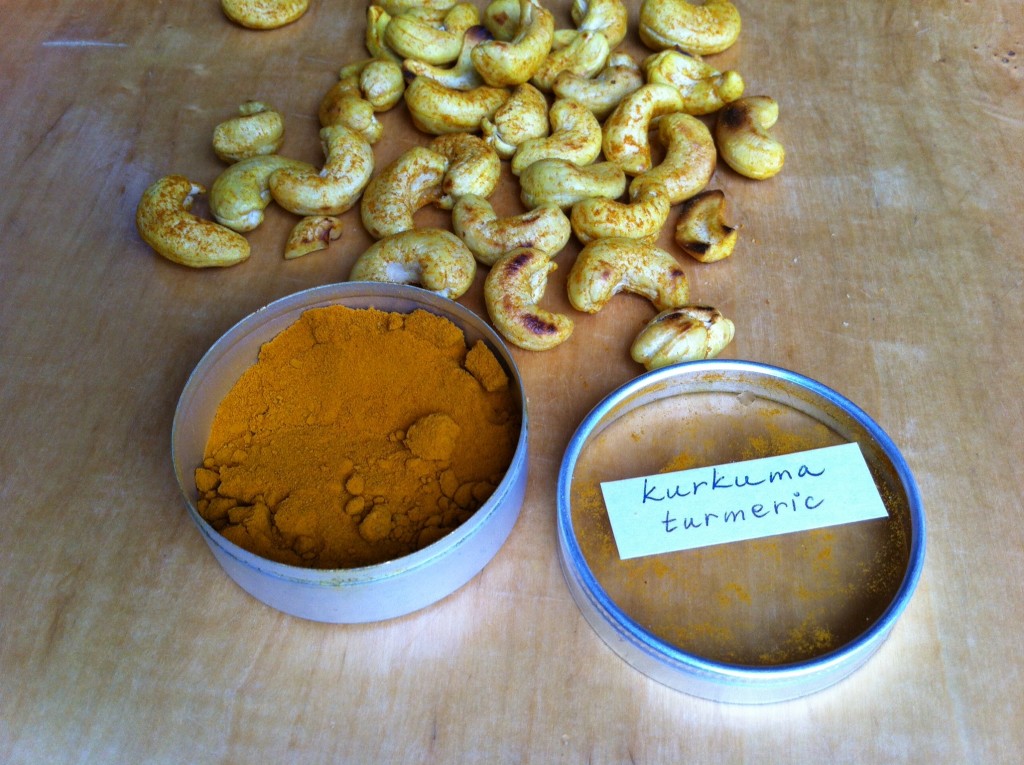 olive oil – ½ tablespoon
raw cashews – 2 cups
turmeric – ½ tablespoon
sea salt – ½ teaspoon
Heat the oil in a skillet over medium-high heat.  Add the cashews, sprinkle with salt, and toast – stirring frequently – for about 5 minutes.  Remove from heat, transfer to a bowl, and toss with the turmeric.  Cool and serve.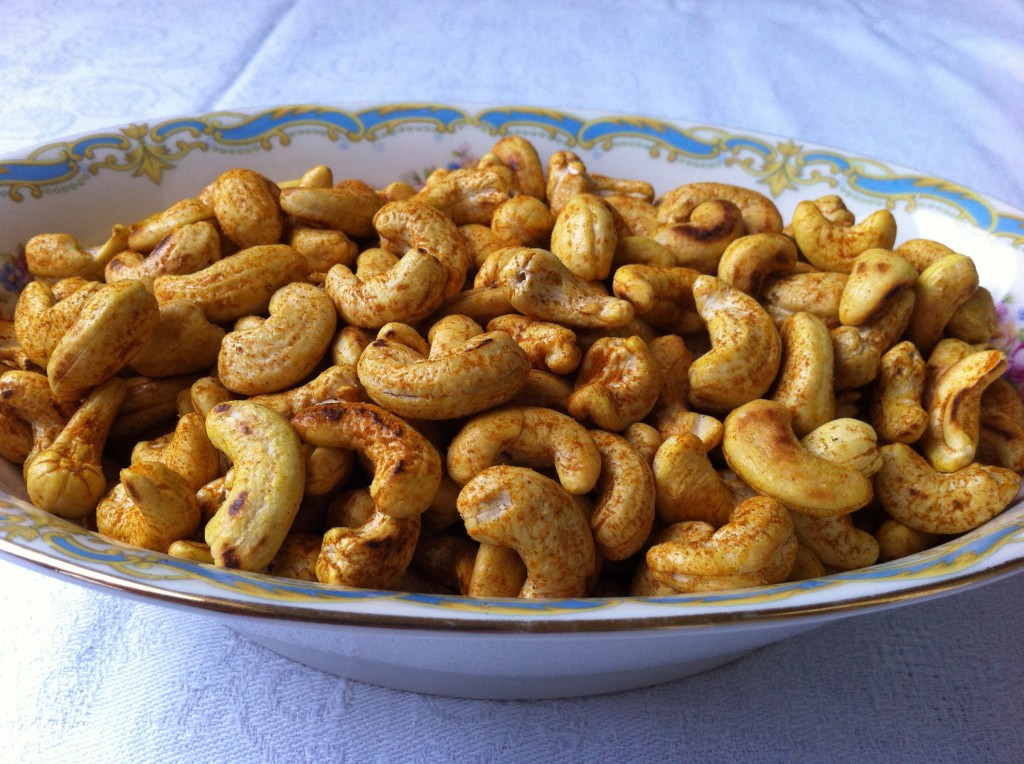 "Ez a közel-keleti jellegű nassolnivaló egyszerre finom, és tele van a mikrobiom számára könnyen hozzáférhető szénhidráttal", írja Justin Sonnenburg és Erica Sonnenburg a The Good Gut: Taking Control of Your Weight, Your Mood, and Your Long Term Health című könyvében. Ők "kesudió a mikrobáknak" névvel illették ezt a rágcsálnivalót, én azonban az egyszerűség kedvéért – Heidi Swansonhoz hasonlóan – csak kurkumás kesudiónak hívom.  Heidi a 101 Cookbooks nevű blogján tavaly májusban publikált egy receptet ezzel a névvel.
A kesudió mellett csak kurkumára – gyulladáscsökkentő hatású, sárgás színű konyhai fűszer –, sóra és olajra van szükség.  Ez az Indiában őshonos trópusi fűszernövény közel egy méter magasra nő, s a gyömbér közeli rokona.  Maga a recept annyira egyszerű, hogy tulajdonképpen nincs is rá szükség.  Valójában csak a kesudió néhányperces pörköléséről van szó.  Megjegyzem, hogy az eredeti recept a hozzávalók dupláját használja.  Vigyázat!  A kurkuma kicsit megsárgíthatja az ujjaidat.
olíva olaj – ½ evőkanál
kesudió – 450 g
turmerik – ½ evőkanál
tengeri só – ½ teáskanál
Egy serpenyőben közepes tűzön felhevítjük az olajat.  Beletesszük a kesudiót, megsózzuk, és gyakori kevergetés mellett kb. 5 percig pörköljük.  Levesszük a tűzről, áttesszük egy nagyobb tálba, megszórjuk a kurkumával, végül az egészet jól összekeverjük.  Hidegen fogyasztjuk.