In many Hungarian meat recipes you start with a pörkölt, then you enhance this base to create a new dish.  Such is the case with this popular one-pot dish called székelygulyás.  Székely is an ethnic group of Hungarians in Transylvania (Romania) but the dish is not named after them.

According to a legend, a gentlemen, Mr. Székely, owner of a restaurant in Pest (part of Budapest) in the 1840s, one night, when he had only some pörkölt and cabbage left in his kitchen, created this dish out of necessity for a group of hungry young men who came to his restaurant before closing.
The dish is very simple: cook some pörkölt, steam some sauerkraut, mix it together, use some sour cream, and you have a delicious meal, very filling, best served with a country-style bread.  Give it a try – you won't regret it.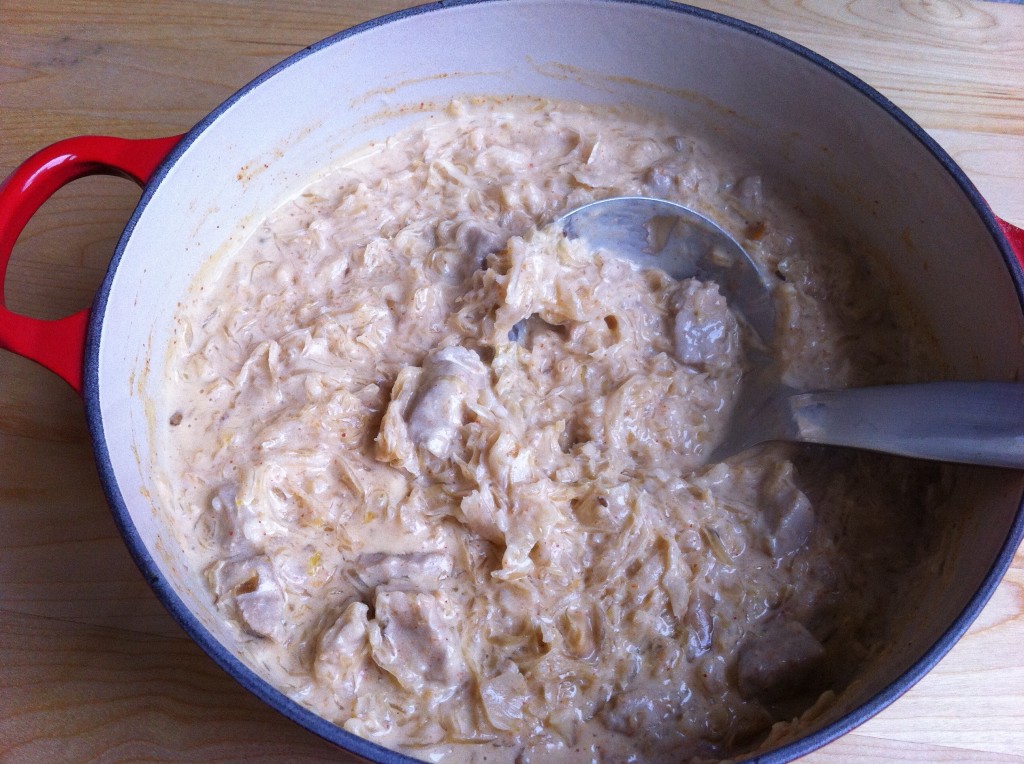 for the pörkölt
olive oil or lard – 3-4 tablespoons
big onion – 1
sweet Hungarian ground paprika – 1 teaspoon
pork – 1 pound
tomato – 1
medium bell pepper – 1
garlic – 1 clove
caraway seed – 1 teaspoon
salt – to taste
other ingredients
sauerkraut – 28.2 oz (800 g)
bay leaf – 1-2
sour cream – 1⅔ cups (400 ml)
­­­­­­flour – 2 tablespoons
ground black pepper – to taste
First make the pörkölt.  Cut the meat into 1-1½ -inch cubes, and finely chop the onions.  Cut the bell pepper into rounds, the tomato into small pieces, and crush the garlic.  Heat the oil in a heavy-bottomed pot over medium heat, then add the onions, and sauté, stirring occasionally, until soft and translucent, about 8-10 minutes.  Remove from the heat, stir in the ground paprika until the onions are well coated, then add the meat.  Put the pot back on the stove, set the heat high, and stir the meat continuously for about 2 minutes.  Turn the heat to low.  Season generously with salt, then add the caraway seed, garlic, tomato, and the bell pepper.  Cover and cook gently – stirring occasionally – until the meat is almost tender, about 40 minutes.
In the meantime, steam the sauerkraut with a little water and the bay leaf in a large pot until soft.  If you see that it has too much water in it, get rid of the excess.  (To reduce its sourness, you can wash the sauerkraut thoroughly under cold running water before cooking it.)  Mix the sour cream with the flour, add to the pörkölt, bring it to a boil, and then add to the sauerkraut.  Stir it well and cook on high heat for about 10 minutes.  Salt it again if needed and season with ground black pepper.  Serve hot.  Enough for 4-6.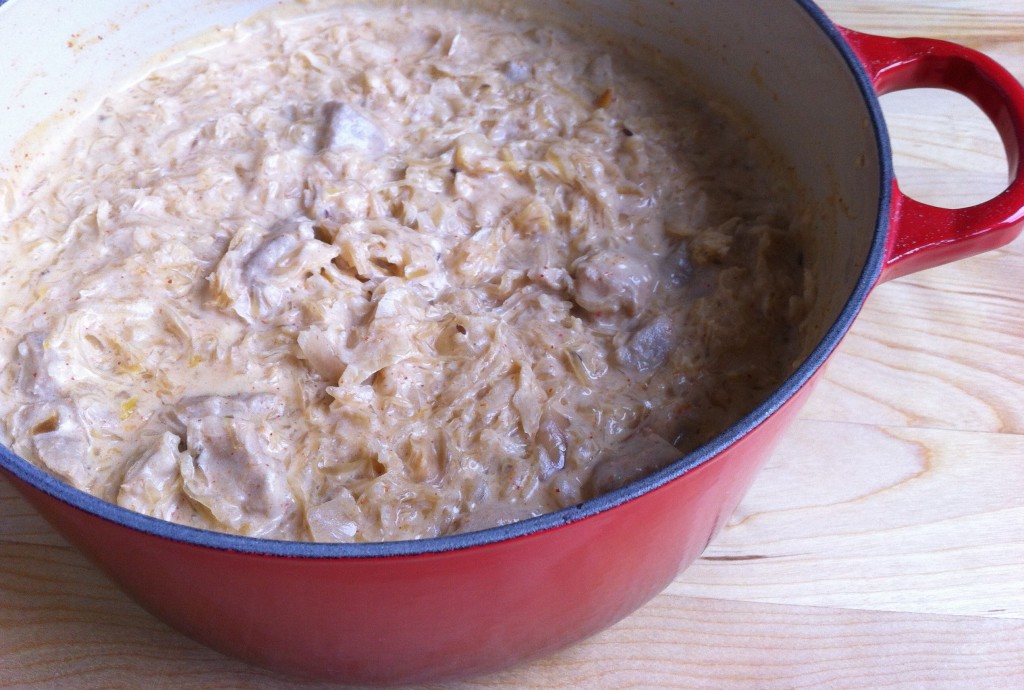 Sok magyar húsétel, így a székelygulyás elkészítéséhez is pörköltalapra van szükség.  A székelyek Erdély egyik népcsoportja, de az ételt nem róluk nevezték el (ezért helytelen angolul Transylvanian gulyás – ként emlegetni).  A legenda úgy tartja, hogy az 1840-es években a Pesten elő vendéglőtulajdonos, egy bizonyos Székely úr egy keső esti órán kreálta ezt a kedvenc egytálételt, amikor a vendéglőjébe betérő éhes ifjaknak hirtelen kellett valami ennivalót adnia, s már semmi más nem volt a konyhán, mint pörkölt és savanyú káposzta.
Az étel nagyon egyszerű: főzz pörköltet, párolj savanyúkáposztát, keverd össze, adj hozzá tejfölt, s máris kész a laktató finomság, amit legjobb jó minőségű parasztkenyérrel tálalni.  Próbáld ki a receptemet, nem bánod meg.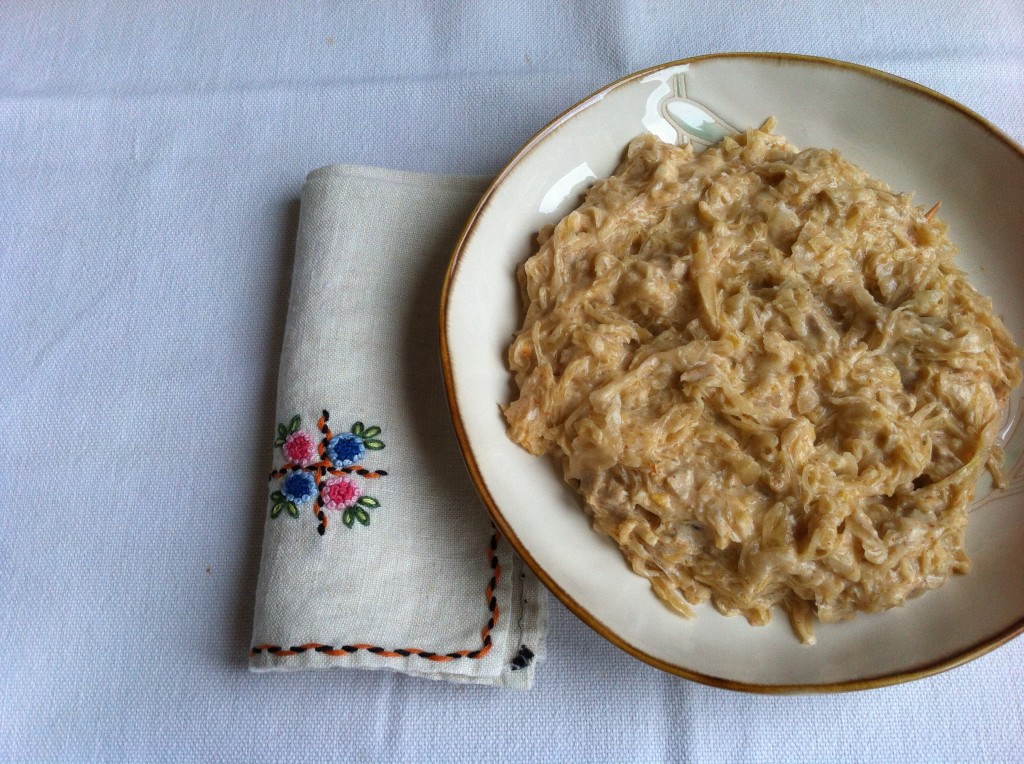 a pörkölthöz
olaj vagy zsír– 3-4 evőkanál
nagy fej hagyma – 1
pirospaprika – 1 teáskanál
sertéshús – 400-450 g
paradicsom – 1
zöldpaprika – 1
fokhagyma – 1 gerezd
köménymag – 1 teáskanál
só – ízlés szerint
más hozzávalók
savanyú káposzta – 800 g
babérlevél – 1-2
tejföl – 400 ml
liszt –  30 g
őrölt feketebors – ízlés szerint
Elkészítjük a pörköltet.  A húst 2-3 cm-es kockákra, a hagymát finomra vágjuk.  A zöldpaprikából kivágjuk az erét és a magházát, majd felkarikázzuk, a paradicsomot kis cikkekre vágjuk és áttörjük a fokhagymát.  Egy nagy fazékban üvegesre fonnyasztjuk a hagymát az olajon (kb. 8-10 perc).  Lehúzzuk a tűzről, megszórjuk pirospaprikával, jól elkeverjük és azonnal rádobjuk a húst.  Visszatesszük a tűzre és nagy lángon, állandóan kevergetve, hirtelen megpirítjuk (kb. 2 perc).  Mérsékeljük a tüzet.  A húst ízlés szerint sózzuk, megszórjuk köménymaggal, hozzátesszük a paradicsomot, a zöldpaprikát, a fokhagymát, és fedő alatt, mérsékelt tűzön (kb. 40 perc alatt) majdnem puhára pároljuk.
Közben a savanyú káposztát egy kevés vízzel és a babérlevéllel egy nagy fazékban puhára pároljuk.  Ha túl sok vizet eresztene, leszűrjük.  (Ha a káposzta nagyon savanyú lenne, főzés előtt folyó víz alatt leöblítjük.)  A tejfölt elhabarjuk a liszttel, hozzáadjuk a pörkölthöz, felforraljuk, aztán hozzáadjuk a savanyú káposztát.  Jól összekeverjük, s kb. 10 percig forraljuk.  Ha szükséges, utánasózzuk az ételt.  Forrón tálaljuk.  A recept 4-6 személyre szól.
­­­