Thanksgiving, this special American national holiday, is always the fourth Thursday of November.  Family members (and often friends) get together over a big feast of turkey (even though in these days turkey meat is not necessarily served) and give thanks for the blessings of the year.

There are different ways of dealing with the big meal.  In lots of families it's a potluck – the host makes the turkey, the stuffing, the gravy, and the guests bring the rest of the menu.  It always turns out just right with lots and lots and lots of food (and leftovers).
In my 18 years of living in America, we never hosted Thanksgiving.  "Why not?", you might ask.  "Oh, because in my husband's family, there was a well-oiled tradition of potluck to celebrate Thanksgiving long before I joined the family, getting together in one of his brother's houses", I might answer.  "We don't have big enough tables to seat 15-20 people, I have no experience with cooking for a big crowd and roasting a huge turkey, I'm not a big fan of potlucks, and I don't know if I can pull off a traditional American feast", I could be adding.  But this year is different.  Very different.  My husband, Steve turns sixty.  In fact, he just turned sixty.  Happy birthday to the best husband, friend, and partner ever!  Sixty years ago, he was born on Thanksgiving Day, between the main course and dessert.  This year, his birthday, November 25th, was a Tuesday.  Remember?  Thanksgiving is celebrated on a Thursday.  When could we have the birthday party then?  Before the big sixty?  Before the big sixty you are still only fifty nine.  After it?  Oh, after it there is Thanksgiving, a get together at one of his brother's houses.  I wanted to organize the party as part of my present to Steve.  So, I made a big decision: we will have the birthday celebration on Thanksgiving Day at our house.  How simple it is.  Or is it really?  I had my doubts for weeks.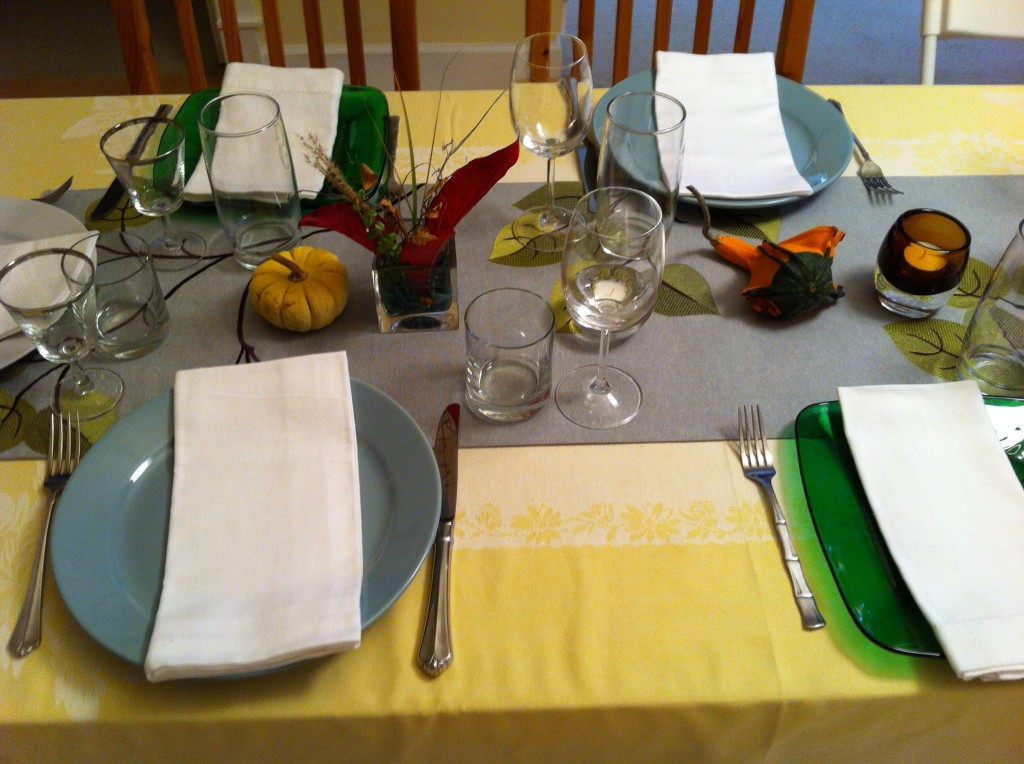 Now that it's over, I can say with certainty, yes, it was a success.  Yes, it was a lot of work.  And no, it wasn't a potluck.  I cooked everything myself from scratch.  But I am a good researcher and problem solver.  I found incredible recipes.  I talked to some of my friends and family members to get ideas.  I borrowed tables and chairs from my school.  I got help delivering them home because they would have not fit into our car.  I divided the work over a few days.  I did the shopping early.  I prepared ahead what could have been prepared ahead.  I had a timeline of what and when things needed to go in and out of the only oven we have.  And in the meantime, I learned a lot about the "year's most important meal".
According to the article "Essential Thanksgiving" from the November 12, 2013 issue of The New York Times, the elements of the feast are "Turkey, stuffing, gravy, cranberry sauce and potatoes, of course.  But no less necessary, if slightly less obvious, is something orange (yams, squash or even mac and cheese).  A green and snappy vegetable.  And a pie – at least two."  I tried my best to have all of the above.  I didn't roast the turkey whole because 1) I read that the problem with roasting the whole bird is that the breast dries out before the legs are done, and 2) I didn't want to wrestle with a 23-pound turkey.  So, I deconstructed it!  We ordered the turkey ahead and when we went to pick it up with Steve on Tuesday (just before the special birthday dinner for two), I asked the butcher to cut out six pieces: two legs with thighs attached, two wings, and the boneless turkey breast cut into two pieces.  He also chopped up the carcass into manageable pieces from which I made turkey stock after dinner.  I also seasoned the six pieces of meat with salt and spice mixture, and they went into the refrigerator wrapped in plastic.  On Wednesday, which was already a school break for me, Steve went to work, I braised the legs and wings, made the gravy and the cranberry sauce, baked the birthday cake and the pecan pie, and decorated the long dinner table.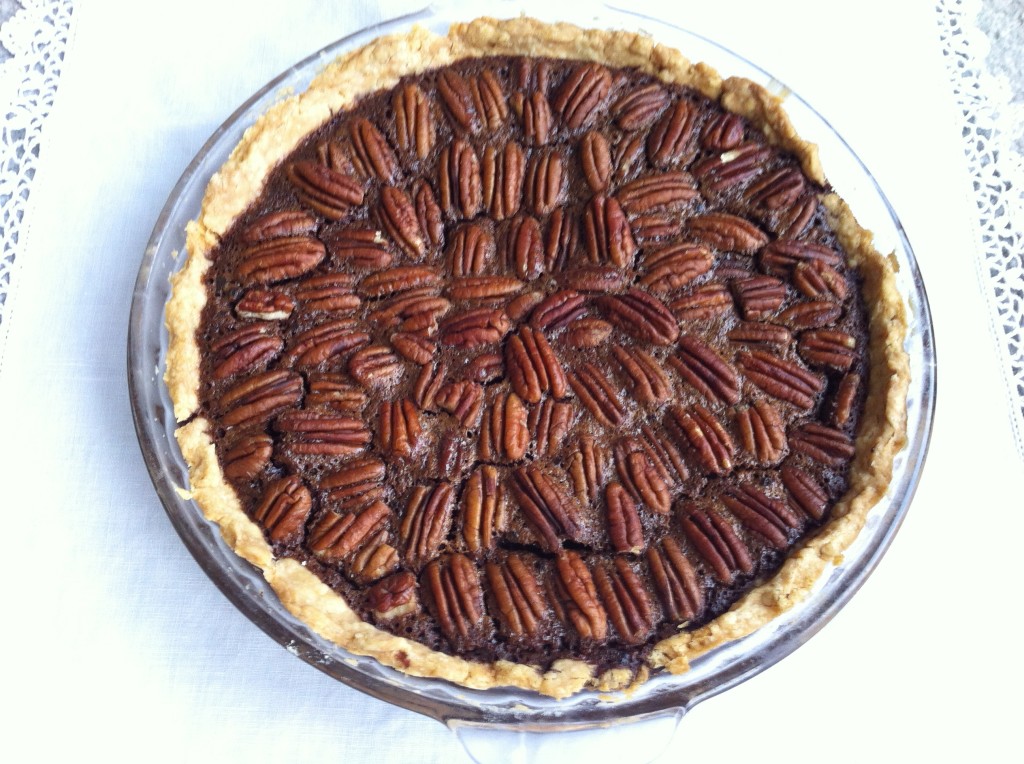 My son and daughter-in-law arrived that morning, so there was even help available.  Jolene baked the pumpkin pie.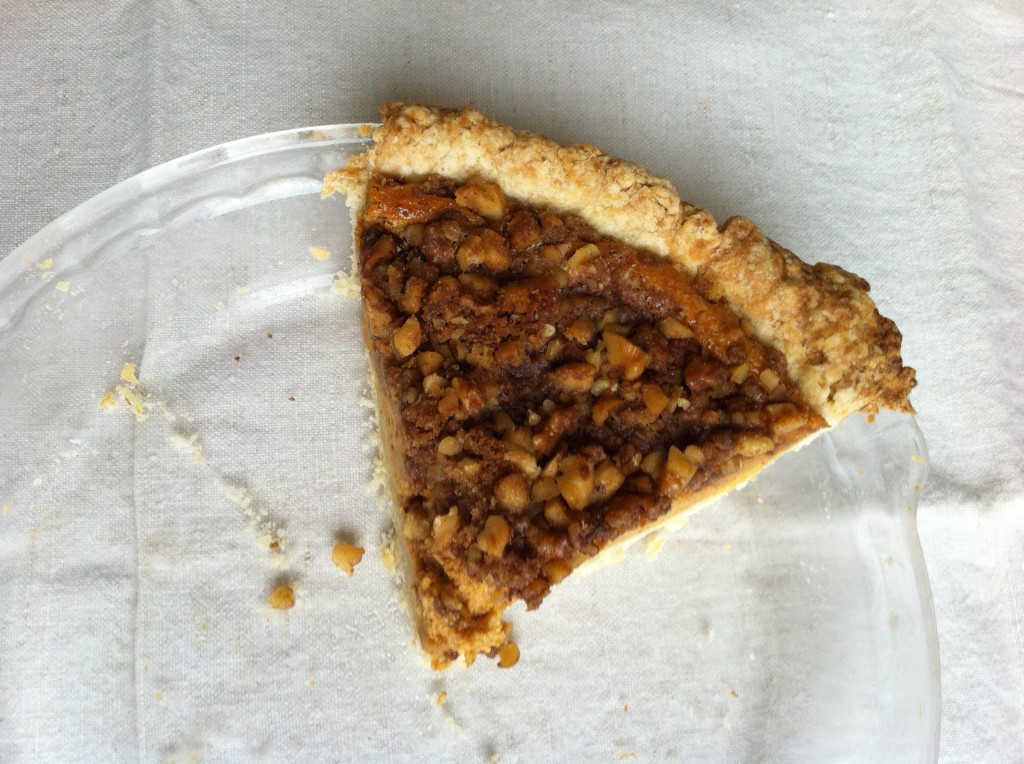 On Thursday, I baked the apple tart, made the green bean salad, the stuffing, the mashed potatoes, and roasted the squash and the turkey breast.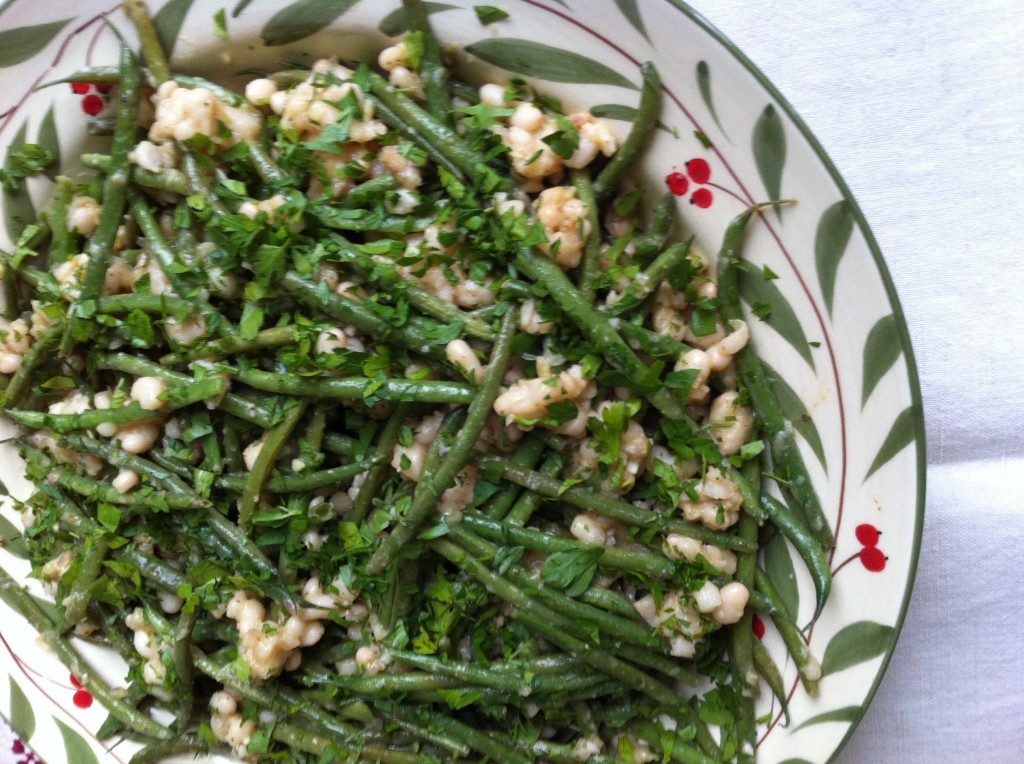 The guests arrived at 4 p.m.  We ate dinner at 5:30 p.m.  Everyone had a very good time.  Steve opened his presents and even the dishes were done that evening.  To remember the food we served to 15 people, here is the menu (I might post recipes later):
Main
Roasted and Braised Turkey with Gravy
Sides
Chicken Liver and Apple Stuffing
Mashed Potatoes with Cream
Roasted Butternut Squash with Thyme and Garlic
Haricots Verts and White Beans with Shallot Vinaigrette
Spicy Cranberry Chutney + Cranberry Orange Sauce
Desserts
Chocolate Pecan Pie
Brown Family Pumpkin Pie
Delicious Italian Apple Tart
Coconut-Chocolate Birthday Cake
And what was I thankful for?  For my beautiful family, our health and happiness, our jobs, and our home.  For all of the people who helped to make this day very memorable – for the encouragement, transportation, advice, recipes, best wishes, and for their presence here to help us celebrate Steve's birthday.  For the Santucci Family, for their delicious apple tart recipe (see link above), for my sister, for her great cake recipe, for Dávid, for driving the long distance to come home with his wife, for Jolene, for baking the delicious pumpkin pie and bringing the dog, Báró to experience the cold weather in Seattle, and especially for Steve, for reaching this wonderful milestone in life and for being here for me in everything always.
How was your Thanksgiving?  What were you thankful for?
__________________________________________________________________________________________________
Hálaadás, ez a tipikusan amerikai nemzeti ünnep, minden év novemberének negyedik csütörtökje.  Ilyenkor összejönnek a családtagok (gyakran barátaikkal együtt), hogy nagy pulykalakoma közepette hálát adjanak az előző év áldásaiért (bár manapság nem kötelező pulykát felszolgálni).  A nagy étkezés különféle módon valosítható meg.  Sok családban ez piknik – a vendéglátó készíti el a pulykát, a pulykához felszolgált tölteléket, a szaftot, s a vendégek hozzák a menü többi részét.  A lakoma mindig jól sül el, sok-sok étel van (és ételmaradék az elkövetkező napokra).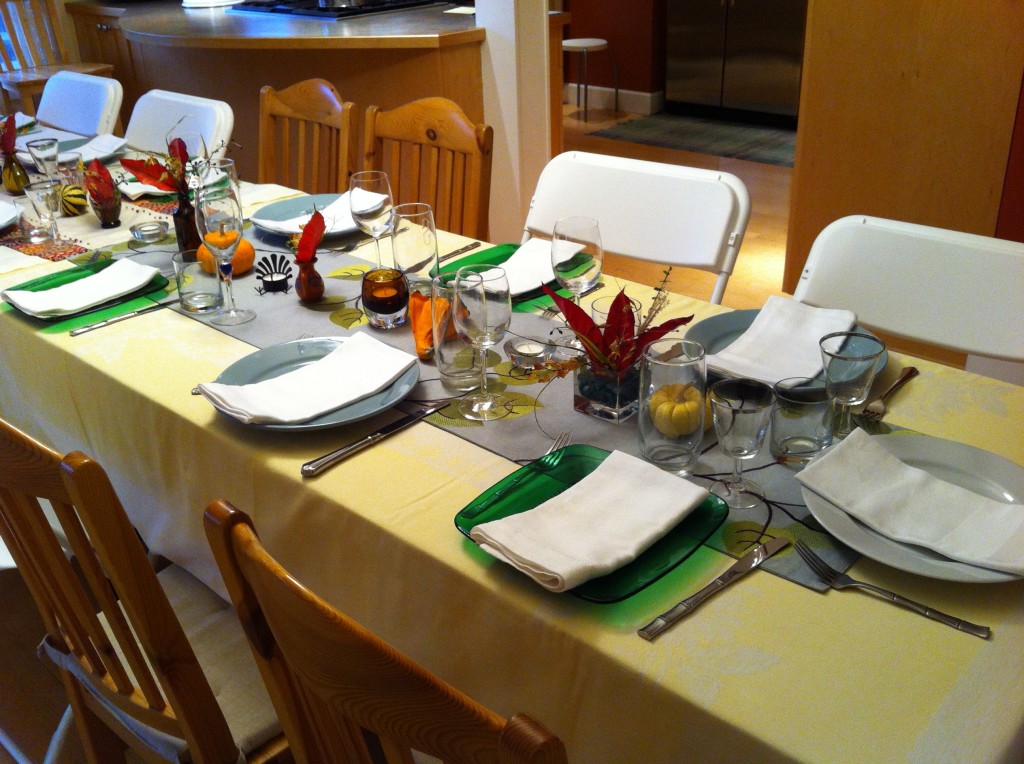 Mióta Amerikában élek, immár 18 éve, mi még egyetlen egyszer sem voltunk a hálaadásnapi vacsora házigazdái.  "Miért nem?" – kérdezhetnéd.  "Ó, mert a férjem családjában, még mielőtt én is tagja lettem, jól olajozottan piknik tradíció szerint ünnepelték a hálaadást valamelyik testvérének a házában" – válaszolnám.  "Nekünk nincs olyan nagy asztalunk, ami köré 15-20 ember kényelmesen leülhetne, nincs tapasztalatom nagy társaságnak főzni, na meg pulykát sütni, nem igazán rajongok a piknikért sem, és nem tudom, hogy képes vagyok-e egy hagyományos amerikai lakomát összehozni" – egészíteném ki a válaszomat.  De ez az év más.  Nagyon más.  Férjem, Steve idén tölti be a 60. életévét.  Valójában már be is töltötte a hatvanat.  Boldog születésnapot a legjobb férjnek, barátnak, társnak!  Hatvan évvel ezelőtt éppen hálaadás napján született, valamikor a főétel és a desszert között.  Idén november 25, születésének dátuma, kedd volt.  Emlékszel?  A hálaadást csütörtökön ünneplik?  Mikor legyen hát a születésnapi buli?  Mielőtt betöltené a hatvanat?  A nagy hatvanas előtt az ember meg csak ötven kilenc.  Vagy utána?  Utána ott van a hálaadásnapi ünneplés valamelyik testvérénél.  Mivel a születésnapi buli megszervezését a Steve-nek adott ajándékom részének tekintettem, így nagy döntést hoztam: a születésnapját hálaadás napján fogjuk megünnepelni, itt nálunk.  Milyen egyszerű is mindez.  Vagy mégsem?  Heteken át kétkedtem.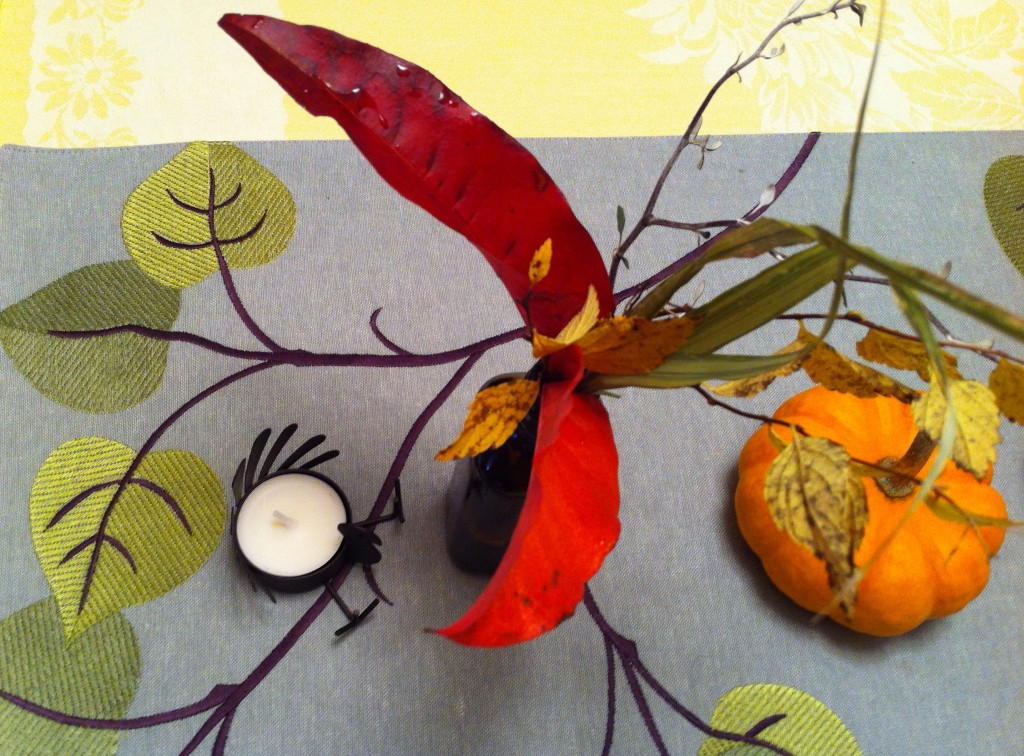 Most, hogy már lezajlott az esemény, bátran mondhatom, igen, sikerült.  Igen, sokat dolgoztam.  Nem, nem volt piknik.  Mindent egymagam főztem a "semmiből".  Mivel azonban jó kutató és jó problémamegoldó vagyok, kitűnő recepteket találtam.  Ötleteket kaptam barátaimtól és családtagoktól.  Asztalokat és székeket kölcsönöztem az iskolámból.  Kollégáim segítettek hazahozni a bútordarabokat, mert a mi autónkba nem fértek volna be.  Az elvégzendő munkát szétosztottam néhány napra.  A bevásárlást korán lebonyolítottam.  Előre elkészítettem amit előre el lehetett készíteni.  Részletes időbeosztást csináltam, mi és mikor menjen be és jöjjön ki az egyetlen sütőnkből.  Közben persze sokat tanultam "az év legfontosabb lakomájáról".
A The New York Times 2013. november 12-i számában, az  "Essential Thanksgiving" (elengedhetetlen dolgok a hálaadásnapi ünnepre) című cikkben ezt irják: a lakoma elemei a "Pulyka, töltelék, szaft, tőzegáfonya, azaz cranberry szósz, és természetesen krumpli.  Nem kevésbé fontos, bár nem annyira nyilvánvaló, de kell valami narancsszínű is (yam gyökér, sütőtök, vagy akár sajtos makaróni). Meg valami zöld színű friss zöldség.  És pie, azaz pite – legalább kettő."  Igyekeztem, hogy mindez meglegyen.  A pulykát nem egészben sütöttem meg, mert 1) azt olvastam, hogy ezzel a módszerrel az a baj, hogy a pulykamell kiszárad meg mielőtt a combok átsülnének, 2) nem akartam egy 23-fontos (10 és fél kilós) pulykával hadakozni.  ĺgy hát darabjaira szedtem!  A pulykát már korábban megrendeltük és amikor kedden (kevéssel a speciális két személyre szóló szülinapi vacsora előtt) elmentünk érte a boltba, megkértem a hentest, hogy darabolja fel a madarat hat részre: két comb a forgóval, két szárny, s a csontnélküli pulykamell két részre vágva.  A hentes a csontokat is felvagdalta, amiből aztán vacsora után húslevest főztem.  A hat húsdarabot besóztam, fűszerekkel ízesítettem, s folpackba csomagolva már mehettek is a hűtőbe.  Szerdán, nekem ez már iskolaszüneti nap volt, Steve elment munkába, én meg megpároltam a pulykacombokat és szárnyakat, elkészítettem a pulykaszaftot és a cranberry csatnit, megsütöttem a szülinapi tortát és a pekándiós pitét, s feldíszítettem a hosszú vacsoraasztalt.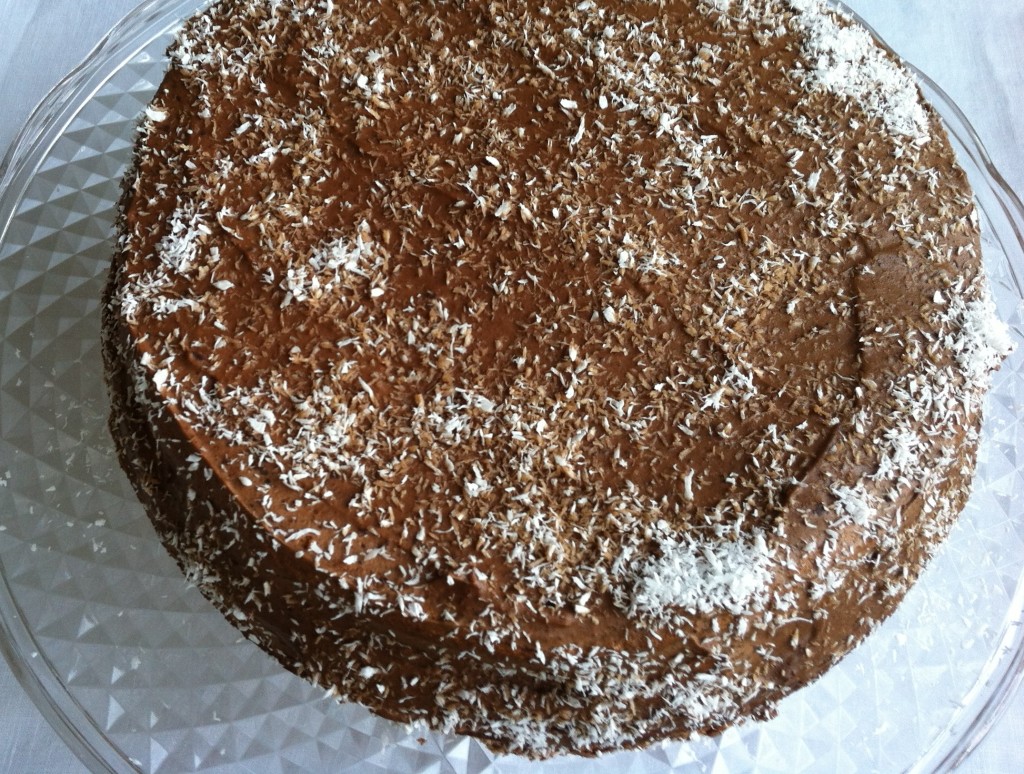 A fiam és a menyem is megérkezett aznap reggelre, így még segítségem is akadt.  Jolene megsütötte a sütőtökös pitét.  Csütörtökön az almatortára került sor, s elkészítettem a zöldbab salátát, a pulykához felszolgálandó tölteléket, a krumplipürét, végül megsütöttem a tököt és a pulykamellet.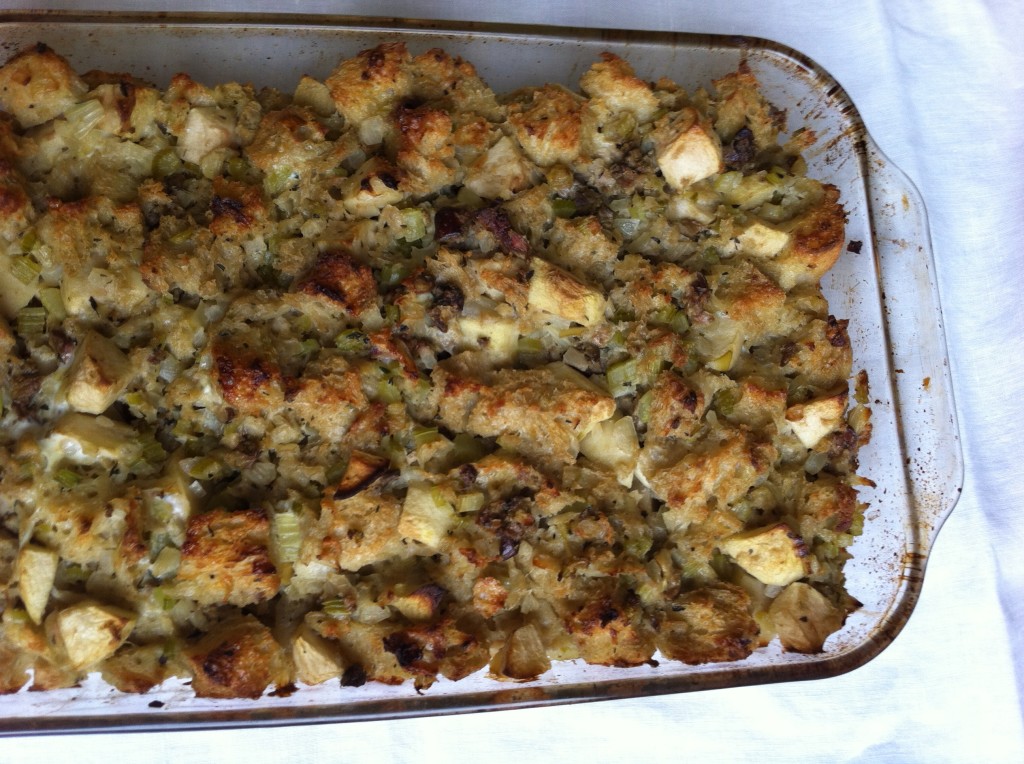 A vendégek délután négykor érkeztek.  Este fél hatkor vacsoráztunk.  Mindenki nagyon jól érezte magát.  Steve kibontotta az ajándékokat és aznap este még az edényeket is elmosogattuk.  Emlékeztetőnek álljon itt a 15 főre felszolgált vacsoramenü (a recepteket talán majd később közlöm):
Főétel
Sült és párolt pulyka szafttal
Köretek
Csirkemájas-almás töltelék
Tejszínes krumplipüré
Sütőtök kakukkfűvel es fokhagymával
Francia zöldbab és fehérbab saláta mogyoróhagyma dresszinggel
Csípős cranberry csatni + Narancsos cranberry szósz
Desszertek
Csokoládés pekándiós pite
A Brown család sütőtökös pitéje
ĺzletes olasz torta
Kókuszos-csokoládés születésnapi torta
És hogy miért voltam hálás?  Gyönyörű családunkért, egészségünkért és boldogságunkért, munkánkért és otthonunkért.  Mindazokért, akik segítettek nagyon emlékezetessé tenni ezt a napot – a bíztatásért, szállításért, mindennemű tanácsért, receptekért, jókívánságokért, s jelenlétükért, hogy eljöttek megünnepelni Steve születésnapját.  Hálás voltam a Santucci családnak az ízletes almatorta receptért (lásd a linket fenn), a hugomnak a remek tortareceptért, Dávidnak a hosszútávú kocsivezetésért, s hogy hazajött a feleségével, Jolene-nek a pite sütéséért és hogy Báró, a kutyus is eljöhetett élvezni a hideg Seattle-i időjárást, s főleg Steve-nek, hogy elérte ezt a jelentős mérföldkövet az életben és hogy mindig mindenben számíthatok rá.
Milyen volt a ti hálaadásnapotok?  Mi az, amiért hálásak voltatok?