After a long absence from my blog, I hope my presence will become more regular after I settle into the routine of the new school year.  Developing the routine is taking a little bit longer than usual – more about this in a future post.  Today I present this easy and wonderful way of preparing apples under a crispy sweet crust of rolled oats.  I adapted the recipe from The Whole Foods Market Cookbook.  You can use almost any type of fruit, or you can mix different fruits together.

My apples were foraged in early September from an apple tree nobody ever harvests in our neighborhood.  The owners just let the apples rot on the median under the tree.  Maybe one can justify this as helping to build better soil, but I am always saddened by the fact that completely good fruit goes to waste.  (The same goes for all of those beautiful tomatoes that people don't harvest from their raised beds on their median).  Yes, it is true, I needed to discard the bad part of the apples, the part that has been visited by some worms (that went into the yard waste), but all in all it was worth the effort.  There are a few bags of apples in our freezer now, cleaned and cut up, ready to be used at any moment.  In the morning this past Sunday, I also cut up a big pear that was ripening in a fruit bowl with speed, and soon enough the whole house smelled of the sweet aroma of baked apples.
Serve the dish warm under a spoonful of yoghurt for breakfast, or let it cool slightly and top it with a scoop of ice-cream for dessert.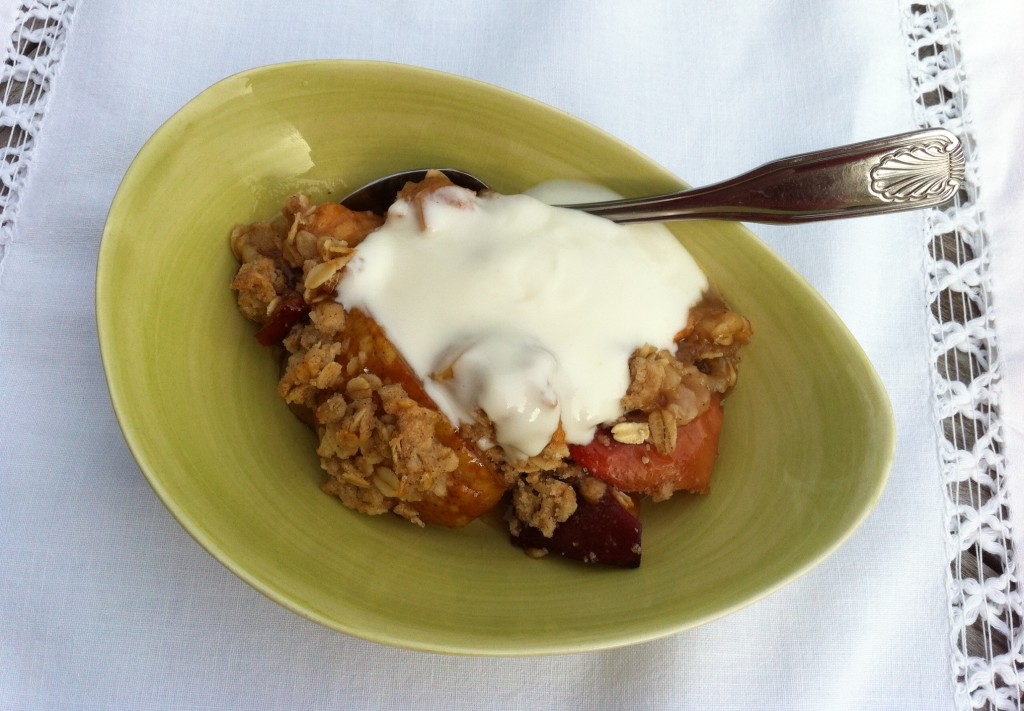 apples – 4 medium size
lemon juice – 1 teaspoon
maple syrup – ¼ cup
butter, melted – 4 ounces + 2 tablespoons

for the topping
rolled oats – 1 cup
all-purpose flour – ½ cup
brown sugar – ½ cup
cinnamon – 1 teaspoon
Preheat the oven to 375ºF (190ºC).  Prepare the apples: wash but don't peel them, cut into quarters, discard the seeds and stems, and cut into not very small pieces.  In a bowl, sprinkle them with the lemon juice to prevent quick browning.
Place the apples into a baking dish and pour 2 tablespoons of melted butter and the maple syrup over them.
Place the oats, flour, sugar, cinnamon, and the remaining butter into another bowl.  Use your fingers or a pastry blender to make a crumbly mixture.  Sprinkle this topping evenly over the fruit.  Bake for about 45 minutes, or until the crumble is golden.  Serves 8.