What to do when you have strawberries that ripen faster than you hoped for?  Make a quick, luscious, no-bake mousse.
Make sure to have eggs, cream, and sugar at home – the essential ingredients.  The recipe comes from one of my Hungarian cookbooks, Gyümölcsös édesség, by Mari Lajos.
strawberries – 9 oz (1¼ cups sliced)
cream – 1 cup
granulated sugar – ½ cup
egg whites – 2
half a lemon
pinch of salt
Wash and slice the strawberries, puree, or if you prefer (like I do) just cut into smaller pieces.  Mix with the sugar and lemon juice.  Whip the egg whites with a little salt until stiff, and carefully fold into the strawberry mixture.  Then beat the cream until stiff peaks form, and fold it into the mixture.  Spoon the mousse into glasses or into small bowls.  Chill for a maximum of 3-4 hours, but no longer because it might collapse.  Decorate with strawberries.  Enough for 6.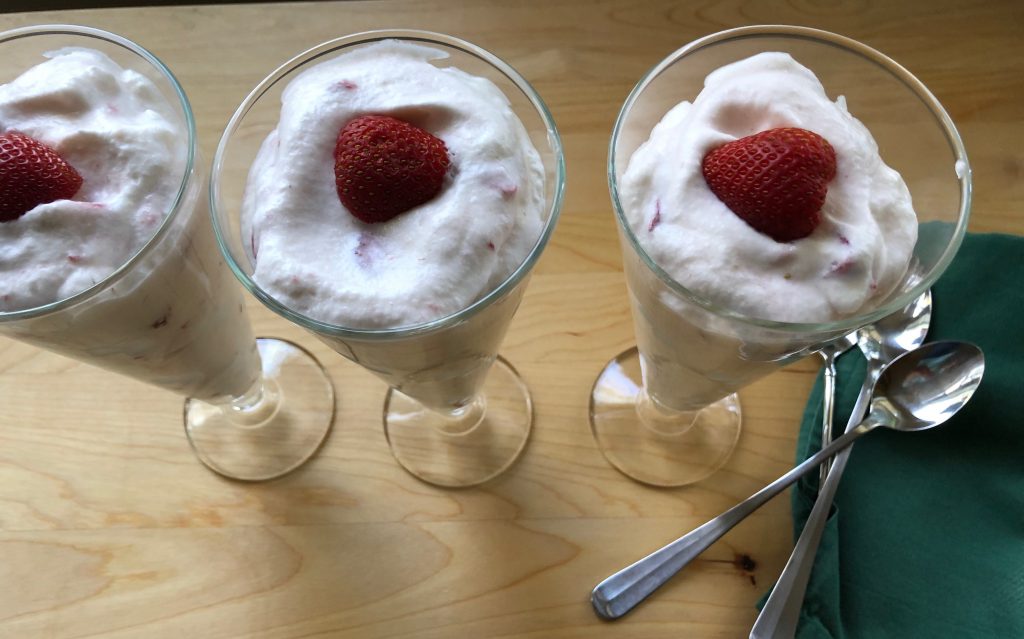 Mit tegyünk, ha túl gyorsan romlik a boltban vásárolt eper?  Készíthetünk például zamatos és sütés nélküli krémet.  Mielőtt nekikezdenénk, győződjünk meg róla, hogy biztos van otthon tojás, tejszín és cukor – az alapvető hozzávalók.  A recept Lajos Mari Gyümölcsös édesség című szakácskönyvéből való.
eper – 250 g
tejszín – 200 ml
kristálycukor – 100 g
tojásfehérje – 2
fél citrom
egy csipet só
Az epret megmossuk és kicsumázzuk, felszeleteljük, majd habosra turmixoljuk a cukorral és a citromlével.  Én általában csak apróra vagdalom az epret, mert szeretem a gyümölcsdarabkákat ebben a desszertben.  A tojásfehérjéket egy csipet sóval kemény habbá verjük és óvatosan hozzákeverjük az eperturmixhoz.  A tejszínt is kemény habbá verjük és ezt is hozzákeverjük.  A habot poharakba vagy tálkákba kanalazzuk.  Tetejét eperrel díszítjük.  Tálalásig hidegen tartjuk, de csak mximum 3-4 órán át, mert hosszabb idő után összeeshet a hab.  A recept 6 személyre szól.