Panettone, this sweet Italian Christmas bread, loaded with candied citrus and raisins, is excellent not only on its own, but also as the main ingredient in bread pudding.

If you can't get it right now, use raisin bread or your favorite type of bread instead.  I make this rich comfort food every year – it's one of our family's favorites – serving it warm with good quality yogurt, sometimes with ice cream or vanilla sauce.  This recipe uses a big panettone, if you don't want this much, just half all the ingredients.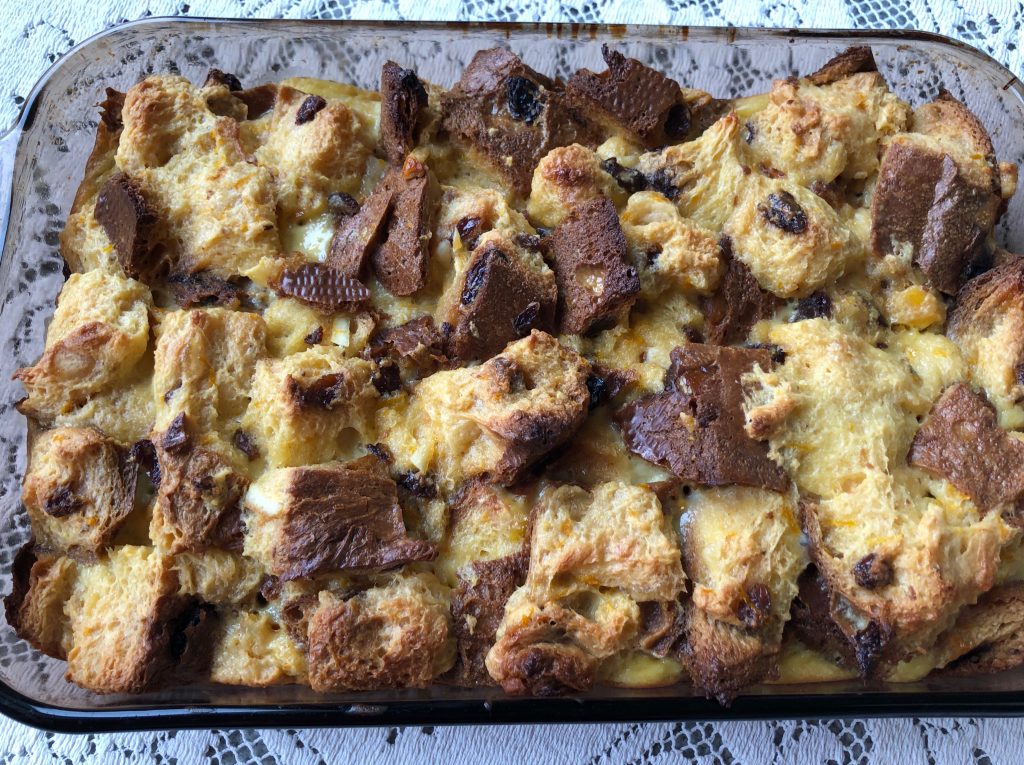 panettone – 1 loaf (32-35 ounces)
milk – 2 cups
cream – 2 cups
eggs – 4
egg yolks – 4
granulated sugar – ½ cup
grated orange zest – 2 teaspoons
vanilla extract – 2 teaspoons
butter for the baking dish
Preheat the oven to 350 °F.  Butter a large baking dish.  Cut the panettone into 1-inch cubes and place in a large bowl.  In a medium bowl, whisk together the milk, cream, eggs, egg yolks, sugar, orange zest, and vanilla extract.  Pour over the panettone cubes.  Soak for 10 minutes, stirring gently two or three times.  Pour the mixture into the prepared baking dish.  Bake for about 60-70 minutes until golden brown.  Serve warm.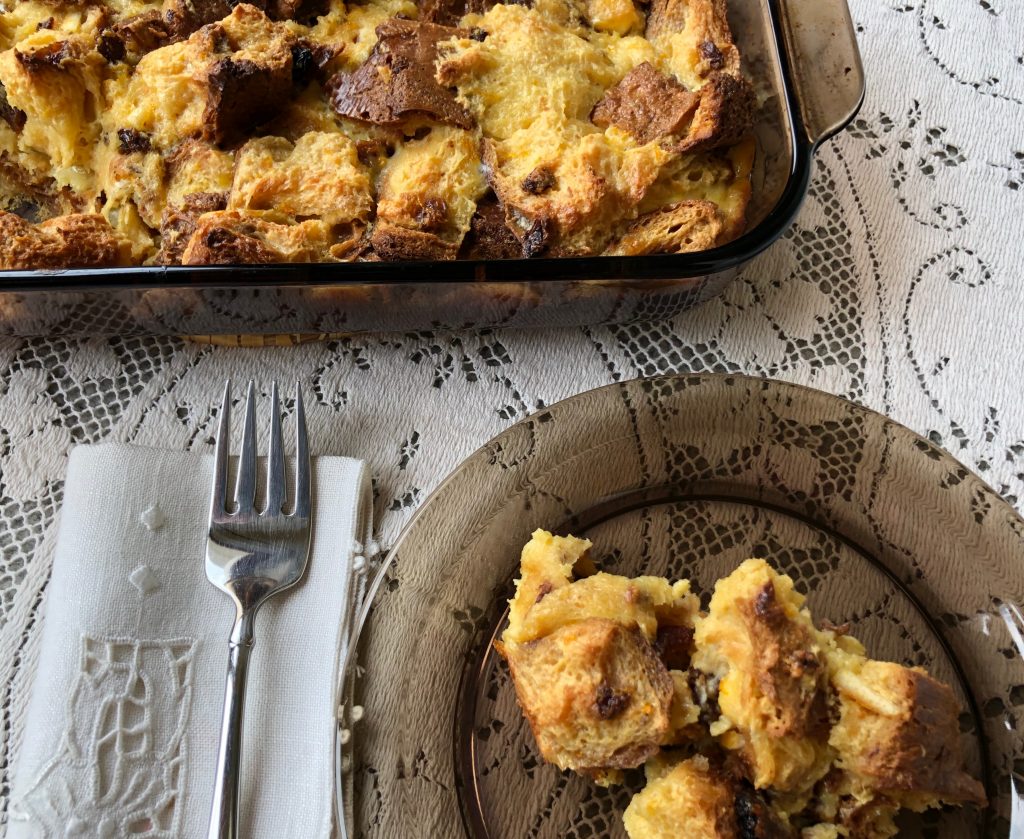 Panettoné, ez az édes, kandírozott citrommal és mazsolával teli olasz karácsonyi kalács nemcsak önmagában kiváló, de remek kenyérpuding is lehet belőle.  Ha most épp nincs az üzletekben, más mazsolás kalácsból is kitűnő.  Én minden évben elkészítem ezt a finomságot – családunk egyik kedvenc desszertjét –, s magában vagy jó minőségű joghurttal, néha fagylalttal vagy vaníliamártással tálalom.  Ehhez a recepthez egy nagy panettone kell.  Ha csak kevesebb pudingot akarsz készíteni, felezd el a hozzávalók mennyiségét.
panettone – 1000 g
tojás – 4
tojássárgája – 4
kristálycukor – 100 g
tej – 500 ml
tejszín – 500 ml
reszelt narancshéj – 2 teáskanál
vanília kivonat – 2 teáskanál
vaj a sütőedényhez
A sütőt előmelegítjük 180 °C-ra.  Kivajazunk egy nagy sütőedényt.  A panettonét kockákra vágjuk és egy nagy tálba rakjuk.  Egy közepes tálban a tojást, tojássárgáját felverjük a tejjel, tejszínnel, majd hozzákeverjük a reszelt narancshéjat és a vanília kivonatot.  A tejes öntetet a kalácsra öntjük, 10 percig állni hagyjuk, hogy magába szívhassa a folyadék nagy részét, s közben kétszer-háromszor óvatosan átforgatjuk.  Aztán a keveréket az előkészített sütőedénybe simíjuk, és kb. 60-70 perc alatt aranybarnára sütjük.  Melegen tálaljuk.