I love roasted vegetables very much, including roasted winter squashes.  Roasted squashes are delicious on their own, but I also add them to salads.

Cutting squash can be a little bit challenging because of its hard skin.  I am always careful and use a heavy knife.  I cut squash in half first crosswise, then in half lengthwise, and then scoop out the seeds with a spoon.  Sometimes I roast the squash in halves (cut side down), and other times I cut it into medium or large cubes.  When I want to speed up the preparation, I chop the squash a day or two in advance, or use a store bought, pre-cut butternut squash, which I store in the freezer.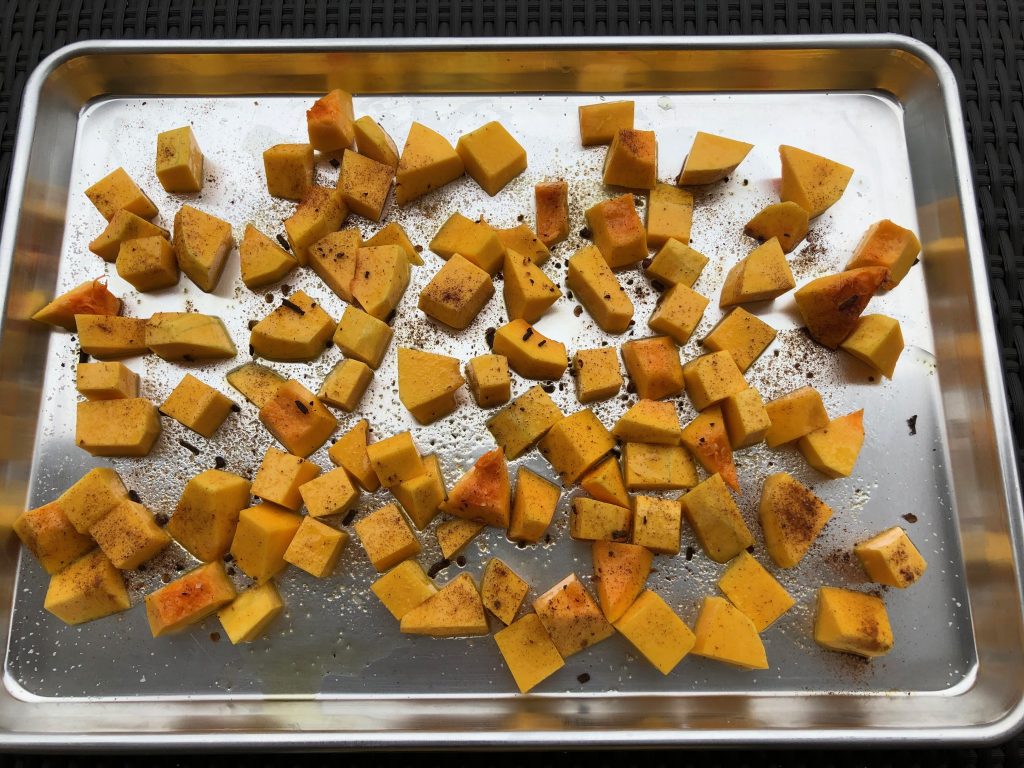 butternut squash – 1 medium
olive oil – 2-3 tablespoons
salt, cinnamon, ground nutmeg, crushed cloves – to taste
Preheat the oven to 400 °F (200 °C).  Peel the squash, scoop out the seeds, and cut into 1-inch cubes.  Arrange in a single layer in a roasting pan or rimmed baking sheet.  Drizzle with olive oil, add the seasonings, and toss well.  Roast for 30-40 minutes, or until tender.  There is no need to turn the cubes during roasting, but for even browning, you might want to turn them once halfway through the roasting.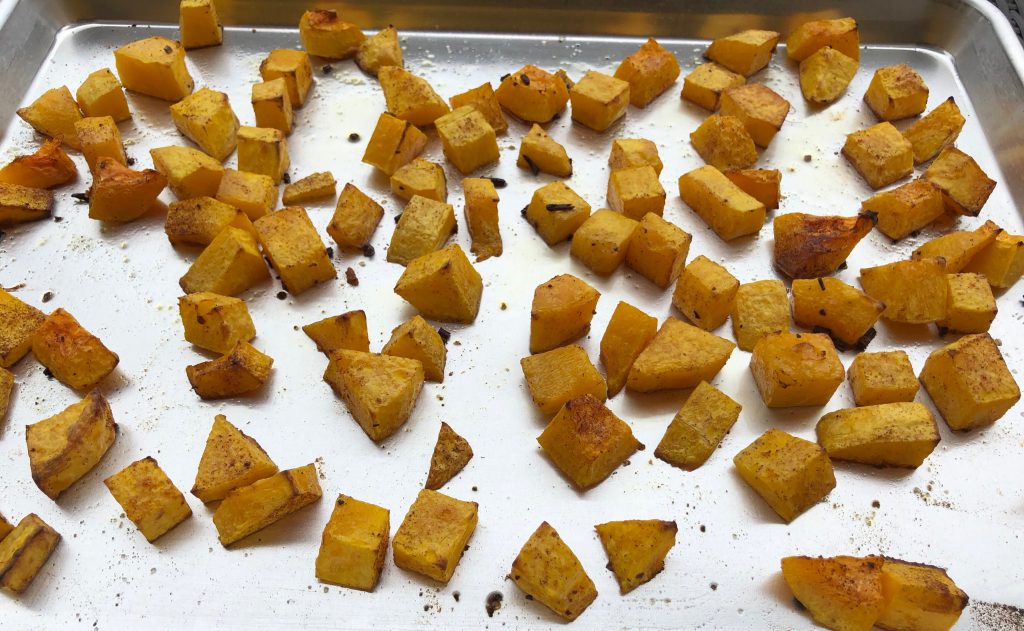 Szeretem a sült zöldségeket, a sütőtököt is beleértve.  Szerintem önmagában is nagyon finom, de a sült tökkockák a zöldsalátát is remekül feldobják.  Mivel a tök héja kemény, a legnagyobb és legélesebb késemet használom a pucolásához (persze óvatosan).  Előbb keresztben vágom ketté, aztán hosszában, majd kanállal kivájom a magokat.  Van, amikor a tököt szeleteketre vágva, máskor meg kockákra vágva sütöm meg.  Ha gyors vacsorát szeretnék, egy-két nappal korábban darabolom fel, vagy boltban vásárolt, felkockázott mirelit tököt használok.
kanadai sonkatök (körte alakú sütőtök) – 1 közepes méretű
olíva olaj – 2-3 evőkanál
só, fahéj, őrölt szerecsendió, zúzott szegfűszeg – ízlés szerint
A sütőt előmelegítjük 200 °C – ra.  A tököt meghámozzuk, eltávolítjuk a magokat, húsát felkockázzuk.  Sütőlapra tesszük, megsózzuk, meghintjük a többi fűszerrel, meglocsoljuk olíva olajjal.  Jól összekeverjük, majd elsimítjuk.  Kb. 30-40 perc alatt puhára sütjük. (Akkor kész, ha villával könnyen át tudjuk szúrni.)  Sütés közben nem kötelező megforgatni a kockákat, de az egyenletes barnulásért egyszer talán, félidőben, mégis érdemes.