The traditional Greek salad is probably one of the most popular salads.  I sometimes make it with a little twist by adding cooked chickpeas and leaving out the olives (because my husband doesn't like olives but loves chickpeas).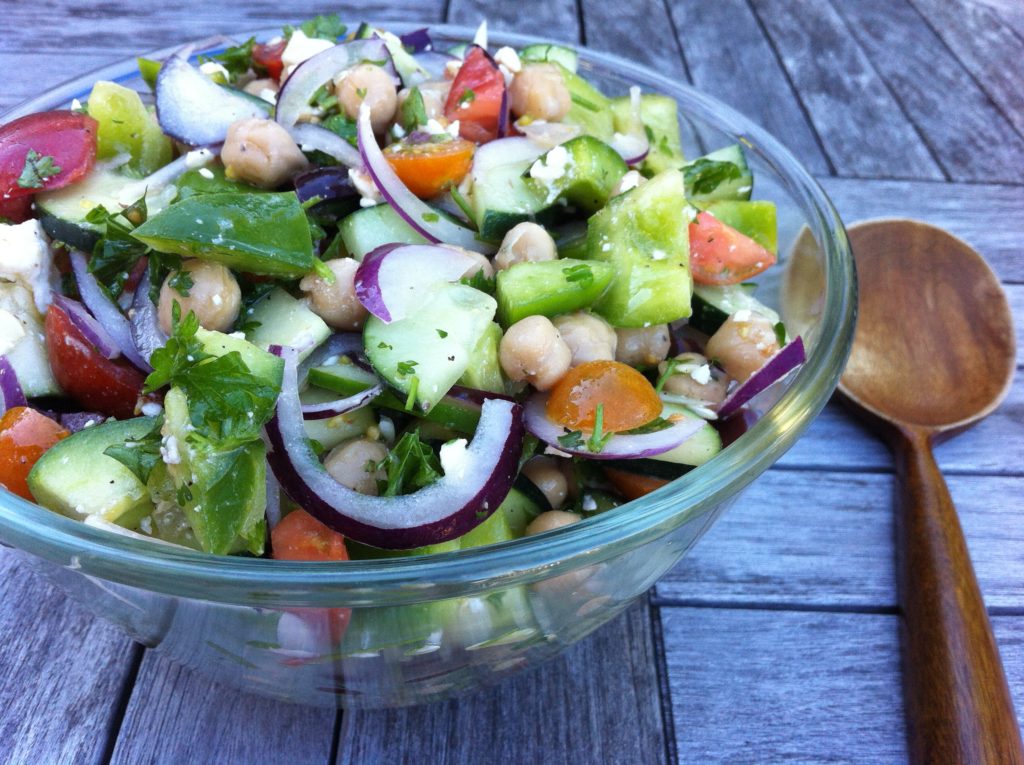 tomatoes – 1 pound
English cucumber – 1
red onion – ½ medium
chickpeas – 1 can (15 oz)
parsley – ½ cup, chopped
black olives – ½ cup
extra-virgin olive oil – ¼ cup
lemon juice – ¼ cup
fresh oregano – 2 teaspoons, chopped (or substitute with 1 teaspoon dried oregano)
feta cheese – ¼ pound (cut into small chunks if not crumbled)
salt and freshly ground pepper – to taste
Chop the tomatoes and cucumbers into ½-inch cubes.  Drain and rinse the chickpeas.  Finely chop the onion, the parsley, the fresh oregano, and cut in half the pitted olives.  Combine everything in a large bowl.  For the dressing, mix together the olive oil, lemon juice, oregano, salt and pepper in a small bowl.  Add the dressing and the feta if in chunks and mix gently.  Taste and add more salt as needed.  If you are using crumbled feta, sprinkle on the top of the salad.  The recipe makes 4 servings.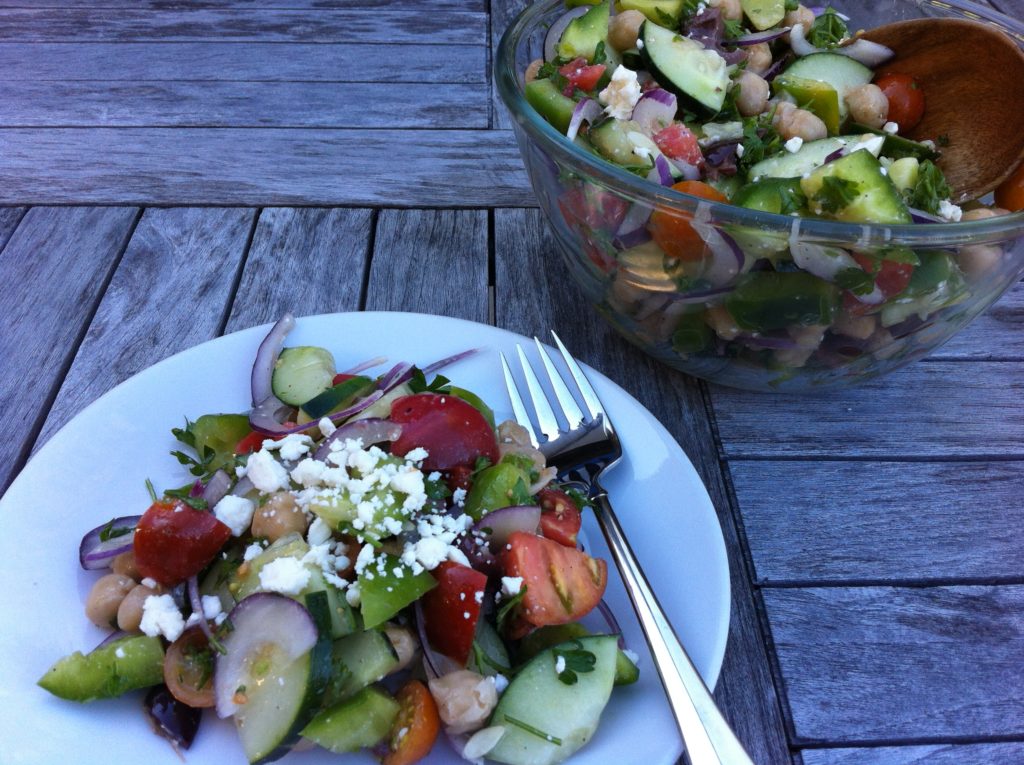 A hagyományos görög saláta valószinűleg az egyik legnépszerűbb saláta.  Én időnként kihagyom belőle az olajbogyót és teszek bele csicseriborsót, mert a férjem nem szereti az olajbogyót, de imádja a csicseriborsót.
paradicsom – 500 g
kígyóuborka – 1
lilahagyma (közepes) – ½
csicseriborsó – 1 konzerv (420 g)
petrezselyem – 1 csokor
fekete olajbogyó – 10-15 szem
extra szűz olívaolaj – 4 evőkanál
citromlé – 4 evőkanál
friss oregánó – 2 teáskanál (vagdalva, vagy 1 teáskanálnyi szárított)
feta sajt – 125 g
só és őrölt bors – ízlés szerint
A paradicsomot és az uborkát közepes kockákra vágjuk.  Leszűrjük és leöblítjük a csicseriborsót.  Apróra vágjuk a hagymát, felaprítjuk a petrezselymet és a friss oregánót, félbevágjuk a olajbogyókat, felkockázzuk a feta sajtot.  Az előkészített alapanyagokat egy nagy tálba tesszük.  Egy kisebb tálban összekeverjük az olívaolajat, a citromlét, az oregánót, a sót és a borsot, majd a feta darabkákkal együtt óvatosan a salátához keverjük.  A salátát morzsolt fetával is megszórhatjuk, ha ilyen fajta van otthon.  A recept 4 személyre szól.