I love the simplicity of classic scrambled eggs.  Especially, when I scramble them in duck fat.  Farm fresh eggs are always a bonus.

Sometimes, after the eggs are done, and I take the pan off the heat, I stir in roughly chopped herbs (parsley, tarragon, dill, basil, or mint are all excellent choices), a little grated cheese, or sautéed chopped spinach or Tuscan kale.  When I desire a little bit silkier effect, I add two tablespoons of cream or milk to the eggs before scrambling them.
eggs – 4
sea salt and freshly ground pepper – to taste
butter, olive oil, or duck fat – 2 tablespoons
Heat the butter or oil or duck fat in a frying pan over medium heat.  Break the eggs into a bowl, season with salt and pepper, beat the eggs with a fork until the yolks and whites are just combined, then pour into the pan.  Let them cook for a few seconds, then stir frequently with a wooden spoon or heat-proof spatula, pulling the eggs away from the sides of the frying pan.  (Alternatively, you can crack the eggs right into the pan – in the end, you will have one less dish to clean.)  The eggs are done when they are softly set but still a little bit runny.  Serve immediately.  Enough for 2.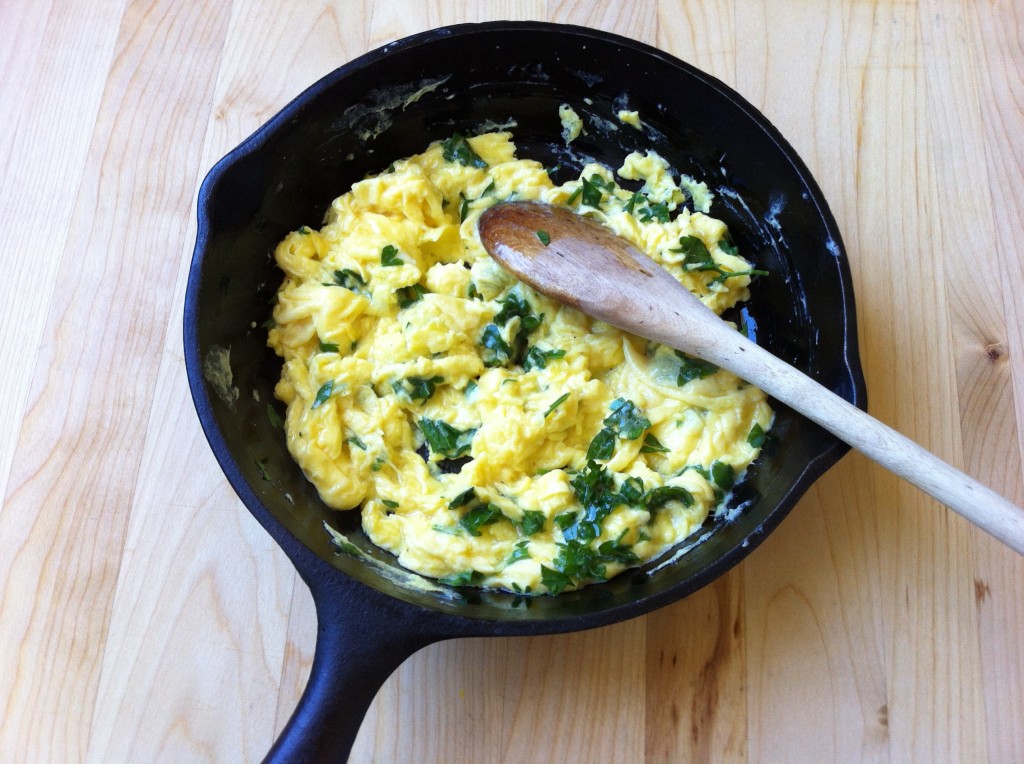 Szeretem az egyszerű, klasszikus rántottát, különösen, amikor kacsazsíron készítem és friss házi tojást használok.  Néha, miután a serpenyőt lehúztam a tűzről, a kész rántottába keverek egy kevés durvára vágott fűszernövényt (petrezselyem, tárkony, kapor, bazsalikom vagy menta – mind kiváló), egy kis reszelt sajtot, esetleg olajon megfonnyasztott, apróra vágott spenótot vagy toszkán kelkáposztát.  Amikor egy kicsit selymesebb hatást szeretnék, két evőkanál tejszínt vagy tejet adok a nyers tojásokhoz.
tojás – 4
tengeri só és frissen őrölt feketebors  – ízlés szerint
vaj, olíva olaj vagy kacsazsír – 2 evőkanál
A vajat, olajat vagy kacsazsírt egy serpenyőben, közepes lángon felhevítjük.  A tojásokat egy tálba ütjük, ízlés szerint sózzuk, borsozzuk, villával enyhén felverjük, majd a sepenyőbe öntjük.  Néhány másodpercig sülni hagyjuk, aztán gyakori kevergetéssel sütjük (a serpenyő oldalától el-elhúzva a tojást), de csak annyira, hogy lágy, rezgős maradjon.  (A tojásokat felüthetjük közvetlenül a serpenyőbe is – így a végén eggyel kevesebb edényt kell elmosni.)  Azonnal tálaljuk.  A recept 2 személyre szól.