These unique walnut bars are one of my childhood favorites.  In Hungarian we informally called it "sárgatetejű," which mean "bars with yellow icing."  The recipe comes from my mother's treasured collection.

For the dough we use only the egg whites.  The egg yolks are used to make the thick yellow icing, which is spread on the hot crust.  The hot crust cooks the egg yolks a little bit – this gives the uniqueness to the pastry.  Caution: These walnut bars are very delicious, it's hard to eat only one at a time.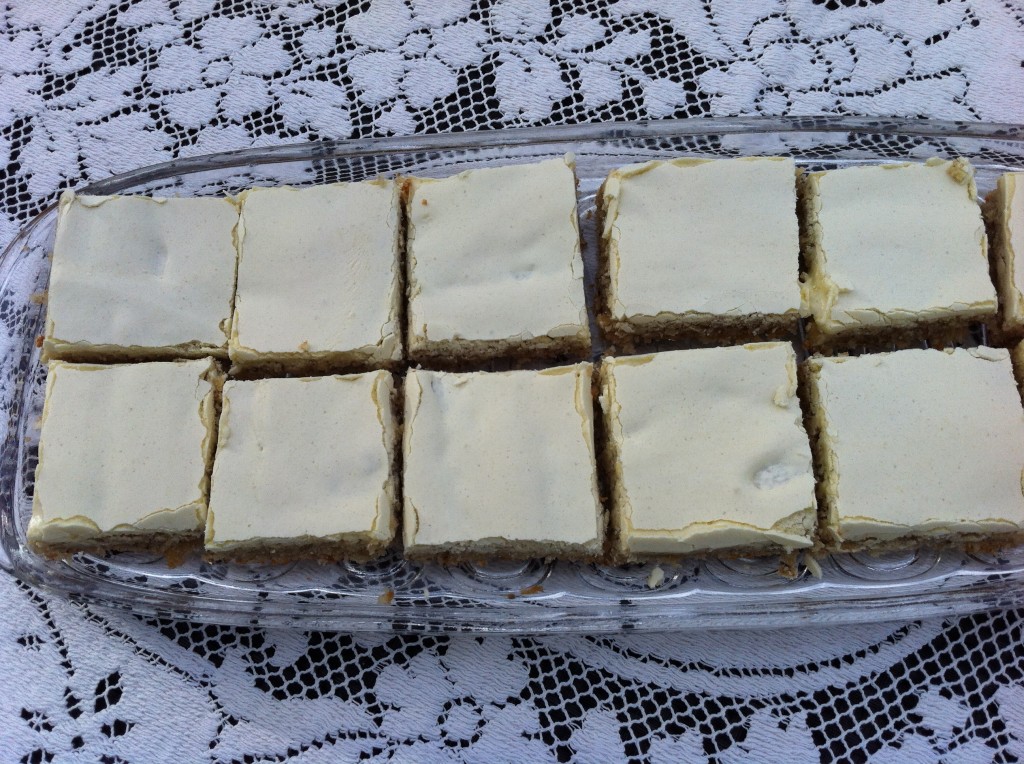 for the dough
egg whites – 5
salt – a pinch
powdered sugar – 250 g
butter, softened – 250 g
all-purpose flour – 160 g
ground walnuts – 250 g
for the icing
egg yolks – 5
powdered sugar – 200 g
vanilla sugar – 20 g
Preheat the oven to 200 °C (400 °F).  Butter a jelly roll pan and dust it with flour.  Separate the eggs.  In a large bowl, beat the egg whites with a pinch of salt to form stiff peaks.  In another bowl, cream the butter with the sugar, add alternating the ground walnuts and the flour in parts, and then mix in the egg whites carefully.  Spread the batter to the prepared baking pan.  Bake for 15-20 minutes.
While the dough is baking, cream the egg yolks with the powdered sugar and vanilla sugar.  When the pastry is done, immediately spoon the icing over the hot dough.  Spread evenly, and let it harden fully.  Slice into bars of any size.
Note
Hot sharp knife will make the bars cut better, resulting in sharper edges (dip the knife in hot water and wipe with a paper towel).  If you use a nonstick baking pan, the best is to turn the baked dough upside down onto a cutting board and spread the icing on this side.  If the appearance of the bars is not that important, the slicing can be done directly in the baking pan; however, make sure to use a plastic knife so as not to damage the the bottom of the pan.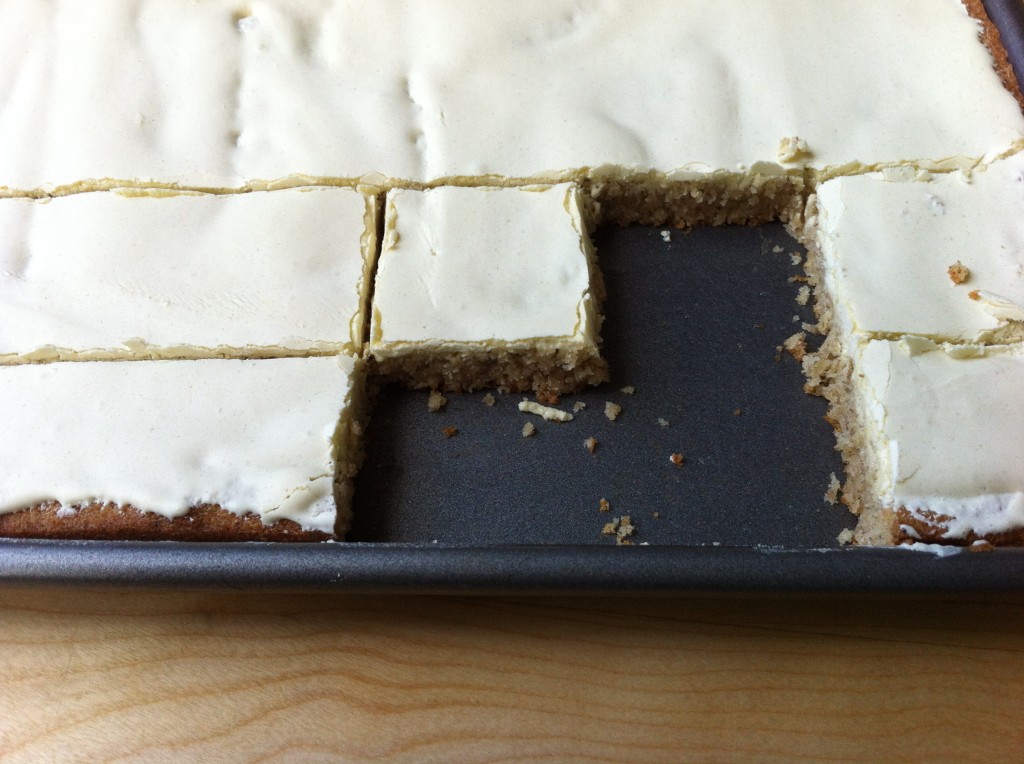 Ez a különleges diós sütemény gyerekkorom egyik kedvence.  Mi csak sárgatetejűnek hívtuk, csak így egybeírva.  A recept édesanyám féltve őrzött süteményes füzetéből való.  A tésztához csak a tojásfehérjék kellenek.  A tojássárgákat elkeverjük cukorral, ez a sűrű krém lesz a máz, amit a forró süteményre öntünk, s ami szinte rásül a tetejére – ez adja  a sütemény különlegességét.  Figyelem: A sütemény nagyon finom, nagyon eteti magát, nagyon nehéz megállni egy szeletnél.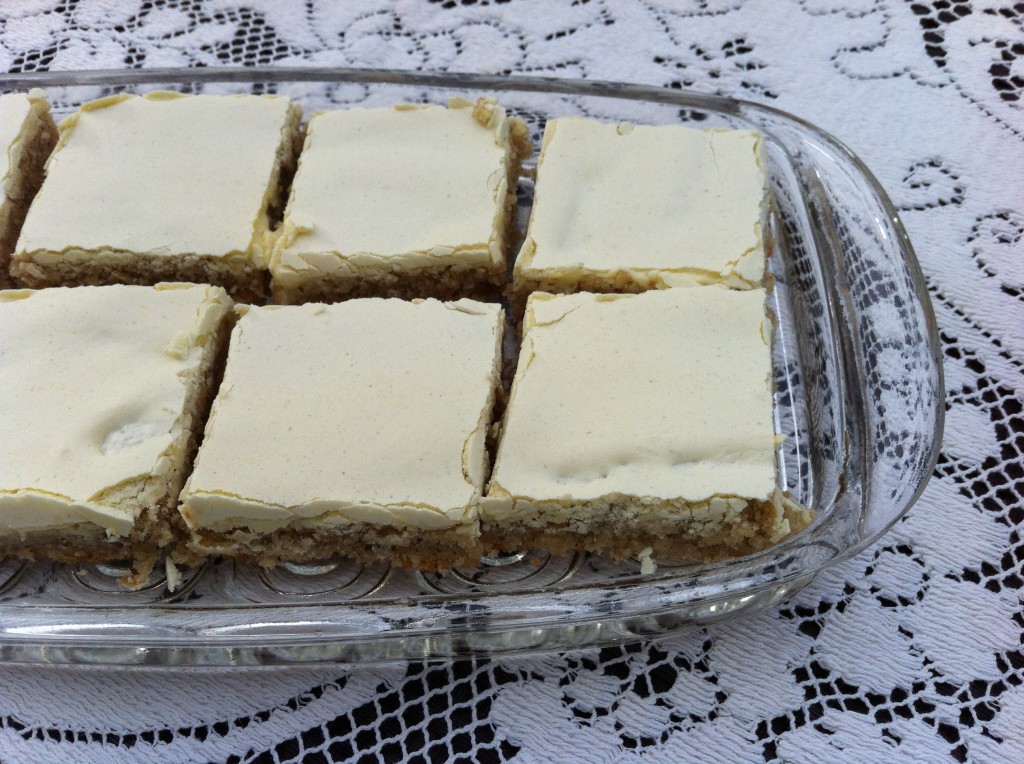 a tésztához
tojásfehérje – 5
só – egy csipet
porcukor – 250 g
lágy vaj  – 250 g
simaliszt – 160 g
darált dió – 250 g
az mázhoz
tojássárgája – 5
porcukor – 200 g
vaníliás cukor – 20 g
A sütőt előmelegítjük 200 °C-ra.  Kivajazunk, kilisztezünk egy téglalap alakú tepsit.
A tojásokat kettéválasztjuk.  A tojásfehérjéket egy csipet sóval kemény habbá verjük.  A vajat kikeverjük a cukorral, s kis adagokban hozzáadjuk a darált diót és a lisztet, végül a felvert tojáshabot.  A tésztát belesimítjuk az előkészített tepsibe.  Kb. 15-20 percig készre sütjük.
Miközben a tészta sül, a tojássárgákat a porcukorral és a vaníliás cukorral jól kikeverjük.  A sütőből kivett forró tészta tetejére simítjuk (a máz szinte rásül), s hagyjuk teljesen megszilárdulni.  Csak ezután szeleteljük.
Megjegyzés
A sütemény forró vízbe mártogatott (és szárazra törölt) éles késsel szépen szeletelhető.  Ha netán teflon bevonatú tepsit használnánk, legegyszerűbb, ha a megsült tésztát kiborítjuk egy vágódeszkára, s a sütéskor alul lévő oldalára kenjük rá a mázat.  Ha a küllem nem annyira számít, felszeletelhetjük közvetlenül a tepsiben is, ilyenkor viszont használjunk műanyag kést, hogy a tepsi alja ne sérüljön meg.