Pudding for breakfast?  Yes, from gluten-free chia seeds containing lots of vitamins, calcium, and antioxidants.  Soak the seeds in milk overnight and you have a simple, healthy, and delicious breakfast.

Use cow's milk or almond milk.  Eat it with a variety of fresh or dried fruits, toasted or untoasted nuts, unsweetened coconut flakes, or granola.  You can customize the pudding in many different ways: use maple syrup, honey, or cinnamon as a sweetener, stir in a little nut butter or cocoa powder for a chocolaty effect.  Mine is as simple as it can get: chia seeds soaked in cow's milk with banana slices and pistachios.  No sweetener at all.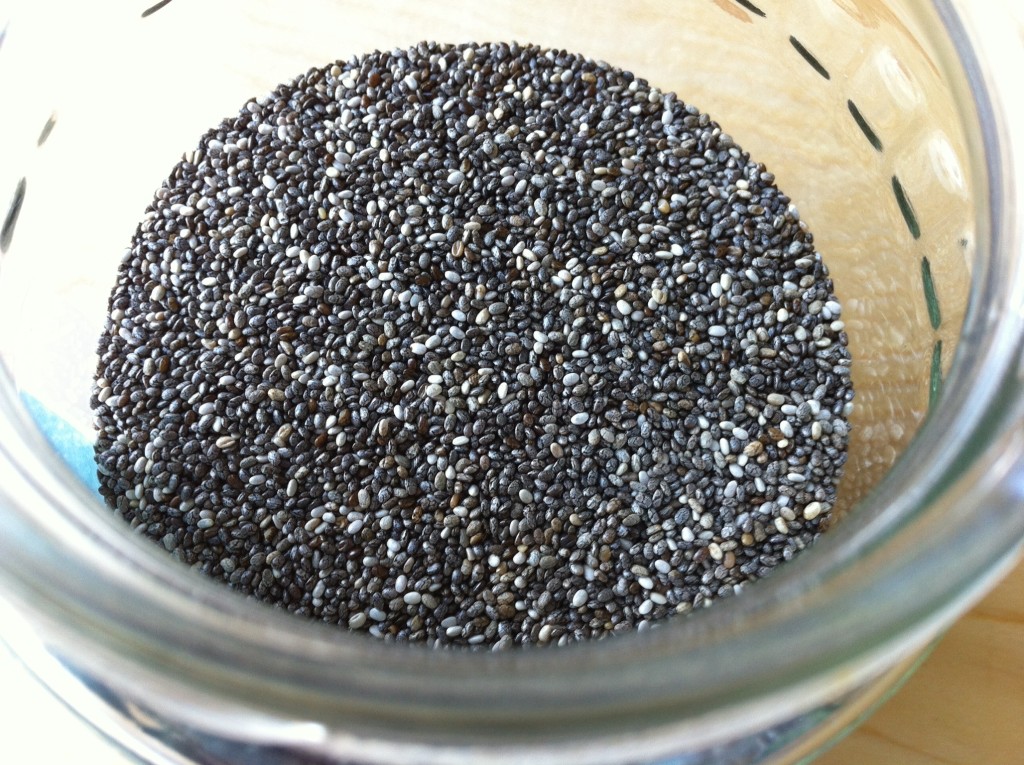 chia seeds – 50 g (½ cup)
milk – 350 ml (1½ cup)
vanilla extract – ½ teaspoons
sea salt – a pinch
fruits and nuts of your choice
Combine all ingredients – except fruits and nuts – in a bowl.  Cover and refrigerate overnight.  Stir well before serving.  Serve with fruit and nuts.  Enough for 2.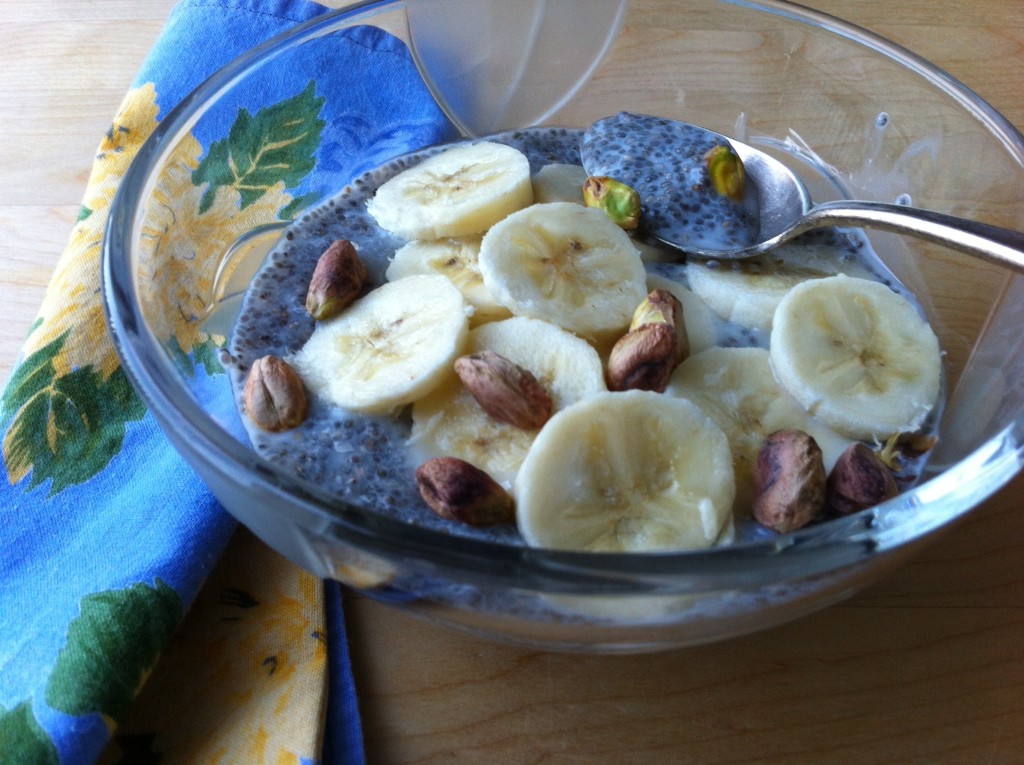 Reggelire puding?  Igen, mégpedig chia magból, ami nagyon sok kalciumot és antioxidenst tartalmaz.  A magot tejbe áztatjuk, egy éjszakán át a hűtőben tároljuk, hogy a magok jól megszívják magukat, s reggel aztán egy egyszerű, egészséges és ízletes pudingot tálalhatunk.  Használhatunk tehéntejet vagy mandulatejet.  Fogyaszthatjuk bármilyen friss vagy aszalt gyümölccsel, pirított vagy nyers diófélékkel, édesítetlen kókuszreszelékkel, garnolával.  Ízesíthetjük juharsziruppal, mézzel vagy fahéjjal, belekeverhetünk egy kis mogyoró- vagy mandulavajat, esetleg kakaóport, hogy csokis pudingunk legyen.  Az enyém annyira egyszerű, amennyire csak lehet: tehéntejbe áztatott csia mag banán karikákkal és pisztáciával – mndennemű édesítés nélkül.
chia mag – 50 g
tej – 350 ml
vanília kivonat – ½ teáskanál
tengeri só – egy csipet
gyümölcs és magfélék a tálaláshoz
A hozzávalókat – a gyümölcs és diófélék kivételével – egy tálban összekeverjük.  Letakarjuk és éjszakára a hűtőbe tesszük.  Tálalás előtt jól felkeverjük.  Gyümölccsel és diófélékkel fogyasztjuk.  A pudingból 2 adag lesz.