I read in a cookbook recently, that when having guests for dinner – especially if it's a big party – we should serve soup as the first course.  We could make it a day or two earlier and this would cut back on the work on the day of the gathering.  In another book the author stated that we shouldn't be serving soup because that would definitely add to the number of dishes we will need to clean.  Whatever it is that you prefer, cooking and eating soup is always a good idea – especially now that the weather is getting quite cold.

Looking through my Donna Hay magazine collection, I found this simple recipe in Issue 32.  Using only a few ingredients you can cook a delicious soup in no time.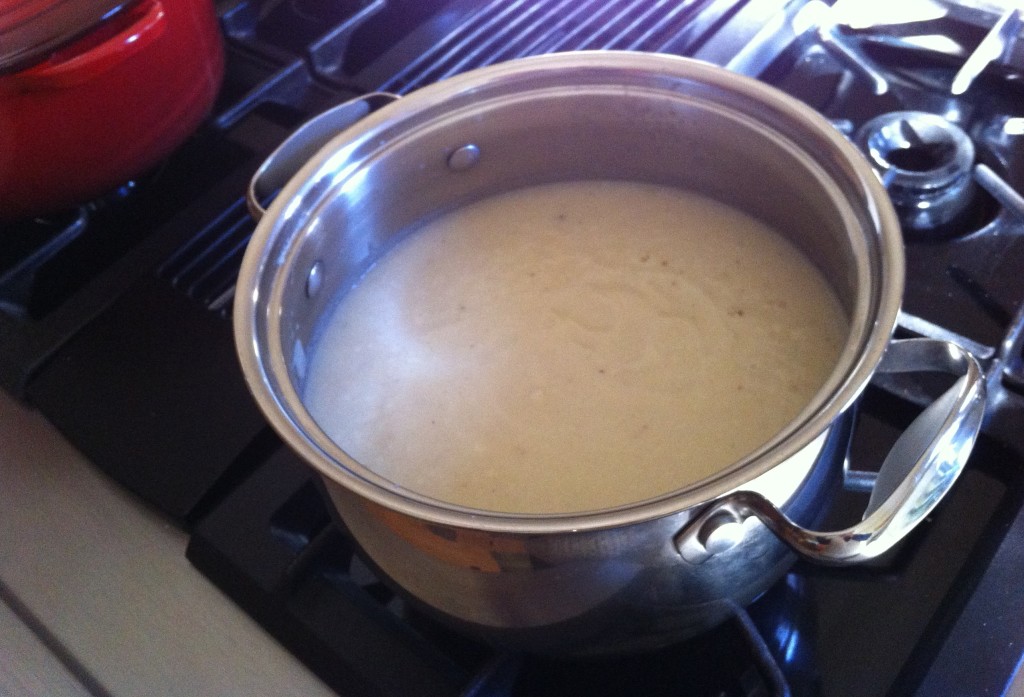 olive oil – 1 tablespoon
onion – 1 middle size
fennel bulb – 1 small
cauliflower –  ½ head (1⅓ pounds)
chicken stock – 4 cups
milk – ⅓ cup
grated parmesan cheese – 1 cup + more to serve
sea salt and freshly ground black pepper – to taste
Peel and chop the onion into small pieces and chop the fennel bulb roughly (reserve the green leaves).  Trim the cauliflower, break it into florets, and chop the florets.  Heat the olive oil in a large stockpot over medium heat.  Add the onion, sauté for 3-4 minutes, then add the fennel, cauliflower, stock, and milk.  Cover, bring to a boil, and cook until the cauliflower is soft.  Use an immersion blender to carefully blend the soup.  Stir in the parmesan.  Season it with salt and freshly ground black pepper.  Serve in a bowl topped with the fennel leaves and more parmesan.  Serves 4-6.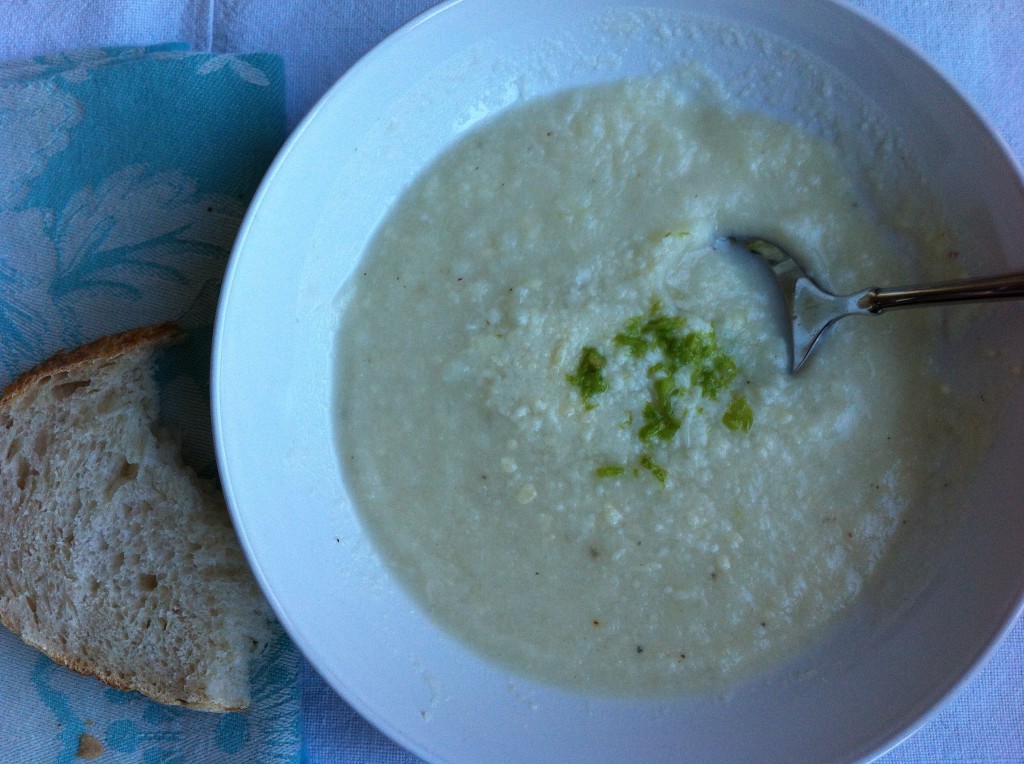 Mostanában olvastam egy szakácskönyvben, hogy ha vendégeket várunk vacsorára – legyen szó kis vagy nagy társaságról – első fogásként mindenképp levest tálaljunk.  Ez azért jó ötlet, mert megfőzhetjük egy-két nappal korábban, így aztán az összejövetel napján kevesebb lesz a munkánk.  Egy másik könyv szerzője viszont azt tanácsolja, hogy főleg nagyszámú vendégseregnek sose főzzünk levest, mert túl sok lesz a mosogatnivaló.  Mindegy, hogy melyik megoldást részesítjük előnyben, a levesfőzés és a levesevés mindig remek dolog – főleg amikor az idő kezd hidegre fordulni.
A Donna Hay főzőmagazinjaimat lapozgatván került kezembe a 32. szám, s benne ez az egyszerű recept.  Csak néhány hozzávalóra van szükség, s máris kész a finom leves.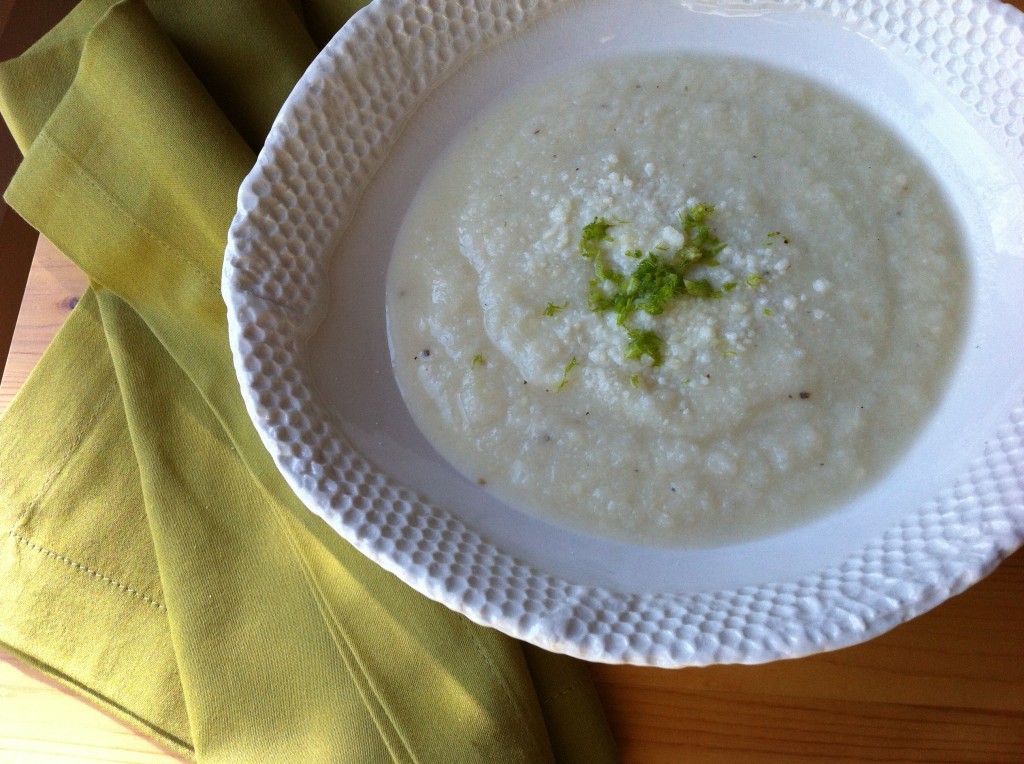 olíva olaj – 1 evőkanál
vöröshagyma – 1 közepes fej
édeskömény gumó – 1
karfiol –  ½ fej (600 g)
csirke alaplé – 1 liter
tej – 80 ml
reszelt parmezán sajt – 100 g
tengeri só és frissen őrölt feketebors – ízlés szerint
A megtisztított hagymát apróra, az édeskömény gumót durvára vágjuk (zöld leveleit félretesszük a tálaláshoz).  A karfiolt rózsáira szedjük és kis darabokra vágjuk.  Egy nagy fazékban felforrósítjuk az olajat, rádobjuk a hagymát, s 3-4 percig fonnyasztjuk.  Aztán hozzáadjuk az édesköményt, a karfiolt, az alaplét és a tejet.  A levest felforraljuk, majd fedő alatt addig főzzük, amíg a karfiol megpuhul.  Botmixerrel óvatosan simára turmixoljuk.  Hozzákeverjük a parmezán sajtot és sóval, borssal ízesítjük.  A levest tálakba merjük, s megszórjuk az édeskömény levélkéivel és a reszelt sajttal.  A recept 4-6 személyre szól.