Kohlrabi is one of my favorite vegetables.  Paired with apples, a quick slaw – full of vitamins – can be created from it.  It's refreshing and crunchy, simple and very delicious on its own, or as a side dish.

kohlrabi – 1 middle size
apple – 1 small
lemon – 1
olive oil – 2 tablespoons
salt to taste
Peel and grate the kohlrabi.  Core and grate the apple.  Toss them together in a bowl, squeeze a lemon over it, and drizzle with the oil.  Season with salt.  Mix it together.  Serve immediately.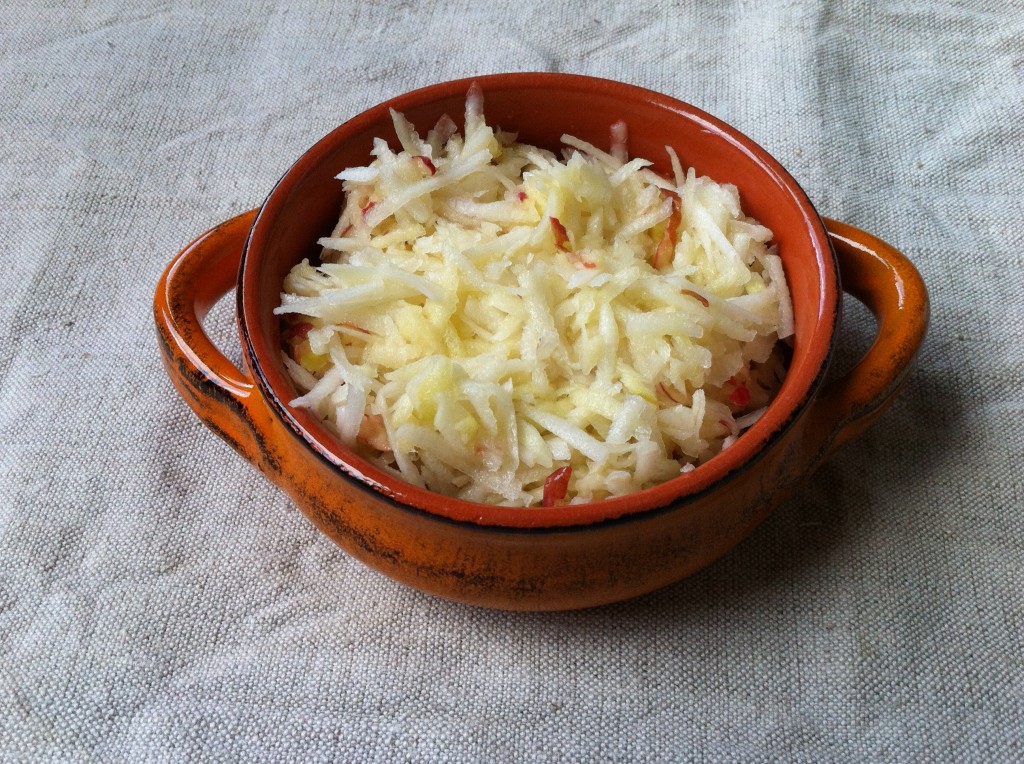 A karalábé az egyik kedvenc zöldségem.  Almával párosítva gyors, vitamindús saláta készíthető belőle.  Üdítő és ropogós, egyszerű és nagyon finom önmagában vagy akár köretként is.
karalábé – 1 közepes méretű
alma – 1 kisebb
citrom – 1
olíva olaj – 2 evőkanál
só ízlés szerint
A karalábét maghámozzuk, egy tálba reszeljük.  Az alma magházát eltávolítjuk, utána héjastól ugyancsak a tálba reszeljük.  Meglocsoljuk a citromlével, az olíva olajjal, s ízlés szerint sózzuk.  Összekeverjük.  Azonnal tálaljuk.