From the many ways of preparing potatoes, I love the simplicity of these roasted ones with caraway seeds and flaky sea salt.  Perfect and very delicious as a side to any roast meat or just by itself.

potatoes – 2.2 pounds
olive oil – 3 tablespoons
flaky sea salt – 1 tablespoon
caraway seeds – 1 tablespoon
Preheat the oven to 425 °F.
Wash the potatoes well, don't peel them, and cut each into 4-8 pieces (depending on size).
Place the oil, salt, and caraway seed in a baking dish.  Fold in the potatoes, mix, and bake for 30-40 minutes.  Serve warm.  Enough for 4 people.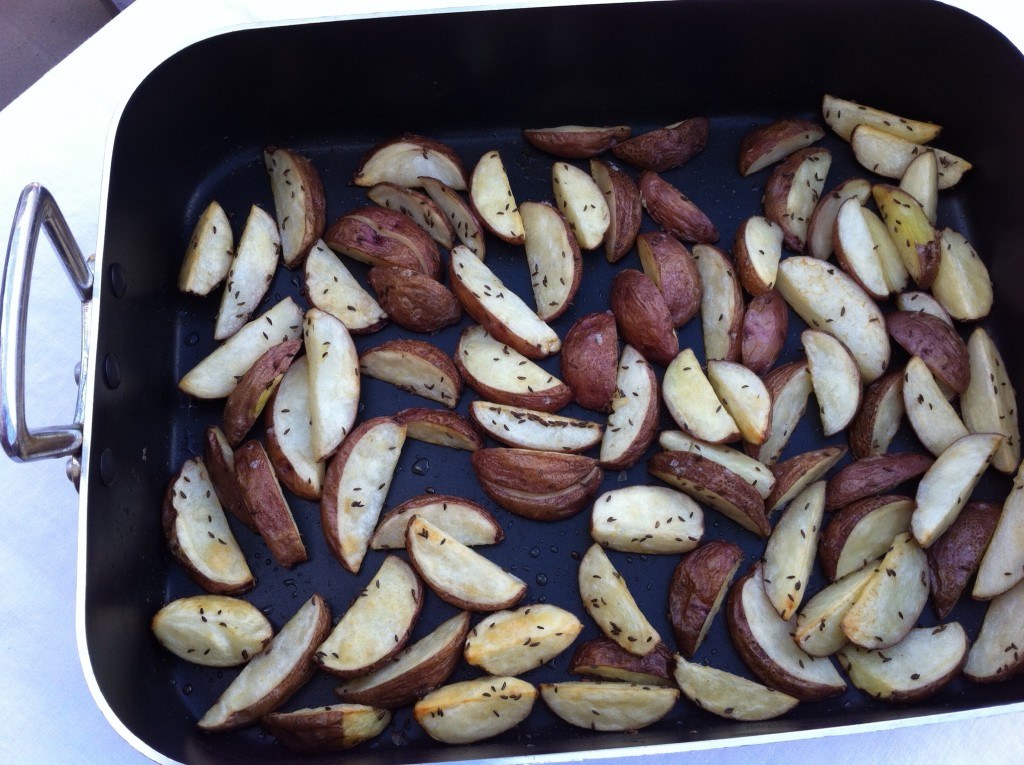 A krumpli sokféle elkészítési módja közül, szeretem ennek a köménymaggal és tengeri sóval ízesített sült krumplinak az egyszerűségét.  Köretként húsok mellé vagy csak úgy magában is kitűnő és nagyon finom.
krumpli – 1 kg
olíva olaj – 3 evőkanál
nagyszemű tengeri só – 1 evőkanál
köménymag – 1 evőkanál
A sütőt előmelegítjük  220 °C -ra.
A krumplit megmossuk, nem hámozzuk meg, és mindegyiket, nagyságtól függően, 4-8 darabra vágjuk.  Az olajat, sót, köménymagot egy sütőedénybe tesszük.  Beleforgatjuk a krumplit, összekeverjük.  30-40 alatt készre sütjük.  Melegen tálaljuk.  A recept 4 személyre szól.