Do you have a favorite dish from your childhood?  I'm sure, you do.  This simple dish is one of my favorites from when I was a kid.

In my family, the Hungarian name for it was "lábatlantyúk", which translates word-to-word as "chicken without legs", but of course, it has nothing to do with chickens.  I don't know what the origin of this silly name is – the dish is essentially a shredded pancake.  It can be served as a dessert but we ate it as a main dish after a hearty soup.  Legend says, "kaiserschmarrn" was first made for Kaiser Franz Joseph, Emperor of the Austro-Hungarian Empire, and is named after him.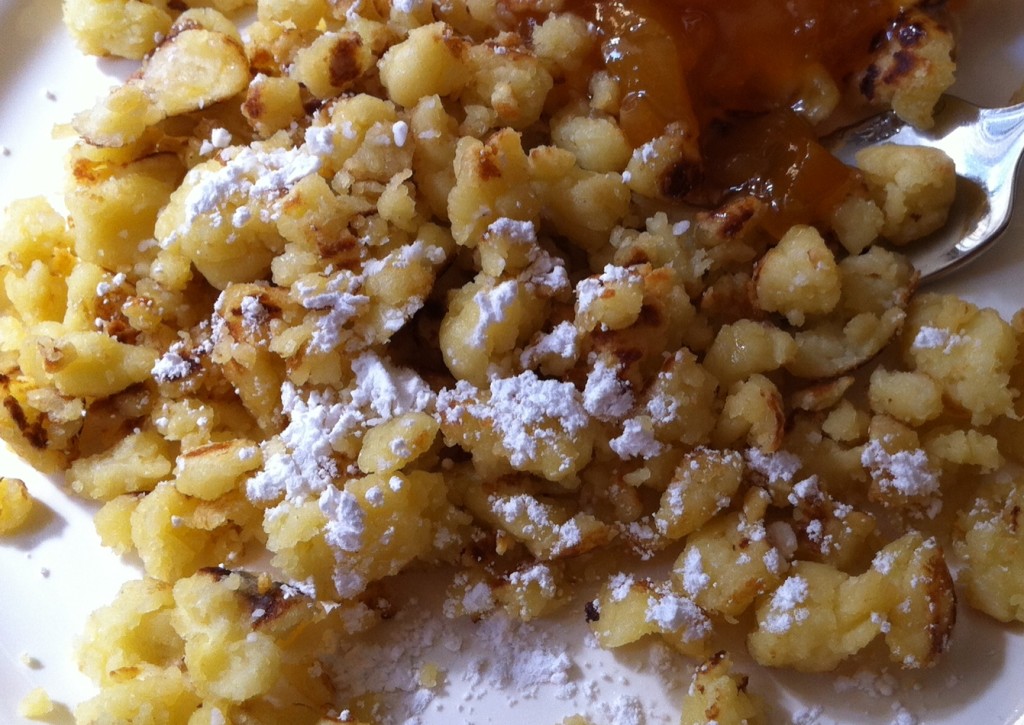 eggs, separated – 3
granulated sugar – 1-2 tablespoons
milk – 250 ml (1 cup)
salt – a pinch
all-purpose flour – 200 g (1½ cups)
butter – 2 tablespoons
Mix the egg yolks with the sugar in a large bowl.  Add the milk and salt, sift in the flour, and mix until smooth, free of any lumps.  Beat the egg whites until stiff and add to the flour-egg mixture.  Melt the butter in a heavy bottomed frying pan over medium heat, and pour in the batter.  While frying, mix occasionally with a wooden spoon to form crumbs.  Alternatively, make a "pancake" until set, turn over, and then tear it with two forks into bite-size pieces.  Brown to your liking.  Serve with jam and sprinkle with powdered sugar.
Note
The batter can be enhanced with some ground walnuts, vanilla sugar, lemon zest, and raisins soaked in rum.
Van kedvenc gyerekkori ételed?  Biztos vagyok benne, a válaszod igenlő.  Ez az egyszerű étel az én egyik gyerekkori kedvencem.  A családunkban mi lábatlantyúknak neveztük, persze nincs semmi köze holmi lábatlan tyúkhoz, s hogy honnan ered ez a vicces név, nem tudom.  Az étel gyakorlatilag nem más, mint apró darabkákra vagy morzsára sütött palacsinta.  Desszertként kínálható, de mi főételként fogyasztottuk egy-egy tartósabb leves után.  A legenda szerint az Osztrák-Magyar Monarchia császárának, Ferenc Józsefnek készítették el először, s róla is nevezték el.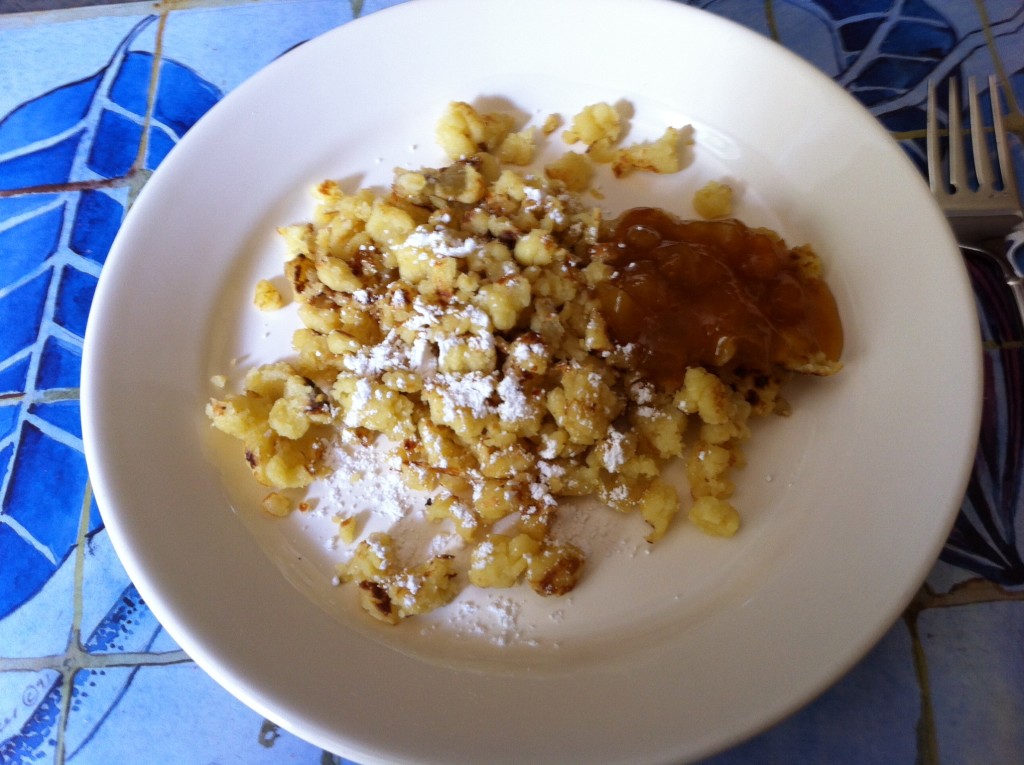 tojás – 3
cukor – 1-2 evőkanál
tej – 250 ml
só – egy csipet
liszt (búzadara) – 200 g
vaj – 2 evőkanál
A tojásokat kettéválasztjuk.  A cukrot és a tojássárgákat egy nagy tálban habosra keverjük.  Hozzáadjuk a tejet, sót, beleszitáljuk a lisztet, s jól elkeverjük.  A tojásfehérjéket kemény habbá verjük, majd a masszához adjuk.  Egy nagy serpenyőben felhevítjük a vajat, beleöntjük a palacsintatésztát.  Időnként meg-megkevergetve aranybarna morzsára sütjük, vagy miközben sül a tészta, két villa segítségével kisebb-nagyobb darabokra szabdaljuk.  Tetejét megszórjuk porcukorral, s lekvárral tálaljuk.

Megjegyzés
Az alapmasszát egy kis darált dióval, vaníliás cukorral, rumba áztatott mazsolával és reszelt citromhéjjal is gazdagíthatjuk.