It's time for a simple salad!  For a simple Italian bean salad that is refreshing, colorful, and good on its own or served as a side to any meat.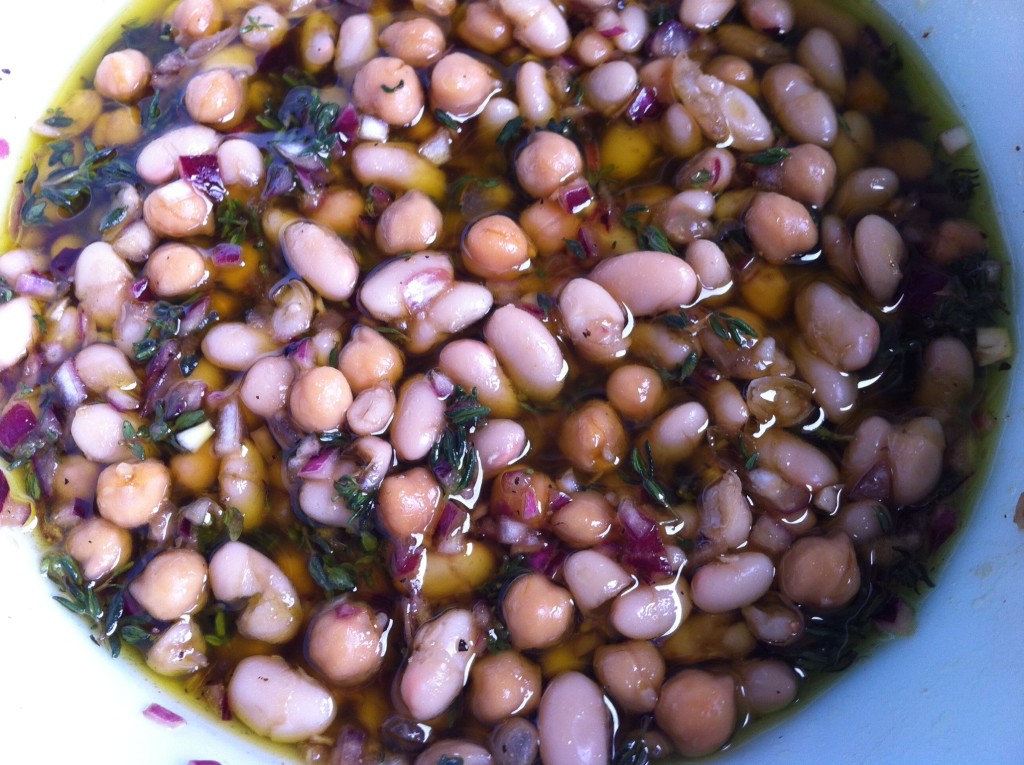 It takes a very short time to prepare if you use canned beans or beans you yourself have cooked prior to the making of the salad.  I discovered this recipe in the 46th issue of the Donna Hay Magazine, which I've been collecting for years.  Donna is one of Australia's most celebrated cooks, and the simplicity of her cooking, baking, and food styling speaks to me, making me come back to her recipes repeatedly.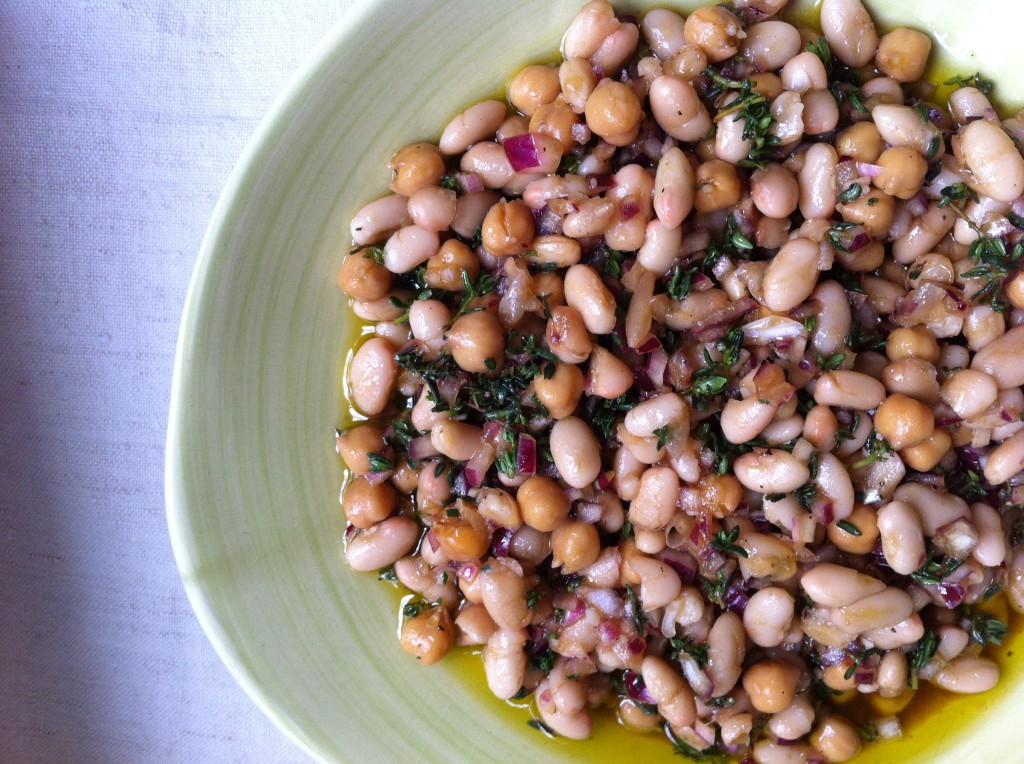 red onion – 1 middle size
red wine vinegar – ½ cup (125 ml)
white cannellini beans – 1 can (440 g)
extra-virgin olive oil –  ⅔ cup (185 ml)
thyme leaves – ½ cup
sea salt and freshly ground black pepper – to taste
Chop the onion into small pieces and place it in a bowl together with the vinegar.  Wait for 5-10 minutes – the onion should be softened a little bit – before adding the rinsed beans, oil, thyme, salt, and pepper.  Combine well.  Allow to stand for about 15 minutes before serving.  Enough for 8-10 people.
Note
Feel free to mix white beans with garbanzo beans or any other types of bean.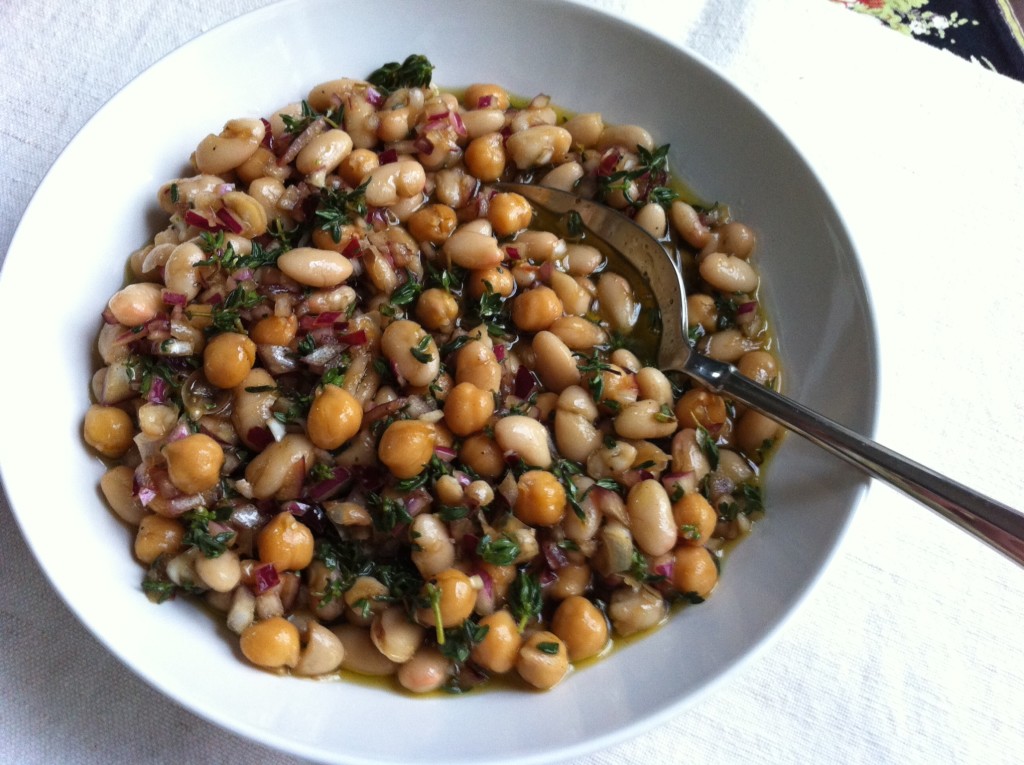 Eljött egy egyszerű saláta ideje!  Egy egyszerű olasz babsalátáé, ami frissítő és színes, kitűnő csak úgy önmagában, vagy hús mellé köretként.  Rövid idő alatt elkészíthető, főleg ha konzervbabot használok.  Ha száraz babból készítem, általában már előző nap puhára főzöm a babot, hogy a salátát gyorsan összeállíthassam.  A receptet a Donna Hay Magazine 46. számában találtam.  Donna Hay Ausztrália egyik ünnepelt szakácsa.  Jó néhány éve gyűjtöm folyóiratait, mert tetszik a receptek és ételfotók egyszerűsége, s ez az egyszerűség számomra inspiráló.
lilahagyma – 1 közepes fej
vörösborecet – 125 ml
főtt fehérbab – 440 g
olívaolaj – 185 ml
kakukkfű levelek – 10 g
tengeri só és törött bors – ízlés szerint
A hagymát apróra vágjuk és az ecettel együtt egy mélyebb tálba tesszük.  Várunk 5-10 percet, hogy kicsit megpuhuljon, aztán hozzáadjuk a lecsepegtetett babot, olajat, kakukkfű levelkéket, és ízlés szerint sózzuk, borsozzuk.  Jól összekeverjük, s tálalás előtt 15 percig érleljük.  A recept 8-10 személyre szól.
Megjegyzés
Kitűnő fehérbabbal és csicseriborsóval vegyesen, sőt más típusú babbal is.