Many of us have numerous recipes hand-written in notebooks or on recipe cards, clippings from newspapers and magazines in a folder or drawer waiting be tried, recipes saved on our computer or bookmarked online.

Some of us take pride in organizing them better than others, and some of us don't care too much about this because if a recipe is needed, we can simply search the web.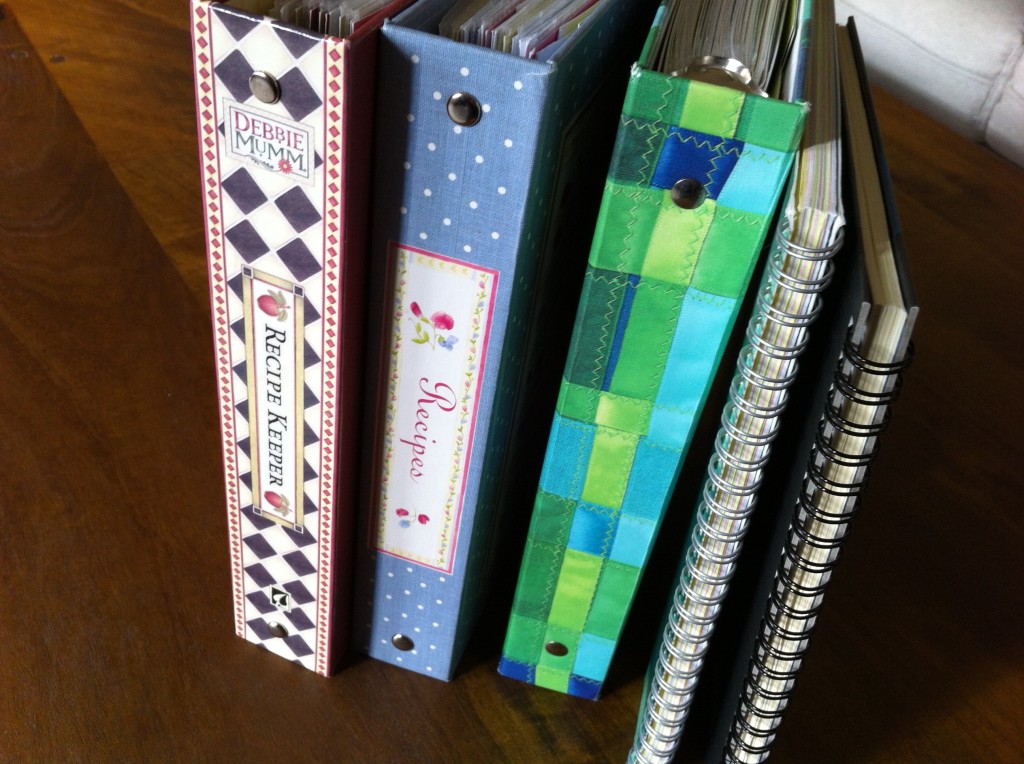 Throughout the years, I've found that it really helps me to be organized in everything, including my recipes.  I experimented with different ways of storing them, and what works for me is the following.  I have three small binders size 9" X 8" with 6" X 5" recipe cards tucked behind see-through plastic sleeves, written in English.  I also keep two small exercise books hand-written in Hungarian.  One of them has baking recipes in chronological order, the other has cooking recipes organized by course.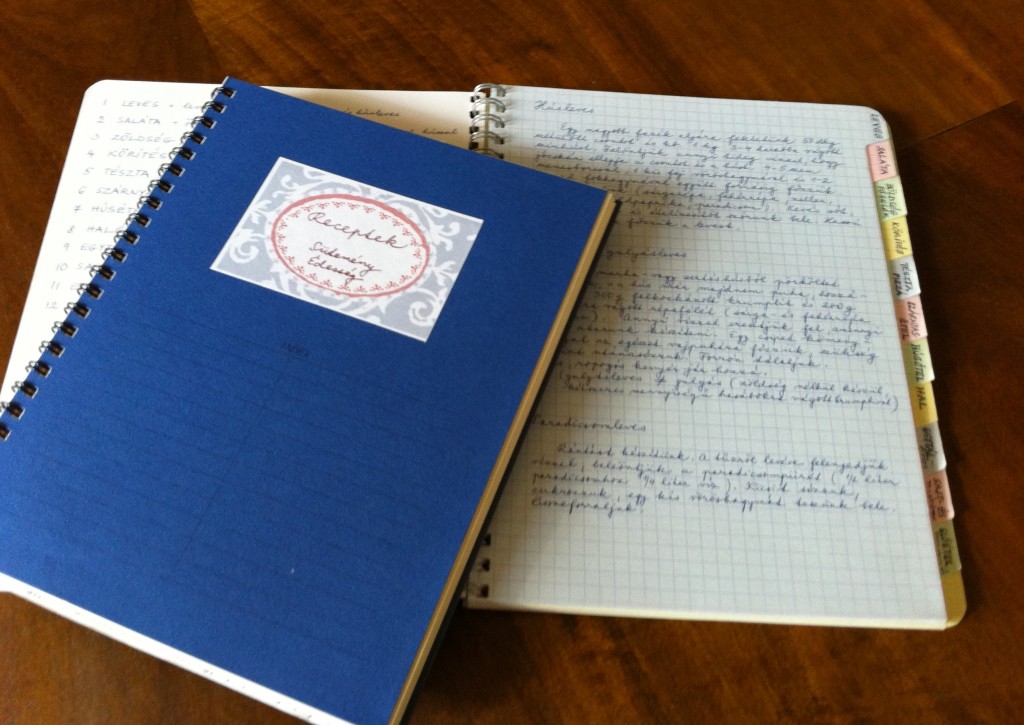 The recipe folders on my computer have the same names as the categories in my binders.  I can put these folders easily on a thumb-drive and use them when visiting family and friends, but traveling without my laptop.  In general, digitizing recipes improves mobility and I can even cut back on the number of cookbooks I own.  I already typed up and scanned many recipes I liked from different cookbooks and from magazines.  I might eventually use the Cloud for storage for easy access in places with internet connection.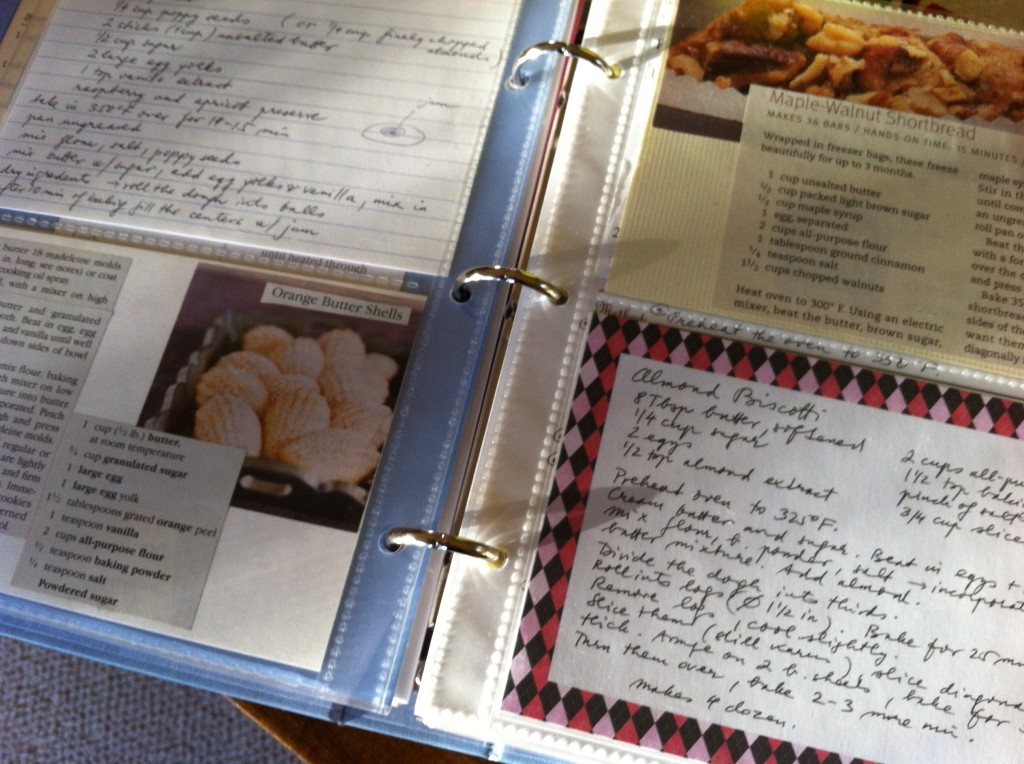 I like to keep recipes with a short list of ingredients and those for which the ingredients are locally available.  Therefore de-cluttering recipes is an ongoing process for me.  After I've tried one and if I don't like it for any reason, I get rid of it immediately.  Using two main groups, recipes to try and recipes tried, this can be done very easily.
So, how to organize recipes?  Here are a few suggestions.  Keep in mind that the categories can be smaller or bigger, and they can even be mixed.
1) alphabetically
2) by course: drinks, appetizers, soups, salads, bread, main dishes, side dishes, vegetables, beans and legumes, rice, whole grains, meat, poultry, pasta, pizza, snacks, dips and spreads, sauces and condiments, desserts, etc.
3) by main ingredient: beef, pork, lamb, chicken, turkey, duck, goose, egg, fish, rice, pasta, vegetables (be as detailed as you want by listing the various types), cheese, fruit, dairy, chocolate, etc.
4) by preparation method: basics, easy, slow cooking, simmering, frying, in the oven, barbeque, casseroles, canning, etc.
5) by ethnic cuisine: Chinese, Japanese, Indian, Thai, American, British, Italian, French, German, Spanish, Hungarian, Greek, African, Middle Eastern, Mexican, etc.
6) by type of meal (with or without subcategories): breakfast (sweet + savory), lunch (soups + sandwiches), dinner (salads + main), snacks
7) by special diet: vegetarian, vegan, gluten-free, egg-free, low-fat, fat-free, wheat-free, kosher, light, paleo, baby food, etc.
8) by season: spring, summer, autumn, winter
9) by special occasion: Christmas, Thanksgiving, Easter, New Year's Eve, Valentine's Day, Halloween, Hanukkah, St. Patrick's Day, etc.
If certain recipes don't fit into any of the categories you created, have one called miscellaneous, others, or extras.
Similarly, there are many ways to organize baking recipes into different categories.  There are no rules, create something that fits your style and needs. For example:
1) by type of sweets: cookies and small cakes, cakes, tarts and pies, candy, desserts, jams, etc.
2) by main ingredient: desserts with fruit, desserts with vanilla, with nuts, with honey, with poppy seeds, with chocolate, with citrus, with jam, with cottage cheese, etc.
Now, head to the RECIPES section of this blog to see how I organized my recipes.  And if you like, please let me know what works for you.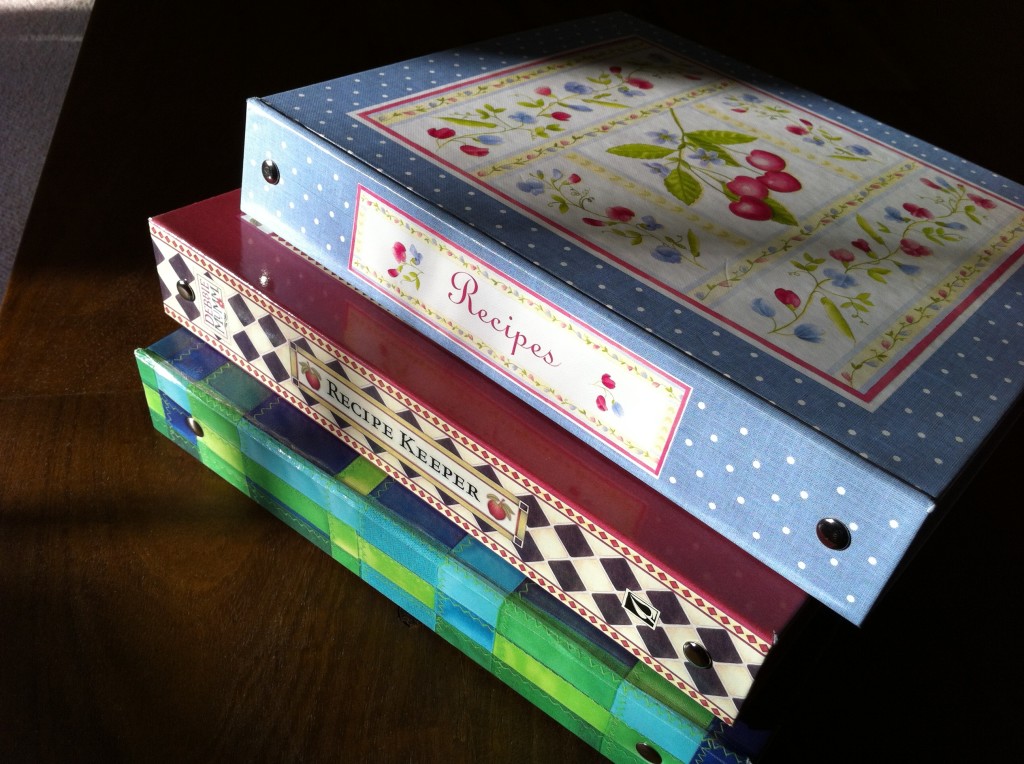 Sokunknál számos kézzel írt recept különféle jegyzetfüzetekben vagy recept kártyákon lelhető fel.  Újságokból, folyóiratokból kivágott receptjeink dossziékban vagy épp egy fiókban várnak kipróbálásra.  Vannak, amiket a számítógépünkbe mentettünk le, s vannak könyvjelzőink a neten.  Néhányan talán büszkén vállaljuk, hogy jobban rendszerezzük receptjeinket, mint mások, s vagyunk olyanok is, akiket ez egyáltalán nem érdekel, hiszen ha szükségünk van egy-egy receptre, csak keresgélünk a neten.
Az évek során azt tapasztaltam, hogy nekem segít az, ha rendezett vagyok a dolgaimban, beleértve a receptjeimet is.  Különféle tárolási módokkal kísérleteztem, s a következő működik a számomra.  Van három kisebb gyűrűs könyvem/dossziém, 23 cm X 20 cm nagyságú, amikben kis átlatszó műanyag tasakokban tartom a 15 cm X 10 cm méretű angolul írt recept kártyáimat.  Van két kis füzetem is, amiben a magyar receptjeim vannak.  Az egyik a süteményes füzet időrendben írva, a másikat ételkategóriák szerint rendeztem el.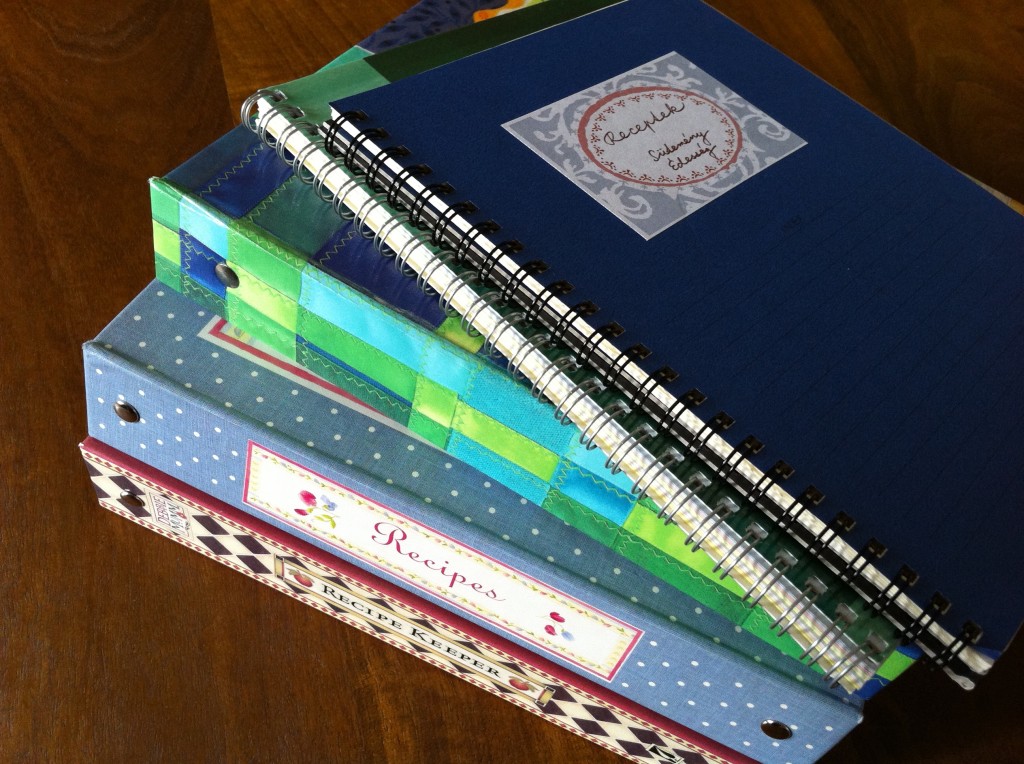 A számítógépemen a recept mappáknak ugyanaz a nevük, mint a gyűrűs dossziékban.  Ezeket ha kell, könnyen át tudom tenni egy kis meghajtóra, s használhatom rokonoknál, báratoknál, amikor a laptopom nélkül utazom.  Általában véve a receptek digitalizálása megkönnyíti a mobilitást és a szakácskönyveim számát is lecsökkentheti.  Már több receptet beírtam a gépbe, illetve beszkenneltem könyvekből vagy folyóiratokból származó kedvenceket.  Egyszer majd talán a "Cloud"-ban tárolom az összes receptemet, hogy könnyen hozzájuk férhessek ott, ahol van internet.
Olyan recepteket szeretek megtartani, amelyeknél rövid a hozzávalók listája, s amelyekhez a hozzávalók helyileg beszerezhetők.  ĺgy aztán nálam a receptek számának lecsökkentése állandóan folyamatban van.  Ha kipróbáltam egy receptet, s az bárminemű oknál fogva nem tetszik, azonnal kiselejtezem.  Ha csak két nagy csoportra összpontosítok, kipróbálásra váró receptek és kipróbált receptek, könnyű a szelektálás.
Hogyan rendszerezzük tehát a recepteket?  ĺme néhány javaslat.  Tartsd szem előtt, hogy az alábbi kategóriák kisebbek vagy nagyobbak is lehetnek, vagy akár össze is keverhetők.
1) abc sorrendben
2) ételfajták szerint: italok, előételek, levesek, saláták, kenyerek, főételek, köretek, zöldségek, bab, rizs, teljes kiőrlésű gabonafélék, hús, tészta, pizza, nassolni valók, mártogatósok, szószok, desszertek, stb.
3) hozzávalók szerint:  marhahús, sertéshús, bárányhús, csirke, pulyka, kacsa, liba, tojás, hal, tengeri hal, rizs, tészta, zöldség (itt részletesebb is lehetsz, amennyire csak akarsz, felsorolván a különféle zöldségfajtákat), sajt, gyümölcs, tejtermék, csokoládé, stb.
4) az elkészítés módja szerint:  alapreceptek, könnyű, lassú főzés, párolás, zsírban sültek, sütőben készítve, grillezés, egytálételek, befőzés, stb.
5) népek konyhái szerint: kínai, japán, indiai, thai, amerikai, brit, olasz, francia, német, spanyol, magyar, görög, afrikai, közel-keleti, mexikói, stb.
6) az étkezés ideje szerint (alkategóriákkal vagy anélkül): reggeli (édes + sós), ebéd (levesek + szendvicsek), vacsora (saláták + főételek), tízórai/uzsonna
7) speciális étrend szerint: vegetariánus, vega, gluténmentes, tojásmentes, alacsony zsírtartalmú, zsírszegény, liszt nélkül készülő, kóser, könnyű, paleo, bébi ételek, stb.
8) évszakok szerint: tavaszi, nyári, őszi, téli receptek
9) ünnepek szerint: karácsony, hálaadásnap, húsvét, szilveszter, Valentin-nap, halloween, chanuka, Szent Patrik napja, stb.
Ha bizonyos receptek egyik kategóriába sem illenek, kreálj egy újat, amit vegyesnek hívsz, vagy másnak, egyébnek.
Az ételreceptekhez hasonlóan, a sütireceptek is sokféleképpen osztályozhatók.  Nincsenek szabályok, tehát olyan rendszert alakíthatsz ki, ami illik a stílusodhoz, megfelel a szükségleteidnek.  Például:
1) az édesség fajtája szerint: sütemények és aprótészták, torták, piték, bonbonok, desszertek, lekvárok, stb.
2) hozzávalók szerint: gyümölcsös édesség, vaníliás, magvas, mézes, mákos, csokoládés, citrusos, túrós sütemények, stb.
És most kattints a RECEPTEK-re a lap jobb oldalán, hogy lásd, én miként rendszereztem a receptjeimet.  Ha gondolod, tudasd velem, te milyen rendszert alakítottál ki.