One day, when I was in seventh grade, probably on a Saturday or during the summer, my parents and my sister went to work in our vineyards.  I stayed at home alone.  By the time they came home I had made crêpes.  Never before and not for a long time after did I make anything by myself in the kitchen.  Both my sister and I occasionally helped, but the kitchen was my mother's territory.  On that day when they came home, my mother looked at me and said "You will be fine", meaning I will be all right in the future in the kitchen.  She was right.

I am fine in the kitchen even though I have no formal training, my mother never explicitly taught me how to cook or how to bake, but I believe both my sister and I learned through observing our mother's cooking and baking.  Or we inherited the genes.  Maybe.  When I finally needed to start cooking and baking for myself and for my small family in my late twenties, it all came naturally to me.  I think my mother was impressed by my performance as a seventh grader on that particular day because I remember that she also told me that there were many women (yes, it was the women who cooked for their families) who after numerous years still felt intimidated by crêpes.  They thought it was hard to make them.  It's not.  It's actually fun.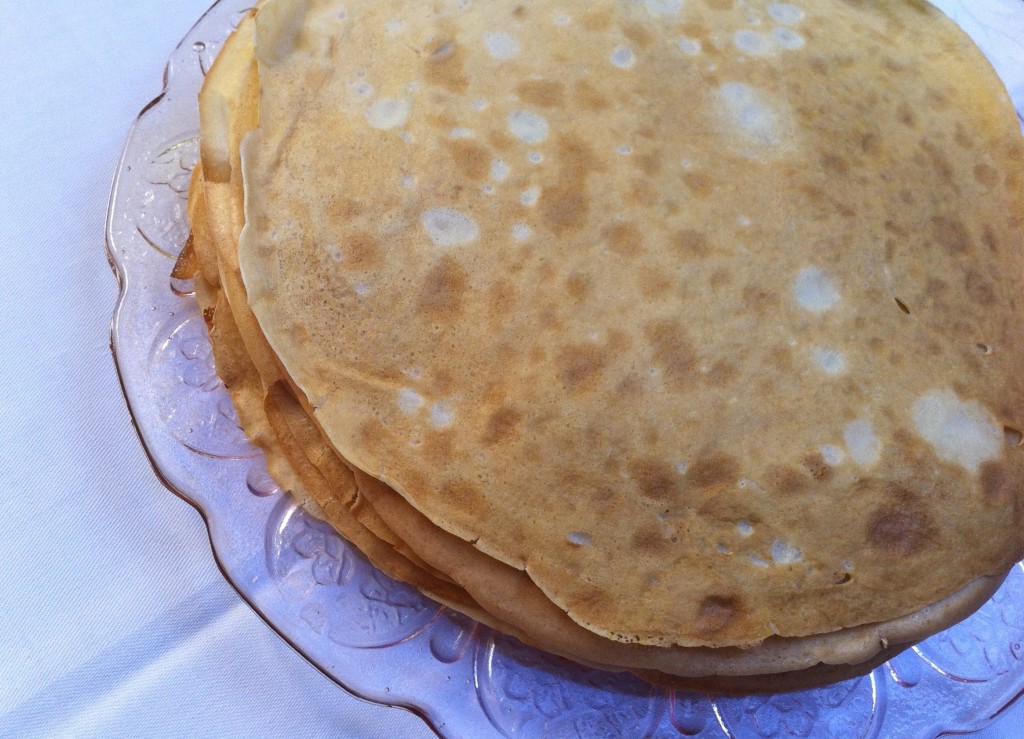 Crêpes are incredibly versatile, both the sweet and the savory types.  They should be thin but if they turn out to be thicker, they will be equally delicious.  In these days, you can find many different recipes in cookbooks or over the internet, I myself own a unique cookbook with 99 different crêpe recipes, but today I present my mother's recipe.  It worked for her for decades.  It has been working for me for decades.  I hope it will work for you too.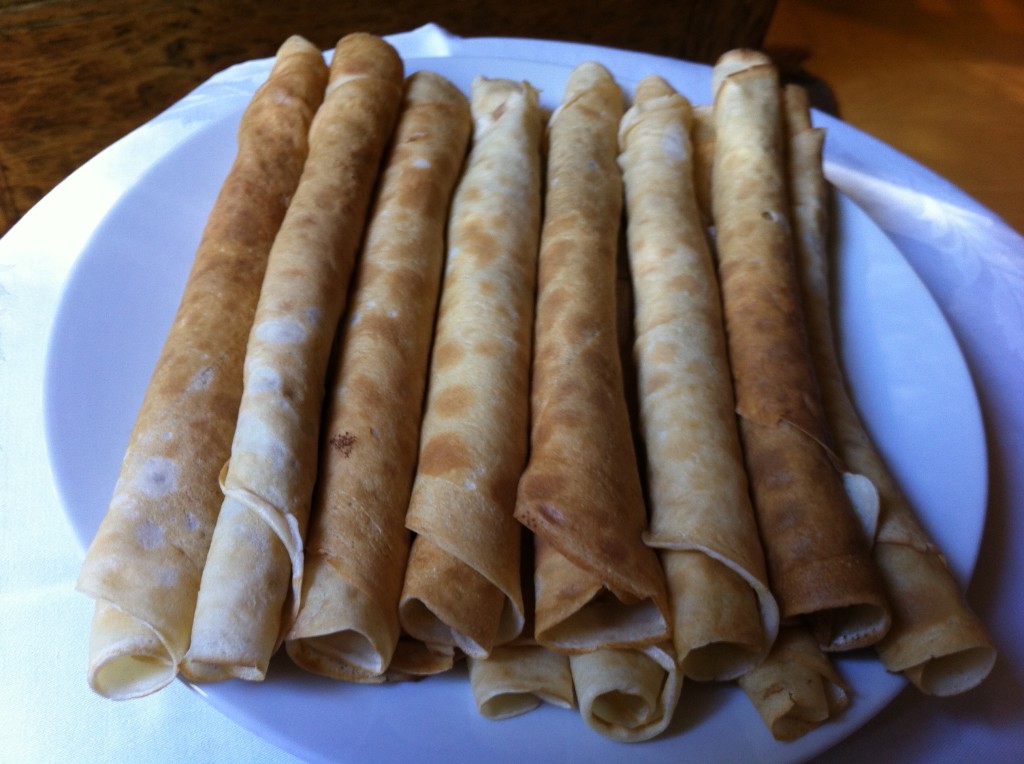 eggs – 2
milk – 300 ml (1¼ cups)
all-purpose flour – 200 g (1½ cups)
granulated sugar – 1-2 tablespoons
salt – a pinch
vegetable oil or unsalted butter – 2 tablespoons + extra for the pan
water ­– 200 ml (1 cup)
Blend the eggs and milk in a large bowl.  I use a metal whisk or a
wooden spoon but you can also use an electric mixer.  Gradually add
the flour, sugar, and salt.  Whisk in the oil and water until well
combined.  The batter will benefit from resting – refrigerate it covered for 30 minutes – but most of the time I just go ahead and start making the crepes.
Cooking the crêpes
Lightly grease the bottom of a crêpe pan or frying pan with a little bit of butter and heat it over medium-high heat.  Pour about 2 small ladles (about ¼ cup) of batter into the pan, lift it off the heat, tilt it with a circular motion, and let the batter coat the entire surface of the pan in a thin layer.  (If you make the batter in a pitcher, you can pour it directly into the pan, but you should know when to stop so as not to make the crêpes too thick.)  Cook for 1-2 minutes.  When the top of the crêpe doesn't look wet, the edges are light brown or you see it curling up, loosen the side with a turner – I use a long silicon spatula – and flip the crêpe over.  Cook for 20-30 more seconds, then remove it onto a large flat plate.  Cover with aluminum foil to keep it warm.  Continue cooking the rest of the crêpes and add them to the growing pile.  You won't need to grease the pan anymore unless you notice sticking to the bottom.  You should end up with 12-15 crêpes.  Serve hot or warm but I also love to eat them at room temperature.
Variations for the batter
– Add ½ teaspoon pure vanilla extract for vanilla crêpes.
– Add 2 tablespoons unsweetened cocoa powder for chocolate crêpes.
– Leave out the sugar to make savory/salty crêpes.
Ideas for filling
– Cocoa powder sweetened with sugar
– Ground walnuts mixed with powdered sugar (and egg whites if you like)
– Apricot or other kinds of jam
– Blueberries, raspberries, or other fruit cut into small pieces or pureed
– Nutella by itself or with banana slices
– Cottage cheese sweetened with a little sugar
– Whipped cream with strawberries or raspberries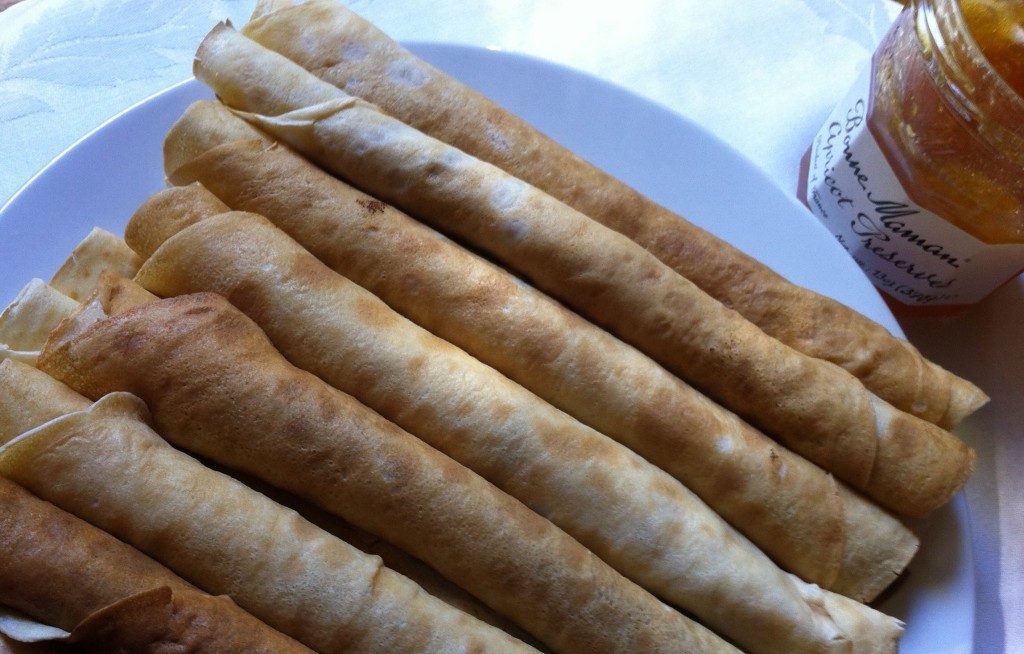 To serve
– Leave the crêpes empty, fold into quarters, and dust with powdered sugar.
– Fill in the crêpes with your favorite filling and fold into quarters.
– Fill in the crêpes with your favorite filling and roll them up.
– Serve with whipped cream, fruit sauce, or ice cream.
– Pour some chocolate over the crêpes.
To store crêpes
– You can make the crêpes one day in advance before the day of use and store them at room temperature covered with plastic wrap (or with a lid or a plate).
– Crêpes freeze well up to about one month.  Place parchment paper between the layers to prevent sticking and wrap them airtight.
Other notes
– Crêpes can be reheated in the microwave.
– I use my crêpe pan only for making crêpes and pancakes.