When does anyone who works full time have the time to make a sweet breakfast – like baking scones – from scratch?  On a Sunday morning, for example.  And even though making scones is an easy baking skill, the luxury of not feeling rushed is very beneficial to your well-being.

One of the positive aspects of this timing is that you might have a few pieces left for workday mornings.  Scones freeze very well.  Serve with a jam of your choice, tea or coffee.  You will see the world in a better light.  I adapted the recipe from Seattle's great chef, Tom Douglas' The Dahlia Bakery Cookbook: Sweetness in Seattle.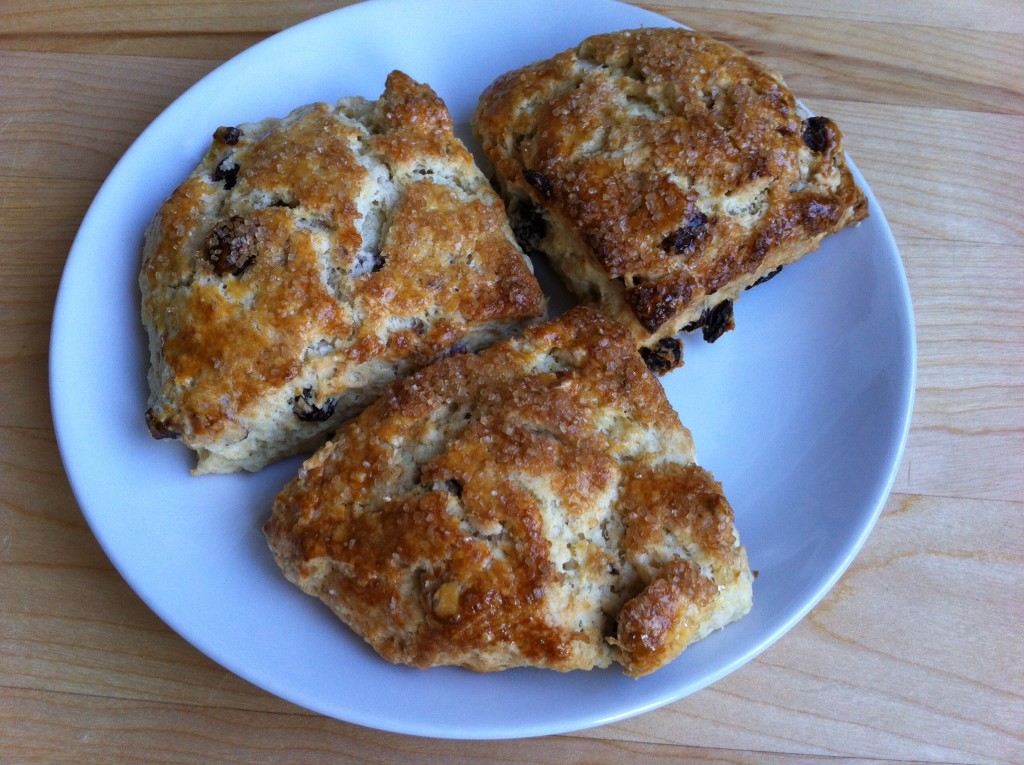 all-purpose flour – 2½ cups (330 g)
granulated sugar – ¼ cup (50 g)
baking powder – 1 teaspoon
baking soda – ¼ teaspoon
salt – ¾ teaspoon
lemon zest, grated – 1 teaspoon
unsalted butter, cold – 10 tablespoons (140 g)
dried cherries – ½ cup (70 g)
almonds – ½ cup (75 g)
buttermilk – 1 cup (250 ml)
vanilla extract – ½ teaspoon
almond extract – ¼ teaspoon
egg yolk, for brushing – 1
demerara sugar ­–  a little for sprinkling the top
Preheat the oven to 400°F (200°C).  Line a baking sheet with parchment paper.
Combine the flour, sugar, baking powder, baking soda, salt, and lemon zest in a big bowl.  Cut the butter into it and with a pastry blender or with your fingers make a coarse crumble.  (You can use your food processor too.)  Chop the cherries and almonds and add to the bowl.  Stir in the buttermilk, vanilla extract, and almond extract.  Don't overmix.
Press the dough to form a ball and on a lightly floured surface divide it into three parts.  Roll out or pat each into a 1 inch (2.5 cm) – thick disk.  Cut each into 4 wedges and place them on the cookie sheet.  Whisk the egg yolk with a little water in a small bowl and brush the top of the scones with this wash.  Sprinkle with demerara sugar.  Bake for approximately 25 minutes or until golden.  Cool slightly before eating.  Makes 12 scones.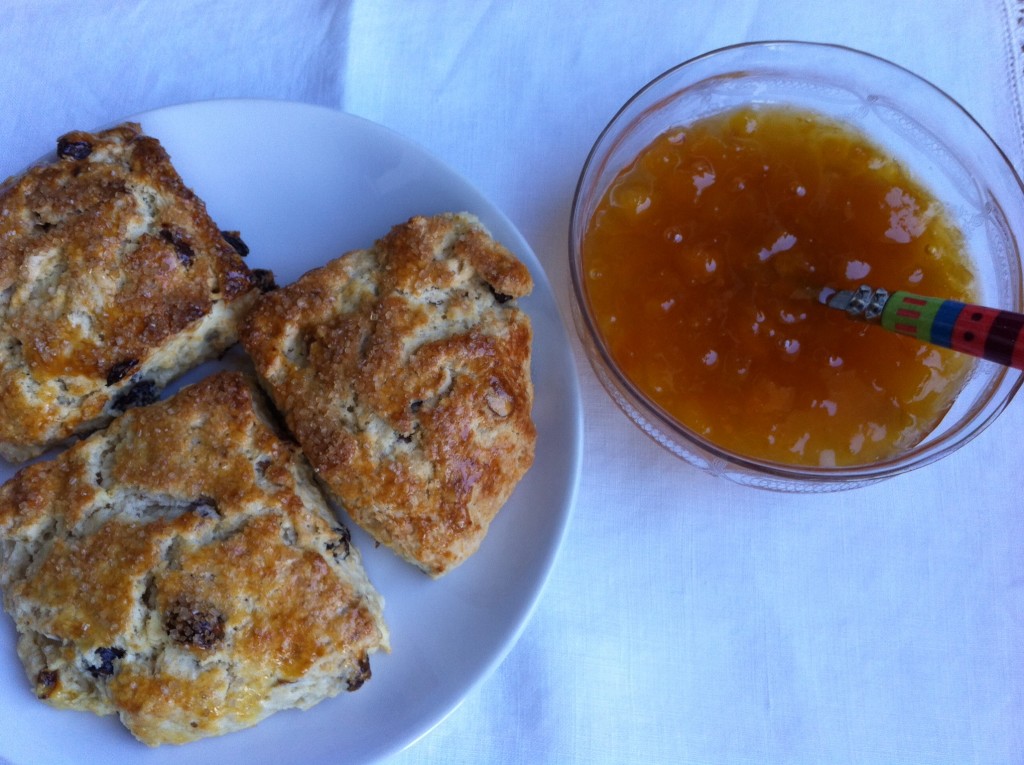 Ha főállásban dolgozik valaki, vajon mikor van ideje arra, hogy sütést igénylő reggelit készítsen, pl. édes pogácsát süssön?  Mondjuk, vasárnap reggel.  Valójában egyáltalán nem nehéz édes pogácsát sütni, és sok idő sem kell hozzá, mégis, az a luxus, hogy nem kell sehová sem sietni, hozzájárulhat ahhoz, hogy jól érezzük magunkat.
Ennek az időzítésnek egy másik pozitívuma az, hogy a hétköznapok reggeleire is maradhat néhány pogácsánk.  Nagyon jól tűrik a fagyasztást is.  Kedvenc lekvárunkkal, teával vagy kavéval fogyasztva máris jobb színben láthatjuk a világot.  A recept a kitűnő Seattle-i séf, Tom Douglas szakácskönyvéből származik, címe The Dahlia Bakery Cookbook: Sweetness in Seattle. 
liszt – 330 g
kristálycukor – 50 g
sütőpor – 1 teáskanál
szódabikarbóna – ¼ teáskanál
só – ¾ teáskanál
reszelt citromhéj – 1 teáskanál
fagyos vaj – 140 g
aszalt cseresznye – 70 g
mandula – 75 g
író – 25 ml
vanília kivonat – ½ teáskanál
mandala kivonat – ¼ teáskanál
tojássárgája – 1
nagyszemű kristálycukor ­– tetszés szerint
A sütőt előmelegítjük 200°C-ra.  Egy tepsit kibélelünk sütőpapírral.
A lisztet, cukrot, sütőport, szódabikarbónát, sót, reszelt citromhéjat egy nagy tálban összekeverjük.  Hozzáadjuk a kis kockákra vágott vajat és óvatosan (két kés segítségével) morzsásra vagdaljuk vagy ujjbegyeinkkel összemorzsoljuk.  (A tésztát robotgéppel is készíthetjük.)  Apróra vagdaljuk a cseresznyét és a mandulát, s a lisztkeverékbe szórjuk.  Végül belekeverjük az írót, a vanília- és mandula kivonatot.
Lazán összegyúrjuk, cipót formálunk belőle.  Lisztezett deszkán három részre osztjuk és az egyes részeket 2,5 cm vastagságú korongokra nyújtjuk vagy lapogatjuk.  Mindegyiket négy cikkre vágjuk és a tepsire rakjuk őket.  A tojássárgáját egy kis vízzel elkeverjük és megkenjük vele a pogácsák tetejét.  Megszórjuk tetszés szerinti mennyiségű nagyszemű kristálycukorral.  Kb. 25 perc alatt aranyszínűre sütjük.  Hagyjuk langyosra hűlni.  12 darab édes pogácsánk lesz.