Quinoa is one of those whole grains with high protein content that cooks very quickly.  It's actually a seed and has a nutty taste; its origins are in South America.  To make a tasty quinoa salad is just a matter of 25-30 minutes.  There are endless variations to this salad depending on what you like or what is available in your refrigerator.

I usually make this salad from white or red quinoa, and use fresh vegetables whenever it's possible (green or red onion, green, red, or yellow bell pepper, tomatoes, peas, or cucumber).  Canned white or black beans, canned or frozen corn works too.  Dried fruit (currants, cherries, or cranberries), toasted or raw nuts (walnuts or pecans) are a nice addition.  And don't forget some kind of fresh herbs – parsley, cilantro, or mint.
quinoa, uncooked – 1 cup
bell pepper, seeded and diced – 1
cucumber, diced – 1 small
onion, minced – ¼ cup
currants – ¼ cup
walnuts, chopped – ¼ cup
red-wine vinegar – 2 tablespoons
olive oil – ¼ cup
fresh parsley, chopped – a few tablespoons
sea salt and ground pepper to taste
Rinse the quinoa under running water and drain.  Combine with 2 cups of water and a pinch of salt in a saucepan, and boil.  Reduce heat to low, cover with a lid and simmer for about 20 minutes, until the water is absorbed.  Cool slightly.
Whisk the vinegar and oil together in a large bowl, add the chopped vegetables, currants, walnuts, and parsley.  Mix in the quinoa.  Add salt and pepper to taste.  Serves 4.
Note
1)  1 cup uncooked quinoa yields 3 cups cooked quinoa
2)  you can cook any amount of quinoa, but use 2 : 1 ratio of water to grain
3)  instead of water, you can use vegetable (or chicken) broth
4)  quinoa is gluten-free
A quinoa, ez a magas tápértékű gabonafajta, nagyon gyorsan megfő.  Valójában nem is gabona, hanem egy, a libaparéj fajába tartozó egyvirágú növény magja (a köleshez hasonlitható), az íze kicsit diószerű.  Az őshazája Dél-Amerika.  A quinoa saláta 25-30 perc alatt elkészül.  Végtelen a salátavariációk – attól függ, mit szeretünk, vagy épp mi található a hűtőszekrényünkben.
Ezt a salátát én általában fehér vagy vörös quinoából készítem, s ha lehetséges, friss zöldféléket használok (zöldhagyma, lilahagyma, zöld, piros, vagy sárga kaliforniai paprika, paradicsom, borsó vagy uborka, bármi jöhet).  Babkonzervvel, konzerv- vagy fagyasztott kukoricával is készíthető.  Szárított gyümölcs (ribizli, cseresznye, vagy vörös áfonya), pörkölt vagy nyers dió, esetleg pekándió is remek hozzávaló.  Ne felejtsünk el valamilyen friss fűszernövényt, pl. petrezselyemzöldjét vagy mentafüvet adni a salátához.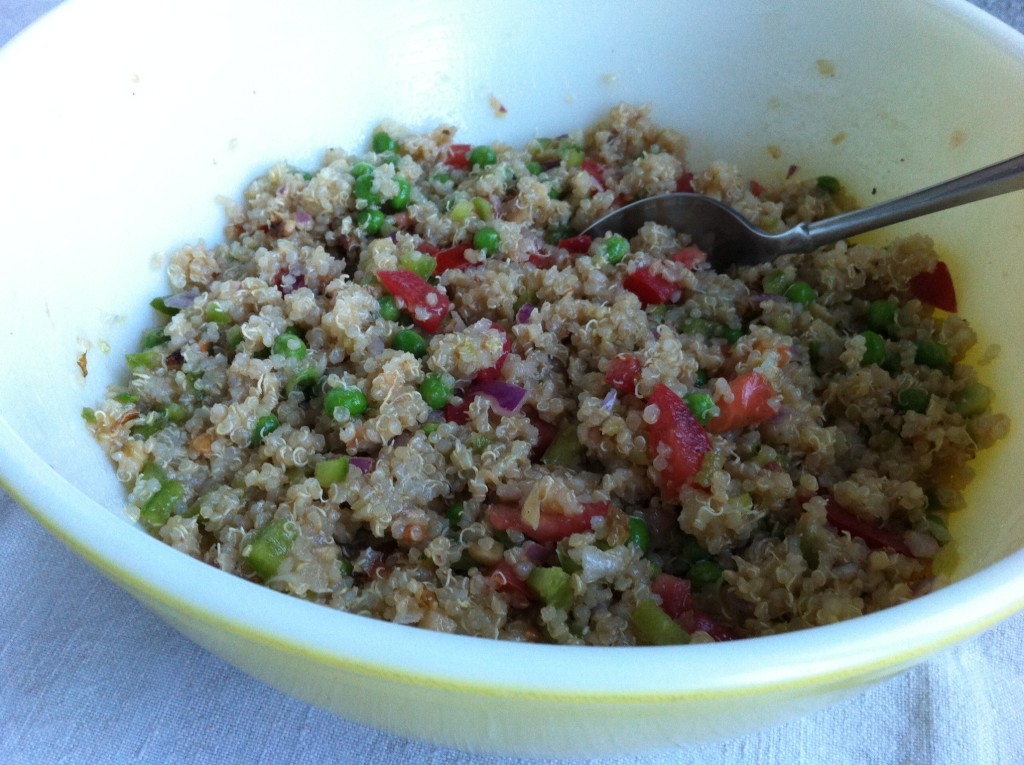 quinoa – 170 g
zöldpaprika – 1
kis méretű uborka – 1
hagyma – 35 g
aszalt ribizli – 30 g
dió – 30 g
vörösborecet – 2 evőkanál
olívaolaj – 35 ml
friss vagdalt petrezselyem – néhány evőkanál
tengeri só és őrölt bors ízlés szerint
A quinoát folyó víz alatt leöblítjük, lecsepegtetjük.  Egy lábasba tesszük, felöntjük fél liter vízzel, sózzuk és felforraljuk.  Aztán mérsékeljük a tüzet, s fedő alatt kb. 20 percig pároljuk (mindaddig, amíg az összes vizet magába szívja).  Hagyjuk langyosra hűlni.
A zöldségeket megtisztítjuk, apróra vagdaljuk, megvágjuk a diót és a petrezselymet.  Egy nagy tálban összekeverjük az ecetet az olajjal, hozzáadjuk a felvágott zöldségféléket, aszalt ribizlit, diót, petrezselymet, végül a quinoát.  Ízlés szerint sózzuk, borsozzuk.  A recept 4 személyre szól.
Megjegyzés:
1)  a 170 g száraz quinoából háromszor annyi főtt quinoát kapunk
2)  bármilyen mennyiségű quinoát használhatunk, csak mindig ügyeljünk a víz és a quinoa 2:1 arányára
3)  víz helyett zöldség- vagy csirke alaplét is használhatunk
4)  a quinoa gluténmentes