When you have pears at home that ripen fast and you want to use them in a dessert, you start searching for a recipe that is easy and simple, and promises something amazingly tasty. That is exactly what happened the other night.

I adapted this recipe from Ripe, a wonderful cookbook by Great Britain's best-loved food writer, Nigel Slater. He is not sure whether this is a tart or a cake – I think it's a cake – but I fully agree with him on his assessment: "I only know that it is delicious when served warm, with cream." I didn't eat it with cream, but it is definitely better warm than at room temperature.  Later, if you have any leftover pieces, warming them up in a microwave oven for 10 seconds can make a difference, but if you eat them cold, you will still enjoy them.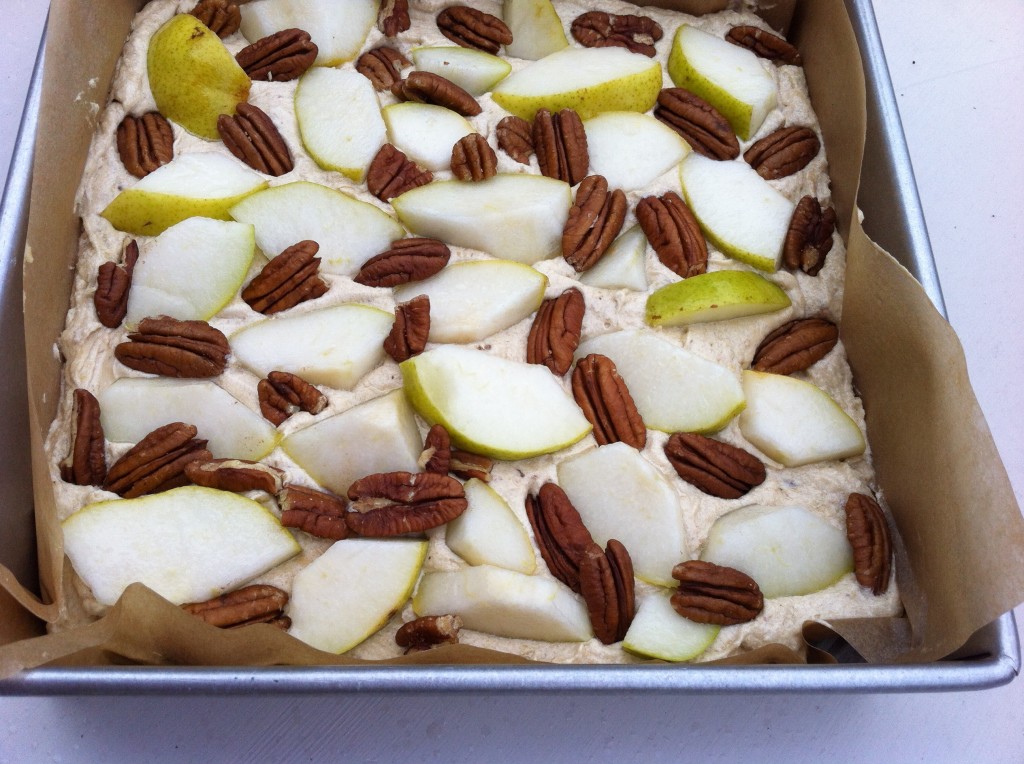 brown sugar – 1 cup (180 g)
unsalted butter, cut into pieces – ¾ cup (180 g)
eggs – 3
all-purpose flour – 1 cup (120 g)
baking powder – 1 teaspoon
ground almonds (or walnuts)– ⅔ cup (70 g)
milk – 5 tablespoons (80 ml)
vanilla extract – ½ teaspoon
pears – 2 or 3 (depending on size)
lemon juice (optional) – a little
pecan halves – ½ cup (60 g)
Preheat the oven to 350 °F (180 °C). Line an 8½ inch (22 cm) square cake pan [or a circular, 8 inch (20 cm) diameter] with parchment paper.
In a large mixing bowl, beat together the butter and sugar until creamy. One at a time, add the eggs. Mix well. Stir in the flour, baking powder, ground almonds, milk, and vanilla extract. Mix well again.
Quarter and core the pears – you don't need to peel them – then cut into thick slices. To prevent browning, you can coat the pieces with a little lemon juice.
Spread the batter into the cake pan. Arrange the pieces of pear and the pecan halves on top. Bake for 60 minutes. Cool in the pan for a little bit, and then slice into bigger squares. Best served warm.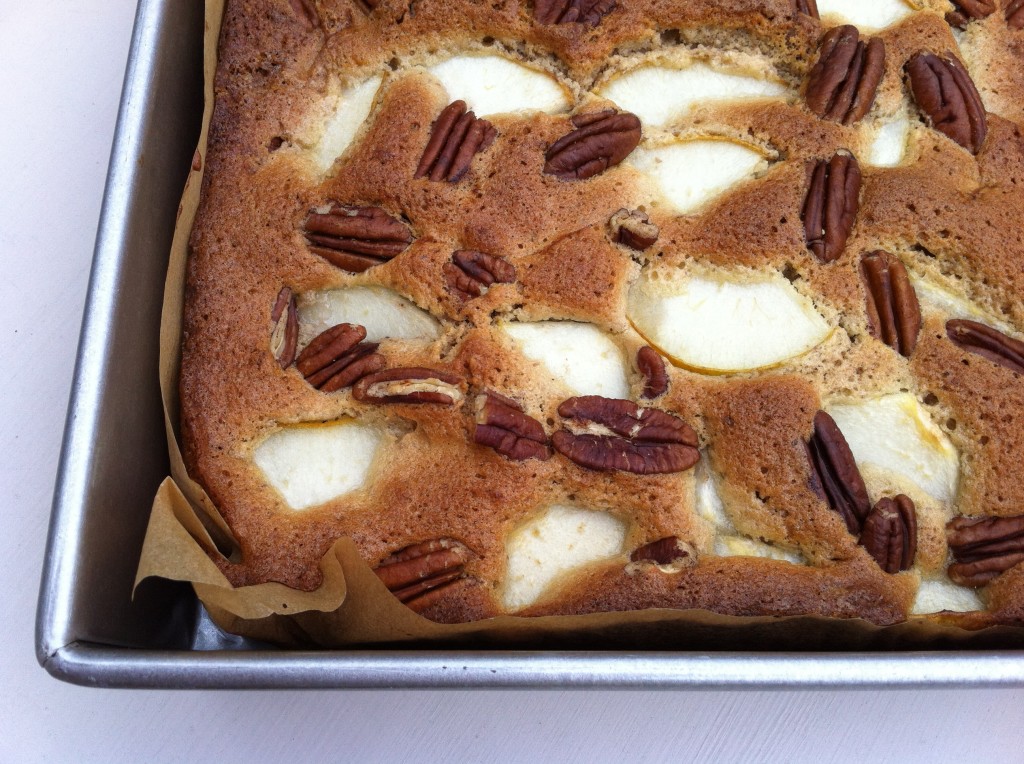 Ha gyorsan puhul a körte a gyümölcsöstálban, s ezért sütni szeretnél vele, talán olyan recept után kutatsz, ami nem komplikált és kitűnő eredménnyel kecsegtet. Szó szerint ez történt velem is valamelyik este. A megfelelő receptre a remek Ripe című szakácskönyvben találtam rá. A könyv szerzője Nigel Slater, Nagy–Britannia egyik közkedvelt gasztronómiai szakírója. Ő maga nem biztos abban, tortáról vagy valamilyen pitéről van–e itt szó, de nem is ez a fontos. Teljes mértékben egyetértek azon állításával, miszerint ez a finomság – én úgy gondolom, ez bizony torta – melegen, tejszínhabbal tálalva az igazi. Nos, bár én nem adtam mellé tejszínhabot, de melegen valóban finomabb volt, mint szobahőmérsékleten. Később, ha esetleg marad valamicske a tortából, elég 10 másodperces melegítés a mikróban. Persze hidegen is nagyon ízletes ez a körtetorta.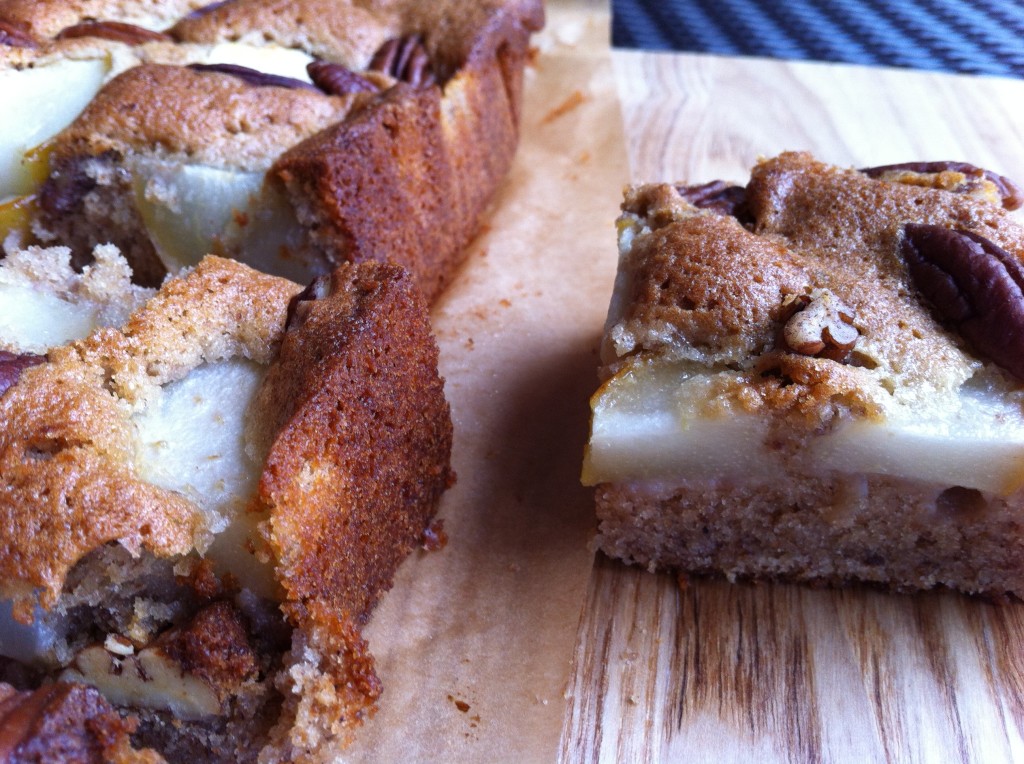 barna cukor – 180 g
vaj, felkockázva – 180 g
tojás – 3
liszt – 120 g
sütőpor – 1 teáskanál
őrölt mandula (vagy dió) – 70 g
tej – 80 ml
vanília kivonat – ½ teáskanál
körte – 2 vagy 3 (nagyságtól függően)
citromlé (elhagyható) – egy kicsi
pekándió darabkák – 60 g
A sütőt előmelegítjük 180 °C. Egy 22 cm × 22 cm-es négyzet alakú tepsit (vagy 20 cm átmérőjű kerek tortaformát) kibélelünk sütőpapírral.
Egy nagyobb tálban habosra kikeverjük a vajat a cukorral. Egyenként hozzáadjuk a tojásokat, aztán apránként a sütőporral vegyített lisztet, az őrölt mandulát (vagy diót), végül a tejet és a vanília kivonatot. Mindezt jól összekeverjük.
A körtéket negyedekbe vágjuk, eltávolítjuk a magházat, a körték húsát vastagon felszeleteljük, s rögtön meglocsoljuk egy kis citromlével, hogy a ne barnuljon meg.
A masszát a tepsibe simítjuk. Enyhén a tetejére nyomkodjuk a körteszeleteket és a pekándió darabkákat. A tortát kb. 60 percig sütjük. A tepsiben hagyjuk kicsit kihűlni, aztán nagyobb négyzetekre vágjuk. Melegen a legfinomabb.