My family always had a large walnut tree. That meant picking fresh walnuts in the fall and drying them in boxes for lots of baking throughout the year. In these days, here in Seattle, we don't have a tree, so I buy the walnuts, usually shelled. I love them and bake often with them.

A dear colleague of mine, Marika, gave me this recipe many years ago, and it quickly became one of the staples in my kitchen. During my son's college years these bars traveled with him every time he flew back to school from home and they soon became one of the favorite anticipated treats for his friends.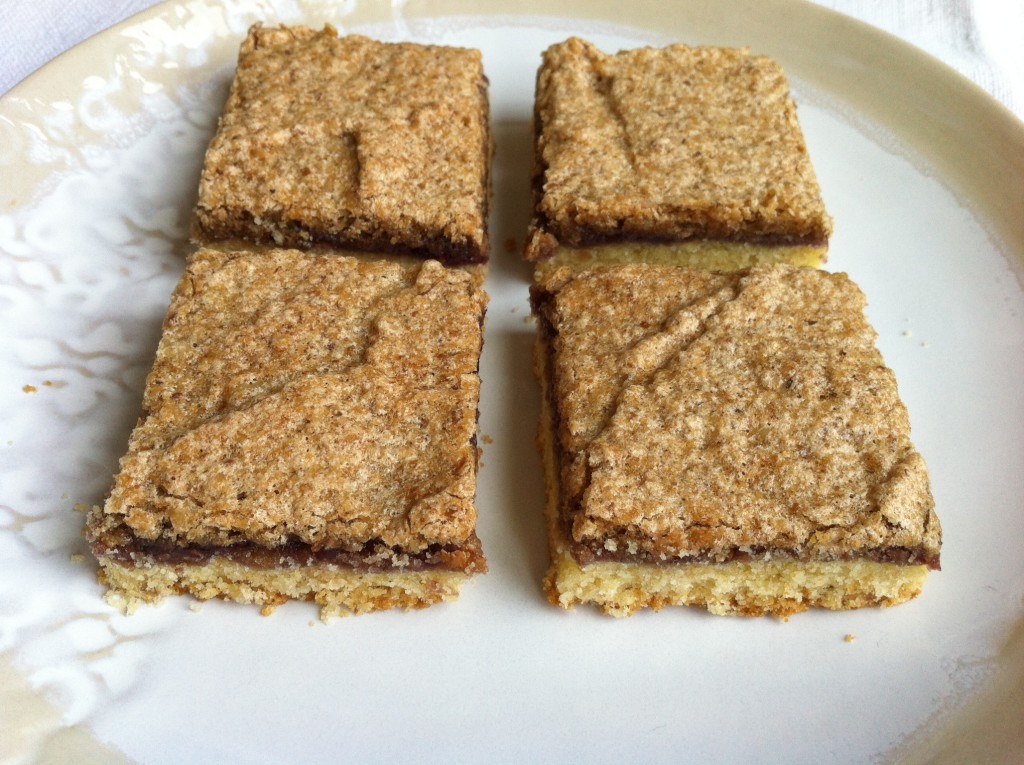 for the dough
all-purpose flour – 400 g (3¼ + a little more)
baking powder – 6 g (2 teaspoons)
powdered sugar – 100 g (1 cup + 1 tablespoon)
softened butter  – 250 g (2 sticks + a little more)
eggs, separated – 4
milk – 50 ml (⅓ cup)
for the topping
fruit jam – 4 or 5 tablespoons
egg whites from above
salt – a pinch
powdered sugar – 150 g (1½ cups)
ground walnuts – 150 g (2 cups + 2 tablespoons)
Preheat the oven to 180 °C (350 °F). Butter a jelly roll pan and dust it with flour. In a large bowl, mix together the flour, baking powder, and powdered sugar. Add the butter, egg yolks, and milk to form dough. On a lightly floured work surface, roll out the dough to the size of your pan, then spread into the baking pan. Spread a layer of jam over the dough.
Beat the egg whites with a pinch of salt to form stiff peaks. Lightly mix in the powdered sugar and ground walnuts. Spoon over the jam layer and carefully spread to the edges of the dough. Bake for 35 – 40 minutes. Cool in the pan. Slice into bars of any size.
Note
I like to use any kind of berry jam I have around. The walnuts could be chopped into very small pieces instead of grinding them. I haven't tried yet but I think ground almonds or hazelnuts would work nicely too. The bars pack, travel, and freeze well.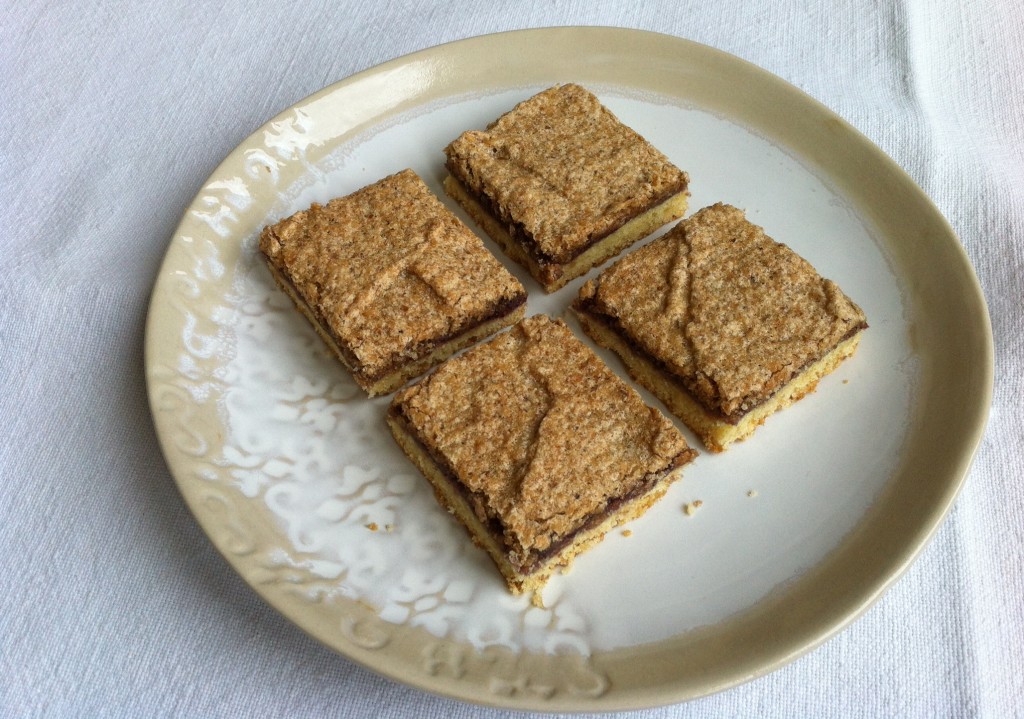 Családunknak mindig volt diófája. Őszönként friss diót szedhettünk a fáról, aztán ládákban megszárítottuk, s az év folyamán volt elég a gyakori sütésekhez. Mostanság itt Seattle-ben nincs diófánk, boltban vásárolom a diót, általában már a héjától megtisztítva. Szeretem enni, szeretek vele sütni. Ezt a süteményreceptet sok évvel ezelőtt kaptam egy kedves volt kolléganőmtől, Marikától. Ez a diós finomság nagyon hamar kedvencünkké vált, s azóta is gyakran sütöm. Amikor a fiam egyetemista volt, s hazalátogatott, mindig meg kellett sütnöm ezt a süteményt, általában mielőtt repült volna vissza. Barátai szinte elvárták, hogy vigyen nekik is ebből a mindenki kedvencéből.
a tésztához
liszt – 400 g + egy kicsi a tepsihez
sütőpor – 6 g
porcukor – 100 g
lágy vaj  – 250 g + egy kicsi a tepsihez
tojás – 4
tej – 50 ml
a tetejére
gyümölcslekvár – 4-5 evőkanál
tojásfehérje a fenti 4 tojásból
só – egy csipet
porcukor – 150 g
darált dió – 150 g
A sütőt előmelegítjük 180 °C-ra. Kivajazunk, kilisztezünk egy téglalap alakú tepsit. A lisztet, sütőport és porcukrot egy nagy tálban összekeverjük. Hozzáadjuk a vajat, a tojások sárgáját, a tejet, és tésztát gyúrunk belőle. Egy enyhén lisztezett gyúródeszkán tepsi méretűvé nyújtjuk, majd a tepsibe tesszük. Megkenjük lekvárral.
A tojásfehérjéket egy csipet sóval kemény habbá verjük. A darált diót összekeverjük a porcukorral, majd óvatosan a habhoz adjuk. A diós habot a lekvár tetejére simítjuk. 35-40 percig sütjük. A tepsiben hagyjuk kihűlni, majd négyzet vagy téglalap alakú szeletekre vágjuk.
Megjegyzés
A sütemény bármilyen lekvárral finom. Mi bogyós gyümölcsből főzöttel szeretjük, de általában azt használom, ami épp van itthon. A diót pici darabkákra is vághatjuk, ha nincs kedvünk a daráláshoz. Még nem próbáltam, de őrölt mandulával is biztos finom lenne. Ez egy remekül csomagolható, utaztatható és fagyasztható sütemény.