A quick breakfast or lunch idea: toast some bagels and top them with a delicious mixture of cooked leeks and cheese.

leeks – 2
butter – 2 tablespoons
grated cheese (melting type) – 2 cups
scallions – 2
fresh parsley, chopped – 1 tablespoon
sea salt and freshly ground pepper – to taste
fresh bagels – 2
Wash the leeks well, then slice the white and light green parts thinly. (Leave out the dark green part; you can save it/ freeze it for vegetable stock).
In a large pan, melt the butter over low heat. Add the leeks and cook, stirring occasionally, until they are soft. Let it cool.
Chop the scallions and parsley and mix with the cooled leeks and cheese. Season with salt and pepper.
Split the bagels, and in a grill pan, toast them lightly on the bottom. Spread the leek-cheese mixture over the top of each bagel. Place them under a preheated broiler until they are golden brown. You can also put them back in a grill pan, and as you continue toasting them, the cheese will melt a little.
Alternatively, toast the bagels in a toaster, and top them with the leek-cheese mixture. Serve warm.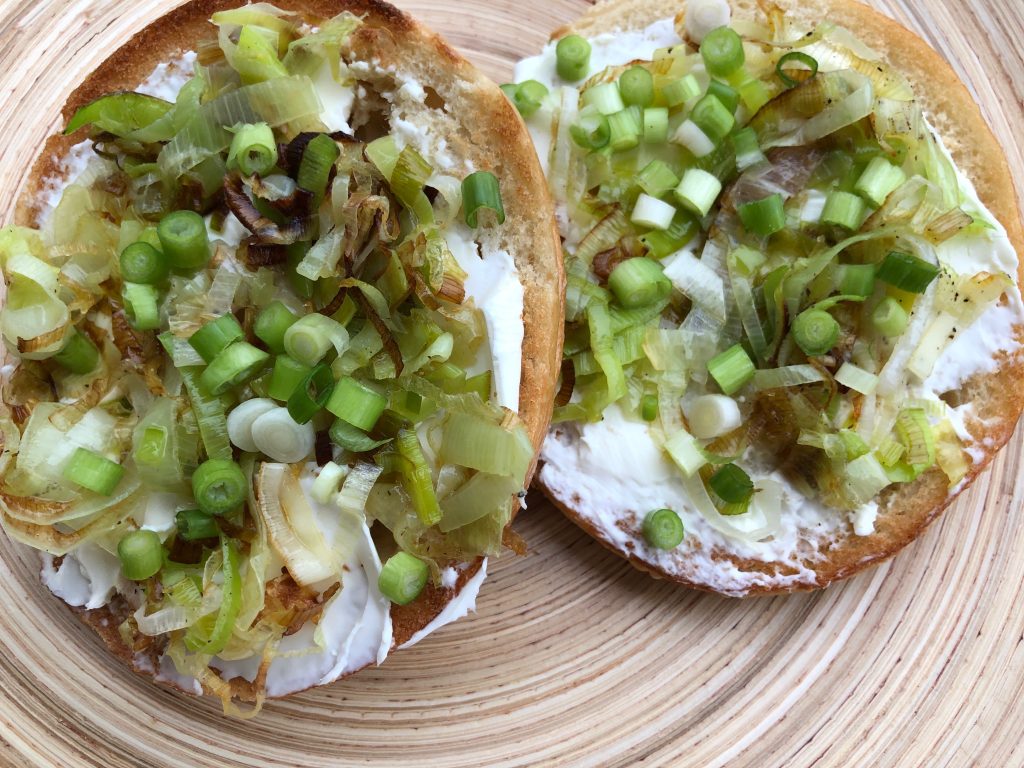 Íme egy gyors reggeli- vagy ebédötlet: piríts meg két bagelt és tegyél rá sajtos párolt póréhagymát. Egyszerű és ízletes.
póréhagyma – 2
vaj – 2 evőkanál
reszelt sajt (könnyen olvadó) – 2 bögre
zöldhagyma – 2
apróra vágott petrezselyem zöldje – 1 evőkanál
tengeri só és frissen őrölt feketebors – ízlés szerint
friss bagel – 2
A póréhagymát alaposan megmossuk, majd a fehér és világoszöld részét vékonyan felkarikázzuk. (A sötétzöld részt nem kell kidobni, felhasználhatjuk zöldségalaplé főzéséhez.)
Egy nagy serpenyőben, alacsony lángon felolvasztjuk a vajat. Hozzáadjuk a póréhagymát, és időnként megkeverve puhára pároljuk. Hagyjuk kihűlni.
A zöldhagymát és a petrezselymet felaprítjuk, majd összekeverjük a kihűlt póréhagymával és a reszelt sajttal. Ízlés szerint sózzuk, borsozzuk.
A bageleket kettévágjuk, és egy grill serpenyőben megpirítjuk az aljukat. A tetejükre halmozzuk a pórés-sajtos keveréket, majd gyorsan a grillsütőbe tesszük, ahol pár perc alatt rájuk olvad a sajt. De visszatehetjük a grill serpenyőbe is, ahol miközben tovább pirulnak a bagelek, a sajt is megolvad egy kissé.
Esetleg a a kenyérpirítóban pirítjuk meg a bageleket, majd elosztjuk rajtuk a póréhagyma és sajt keverékét. Melegen tálaljuk.