Growing up in the former Czechoslovakia, I used to eat apples, apple compote, and pastries filled with apples, but never applesauce. Applesauce (or apple puree) was reserved for babies.

You could buy it in small glass jars in grocery stores. It was only after meeting my husband that I learned that applesauce is delicious on its own or with ham and pork. After we met, when he prepared a dish of cooked ham, mashed potatoes, and cooked corn, he had to buy a few of those small jars of apple puree to have the good amount of it alongside the ham.
Living in the US, applesauce became a staple in our household. For some years, we ate mostly store-bought applesauce, but not anymore. I got into preparing my own. It's very easy to make and I can even flavor it to my own liking.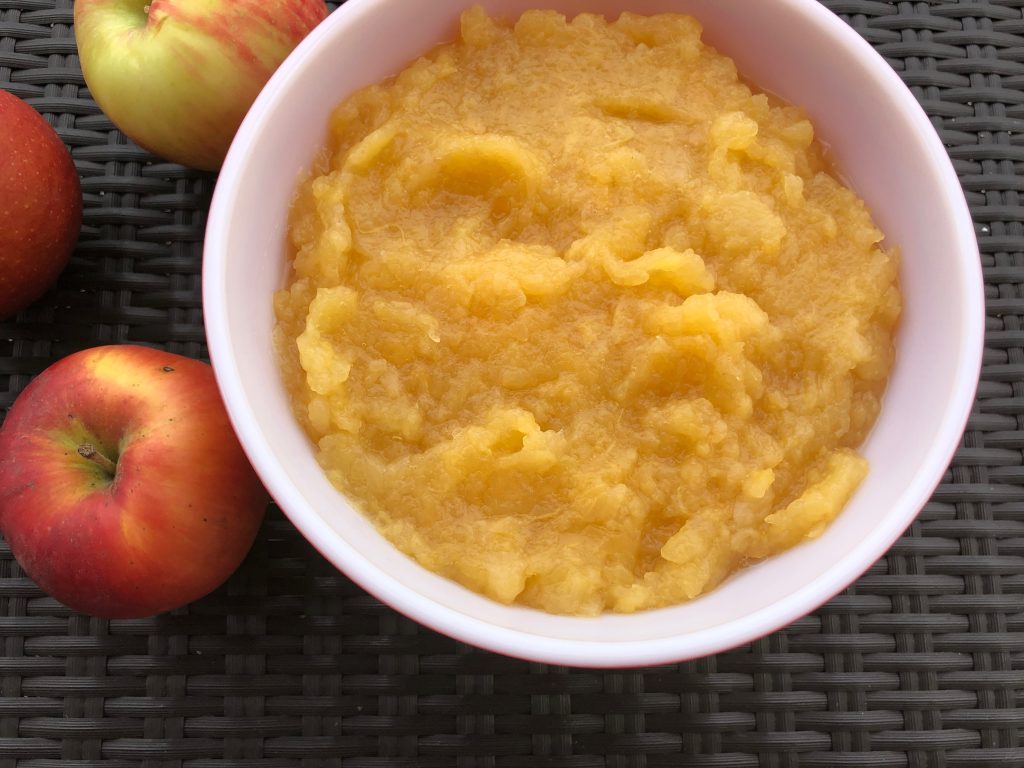 apples – 6 medium
lemon juice – from half a lemon
ground cinnamon – a pinch
salt – a pinch
Peel, core, and chop the apples into chunks. Place them in a saucepan with the lemon juice and a little water (3-4 tablespoons), salt and the cinnamon. Cook over medium heat with the lid on until soft and can be smashed with a fork. For a more pureed consistency, beat it with a hand blender.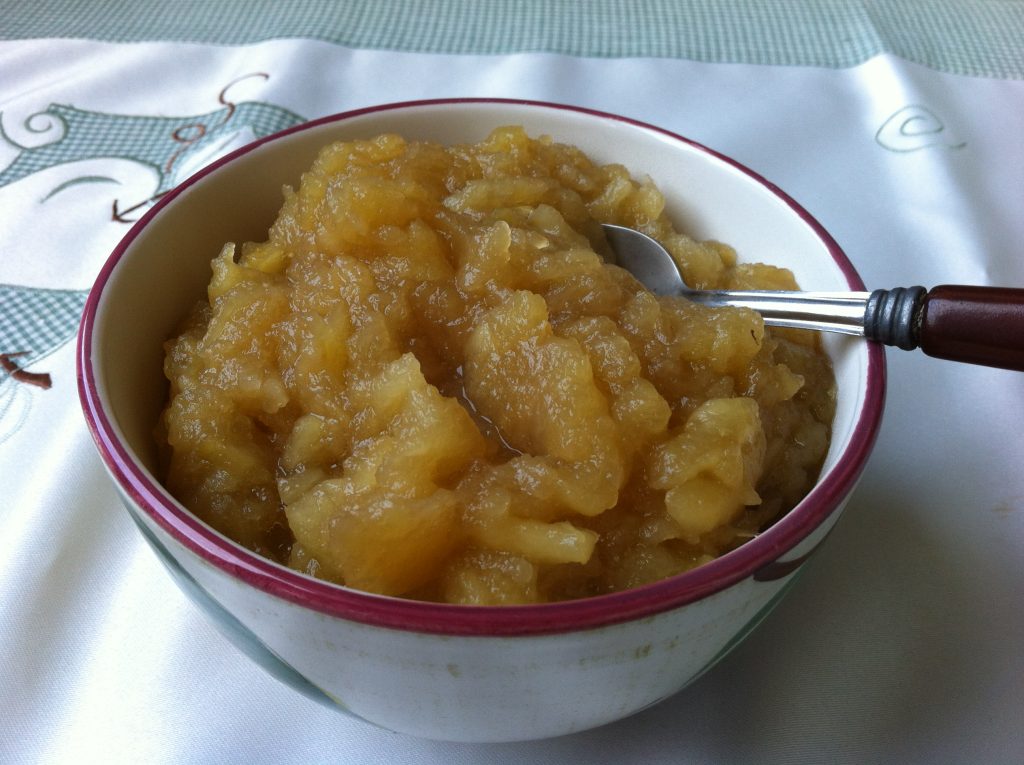 Gyerekkoromban, az egykori Csehszlovákiában, gyakran ettünk almát, almakompótot vagy épp almás süteményt, de almaszószt sosem. Az almaszósz (vagy püré) a csecsemők eledele volt. Kis üvegekben árulták az élelmiszerboltokban. A férjem réven tanultam meg, hogy az almaszósz nem csak magában finom, de sonkával és sertéshússal is. Amikor Steve elkészítette számunkra az egyik kedvenc ételét, ami nem más, mint főtt sonka krumplipürével, főtt kukoricával és almaszósszal, jó néhány üveggel kellett vennie a bébi almapüréből, hogy meglegyen a kellő adag szósz.
Amióta az Egyesült Államokban élek, az almaszósz gyakori az étrendünkben. Több éven át többnyire boltban vettük, de manapság  inkább itthon készítem el. Nagyon egyszerű a módja, és ráadásul a kedvem szerint ízesíthetem.
alma – 1 kg (kb. 6 közepes)
citromlé – fél citromból
őrölt fahéj – egy csipetnyi
só – egy csipetnyi
Az almát meghámozzuk, eltávolítjuk a magházát, majd kockákra vágjuk. Egy lábasba tesszük, meglocsoljuk citromlével, öntünk alá egy kevés vizet (3-4 evőkanálnyit), megszórjuk fahéjjal és sóval. Közepes lángon, fedő alatt puhára főzzük. Ha már villával széttörhető, akkor kész is. Ha krémesebb állagú szószt szeretnénk, botmixerrel pürésítjük.