This wonderful two-bean salad recipe comes from David Tanis, author and chef, columnist of The New York Times. The creamy white beans and crunchy green beans make an interesting and delicious mix.

I made this salad for the first time seven year ago when we hosted Thanksgiving dinner at our house and celebrated my husband, Steve's, 60th birthday. This year, for his 67th (which will happen on Thanksgiving Day), I am making the same salad using cannellini beans and green beans from our local grocery store. We will take it to one of our nieces for the first big family gathering in the COVID era. The recipe serves a crowd (10 to 12 people), so if you want to make it for a smaller group, just halve or third the ingredients.
Note: To shorten the time for making this salad, instead of using dried beans, you could opt for canned beans (use two 15.5 oz cans). If you use dried beans, you could make them a day ahead and refrigerate in their liquid overnight.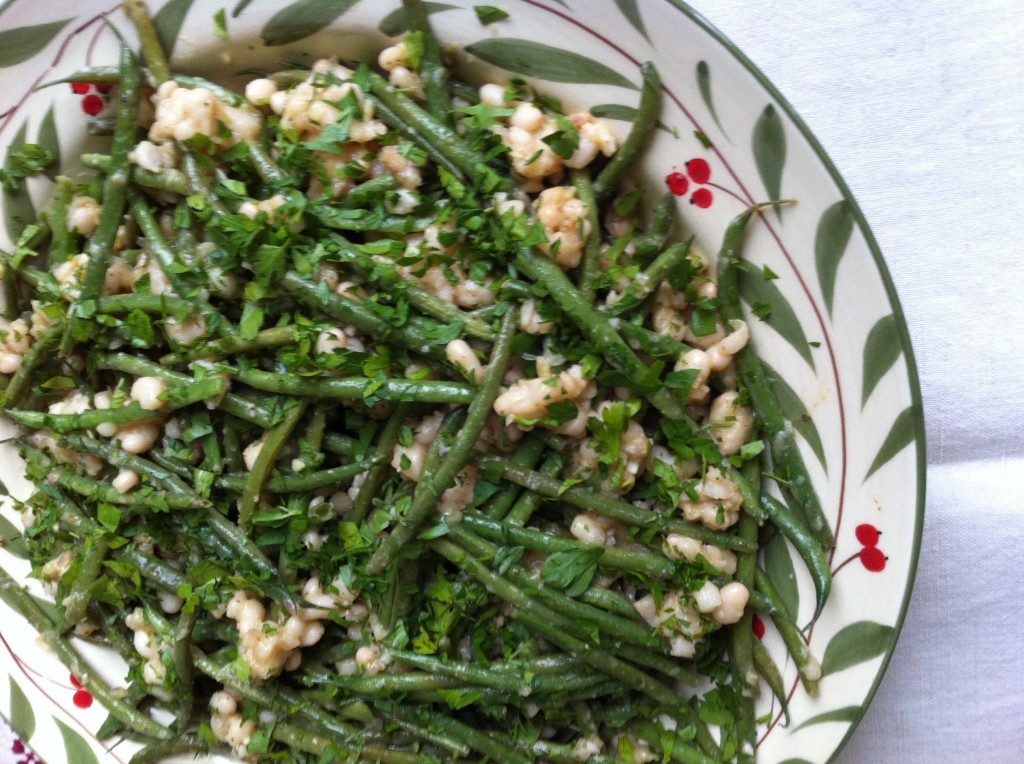 dried white beans – 2 cups, soaked overnight and drained
onion – 1 small, halved
bay leaf – 1
thyme sprig – 1 large
haricots verts – 2 pounds, trimmed
shallots – 2 large, minced
garlic cloves – 2, minced
Dijon mustard – 1 tablespoon
sherry vinegar – 2 tablespoons
red wine vinegar – 2 tablespoons
extra-virgin olive oil – ½ cup
freshly ground black pepper – to taste
chopped parsley – ¼ cup
In a large pot, cook the dried white beans in water. Add the onion, bay leaf, and thyme, and bring to boil. Reduce the heat to low and simmer until the beans are tender (about 75 minutes). Add 2 teaspoons of salt. Remove the pot from the heat and let the beans cool in their cooking water.
In a large pot of salted boiling water, cook the haricots verts for 3 minutes. Drain the beans, spread them on a large baking sheet to cool.
For the vinaigrette, combine the shallots, garlic, mustard, vinegars, and pinch of salt in a small bowl. Let it stand for 10 minutes, then whisk in the olive oil and some salt and ground pepper.
Drain the cooked white beans. Discard the onion, bay leaf, and thyme. Place the beans in a large salad bowl, add the haricots verts and the vinaigrette, and toss well. Season with salt and ground pepper. Sprinkle the chopped parsley over the salad