Here is a simple and festive salad, which is perfect with ham, fish, and cold roasts.  We love it very much.  It's ready in a few moments, especially when using canned (or frozen and thawed) corn and green peas.

Of course, it's also good from fresh peas and corn from corn-on-the-cob.  This easy recipe never disappoints.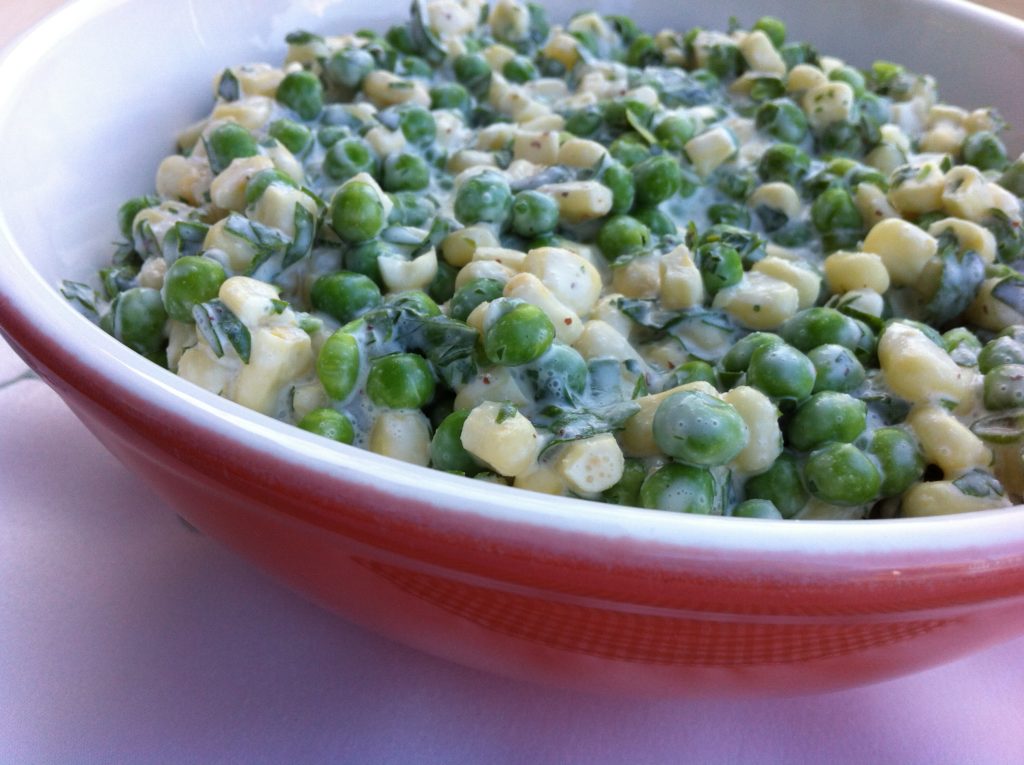 corn – 1 can
green peas – 1 can
mayonnaise – ¼ cup
cream –  ¼ cup
mustard – 1 teaspoon
parsley – 1 bunch
chives – to taste
sea salt and freshly ground black pepper – to taste
apple cider vinegar – to taste
lettuce and radish for decoration
Drain the corn and green peas and place in a bowl.  Chop the parsley and chives finely.  In another bowl, mix the mayonnaise with the cream, mustard, salt, pepper, chives, and parsley.  Mix it gently into the corn-pea mixture.  Chill for about one hour.  Serve in a bowl lined with lettuce leaves.  Decorate with slices of radish if desired.  Enough for 4.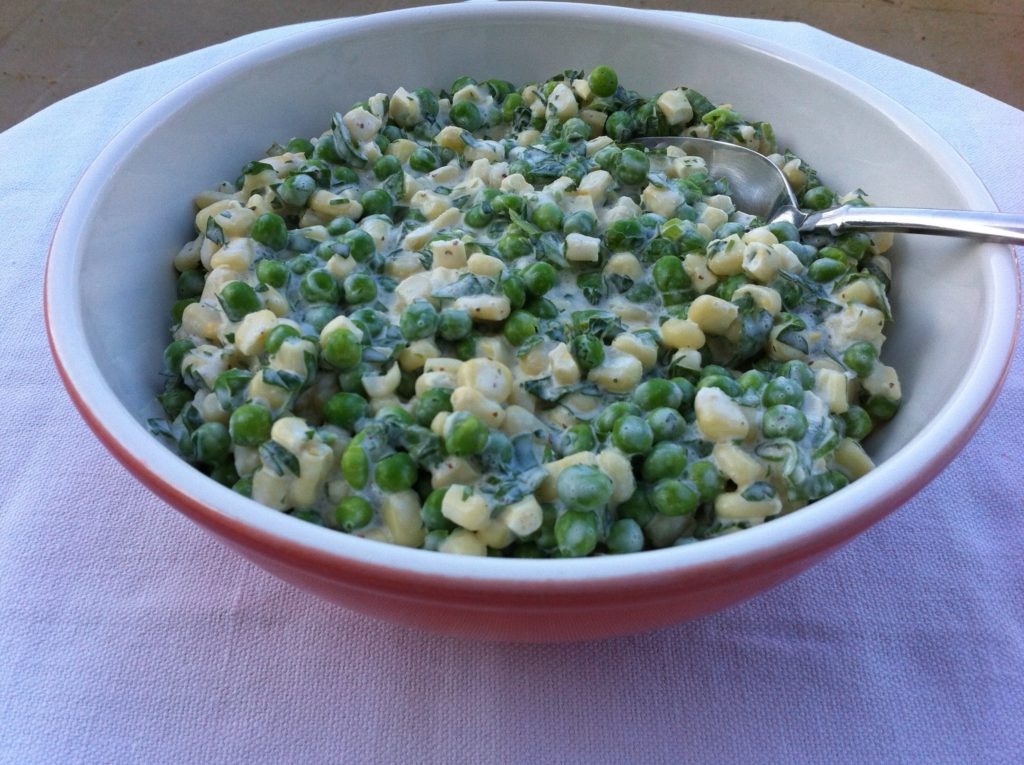 Íme egy egyszerű és mutatós saláta sonkához, halhoz, hideg sültekhez.  Mi nagyon szeretjük.  Pillanatok alatt kész, főleg ha konzerv (vagy mélyhűtött) kukoricát és zöldborsót használunk.  Természetesen friss borsóval, illetve főtt kukoricával is remek.
főtt kukorica (konzerv) – 350 g
párolt zöldborsó (konzerv) – 350 g
majonéz – 100 ml
tejszín – 100 ml mustár – 1 kávéskanálpetrezselyem – 1 csokor
metélőhagyma (snidling) – ízlés szerint
tengeri só és törött bors – ízlés szerint
almaecet – ízlés szerint
néhány salátalevél és retek a díszítéshez
A kukoricát és a borsót lecsepegtetjük, egy tálba tesszük.  Apróra vágjuk a petrezselymet és a snidlinget.  A majonézt egy másik tálban simára keverjük a tejszínnel, mustárral, sóval, borssal, hozzáadjuk a snidlinget és a petrezselymet, majd az öntetet lazán a kukorica-borsó keverékhez adjuk.  Kb. egy órára a hűtőbe tesszük.  Tálaláskor egy tálat kibélelünk salátalevelekkel, beleszedjük a kukorica-borsó salátát, és retekkarikákkal díszítjük.  A recept 4 személyre szól.